The delicious and flavorful shrimp flavor will surely accompany the vivid taste of the vinegared sushi rice. Here are twenty-six shrimp sushi recipes you can try out to get you started.
Some recipes are beginner-friendly, while others need precise craftsmanship. We assure you that you will have delicious shrimp sushi in whatever recipe you choose.
You can genuinely spice up your sushi experience with this hot and spiced shrimp roll recipe from sushi secrets. The roll has a drizzle of hot sauce made with sriracha, kewpie mayo, and togarashi, or Japanese seven spice.
It's both flavorful and packs a punch. If you are up to the challenge of spiciness, try out the recipe.
2. Shrimp Nigiri by How to Make Sushi
There is nothing like the original shrimp nigiri sushi. The poached shrimp will surely bring you an excellent seafood taste. This recipe is the authentic way to do the traditional shrimp nigiri sushi.
The prep time is short, and the process is straightforward. It's best for beginner sushi makers or those who want a quick bite. The wasabi paste accompanying the nigiri punches a taste that fully complements the shrimp.
Munchkin Time's recipe brings a contemporary twist to the traditional shrimp sushi roll.
The shrimp tempura roll recipe is crunchy and filled with creamy and refreshing avocado and cucumber. The umami sushi sauce on top will surely bring the whole sushi roll together.
The recipe is easy to follow. Even if you don't have prior experience with sushi making, you can still make the delicious tempura roll with ease.
4. Spicy Shrimp Sushi Bake by Flo Lum
This spicy shrimp sushi bake is excellent for people without much sushi-making experience. The preparations are easy, but the result is a delicious and flavorful spicy sushi bake.
The rice has a sprinkle of toasted nori and sesame seeds. The shrimp is combined with a spicy sauce of sriracha and mayonnaise for a mild spicy kick. You can always add more sriracha for a higher spice level.
Seafood and earthy taste meet in this recipe. The broccolini and shrimp mixture is a satisfying topping for the gunkan maki.
This recipe is away from traditional sushi and has western influences.
The hint of mayonnaise and toasted nori sheet brings the flavor together. You can prepare this dish for parties and gatherings as the size is perfect for an individual serving.
6. Tempura Shrimp Uramaki Roll by Sushi and Dessert
This cheesy and crunchy uramaki roll recipe will surely satisfy everyone. This tempura shrimp sushi recipe is a great way to make an easy and quick dish for your family, whether for date nights or dining.
The roll contains Philadelphia cheese, tempura shrimp, cucumber, and carrots. The toppings are crispy tempura flakes, mayonnaise, unagi sauce, and red tobiko.
The combination of creaminess from the avocado and the umami-filled shrimp taste is the strength of this recipe.
The sushi contains a hefty amount of fresh vegetables such as cilantro and cucumber. The inspiration from the traditional Boston Maki is prevalent in the recipe.
It's served with common sushi accompaniments such as pickled ginger, soy sauce, and wasabi. One roll can be divided into eight cuts and one to two servings. It's great for dinner or as a snack.
8. Dragon Roll by Just One Cookbook
This traditional dragon recipe by Just One Cookbook will satisfy your shrimp sushi recipe. The sushi roll has a delicious mix of vinegared rice, cucumber, and shrimp tempura.
The dragon roll contains a combination of creamy avocado, unagi sauce, spicy mayo, and black sesame seeds. The roll packs a punch with every hearty bite. It's flavorful and very manageable to make.
Want to spice up your keto diet? Then, try this keto shrimp California roll recipe by Joanie and Chris. Some might find it hard to have sushi cravings when undergoing a restrictive diet.
With this keto-friendly shrimp sushi, you can satisfy your cravings without sacrificing diet. The whole roll contains two main ingredients: vegetables and shrimp. It also has a hint of cream cheese as an extra oomph for the dish.
10. Crispy Shrimp Tempura Maki Roll by Inan Dogru
This tempura sushi recipe packs a crunchy texture and cheesiness like no other. The maki roll contains a mix of cream cheese, avocado, and tempura shrimp.
The crunchy texture does not stop at the delicious tempura shrimp. The whole roll is also covered with panko and deep-fried for two minutes. It uses more oil than other sushi recipes, but it's safe to consume in moderation.
Want to satisfy your sushi craving without entirely making one? Try out this shrimp sushi stack recipe. You wouldn't need any rolling mat or nori sheet. This recipe is perfect for those who want a quick snack with a smaller amount of prep time.
The sushi stack is composed of shrimp, cucumber, and avocado. The spicy mayo sauce is excellent for people who want their sushi with a kick.
12. Basic Tempura Roll by Eric Patterson
Eric Patterson's recipe will satisfy your cravings if you want the easy and traditional shrimp sushi. It's an effortless combination of tempura, julienne cucumber, avocado, and eel sauce. It's quick and easy, perfect for a quick sushi bite.
The step-by-step process is very manageable to follow. Even beginners in the kitchen can learn and make this basic tempura roll recipe.
This spicy shrimp volcano recipe is packed with different vegetables and seafood without overpowering the delicious shrimp taste.
The sushi roll is filled with the different flavors of shrimp, English cucumber, toasted sesame seeds, cream cheese, and onion stalks.
It is topped with spicy volcano sauce made with sriracha and mayonnaise mixed with salmon and scallops. Try out this sushi roll recipe if you want a roll filled with seafood and a hint of spiciness.
14. Fried Shrimp and Mango Salsa Hand Roll by Tasty
This hand roll is packed with many flavors in its small size. The combination of Mexican and Japanese cuisine blends into one temaki. The hand roll is flavorful, delicious, and hearty.
It might not look easy since there are many ingredients but preparing these hand rolls is straightforward and quick. Try this recipe if you want a warm bite out of a hand roll packed with flavors.
The sweet and savory flavor of teriyaki takes the spotlight of this recipe. It takes the seafood flavor of the shrimp to a whole new level.
The sushi roll is filled with a combination of sweet and savory flavors that will surely make your taste buds sing. Along with the teriyaki sauce, the sushi is also served with the flavors of cucumber, nori, sesame seeds, and carrots.
16. Monster Shrimp Roll by Hiroyuki Terada
This monster shrimp sushi roll recipe is truly a tasteful, seafood-filled sushi roll with flavors and taste.
If you want a sushi roll filled to the brim with the fantastic flavors of tempura shrimp, avocado, and a hint of imitation crab, this recipe is perfect for you. The different flavors ooze onto the sushi roll and your taste buds with every bite.
This recipe incorporated traditional Japanese sushi with Mexican cuisine. The mango salsa and the crunch of the tortilla chips will bring the conventional shrimp flavor to its new heights.
The spicy bang bang sauce drizzle packs the spiciness of the sushi stack with every bite.
The stack is also easier to make as you don't need to roll it out. Even beginners without prior experience making sushi can make this easy and flavorful recipe.
18. Shrimp Tempura Caesar Salad Roll by Hiroyuki Terada
Want a combination of shrimp tempura and Caesar salad ingredients? We have the perfect recipe for you. In this recipe by Hiroyuki Terada, you can have the freshness of Caesar salad and the crunchiness of shrimp tempura in one bite.
The hint of cheese crouton on top brings the wonderful flavors together. It's a perfect bite with a mix of seafood and earthy flavors.
This sushi roll recipe is filled with crunchiness inside and out. The tempura shrimp is not the only one filled with crunchy batter, but the whole sushi roll. The panko breadcrumbs also add a significant texture to the sushi.
Try this recipe out if you want a delicious and crunchy sushi roll. The taste and texture can easily rival those of sushi restaurants.
20. Shrimp Tempura Sushi Rolls with Spicy Mayo by Rachel Finley
If you want your sushi with a kick of spiciness, you should try out this shrimp tempura sushi roll recipe by Rachel Finley. The roll is topped with spicy mayo, sugar, and sriracha to add a spicy and sweet flavor.
It's straightforward to make, and the ingredients are very accessible. The freshness of carrots and cucumber strips is an excellent complement to the crunchy shrimp tempura.
This recipe is filled with smoky shrimp and salmon combined with the cheesy flavor of cream cheese. The preparation is easy and fast, perfect for beginners and people without prior experience with sushi making.
The roll is filled with the flavor of enoki mushroom, fish eggs, and creamy avocado. Try out this recipe if you want a cheesy and smokey twist to the traditional shrimp sushi.
22. Oshi Shrimp Sushi by Hiroyuki Terada
This oshi shrimp sushi recipe by Hiroyuki Terada is a great way to make quick and easy shrimp sushi.
The distinct rectangular shape of the sushi is caused by having a traditional Japanese oshi mold. However, any silicone or baking mold will also do. The sushi is made with poached shrimp topped with fish roe and cilantro.
These spicy shrimp hand rolls are perfect for people with a low-carb diet. It does not contain any rice or grains, making the recipe gluten-free.
The hand roll contains shrimp, cilantro, cucumber, sriracha, and mayonnaise. This easy and low-carb shrimp hand roll is perfect for eating on the go as the sushi is spill-proof and easy to carry.
This easy and creamy dragon roll recipe by Izzy Cooking is a great way to bring other flavors to the shrimp roll. The avocado topping is topped with a squeeze of lemon for a citrusy flavor.
The shrimp roll is crunchy and flavorful. Try out this tempura roll recipe if you want a crunchy sushi roll laced with the creaminess of avocado and freshness of cucumber.
The barbeque eel and shrimp combination brings this dragon roll sushi recipe to new heights. The flavor is smokey and savory due to the eel and shrimp, but the cucumber and avocado's freshness balances the entire sushi roll.
This recipe will surely bring out a gourmet twist to your shrimp sushi. It's perfect for events and dinner for you or your family.
This shrimp tempura sushi burrito combines traditional Japanese cuisine with Mexico's vegetable-filled burritos. The sushi roll is filled with the different flavors of cucumber, red pepper, radish, jalapeno, and many more.
If you want a filling and heart sushi, this recipe is for you. You will love the cacophony of flavors rolled into one sushi without overpowering the unique shrimp taste.
26 Best Shrimp Sushi Recipes
Shrimp in sushi is a staple part of Japanese cuisine. It brings out a distinct seafood flavor to the dish.
We hope that you can have the best sushi for your desired dining experience with these twenty-six unique and delicious shrimp sushi recipes.
Directions
Select your favorite recipe.
Compile all the necessary ingredients.
Prep a Shrimp Sushi Recipe in 20 minutes or less!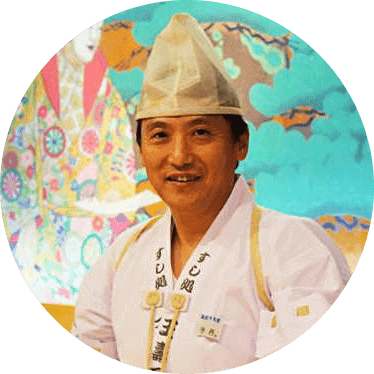 Hiroshi Nakamura, a Tokyo-born sushi chef turned US-based writer and critic, is the voice behind ichisushi.com, blending traditional sushi wisdom with modern insights.