Sushi is both easy and complex to make. Chefs train for years just to get it right. Today, normal people can learn how to make sushi for themselves.
There are so many recipes to choose from. Today we are going to keep things simple with these twenty tempura sushi recipes.
Now, shrimp tempura is one of the most common tempura sushi out there. It would make sense that if you were going to have any tempura sushi, it would be shrimp.
You can see this type of sushi all over America. Most people are not a fan of sushi because of the stigma of raw fish. Rest assured, there is no raw fish here. The shrimp is cooked and ready.
2. Shrimp Tempura Sushi Roll
Yes, this is a thing. People seem to love to eat something that is deep-fried. You can deep-fry almost anything nowadays. Everything from Snickers and coke.
That includes sushi as well. This wouldn't be out of place at a State Fair. It might not sound appetizing at first, but once you give it a try, you might have found a new way to try sushi. Give this recipe a try.
This is another popular sushi roll in America. Dragon rolls are everywhere. You can usually find it in your local grocery store under the sushi section. Even sushi chefs in Japan have taken to making this for sushi lovers everywhere.
The dragon roll might not look like your standard sushi in Japan, but it has held its own and managed to make itself a household favorite among many sushi lovers.
4. Fried Tempura Sushi
Here is an interesting name for a sushi roll. What comes to mind when you hear "Las Vegas"? Something wild and crazy, right? Something that screams party until the sunrise?
Does this roll live up to its name? Well, with salmon, avocado, and battered deep-fried jalapeno pepper, it does offer some promise. This would be perfect for a Las Vegas-themed party. This recipe will show you how to make it.
Sometimes, you just have to go for something simple to cook. What if you don't want to go all fancy with the sauces and the trim on top? You don't have to worry about that.
This recipe can be made with four steps and simple ingredients. This will be good for sushi lovers who are trying to make sushi for the first time. Go ahead, give this one a try.
6. Creamy Chicken Tempura Rolls
What if you aren't a fan of shrimp tempura sushi? Not to worry. There are many tempura sushi recipes that don't use shrimp at all. Here is some creamy chicken that you can enjoy.
Yes, you can apparently turn creamy chicken into tempura rolls. The recipe might sound a bit out of leftfield, but it will make the food journey worth it. How can you do it? Here is how.
Some people love sushi but are just turned off by fish and meat. What do they do? They try to turn to alternatives that will fit their diets. This dish is good for those looking out for their health.
Fish is good for you, but meat might not be the best choice for you if you are vegetarian or vegan. Tofu is the first go-to choice for a meat alternative.
8. JB Tempura Roll
America isn't the only one who likes to get creative with sushi. Modern sushi in Japan has learned to have fun with their sushi. A chef named Hiroyuki Terada has a video about making JB tempura rolls.
What are these JB rolls, you ask? JB stands for Japanese Bagel. That's right, you are getting a bagel in sushi with this recipe. It sounds crazy, but it will be worth it.
Shrimp isn't the only thing that can be used for tempura sushi. Prawns can also be made into sushi in this recipe here. What is the difference between shrimp and prawns?
Shrimp are smaller, live in salty water, and have claws on two of their legs. Prawns are a bit bigger, live in mostly freshwater (sometimes salty), and have claws on three of their legs. They are both pretty tasty.
10. Lobster Tempura Sushi
Sometimes, you just don't want to go for the standard shrimp, tuna, or salmon when it comes to your sushi. You don't have to. You can get fancy with your sushi with lobster. Lobster is pretty popular when it comes to seafood.
Not many people think of lobster when they picture sushi. But somehow, it works. Crab and lobster can make you feel like royalty among your fellow sushi lovers.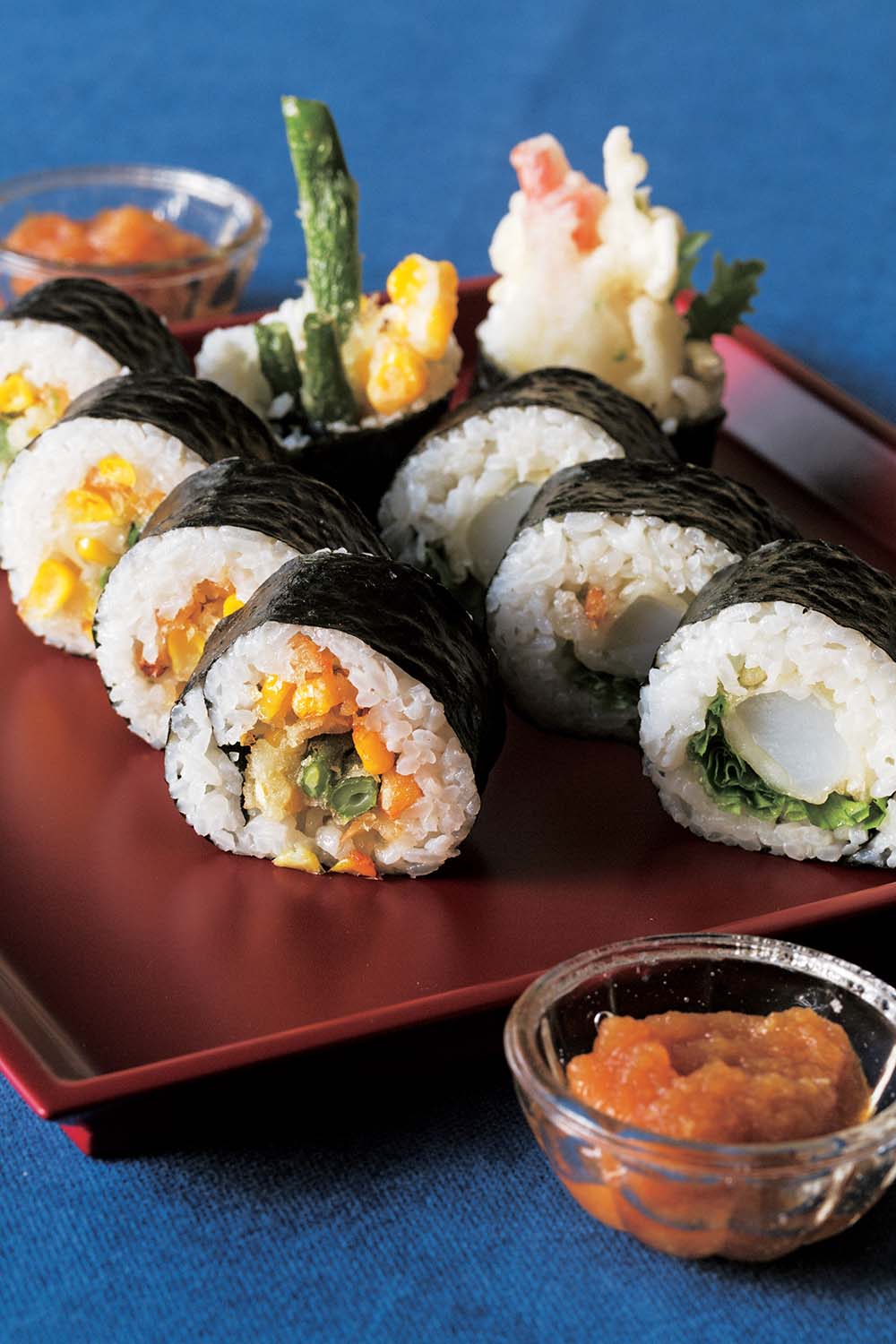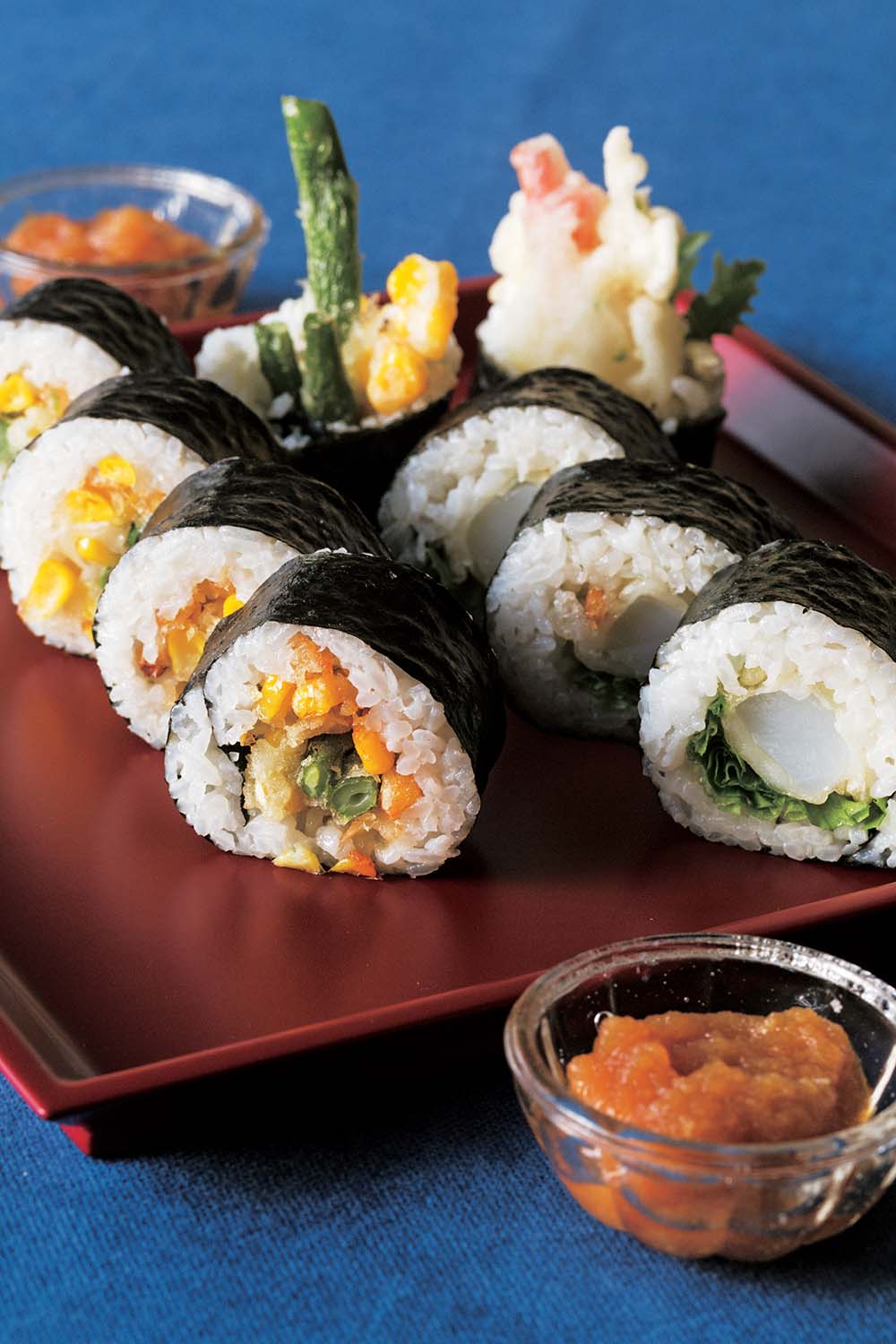 Even vegans can have sushi. How is this even possible? With plenty of veggie substitutes, of course. Tofu and vegetables can make for some good tempura sushi. Vegans can just make or order sushi without any meat at all.
Vegetable sushi is rather popular with vegetarian and vegan sushi lovers alike. After all, why should you give up a beloved piece of food just because it has meat in it?
12. Crispy Salmon Sushi Roll (Tempura Sushi)
Shrimp isn't the only item that is made into sushi. There are many pieces of fish that have been tied to sushi in the past. Salmon is one of the most common ingredients in sushi.
It's almost easy to see why. Salmon is much easier to access than most fish. It is really healthy and it's easy to cook with. The trick is that it has to be in season.
This one is just another simple recipe. Sure, this one has shrimp, but there are other things in here too. Masago and pollock will be added to the sushi as well.
The batter takes one step and the rest takes five. What exactly is Maki? They are the sushi rolls that everyone associates sushi with. So, in other words, it would be the common California roll that sushi lovers adore.
14. Alaskan King Crab Tempura Sushi Roll
Sometimes, you just don't have the taste for basic fish in your sushi. You want something a little bit different. Want to go fancy with your sushi? Crab is usually expensive depending on where you live.
When you do get your hands on crab, it's all worth it. This sushi roll would be perfect for any party you throw. Chef Hiroyuki Terada has just the recipe for your crab tempura lovers.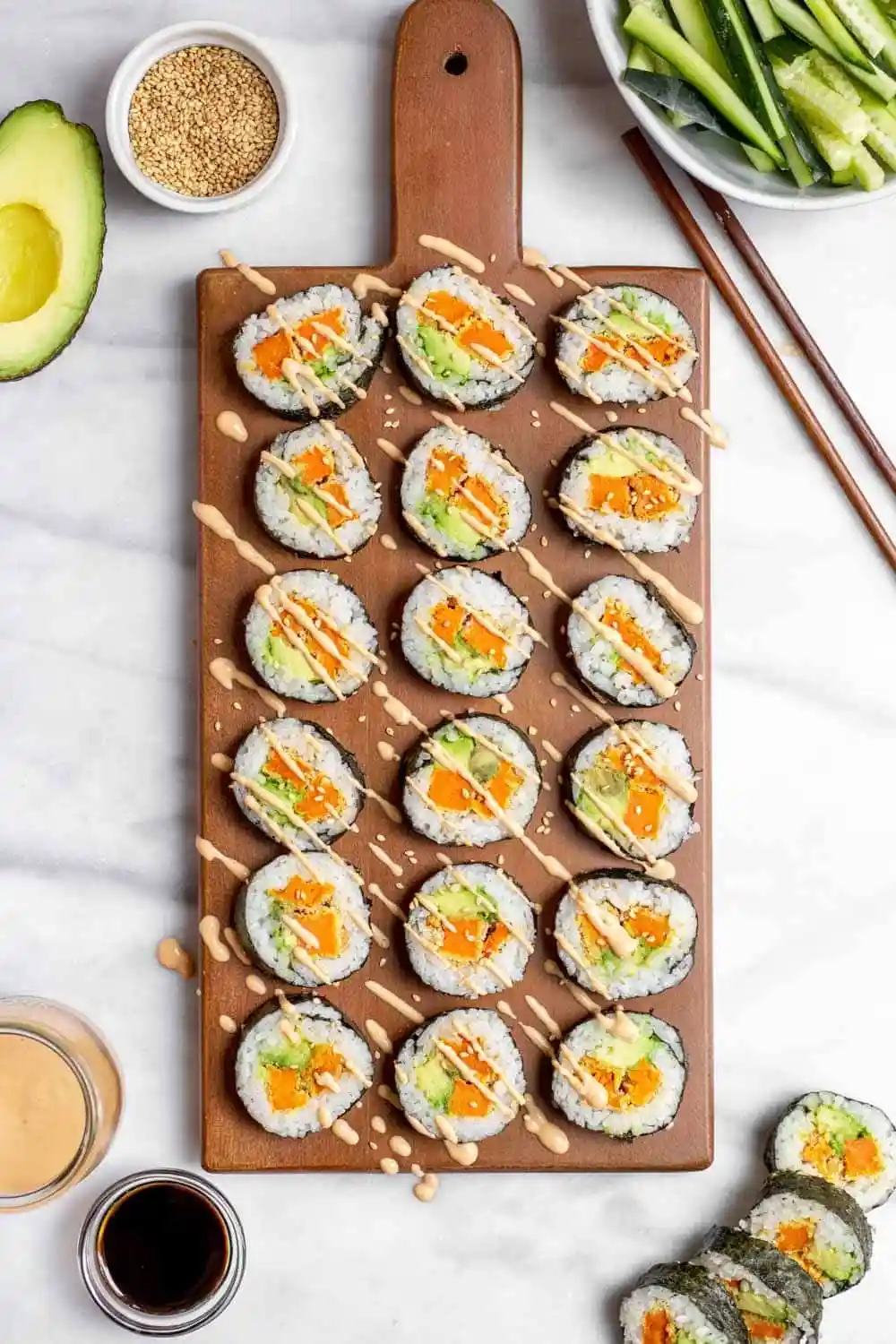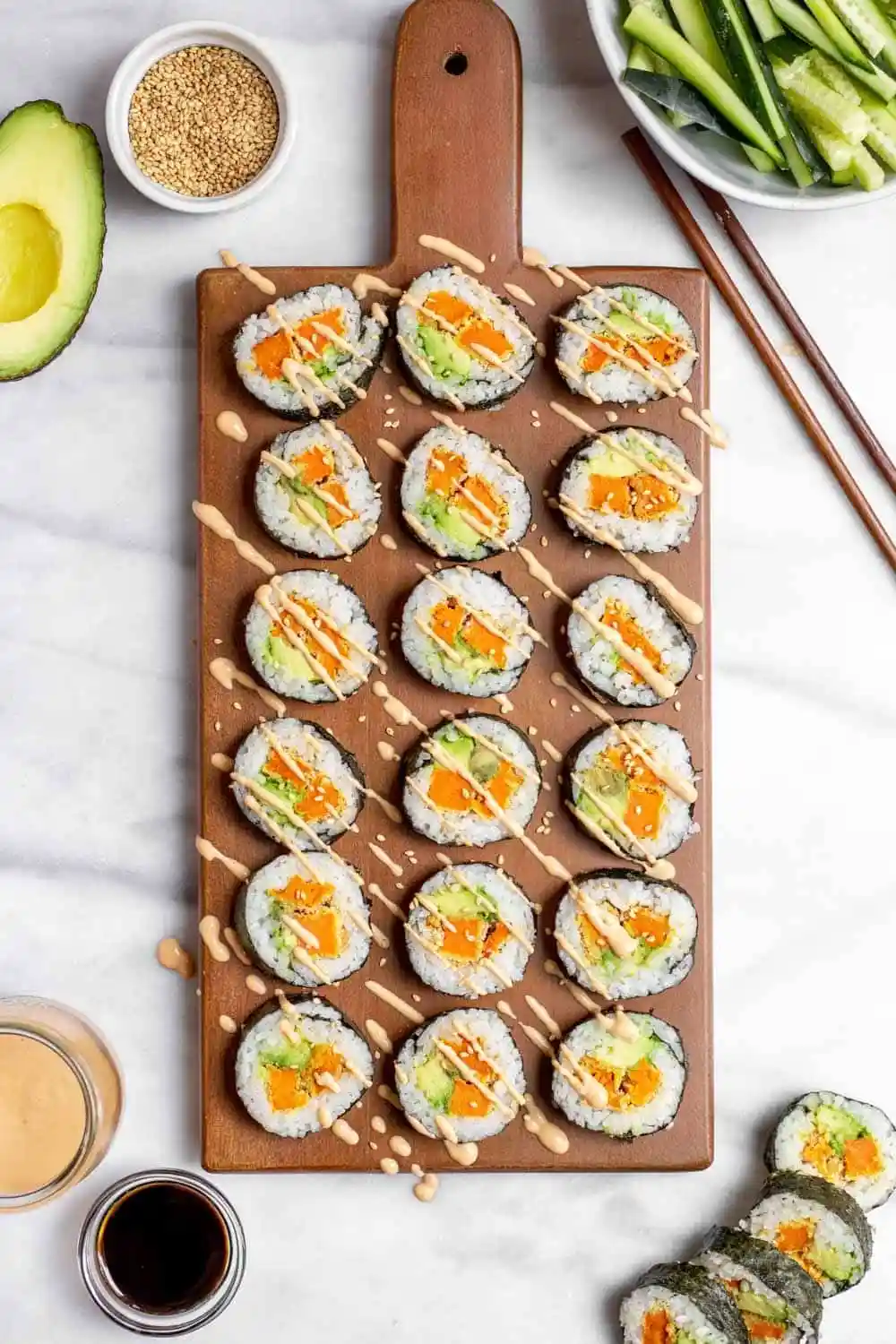 Again, almost anything can be made into sushi. Sweet potato can be made into sushi as well. Now, sweet potato and sushi sound like they may not go together. But both are constantly eaten in Japan every year.
So why not mix them together? As the name suggests, it would be perfect for all of the vegetarians out there. There are sushi lovers out there who aren't fans of fish.
16. Sriracha Sweet Potato Tempura Sushi
There are many reasons why people can't have or don't like fish in their sushi. So, they go out and find alternatives to feast on. People can and have used sweet potato.
We have already covered a sweet potato recipe above. This one is a little bit spicier. I know there are some of you who like spice with your healthy food. Adds a bit of a kick to it.
Seafood isn't your jam? There are vegetables you can substitute. Some people even use tofu in their sushi. But what if you want some meat? Chicken can be used instead of seafood.
The concept may sound a little bit strange to you. After all, how can chicken be made into sushi? Why not take a look below and see? You might find that you have a new favorite sushi roll.
18. Tempura Recipe
The name itself sounds rather interesting. This sushi is a combination of tuna unagi and avocado rolled together. The name comes from a person on Facebook. Yes, even Facebook has gotten in on the art of making sushi.
Sure, tuna and avocado have been mixed before with sushi. It's been in Maki rolled before. But have you had both and fried? Now that sounds like an adventure waiting to happen.
Here is another sushi roll that doesn't use fish. At first glance, this could be a hit or miss. Some people might not be fans of asparagus, but what is gari?
Gari is Japanese pickled ginger. Usually, pickled ginger is on the side of sushi. This recipe has pickled ginger inside of it. Asparagus and pickled ginger could make for an interesting time in your mouth. Go ahead and try.
20. Tempura Sushi Recipe
Finally, we have one more classic to look at. You will see this everywhere in many restaurants and shops. It's easy to see why. There are many pieces for you to eat.
You get salmon, shrimp, tempura, cucumber, imitation crab, and sometimes cream cheese. The fish can be switched out for other things. That all sounds like a party in your mouth. It looks similar to a dragon roll too.
The California roll has stood the test of time in America. It's even made its way over to Japan in recent years. On the surface, there is nothing that could improve the California roll.
But what if you took said California roll and fried it? It's a basic California roll with crunchiness on the outside. You might be surprised at how it tasted when you put it in your mouth.
22. Eel Tempura Roll
Here is another fish that can be used for sushi. Many people can get turned off by eel, but I think that it is misunderstood. When cooked right, the eel can be so delicious.
People eat eel already. Now picture that eel being turned into a nice mouth-watering tempura roll. That will feel like heaven dancing on your tongue. Don't be afraid to give the eel a try. You'll love it.
There are so many fish that can be turned into sushi. Cod will prove to be interesting for the bolder of sushi lovers. Cod seems to be loved by people who love fish. It's already being cooked into different recipes.
Why not turn it into sushi? Add some cool cucumber and you have a nice meal on your hands. This recipe takes time to make, but it is worth it.
24. Shrimp Tempura Caesar Salad Roll
Let's be honest, shrimp tempura can be a bit boring. Hiroyuki Terada has found a way to make it more interesting. In this recipe, he took the shrimp tempura and mixed it with Caesar salad.
That's right. Here, he takes the shrimp tempura and puts it on giant lettuce leaves in a roll. It will sound strange, but it will be worth the ride. After all, bold is wanted here.
24 Best Tempura Sushi Recipes
There are many tempura sushi recipes that you can work with here. There are many things that you can turn into sushi.
You don't have to have shrimp all of the time. You can substitute it with other fish or even chicken. Pick a recipe and have fun cooking it.
Directions
Select your favorite recipe.
Organize all the required ingredients.
Prep a Tempura Sushi Recipe in 20 minutes or less!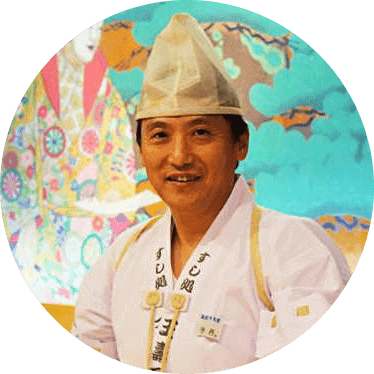 Hiroshi Nakamura, a Tokyo-born sushi chef turned US-based writer and critic, is the voice behind ichisushi.com, blending traditional sushi wisdom with modern insights.