Godzilla sushi roll is a type of shrimp tempura roll that's fried with tempura batter. You will undoubtedly notice the crunchy twist to the traditional Japanese dish!
With this recipe, you can make your own Godzilla sushi roll in the comfort of your kitchen.
Why This Recipe Works/ Why We Like This Recipe
Easy for Beginners: If you're new to making sushi, then this recipe is an excellent introduction to the subject. This recipe is pretty simple to follow and straight to the point. It makes it great for customization, as you can add some of your favorite sushi fillings.
Excellent Twist to Sushi: Traditional sushi mainly has a soft and chewy texture. But, with this Godzilla recipe, you'll add some crunch with the tempura batter. So, you can enjoy a familiar flavor with something new mixed in.
No Raw Seafood: Although sushi is well-known for using raw fish, scallops, and sea urchin gonad, this recipe is well-cooked. So, if you have any concerns about bacterial contamination with raw seafood, a Godzilla roll is the answer.
Quick Prep: If you want to make a last-minute main dish, then this recipe is an excellent choice for you.
What You Will Need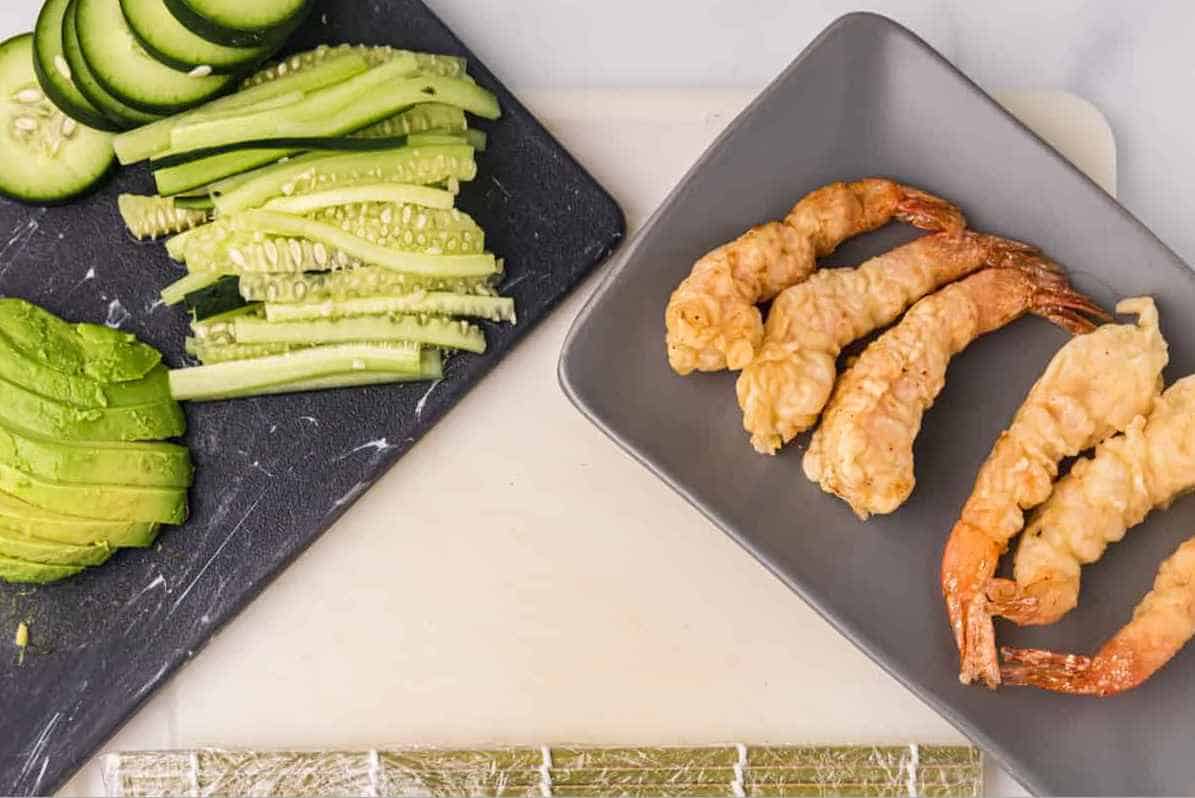 These are the ingredients and equipment you'll need to make delicious Godzilla sushi. Refer to the recipe card at the end if you want precise measurements.
Ingredients
Nori Sheet
Sushi Rice
Shrimp Tempura
Avocado
Cream Cheese
Flour
Tempura batter
Oil
Carrots (optional)
Cucumber (optional)
Spicy Mayo Ingredients (Optional):
Sriracha
Olive Oil
Mayonnaise
Equipment Needed
Sushi Bamboo Mat
Deep-fry Pan or Standard Frying Pan
How to Make Godzilla Sushi Roll Recipe
Step 1: Prepare the Sushi Rice
Cook the sushi rice and season it to your liking. Make sure to use sushi rice and not standard ones, as they have less gluten and stickiness.
Step 2: Lay down the sushi mat and nori wrap
Lay your bamboo sushi mat on a flat surface, like a cutting board. Make sure the strips of bamboo go horizontal from you.
For an added layer of protection, cover the mat with a sheet of plastic wrap so as not to contaminate the ingredients. Then add a piece of dried seaweed on top, shiny side down.
Step 3: Place the rice
Gently place the rice on top of the nori wrap and flip it against the bamboo mat. The rice must face the mat, and the nori must be towards you. You must press the rice and stick it to the nori to avoid disassembling.
Step 4: Assemble the fillings
Take your seaweed sheet and place the tempura shrimp, avocado, and cream cheese lengthwise at the top. Make sure it's on top of the nori sheet.
Hold the end of your bamboo mat and begin rolling the sushi forward against form you. Use firm pressure from your hands to shape it securely.
Step 5: Batter and Fry the Roll
Prepare the sushi for frying by rolling it in flour, then fully dipping it into a tempura batter. Once this is complete, heat approximately 1 to 2 cups of oil to 350⁰F in either a deep fryer or a frying pan.
Step 6: Fry the Godzilla Roll
Carefully lower the roll into the oil and let it fry for 3 minutes or until the batter is crispy and golden brown. Remove the roll and set it aside briefly before serving so it can cool down and become firm.
Step 7: Serve
Finally, let the roll set for a few minutes to avoid getting burned. Then cut into four to five slices and drizzle with some spicy mayo on top.
How to Make Spicy Mayo (Optional)
Step 1: Place mayo, sriracha, and olive oil in a small bowl and mix together until the desired blend is achieved.
Step 2: Consider adjusting the ratio of ingredients to something you like more. When satisfied with the sauce's texture, store in the fridge until ready to use.
Tips and Tricks
To make sure that your oil is hot enough, place a few drops of tempura batter in the oil. If it starts to bubble and cook immediately, then your oil is ready for frying.
Add some cucumber and carrot strips for a healthier and fresher flavor.
As the Godzilla roll can be too savory, try and mix it with some milder sushi, such as avocado roll, for a milder flavor.
Try to add some eel sauceor masago for a more traditional sushi taste.
If you're busy, you can also use frozen shrimp tempura to make the prep time a lot easier.
Common FAQ
Want to make the most out of your Godzilla sushi roll? Then read this FAQs!
What is the best pairing for Godzilla Sushi?
Some of the best pairings with Godzilla sushi are also staples with other sushi variants. Despite being a very hearty twist to the traditional recipe, some gari and soy sauce can still pair well with Godzilla sushi.
Also, you can try pairing the sushi with some refreshing drinks such as lemonade, ginger ale, or light wines. This will cut through the savory flavor of the sushi and cleanse your palate with every bite.
What is the difference between Tempura Sushi and Godzilla Sushi?
Tempura sushi is a wide variety, encompassing various versions of the dish. Most of the has one similarity: they contain shrimp tempura. Godzilla sushi roll is one of them!
With tempura sushi, specific rolls such as Dragon Roll are also considered as one. So, Godzilla sushi is a single type of role rather than a broad classification like Tempura sushi.
Is the Godzilla Roll raw?
No, the Godzilla roll doesn't contain any raw ingredients. Not only is the shrimp tempura cooked well, but the whole roll also undergoes a deep-fry, thus cooking every component.
Summary
If you've never tried to make a Godzilla sushi roll before, now is the time to give it a go! This straightforward recipe is ideal for those starting in the kitchen. It provides an excellent way to experience a twist to traditional Japanese cooking while being a quick and easy meal-time solution.
Godzilla Sushi Roll Recipe (7 Steps with Pictures)
Course: Recipes
Ingredients
1 Nori Sheet

¾ cup Sushi Rice

3 pieces Shrimp Tempura

2-3 slices Avocado

2-3 slices or 3 tablespoon Cream Cheese

½ cup Flour

Tempura batter

Oil

2-3 strips Carrots (optional)

2-3 strips Cucumber (optional)

For Spicy Mayo:

2 tablespoon Sriracha

½ cup Mayonnaise

1-2 teaspoon Sesame oil
Directions
Cook the sushi rice and season.
Lay down the sushi mat and nori wrap, shiny side down.
Gently place the rice on top of the nori, then flip.
Assemble the tempura shrimp, avocado, and cream cheese lengthwise on top of the nori sheet.
Roll the bamboo mat and secure the roll.
Roll the sushi on the flour, then the tempura batter.
Heat 1 to 2 cups of oil to 350⁰F.
Lower the sushi roll into the oil and let fry for 3 minutes or until the batter is crispy and golden brown.
Set aside and serve with spicy mayo.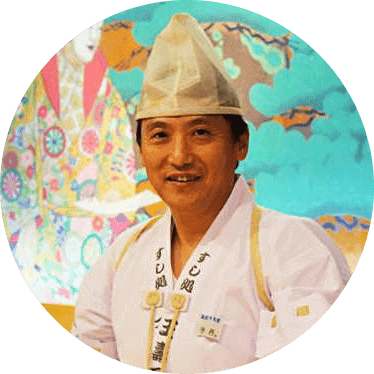 Hiroshi Nakamura, a Tokyo-born sushi chef turned US-based writer and critic, is the voice behind ichisushi.com, blending traditional sushi wisdom with modern insights.