Sushi roll is as trendy as ever within the modern food culture. Its rise worldwide has led to innovations and ingredients for the traditional Japanese dish. One of these modern sushi dishes is made with an unlikely fruit: mangoes. Curious? Try out one of these twenty-four mango sushi roll recipes.
What is a Mango Sushi Roll?
Mango and sushi are a combination that's unheard of in traditional dishes. Since Japan has a limited mango production, it made sense that the fruit is not utilized much in the cuisine. Fortunately, with the sushi gaining worldwide success, countless iterations of the mango sushi roll have been invented.
Mangoes are utilized as sushi sauce, filling, and wrap. The fruit is especially popular with the Mexican spin on sushi. The mango gives a sweet and sour twist to the Japanese dish.
It's also an excellent ingredient for vegan, vegetarian, and gluten-free sushi rolls. Mangoes are often mixed with other vegetables such as avocado, carrots, and cucumber.
The mixture of fresh tropical mangoes and shrimp tempura might sound like an unlikely combo. However, this recipe is here to prove the excellent taste of these ingredients. The sushi roll has a unique and fresh taste.
As the recipe points out, the sushi roll is perfect for kids and picky eaters. Since the shrimp is cooked tempura-style, you don't have to worry about raw seafood with this sushi.
2. Mango Maki Sushi
This recipe contains mango, tamagoyaki, and crab meat. If you are a fan of filling and flavorful sushi recipes, try out this mango maki sushi. The roll is pretty easy to make and quick to prepare. If you want to upgrade your sushi rolls, this one is an incredible option.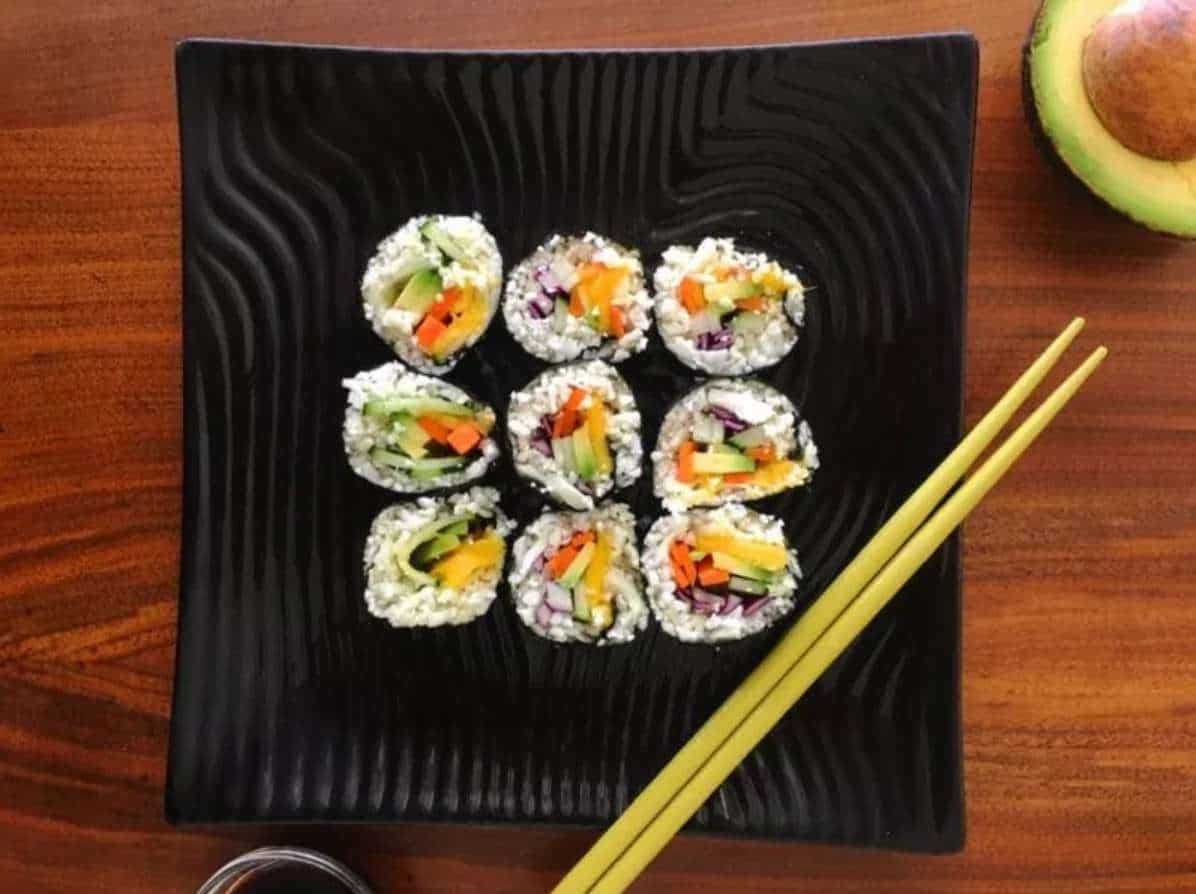 Are you looking for a delicious vegan sushi roll recipe? Then, this easy avocado and mango sushi roll will serve you well. It's light and perfect as an appetizer, full of fantastic flavor from the fresh vegetables and fruits.
The addition of cucumber, purple cabbage, and carrots gives the recipe a pop of color. It's an excellent last-minute treat for guests and meals.
4. Mango Salmon Roll
Savory and sweet, that is how to describe this recipe by Doma. This mango salmon roll leans on the traditional sushi recipes more than most ones on this list. Traditional sushi ingredients such as avocado and cucumber are also in this sushi roll.
If you are a fan of the savory raw salmon, you should try this one out. With this guide, you will make your first mango salmon sushi roll in no time.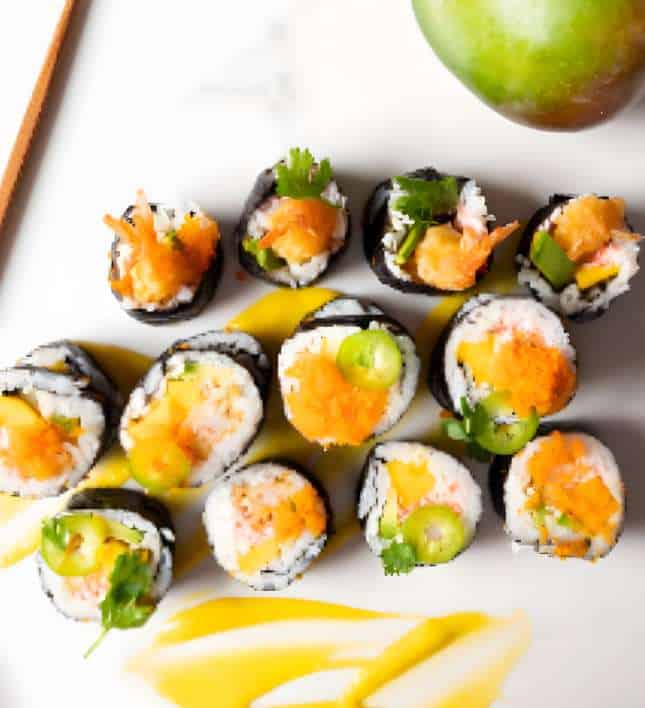 Chef Mikel Anthony's protein-packed sushi roll recipe is an excellent way to make a homemade meal. The sushi roll is packed with seafood flavor from the imitation crab and shrimp tempura.
Along with the mango and avocado slices, the recipe balances out the flavors for a fantastic taste. The sushi roll is perfect for snacks or meals, especially the mango puree on top.
6. Mango Avocado Sushi Roll Recipe
Crispy and juicy, that's what this unique recipe feels like. The sushi roll contains a fantastic amount of mango flavor. From the mango puree and mango slices, we assure you that you'll taste the fruit with every bite of this sushi.
This hearty sushi roll is a fantastic meal, and the crunchy salmon and creamy avocado. This sushi roll is a delicious and filling dish with green tea or other Japanese drinks.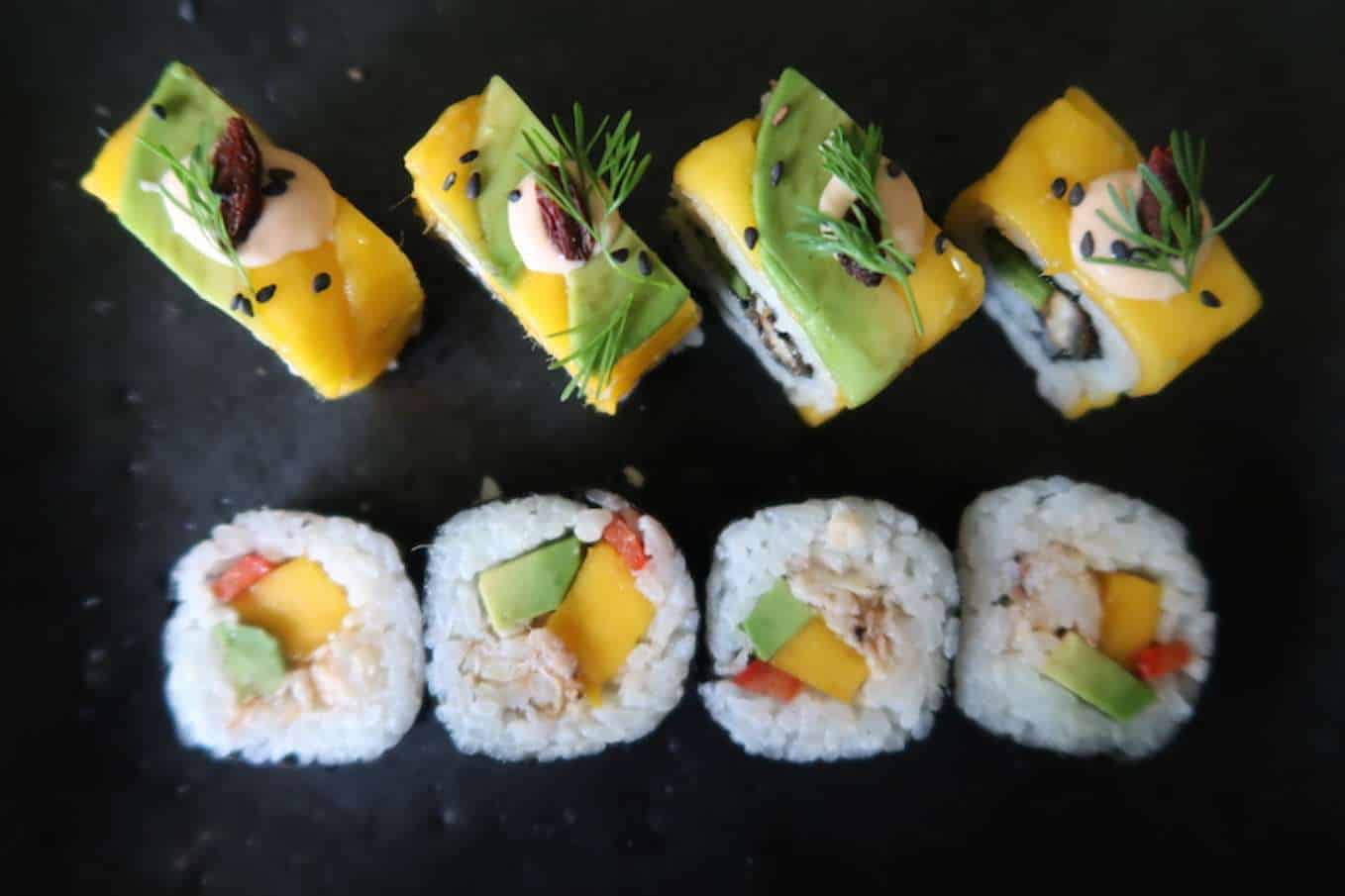 Where to learn the authentic art of sushi making other than Japanese? This mango roll sushi recipe is perfect for novice sushi makers. The recipe guide details the proper way to make a delicious mango sushi roll and tips.
If you want a beginner guide for making mango sushi roll, check out this Omote Maki recipe.
8. Avocado Mango Rolls
The avocado and mango roll flavors are an incredible combo with this sushi roll recipe. The traditional unagi nigiri heavily influences this roll along with the eel meat. The balance of fresh and savory flavors balances each other out.
If you want a filling and not overpowering sushi, you should try this recipe. It's pretty easy to make that even a novice in the kitchen can do it in no time.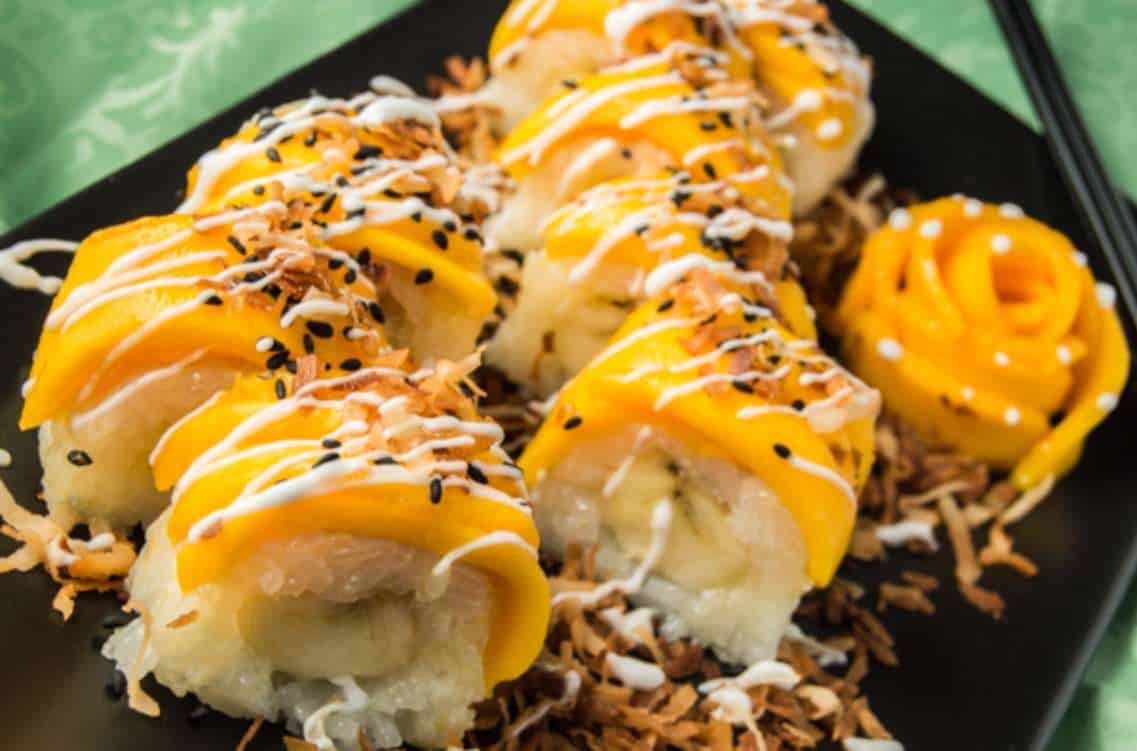 This excellent sushi roll by Feeding the Friya is a perfect dessert. The sushi roll is sweet as the rice is made with coconut milk. The filling itself is a combination of mangoes and roasted coconut.
It's a fantastic combination of tropical and Japanese cuisine. If you are in for a dessert sushi roll, give this one a try.
10. Mango Tiger Sushi Roll Recipe
This mango tiger sushi roll recipe is perfect if you want a fun and delicious sushi roll. You will need a bit of skill when cutting the mango, as sculpting is necessary. This recipe and guide is an ideal art and cooking project for your family or friends. Kids, in particular, will surely love this recipe.
Your taste buds will thank you for this sweet twist to the traditional maki. This sushi roll is an excellent meal and snack with a crab, avocado, and mango filling.
The tangy flavor of the crab and the sweetness of the mango are a perfect combination. If you haven't tried out this recipe, you are definitely missing out.
12. Vegetables & Mango Sushi Roll
A vegan recipe, this vegetable and mango sushi roll recipe is a healthier way to enjoy the traditional Japanese dish. The cucumber, avocado, and carrots are a great combo of vegetables. The roll is booming with a creamy and refreshing taste with every bite.
The mango slices topping is an incredible addition to give the roll a hint of sweetness. This sushi roll is light and healthy, a perfect snack and appetizer.
13. Mango Roll
The taste of the crispy shrimp tempura and sweet mango meet in this mango roll recipe by Miller Ramos. The refreshing mango, avocado, and cucumber combo is an incredible partner to the crunchy tempura.
The recipe perfectly balances out the flavors of the shrimp and the veggies. It's a perfect recipe for beginners as it's easy to make and quick to prepare.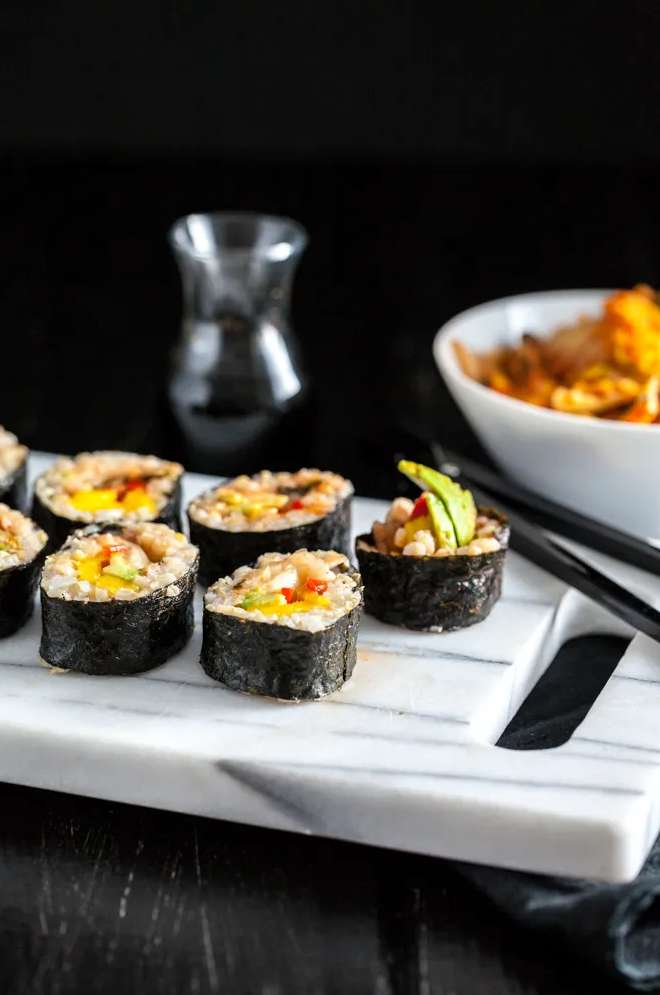 This vegan sushi roll is perfect for vegetarian sushi lovers. The sushi roll also has kimchi and the delicious mango and creamy avocado. The dish combines Korean and Japanese cuisine to make your taste buds squeal with delight.
The roll contains many brands of flavors without overpowering each other. This light and delicious sushi roll is a great way to enjoy the dish without breaking your diet.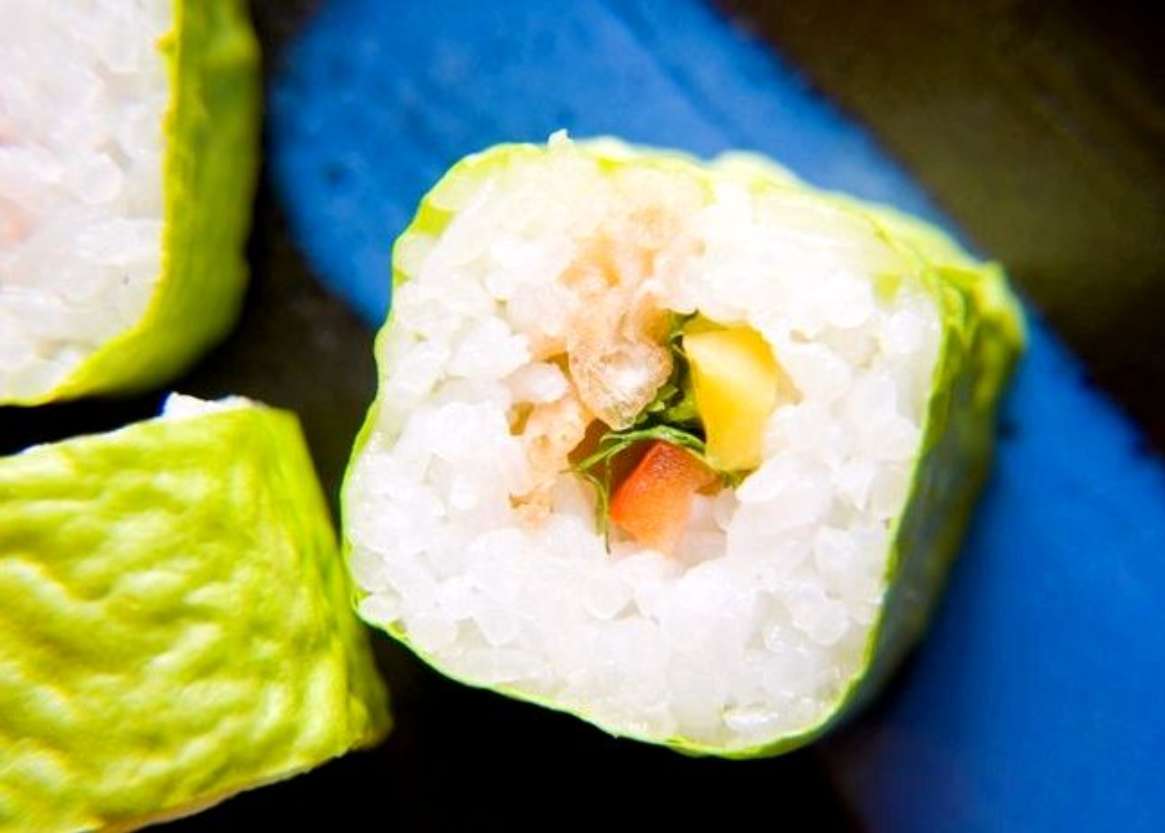 A combination of sriracha, tuna, and mango might sound a bit out there. However, this recipe by Best Cook Ideas is here to prove otherwise. The tangy tuna, sweet and sour mango and spicy sriracha make an incredibly delicious sushi roll.
The recipe is a unique tropical twist to the spicy tuna roll. It offers sweet and refreshing flavors from the sea and tropical forests.
16. Mango Sushi Roll
You should try out this mango sushi roll recipe by Hotto. The roll has many delicious ingredients, such as cucumber, avocado, shrimp tempura, and mango. The topping of mango and salmon makes for a filling and flavorful sushi within every bite.
The delicious sushi roll is perfect as a summertime treat. It's an ideal combo of seafood flavor and tropical vegetables and fruits.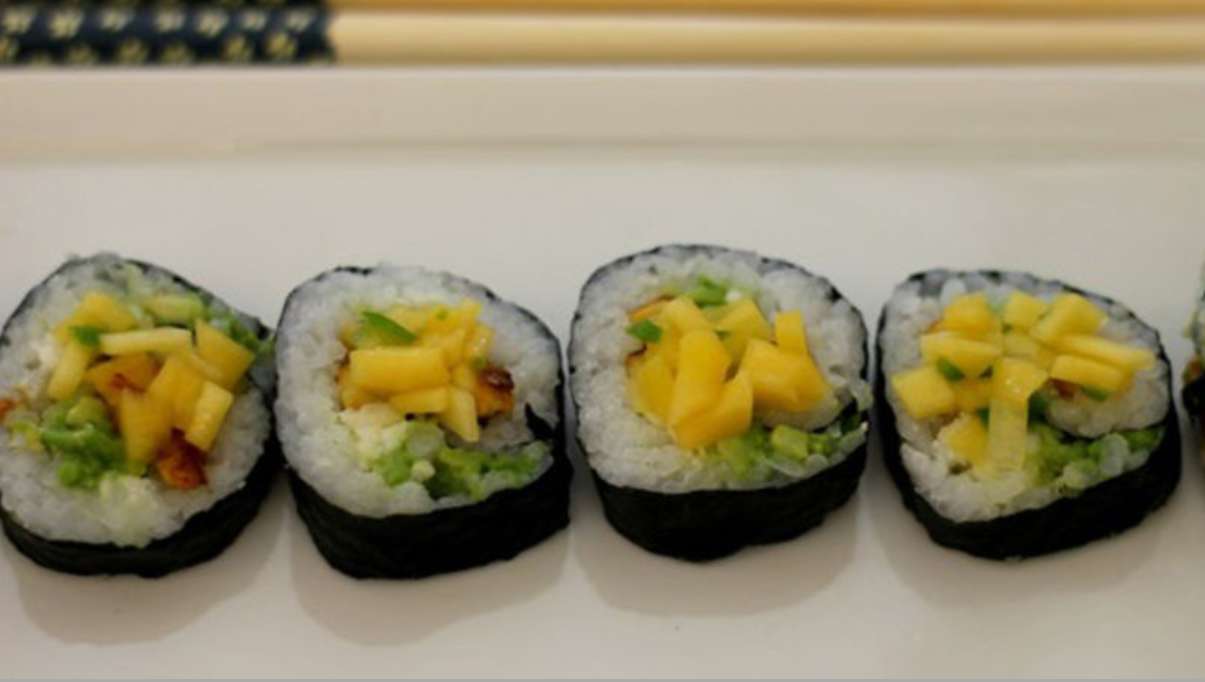 You will taste the incredible flavors of traditional Latin cuisine. The sushi roll contains tropical fruit favorites such as plantain, avocado, and mango. Unlike the conventional nigiri and maki sushi, this one explodes with different flavors.
If you want a way to spice up your sushi roll, this recipe is for you. It's an incredible appetizer as it's light and flavorful.
18. Mango Avocado Sushi Roll
This easy vegan recipe is an incredible sushi roll as an appetizer. If you are running late and want a fast sushi roll to prep, look no further than this recipe.
The combination of fruit and vegetables makes for a quick yet flavorful dish. The addition of corn and cucumber also adds a layer of texture to the sushi roll.
Do you want a tropical twist to your California sushi roll? Well, this inside-out mango sushi roll is here for you to try. It's an excellent appetizer and snack, packed with flavors that balance each other.
The kick of the spicy mayo on top is a welcome addition. This recipe is for you if you want to level up your California roll.
20. Fresh Mango Sushi Roll
With many fresh ingredients and delicious vegetables, this recipe by GyDabg Dong is a healthier way to enjoy sushi rolls. The mango ushi contains many nutritional values due to the different and diverse vegetables inside it.
The strip of mango also adds a variety of flavors to the roll. This beginner-friendly recipe is an excellent option for a healthier choice than the traditional sushi roll.
Do you want to try out a dessert sushi roll? This mango sushi recipe by the Times of India will hit the spot. You are in for a sweet and tasty treat with grapes, mango, and strawberry combo.
The rice is also boiled with milk for added flavor. You can use any milk you want to serve your preference perfectly.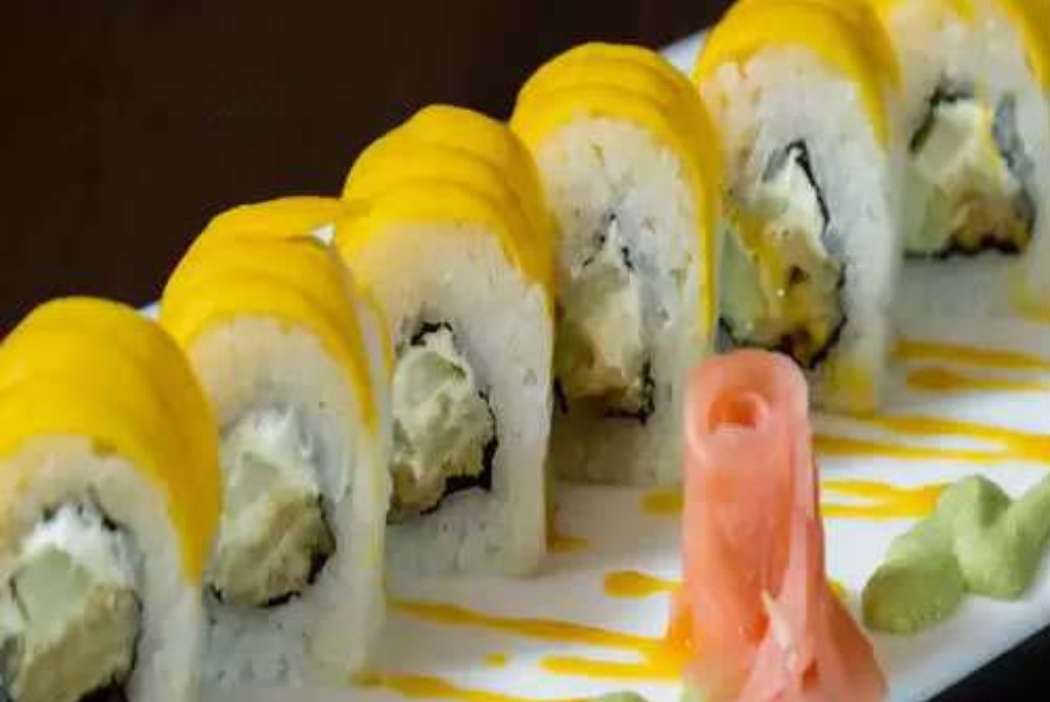 This excellent recipe is an incredible vegan twist to the traditional maki sushi roll. Instead of using imitation crab or shrimp, the recipe uses mango. It's a refreshing and light meal. If you want to eat sushi without breaking your diet, this recipe is for you.
The sushi roll is perfect as an appetizer as it's easy and fast to prep. It's also beginner-friendly.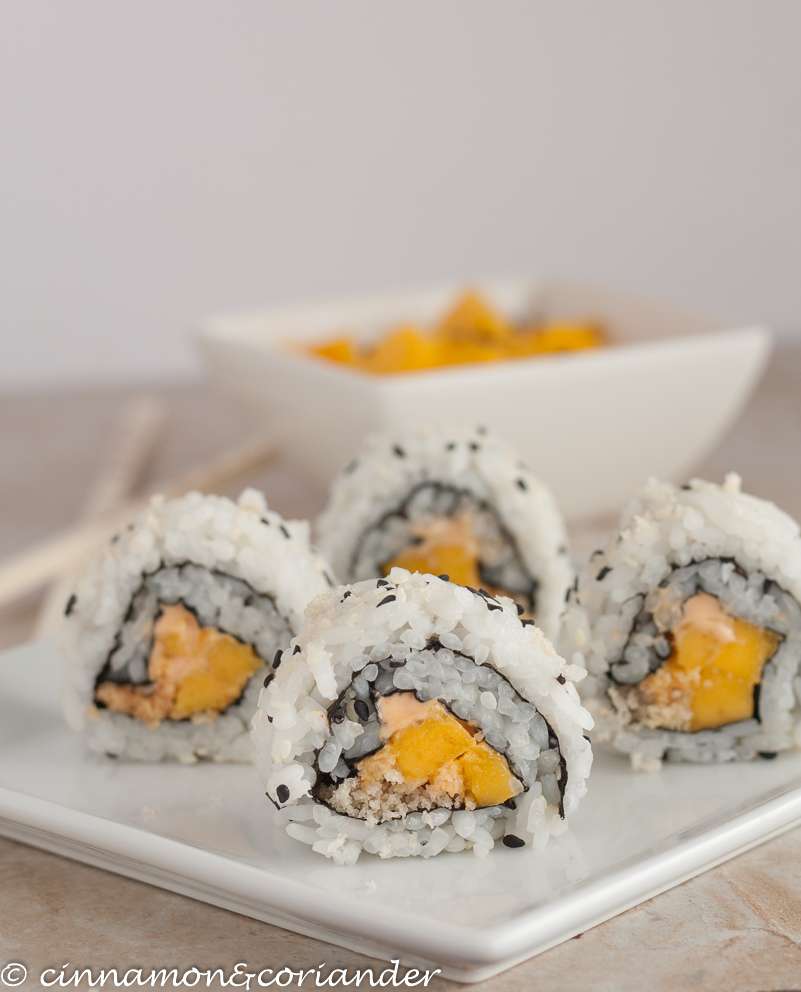 Something sweet, spicy, and crunchy, this vegan sushi roll contains many flavors. Why hold back when you are the one going to make the sushi? With this recipe, you have many flavors and textures to experience.
It's utterly addictive and will make for a great and delicious meal. The kick of the sriracha mayo adds spice to the sushi roll.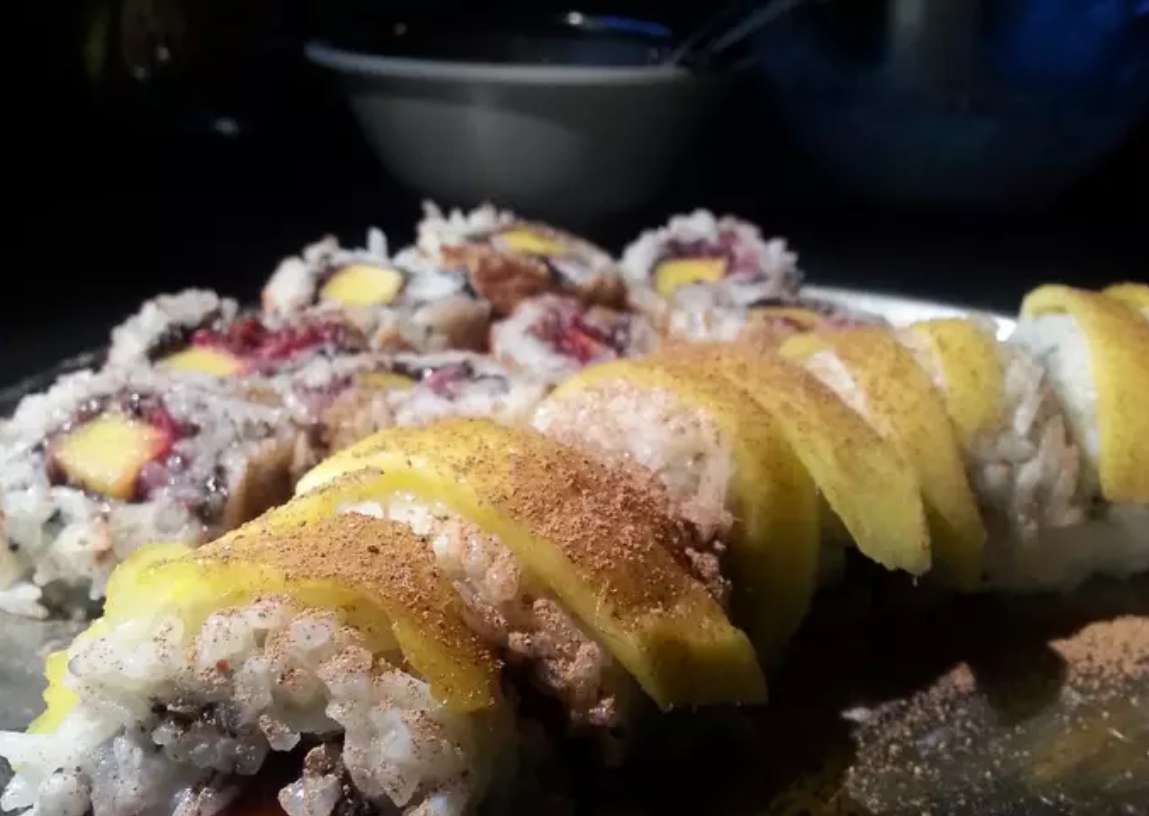 Oreo and mango sushi rolls are an ongoing trend on social media. With this sushi roll recipe, we will combine the two. The chocolate goodness and sweet and sour mango make for a delicious dessert. The sushi roll is perfect as a dessert, and the glutinous rice.
If your interest is piqued, then try this one out. It's incredibly addictive and easy to make.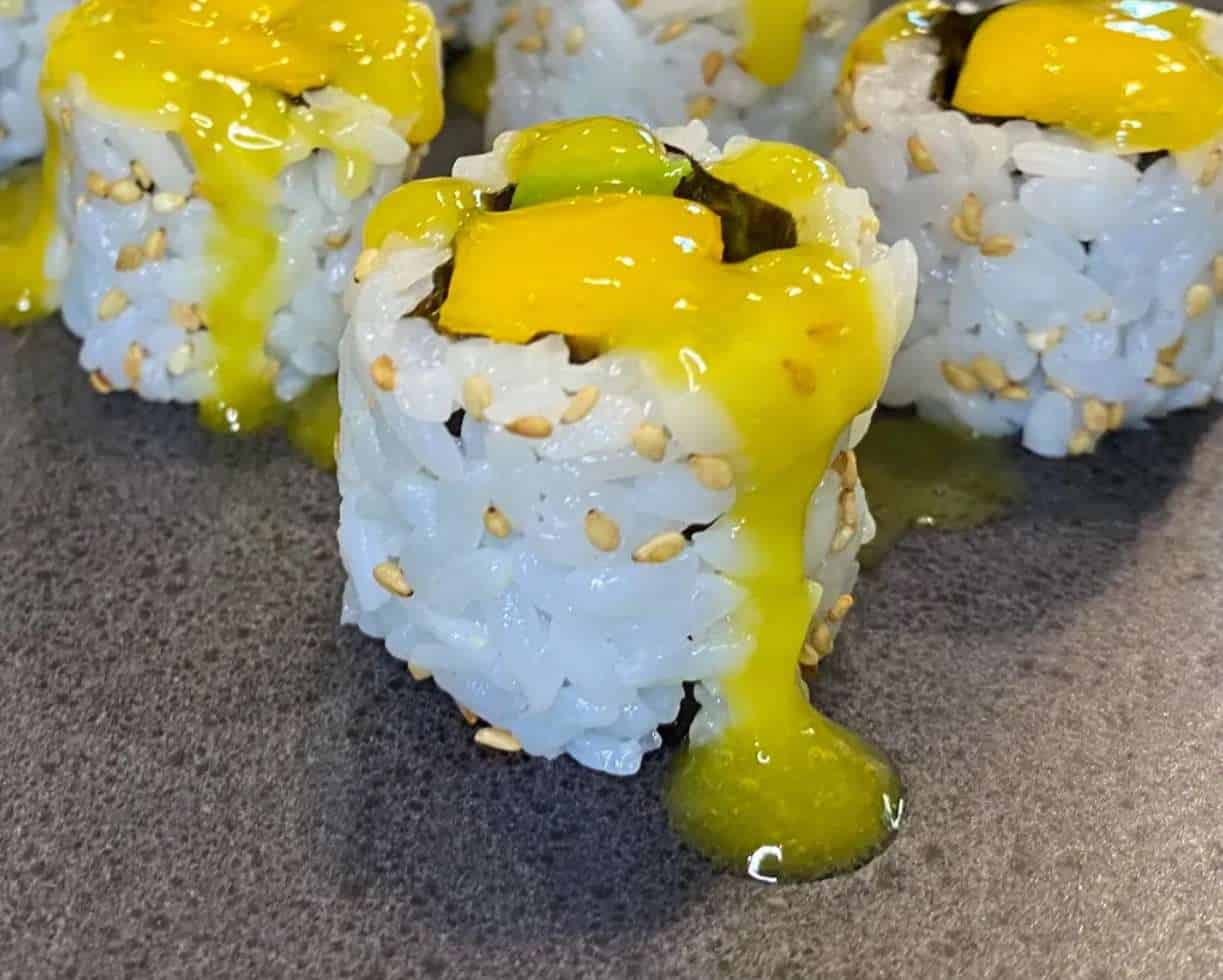 Pebbles and Toast's delicious vegan sushi roll recipe makes for an easy and tasty snack. The inside-out maki sushi roll contains ripe avocado and fresh mango. The sushi roll also has a smooth mango sushi sauce drizzle on top.
Add some chopped nuts, and you are in for a sweet treat. The sushi roll is all-natural, healthy, vegan, and gluten-free.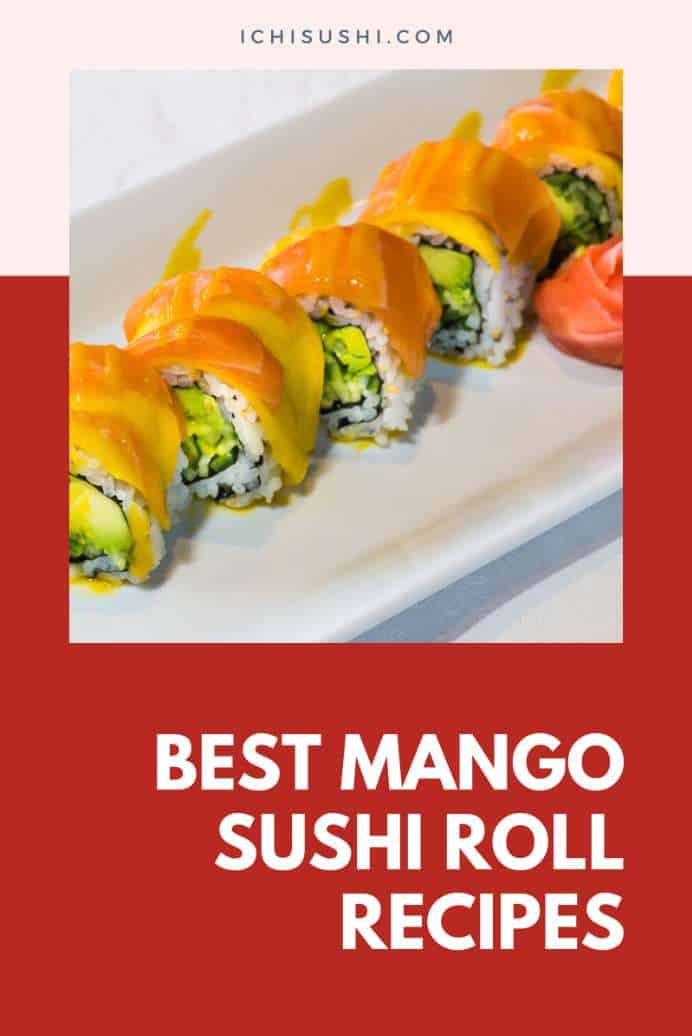 24 Best Mango Sushi Roll Recipes
As we can see, mango transcends into a more common sushi ingredient. If you love the sweet-sour taste of the tropical fruit, we hope you find the perfect option for you within this twenty-four mango sushi roll recipe.
Directions
Select your favorite recipe.
Organize all the required ingredients.
Prep a Mango Sushi Roll Recipe in 30 minutes or less!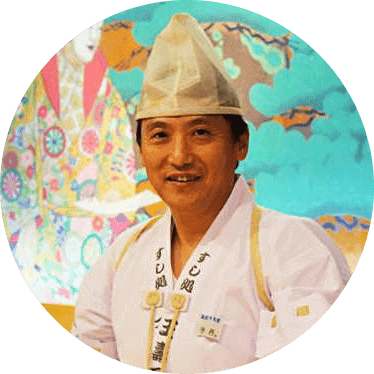 Hiroshi Nakamura, a Tokyo-born sushi chef turned US-based writer and critic, is the voice behind ichisushi.com, blending traditional sushi wisdom with modern insights.