There are a lot of Tuna Sushi recipes that you can try out. Most of these recipes use fresh tuna, but you can also try out your own recipes using canned tuna. In fact, most people outside of Japan use canned tuna for their DIY tuna sushi recipes.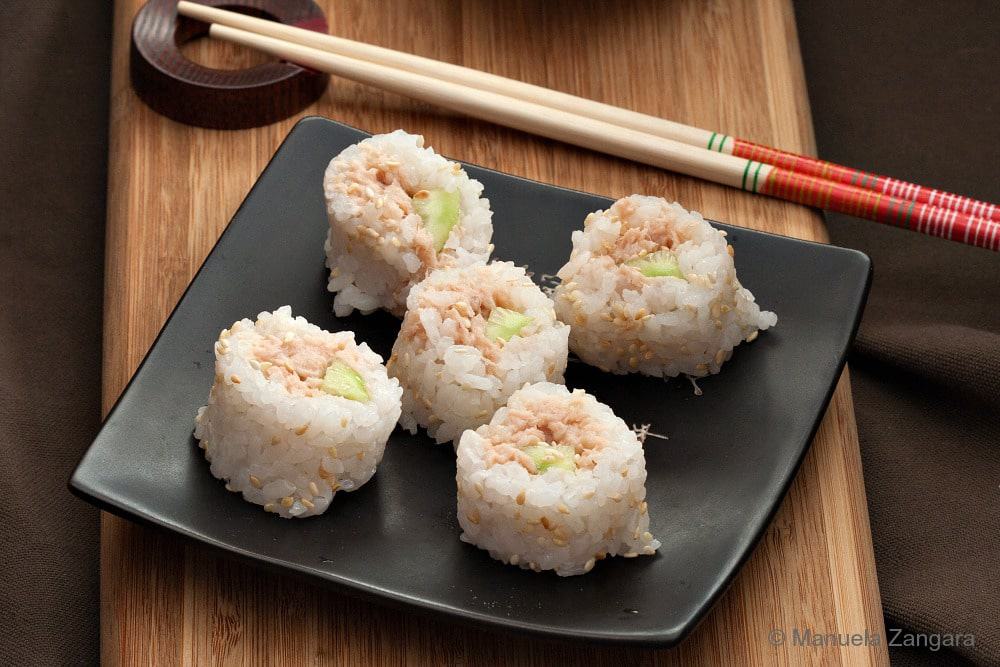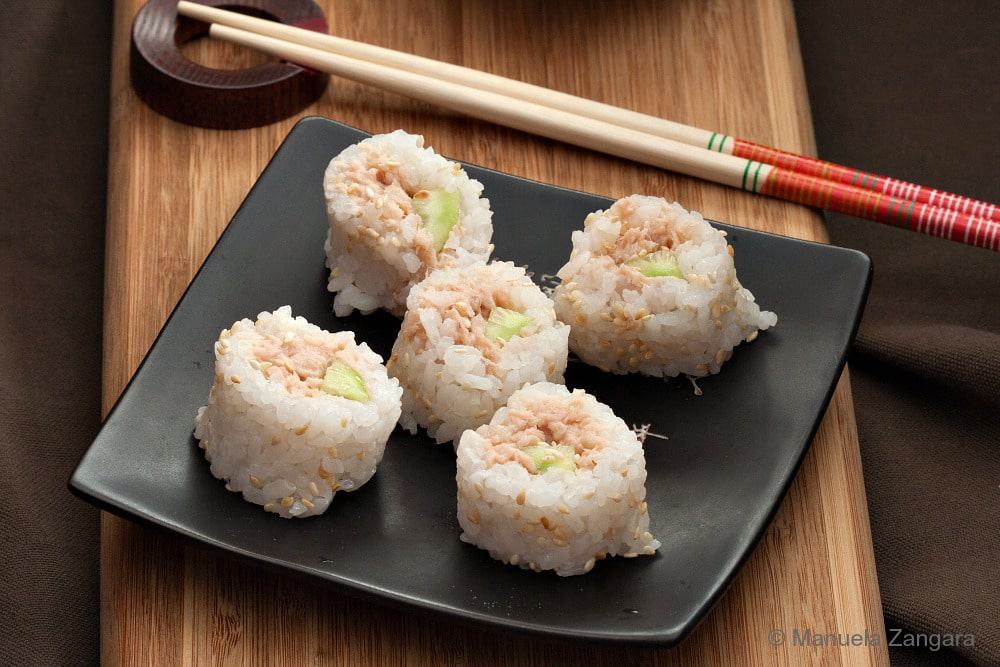 All you need for this low-fat recipe is to use canned tuna. However, instead of tuna canned in oil, you need to use tuna canned in water. You must also use fat-free mayo instead of regular mayo. This recipe is perfect for those who want to enjoy sushi but still keep it light. You can also throw in some cucumbers before you roll.
2. Canned Tuna Sushi Roll
Instead of fresh tuna, as you might have guessed, you can make this sushi roll using canned tuna. You can use Japanese sushi rice made with rice vinegar, sugar, and some salt.
This tuna sushi roll recipe uses a variety of fillings, including cucumber (julienne cut), carrots, drained canned tuna, Japanese mayo, salt, chili powder, pepper, and sesame seeds. You can make two to four rolls per cup of rice.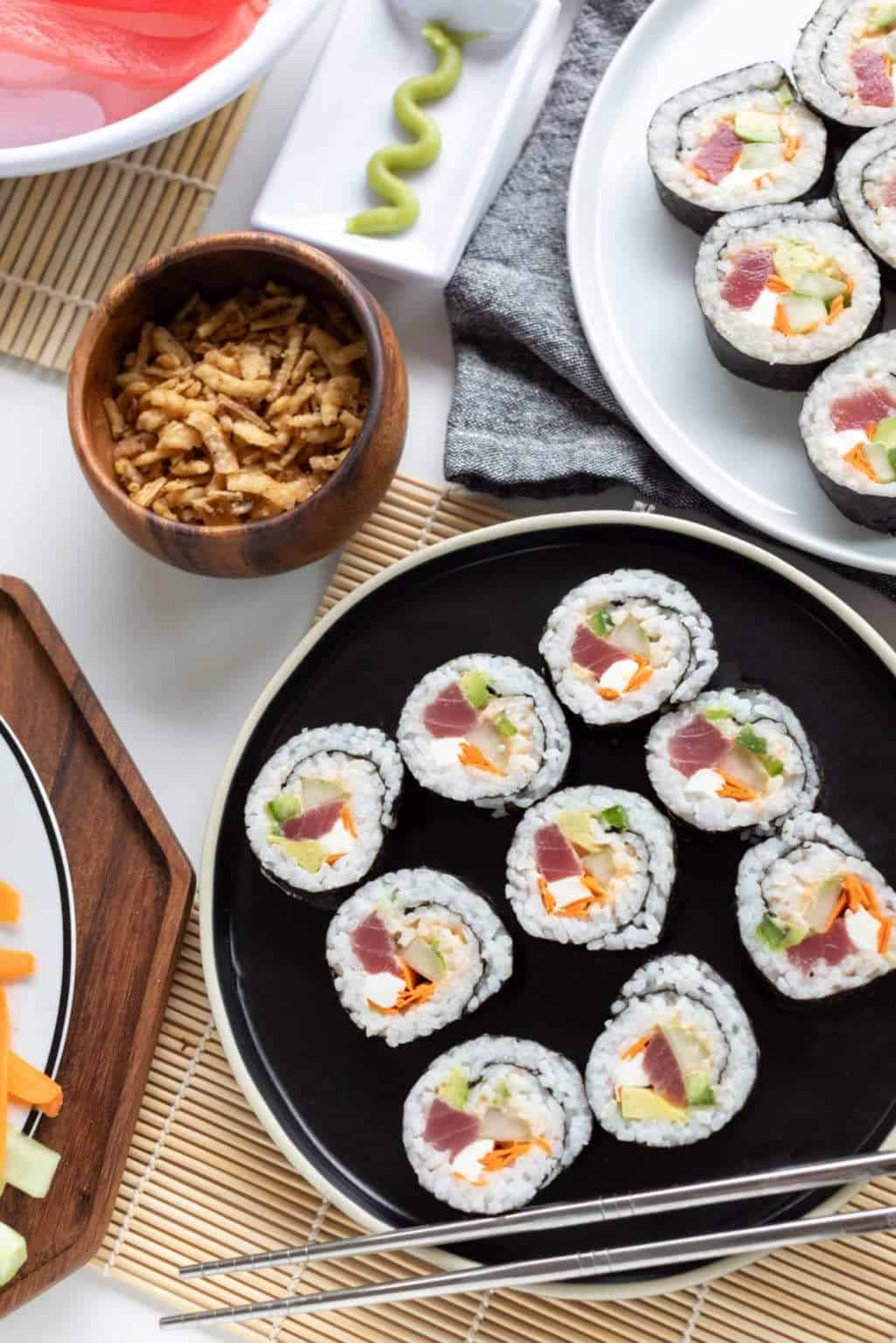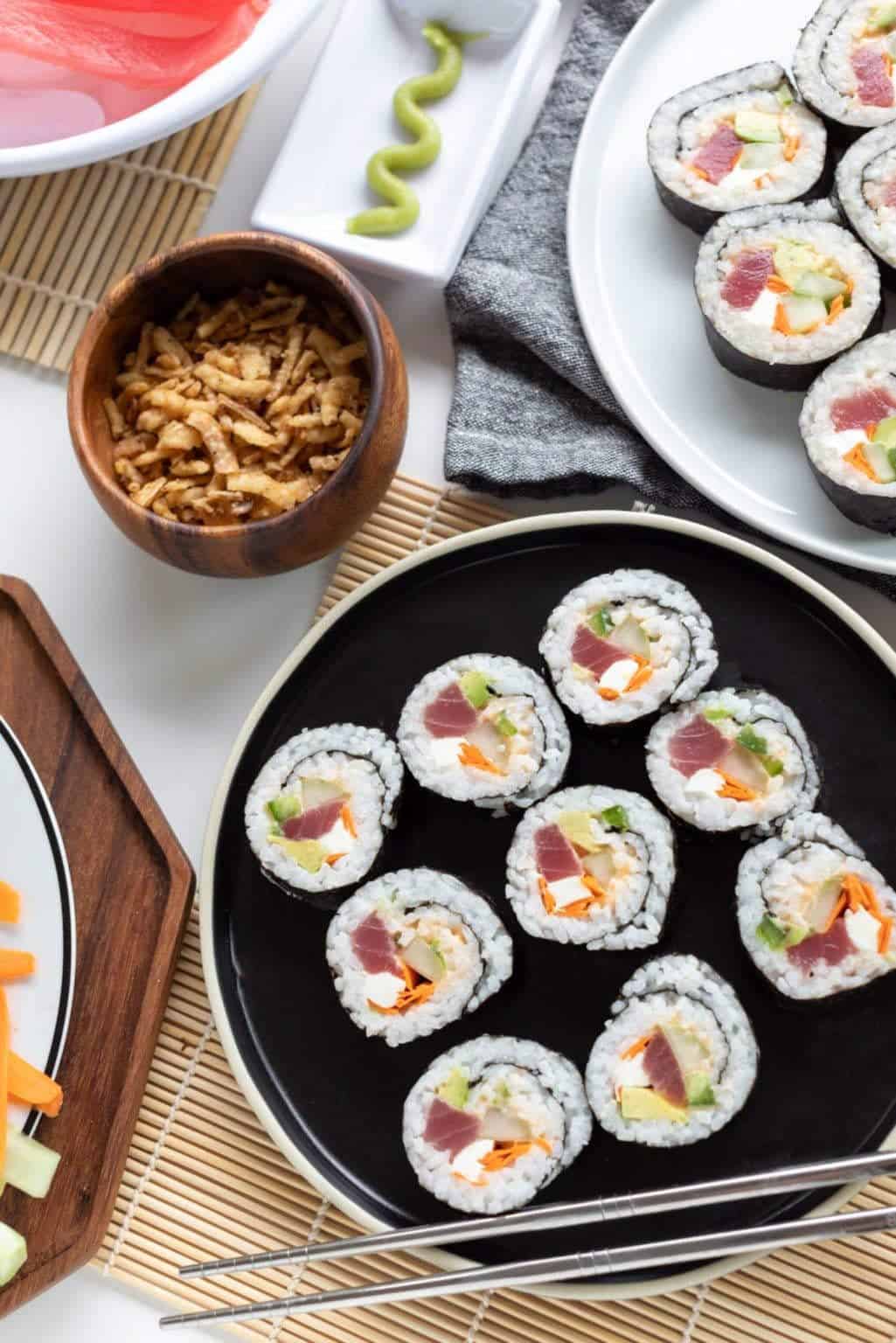 This spicy Tuna sushi roll is restaurant quality and beginner-friendly. To make the tuna sushi roll, you will need Sashimi-grade ahi tuna, the main ingredient.
You will also need garlic Sriracha sauce, crunchy veggies, cream cheese, sushi rice, and diced jalapeño. The idea is to slice the tuna into long thin strips and roll them together with the other ingredients.
4. Spicy Tuna Rolls – No Recipe
This recipe uses tuna, sriracha, sushi rice, soy sauce, sugar, and sesame oil. You will also need a scallion and tobiko. If you don't have tobiko, you can also use sesame seeds. Lastly, you will need a cucumber.
You can either use a Japanese, Lebanese or English cucumber. All the ingredients will be mixed and minced before placing them on rice and rolling on rice and seaweed.
This is a 15-minute recipe made using rice, sushi vinegar, white sugar, table salt, mayonnaise, and spring water. You will also need cucumber and five nori seaweed sheets. First, cook the rice, then mix it with vinegar, sugar, and salt. You will then need to mix the tuna and mayonnaise before rolling them together with the cucumber.
6. Canned Tuna Maki Rolls
This is a simple but delicious type of maki sushi. Like many other modern tuna recipes, this one uses canned Century Tuna. The main ingredients include rice and, of course, canned tuna. You will also need seaweed sheets, carrots, sesame seeds, and mayonnaise. You can also throw in some sugar to taste.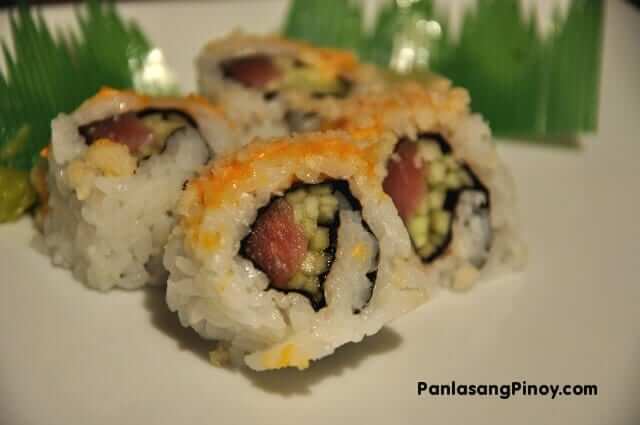 This is a type of Sushi made from raw tuna and shari. You can do it in several ways. The most common version is where the nori covers the entire roll. However, there are others where you roll so that the nori stays inside. This is similar to the California roll. The recipe also uses variable ingredients. To add additional texture, you can throw in a cucumber.
8. Fresh Yellowfin Crazy Tuna Roll
This is a spicy tuna roll that uses Yellow Fin Tuna. You will also need Hass avocado, rice, seaweed, scallions, and tempura flakes. This roll is quite easy to make, and it's known to be one of the richest tasting rolls. Once you roll all ingredients, you can drizzle it in spicy mayo and some sesame seed oil.
This is a regular Sushi roll, with the distinction that the tuna is seared. Before searing, season the tuna with shichimi or cayenne. After that, you should marinate it in soy sauce, then sear and slice the tuna into horizontal strips. You can make the rolls using toasted nori sheets cut in half.
10. Canned Tuna Mayo Sushi
This is a hassle-free recipe that makes use of Canned Tuna Mayo. You can also throw in a cucumber if you have one. You will need to get some seaweed for your roll. The recipe can also use salmon and avocado if you are missing canned tuna and cucumber. The two ingredients should be rolled together with rice in your seaweed.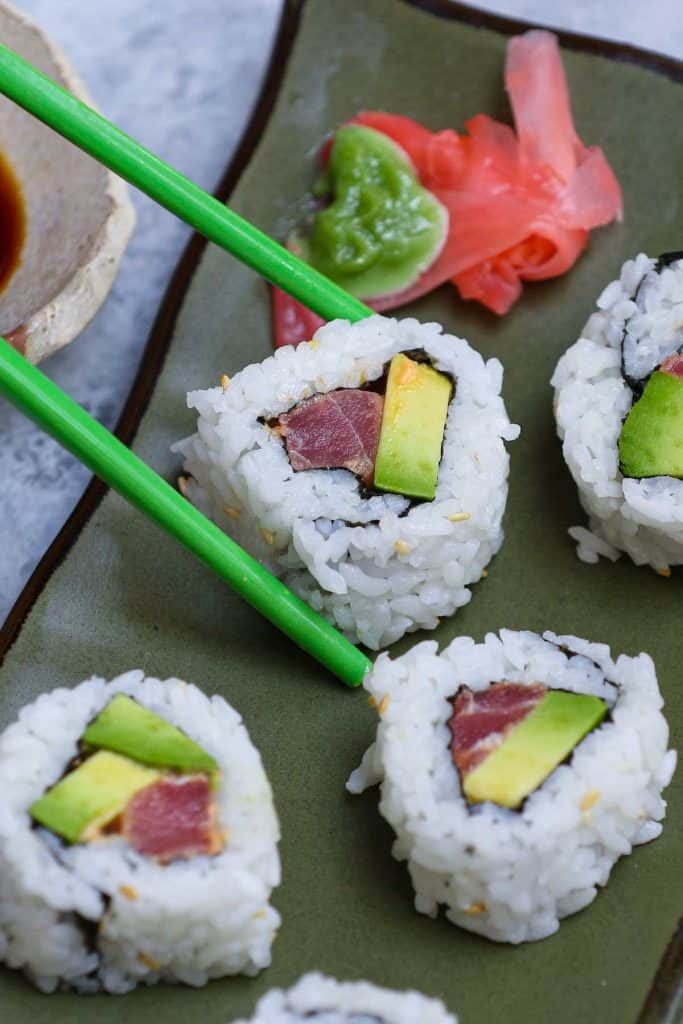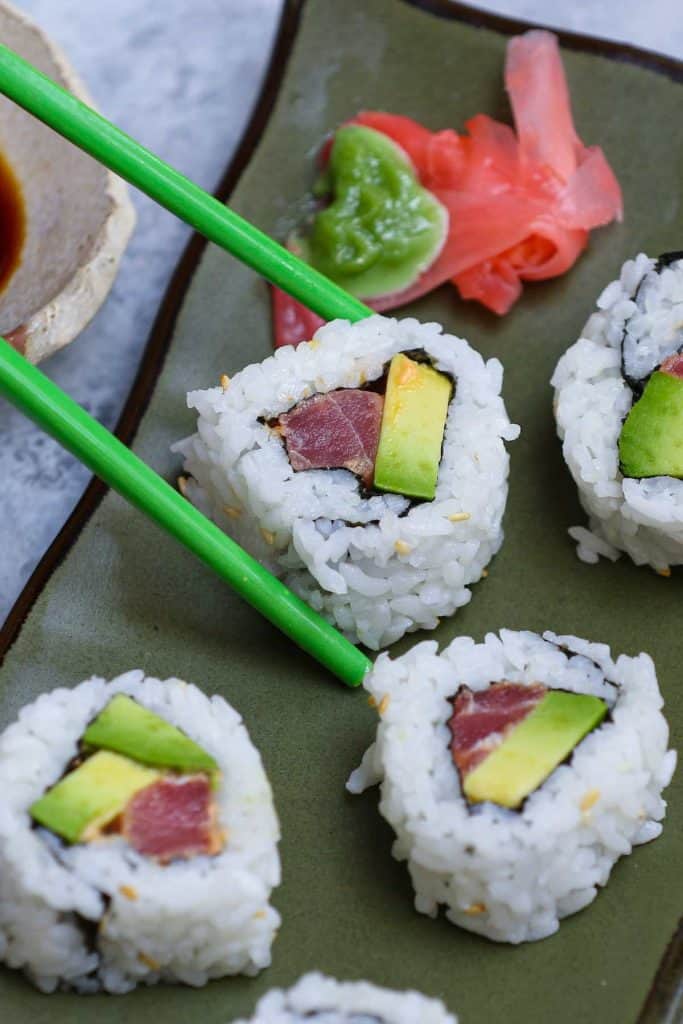 This spicy tuna sushi roll is a classic Japanese recipe. To make it, you need to fill the nori seaweed sheet with rice, avocado, and sashimi-grade tuna. The highlight of the recipe is that the tuna sushi should be tossed in spicy sriracha mayo. The recipe takes about 15 minutes to complete once the tuna sushi is ready.
12. Fresh Tuna Roll
This is one of the simplest recipes. It should be done in less than 15 minutes with under five ingredients. You will need to get what would be the hip portion of tuna.
You also need to get some sushi rice. To give life to your seaweed, you can roast it for under two minutes to make it a bit crispy, then roll the rice together with the tuna in the seaweed.
This is a simple recipe for delicious sushi that features tuna, avocado, and refreshing cucumber. You can prepare the tuna and avocado separately. Once everything is ready, you will place the tuna mixture, avocado, and cucumber together with the rice on nori seaweed sheets. You then roll the ingredients together to make the roll.
14. Soy Marinated Tuna Sushi
Instead of using fresh tuna, this recipe uses canned tuna. For the sushi rice, you can mix rice with rice vinegar, sugar, and salt. To make the filling, you will need julienne cut cucumber and carrots.
You will also need Japanese mayo, pepper, salt, chili powder, or Japanese spices. Lastly, like most sushi rolls, you will need nori sheets. Once you finish rolling, you can throw in some sesame seeds.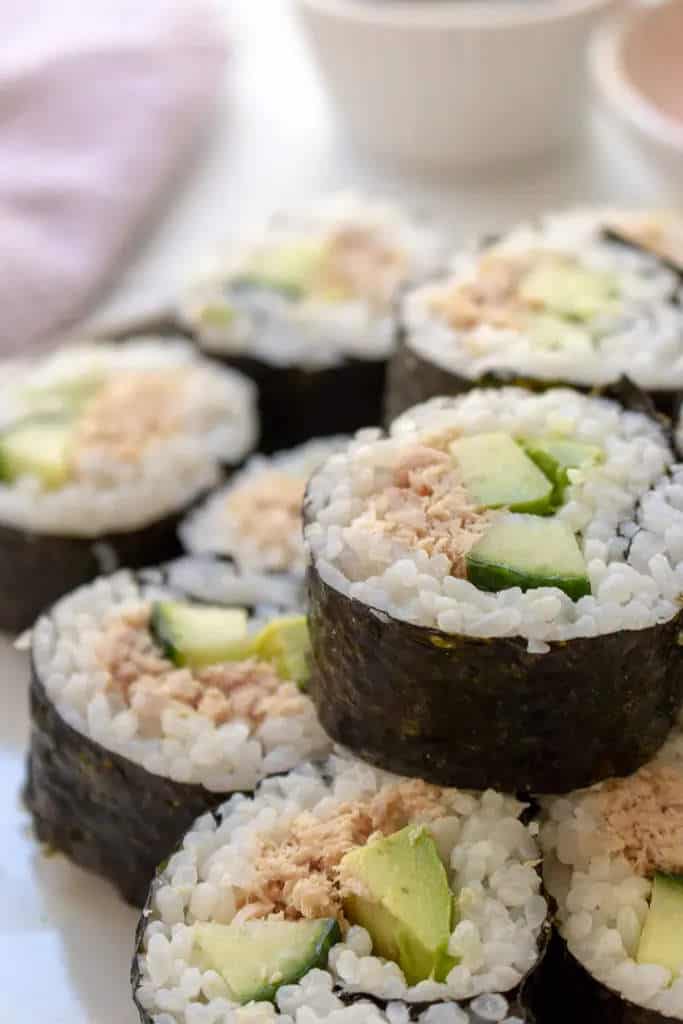 This is another type of sushi roll. You make the rolls using a nori sheet filled with tuna, avocado, and cucumber. You place the rice loosely to cover the nori and then pressed over the sheet. The rest of the fillings include the cucumber, avocado, and tuna in strips which you place as close together as possible.
16. Bluefin Tuna Sushi
Instead of canned tuna, this recipe uses fresh bluefin tuna. For the rest of the recipe, you will need some wasabi, seaweed sheets, and either sliced or scrapped tuna for your rolls. This is a basic recipe that doesn't contain a lot of spices and additives. You can enjoy the tuna with the rice, wasabi, and nothing else pretty much.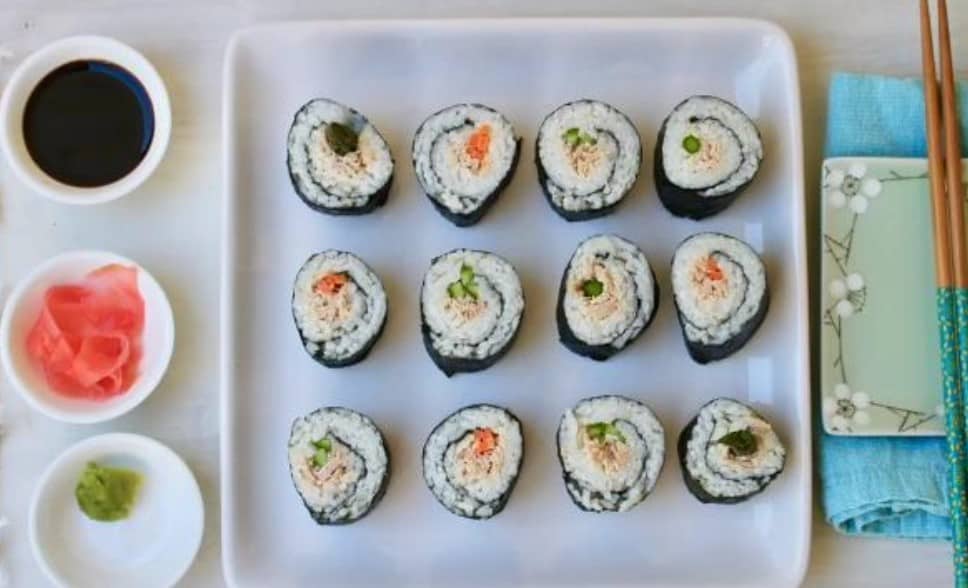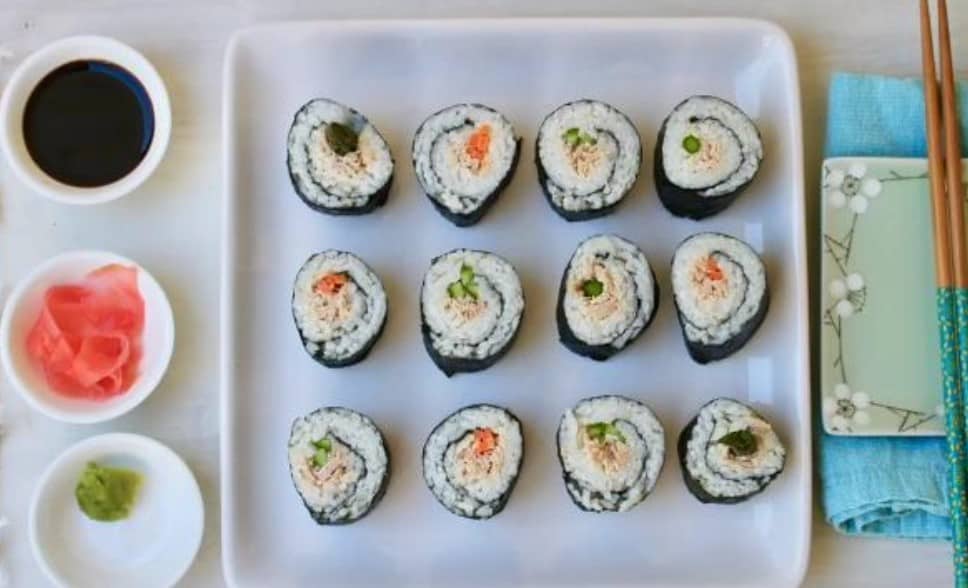 This tuna sushi roll uses canned tuna, asparagus, and pickled ginger as the highlight. You will also need to throw in some mayonnaise. The asparagus is to be microwaved or steamed until just tender. Just ensure it remains bright green. Once you finish rolling everything out, you can throw in some pickled ginger to serve.
18. Soy-Marinated Tuna Sushi
This recipe uses big-eye tuna. Bigeye tuna is known for its low saturated fat content. The tuna is first marinated in soy sauce. You will first have to make the soy sauce on your own before attempting this recipe.
For the rest, you will need the regular ingredients, including wasabi and rice. You need to press the tuna on rice, add wasabi, and then roll with seaweed.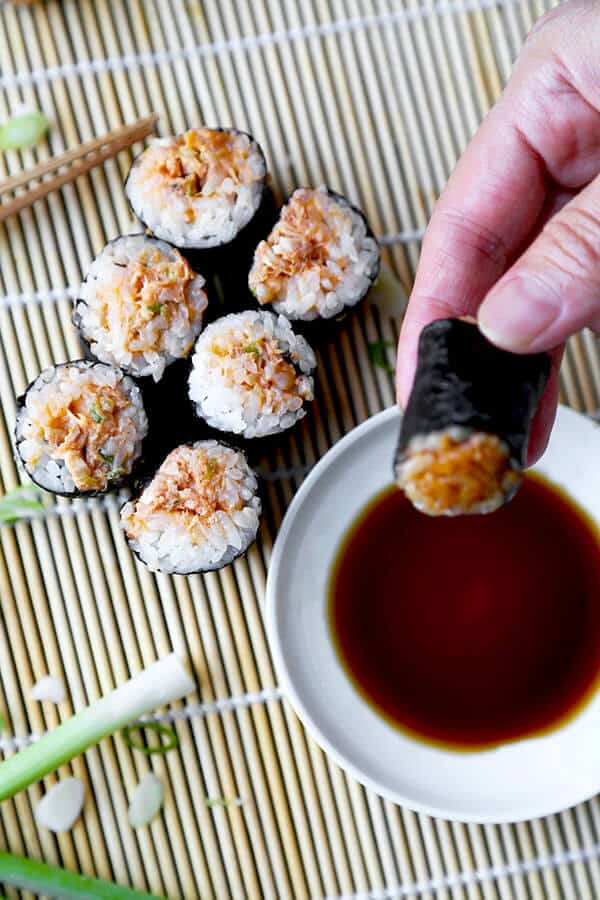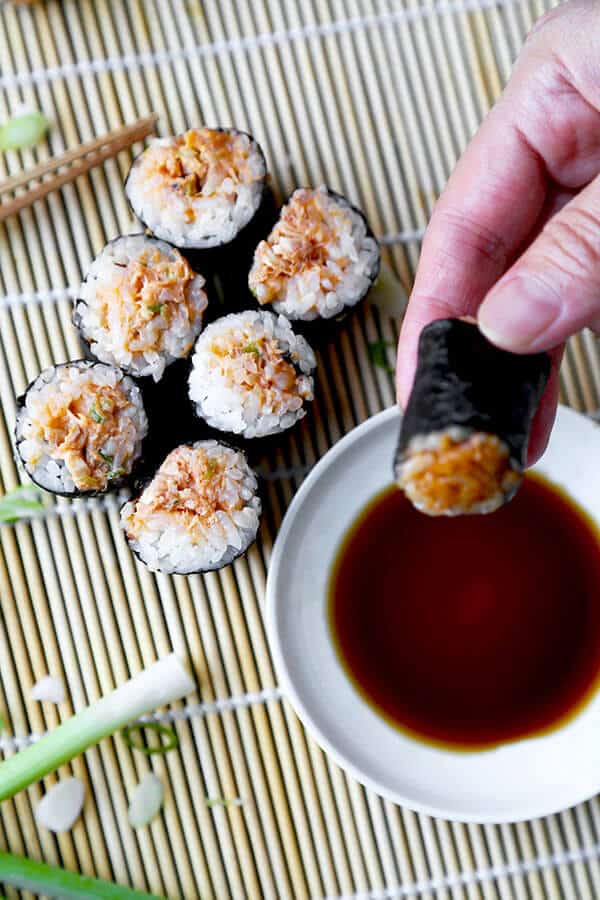 This is a kid-friendly tuna roll recipe that you can make with everyday pantry ingredients. The recipe takes about 15 minutes from start to finish. This is basically a spicy-mayo-laden tuna. You can wrap it in Japanese rice and a delicate toasted nori sheet. This tuna roll is a perfect delicacy for late-night watching-a-movie-hunger.
20. Canned Tuna in Water Sushi
As you might have guessed, this tuna sushi recipe makes use of canned tuna. It's an easy recipe that uses regular short/medium grain rice. You will also need sushi seasoning and seaweed paper. The recipe uses canned tuna in water instead of oil or brine. You will obviously need to drain the tuna first before making the recipe.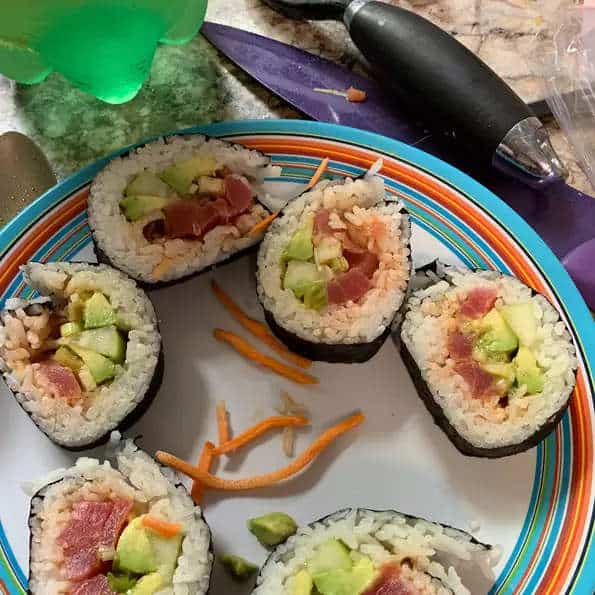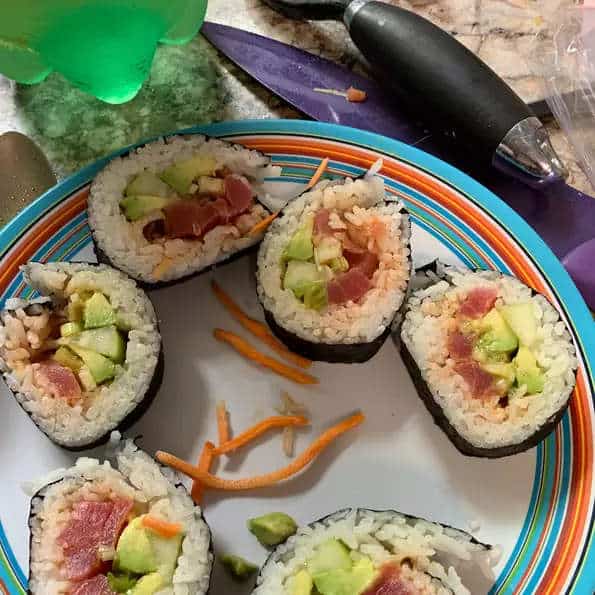 This is a tasty spicy sushi roll. To make the spicy tuna sushi roll, you can choose between cooked and raw tuna. The recipe tastes great with a wasabi soy dip. The differentiating factor here is the tuna mix.
You will need to mix the tuna, mayonnaise, wasabi paste, and chill powder in a bowl. The tuna should be broken apart, but you must avoid turning it into a paste.
22. Spicy Tuna Sushi Burrito
This is a fusion of two foods, spicy tuna mayo, and a burrito. This is a perfect on-the-go meal. The recipe uses sushi rice, diced sushi-grade yellowfin tuna, mayonnaise, and sriracha.
You will also need chopped scallions, soy sauce, and garlic powder. You can also throw sesame seeds, avocado, cilantro, cucumbers, and red onion. Once all the ingredients are in, all that is left is to roll.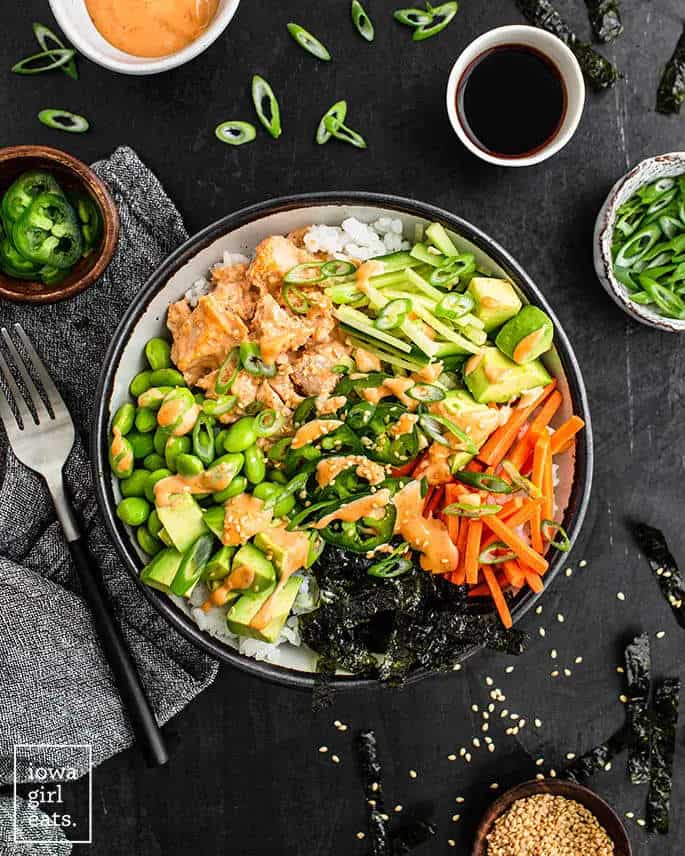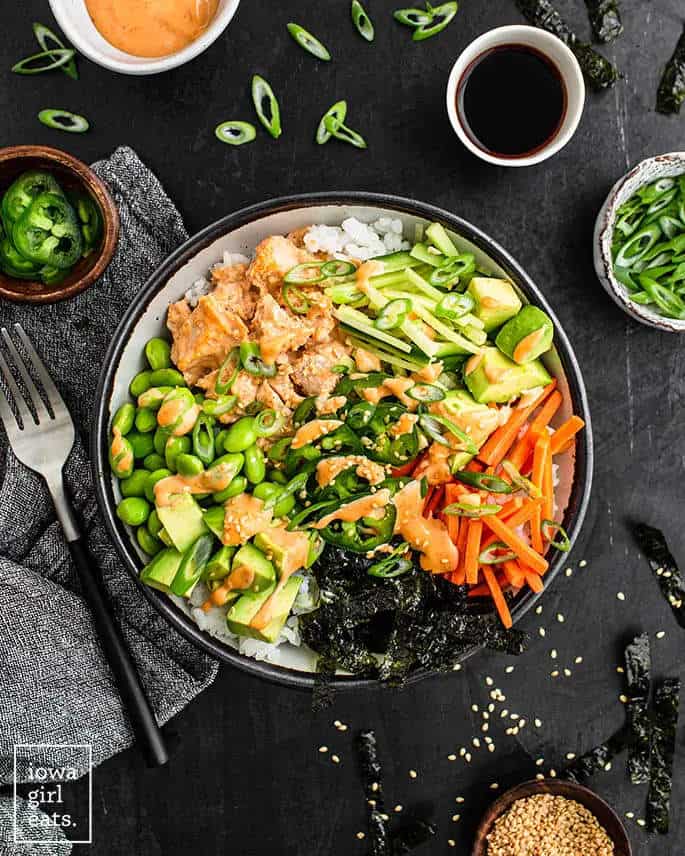 This tuna roll uses a bed of either white or brown cooked rice or cauliflower. Being a healthy treat, you will have to top it with plenty of fresh vegetables and sushi toppings.
The recipe is perfect if you don't have sushi-grade tuna on hand. You can simply use canned flaked tuna mixed with spicy mayonnaise. Before you serve, you can drizzle the bowls with gluten-free tamari sauce.
24. Fancy Canned Tuna Sushi
This recipe makes use of fried sushi rice balls. The other ingredients you will need include red onions, pepper, canned tuna, cucumber, and mayonnaise.
You need to make your own spicy tuna sauce first. Unlike regular sushi rolls, this recipe is rolled using cucumbers. The rolls are quite small and made into balls instead of elongated rolls.
This sushi roll will look like a work of art once you are done. However, it's not at all difficult to learn. All you need to do is master the rolling technique.
The roll will expose the beautiful contrasting layers of pristine white tuna sushi rice and spicy tuna mix upon cutting it. The mix will be crowned with a golden tempura carrot crisp. You will need a premixed tempura batter.
26. Tuna Mayo Sushi Rolls
Nori seaweed, tuna, mayonnaise, soy sauce. First, you will need to drain the oil and then make tuna mayo with the contents.
It's important to mix the canned tuna and mayo well since they can be quite chunky. Once that's done, slice the cucumbers into thin slices and then start rolling. This is a simple recipe that can take less than 15 mins to complete.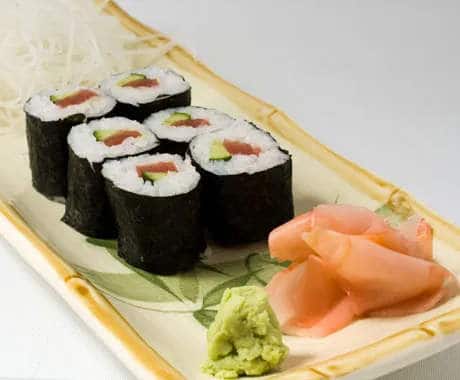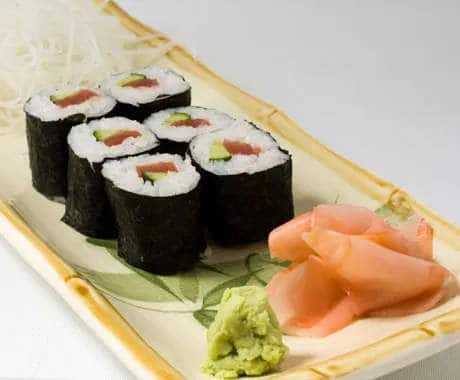 To make Tuna Maki, you will need a thinly sliced half lemon, wasabi paste, ginger, small daikon radish, carrots, and soy sauce. Please note that you will need a mandoline and a bamboo sushi mat for this recipe. The filling comprises wasabi paste and tuna strips. The daikon radish and carrots should be julienned using mandoline before mixing them.
28. Tuna Mayo Sushi Rice
Tuna mayo rice is quite simple to make. For this, you need a can of tuna, rice, an egg, mayonnaise, and teriyaki sauce. It's recommended to drain the oil from the tuna.
First, you will need to make a scrambled egg, mix it with rice and vegetables, and then throw in the mayonnaise and teriyaki sauce. There is no need to roll these; you can just enjoy them as a mixture.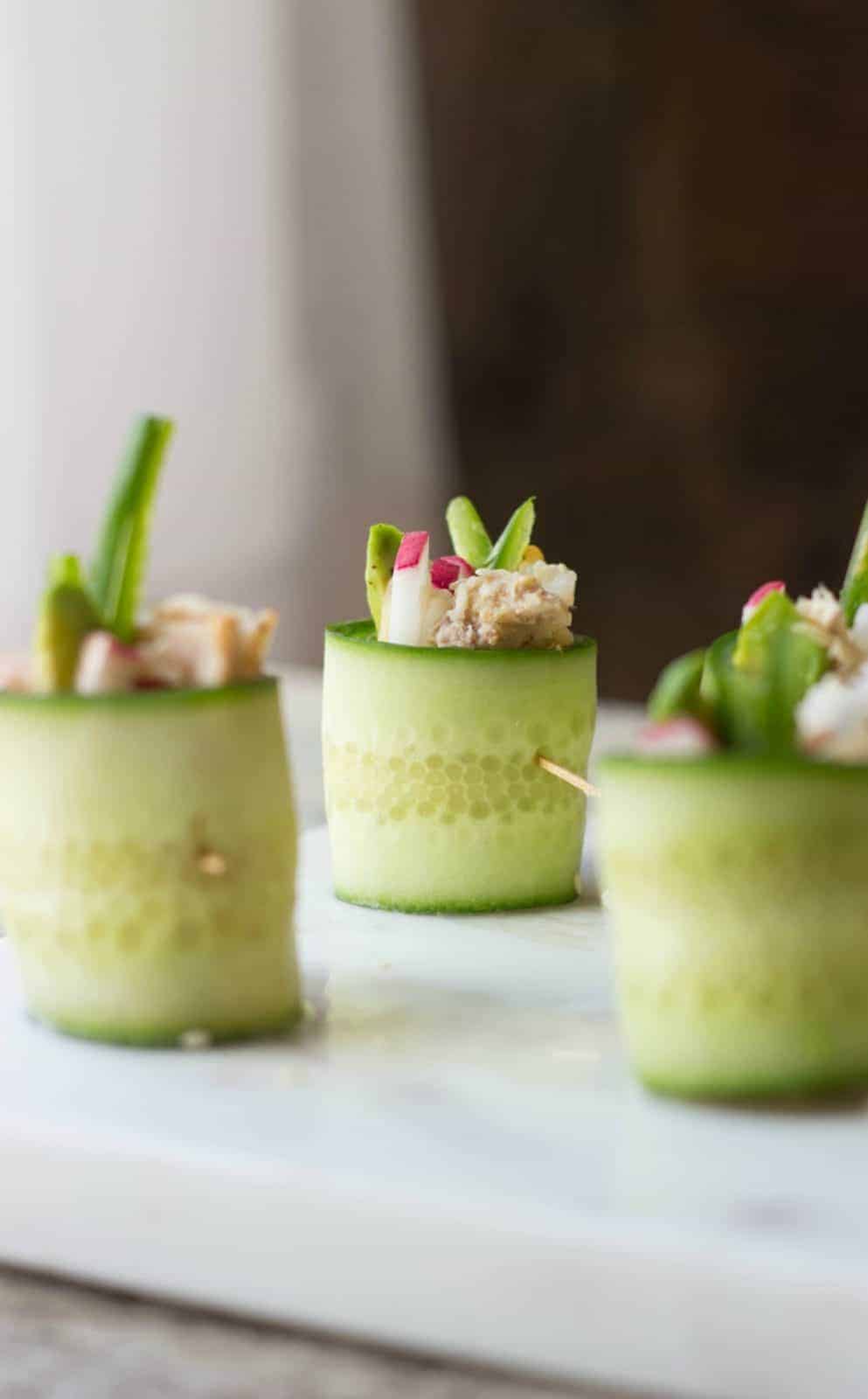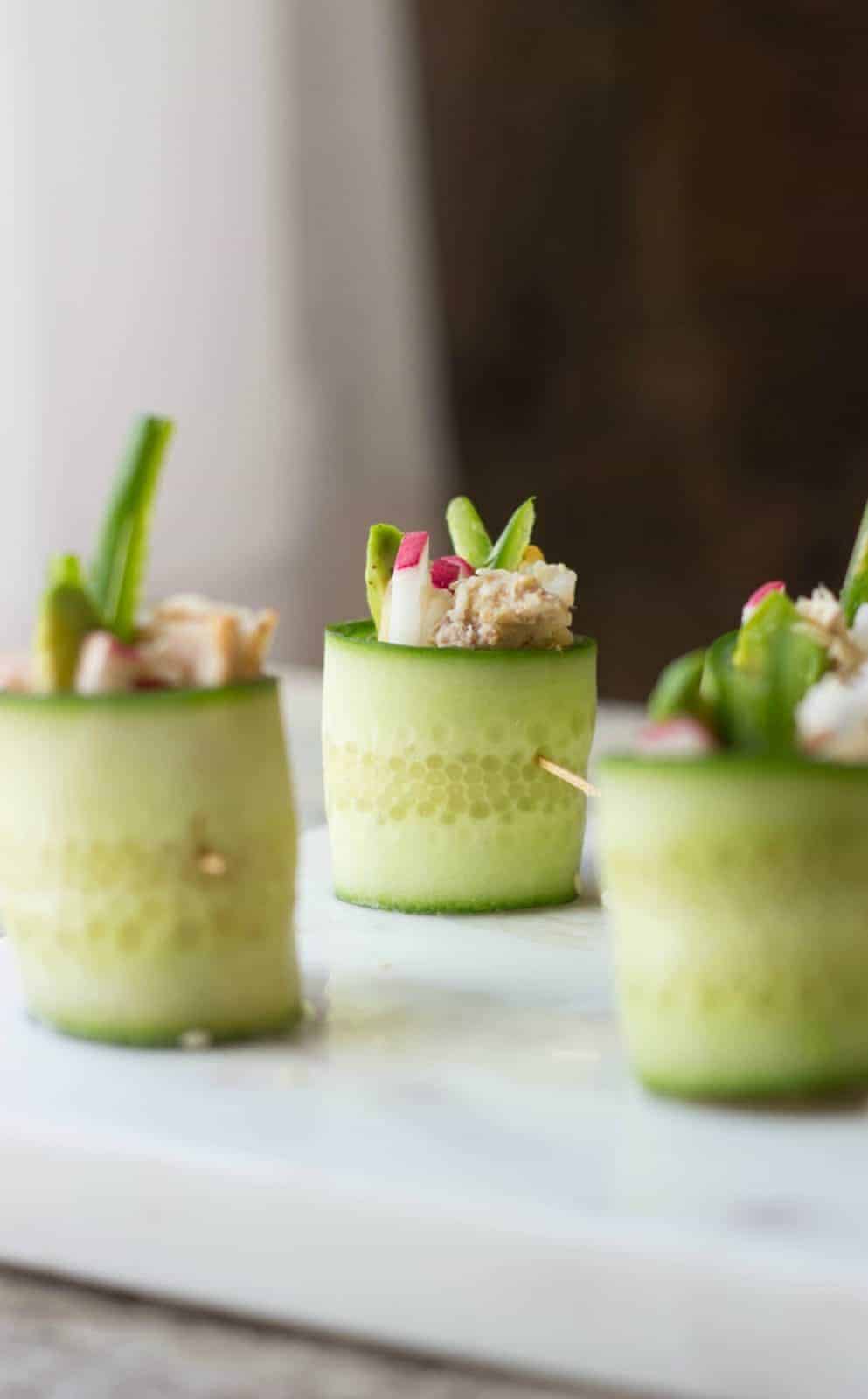 This is one of the easiest and most delicious no-cook meals. The ingredients include Albacore tuna(the highlight), sushi rice, avocado, jalapeno, avocado, and radishes.
You should roll up all these in thinly sliced cucumber. You can smear the cucumber with spicy mayo, then top with sesame seeds. The recipe shouldn't take more than 15 minutes to complete.
29 Best Tuna Sushi Recipes
Most of the original tuna sushi recipes make use of Yellowfin tuna. This is the most commonly found tuna in Japan. However, if you cannot find the yellowfin tuna, you can also use canned tuna to make tuna sushi. In fact, most of the online recipes use canned tuna.
Directions
Select your favorite recipe.
Organize all the required ingredients.
Prep a Tuna Sushi Recipe in 20 minutes or less!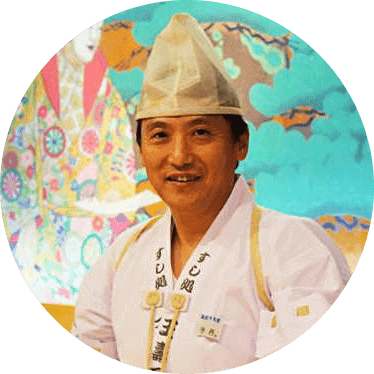 Hiroshi Nakamura, a Tokyo-born sushi chef turned US-based writer and critic, is the voice behind ichisushi.com, blending traditional sushi wisdom with modern insights.