When you want the best sushi, you usually wish for slices of the freshest fish, maybe with a bit of lemon juice or mirin. The fresher sushi, the better bite. Here is our list of best sushi places in Chandler, AZ.
Shimogamo Japanese Restaurant
$$ | (480) 899-7191 | WEBSITE
View this post on Instagram
Sanae and Yoshio Otomo opened a Japanese restaurant in the neighborhood in 2003 when they noticed that the community didn't have an authentic Japanese restaurant. Not only did they bring authentic Japanese cuisine to Chandler, but their restaurant is one of the most creative sushi places in Arizona.
Shimogamo makes the most use of the ingredients to provide customers with flavorful dishes every time. Tuna tataki, asparagus tempura, and salmon nigiri are three dishes that most guests say you should try. They also serve tasty beer or good wine to go with the Sushi.
Maguro Sushi and Ramen
$$ | (480) 792-6790 | WEBSITE
Maguro Sushi and Ramen is proud of its chefs' skills and over 15 years of experience. Their journey made their standards in food high, not only in terms of the taste but also the presentations. Meanwhile, the staff is friendly and attractive, making the customers enjoy their company more.
Several people say this is an excellent place to get salmon, miso soup, and miso ramen. Try some good ice cream. One of the drinks that people order most often at this restaurant is delicious iced tea.
Yama Sushi House
$$ | (480) 664-6005 | WEBSITE
Yama Sushi House is a fine-dining restaurant that offers excellent sushi, ramen, and other traditional Japanese dishes that go well with their sake. All the food on the menu is made-to-order to ensure the freshness of the dish. The customers also love the place's ambiance and how the staff treats them.
At first bite, the sashimi, sea scallops, and salmon nigiri will blow your mind. Do not leave without trying good triple chocolate cakes, honey cakes, and baked Alaska. Yama Sushi House has great drinks like ginger tea, rose lemonade, and white tea.
Mido Sushi
$$ | (480) 753-6622 | WEBSITE
You can be sure that the food at Mido Sushi restaurant is authentic as true sushi artisans make it for you. Moreover, they make the place look like a traditional sushi house to give the guests a taste of Japan.
The customers highly recommend their Pancho rolls, which have shrimp tempura, avocado, and cucumber inside, while crunchy flakes and sweet sauce are on top. Their vegetable tempura is light and crispy, which many also love. The quality of their food is consistent no matter how often you eat there.
Kodo Sushi Sake
$$ | (480) 821-3908 | WEBSITE
Chef Choi, the founder of Kodo Sushi Sake, has a different inspiration in mind. Most sushi houses take the traditional and authentic Japanese food to introduce to others, but Chef Choi took notes of the innovations happening in the dishes. This restaurant aims to introduce a combination of traditional and modern dishes.
The restaurant is proud of its high-quality Sushi, famous black rice, and bluefin tuna. The customers love the modern style sushi house take on the interior design. Don't pass up the chance to drink great Japanese beer and sake.
Mikado Sushi
$$ | (480) 726-0255 | WEBSITE
If you want to experience an Omakase, dine in Mikado sushi. Omakase is more of a performance than dinner, as the sushi artisan will serve you one fish at a time. They explain the origin of the fish while preparing it, give you tips or even teach you the proper ways to eat Sushi, and answer any questions you have about it.
The sushi artisan can also guess what fish a customer will most likely enjoy based on their taste. If the customer doesn't eat raw fish but wants to experience Omakase, the chefs will instead make maki rolls.
Hon Machi Sushi & Cocktails
$$ | (480) 963-0400 | WEBSITE
This restaurant is an excellent choice if you're in the mood for Japanese food with a cozy atmosphere. The customers may enjoy Teppanyaki while watching the chefs perform different skill sets while making it. The chefs also have good humor that builds a good rapport with their guests.
Aside from Teppanyaki, it's a great idea to try their tuna sushi, yakitori chicken, and fried calamari. If you're hungry, come here for good ginger ice cream, ginger crunch, and cheese puff. Start your meal with delicious iced sake or good lemon sake.
HonMachi
$$ | (480) 857-2021 | WEBSITE
HonMachi Sushi and Teppanyaki proudly claim that they serve fresh ingredients, have excellent customer service, and their chefs have more than 35 years of experience. These qualities will surely give any taste buds a pleasurable and memorable experience. Teppanyaki chefs will display a show for your eyes to enjoy.
This place has good sushi rolls, fillet steaks, shrimp skewers, and chicken skewers. Aside from their food, the customers enjoy watching the games with great beer and cocktails.
Rock Lobster
$$ | (480) 821-9000 | WEBSITE
View this post on Instagram
The Rock Lobster restaurant was voted as the best Sushi for two years in a row by the Tribune. They have an extensive menu for Sushi that includes specialty rolls, sashimi specialties, traditional Sushi, and traditional rolls. The customers may choose their partnered drink from the vast sake list, beers, and other alcoholic beverages.
Customers love this restaurant's menu, which offers fantastic Japanese cuisine. The chef at Rock Lobster makes good Sushi, scallops, marinated salmon, and grilled salads. Order tasty ginger ice cream, grilled pineapple, and coconut cakes to maximize your taste bud's experience.
Big Sushi
$$ | (520) 462-4724 | WEBSITE
Kaiten-sushi is very popular in Japan but is rare in different parts of the world. Luckily, you may experience the conveyor belt that delivers you Sushi in Big Sushi restaurant. All you have to do is wait for the Japanese dish you want to try and take it from the conveyor.
Many say that the white crab, miso soup, and white tuna sushi burst with flavors. This restaurant's chef makes good ice cream, coffee, tea, and lemonade, which the customers also recommend others to try.
Oasis Bay Buffet
$$ | (480) 812-3888 | WEBSITE
View this post on Instagram
Oasis Bay Buffet is for everyone who can't get enough Sushi. This buffet offers 80 unique dishes of fine seafood, poke bowls, fish sticks, and Sushi for only $12.99. This place is a paradise for seafood lovers. You may spoil yourself with crab legs on weekends. They also have fries, pizza, and other western food for kids to enjoy.
The restaurant also caters buffet per gram for events and has party trays for take-outs.
Yogis Grill
$ | (480) 895-5569 | WEBSITE
If you want a good sushi roll and Japanese rice bowls, you will love the Yogis Grill. They have excellent sushi, beef teriyaki, tacos al pastor, and chargrilled chicken. This restaurant makes it easy for its customers by delivering food to their homes. Some guests say that the Americano at Yogi's Grill is perfect.
Furthermore, the staff are professional and is always lovely. The restaurant is generous on the deals, such as buying two rolls and getting one free during weekends and a $3 California roll every Monday and Tuesday.
Ninja Japanese Restaurant
$$ | (480) 899-3423 | WEBSITE
This restaurant is known for its Japanese food at a reasonable price. If you're hungry for some seafood, come here for garlic shrimp, nigiri, and grilled tuna steaks that are all cooked to perfection. The customers recommend baked Alaska, mango ice cream, and strawberry ice cream for dessert.
You can get food to go to this place. The friendly staff is always ready to help. This restaurant has a high-quality level, shown by the excellent service. People can enjoy the exotic atmosphere and beautiful decor at Ninja Japanese.
Benihana
$$ | (480) 812-4701 | WEBSITE
View this post on Instagram
From a samurai descendant to a coffee shop owner, Yunosuke Aoki wanted more and got what he wanted. Benihana has been serving Teppanyaki and Japanese cuisines since 1964. In Benihana, people say that the restaurant serves delicious Sushi, filet mignon, and chicken fried rice.
Good grilled pineapple, cream caramel, and ginger ice cream are the restaurant's best desserts. This restaurant is a good choice if you want to try some refreshing cocktails with your Sushi. The staff are very welcoming and will help you with any concerns.
Shu Sushi Ramen & Grill
$$ | (480) 940-4000 | WEBSITE
At this restaurant, you can try Japanese and Korean dishes. The miso ramen, nigiri, and more at Shu Sushi Grill & Ramen are tasty. People who are in a hurry for dinner will like this place because they can order take-out food.
Furthermore, the customers love how generous per dishes are, especially the sashimi platter. The service is flawless and fast. If you want to try something new, their Sumo Avocado rolls are one of the top recommendations. It is a deep-fried avocado roll stuffed with crab meat and eel; worth trying.
Gogi
$$ | (480) 812-2751 | WEBSITE
If you can't decide whether to have Sushi or bibimbap, Gogi will save you time choosing as they offer both Japanese and Korean dishes. The chefs at this restaurant do their best to make tasty Korean pancakes, Sushi, and bibimbap for their customers. The restaurants serve good beer, soju, and wine as well.
Gogi is committed to two things: best quality food and best customer service. The staff is always happy to serve the customers, and the service is fast, proving their goal is well achieved.
Shinme Sushi
$$ | (480) 687-8023 | WEBSITE
Do not judge a restaurant by the location. Shine Sushi might be placed behind a gas station, but the quality of their dishes is fine-dining level. The ingredients and sauces used for the sushi rolls are just enough and not goopy like the other restaurants. The simplicity makes the dishes pop more.
Moreover, the customers love their seaweed salad, tempura, and of course, their sushi rolls. It is also one of the fewest restaurants with vegetarian rolls in town.
Pokitrition
$$ | (480) 818-9819 | WEBSITE
View this post on Instagram
Pokitrition is known for its poke bowls. Their Hawaiian poke bowl was voted as the best poke by Phoenix New Times. The customers are allowed to customize their dream poke bowls with a selection of base, protein, mix-ins, sauce, sides, and toppings. They currently operate in three towns in Arizona.
Aside from their poke bowls, they are also famous for their sushi burritos or wraps with ahi salmon, cooked shrimp, and octopus. Pokitrition also offers a Veggie Lover for those who are vegetarians.
SUMMARY
From modern Sushi to high-end gastropubs, Arizona's food scene is full of surprises, unique restaurants, and great food worth going out of your way for. So, there you have it. How many of these best sushi places in Chandler, AZ, have you already been to?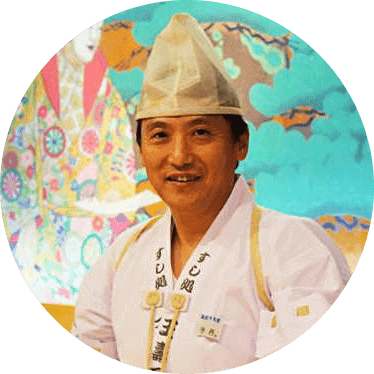 Hiroshi Nakamura, a Tokyo-born sushi chef turned US-based writer and critic, is the voice behind ichisushi.com, blending traditional sushi wisdom with modern insights.