Vegas is a smorgasbord of mouthwatering dishes from all over the world. One second you're devouring Western cuisine, then you find yourself craving Japanese sushi.
If you're wondering where to find the best sushi restaurants in Las Vegas, you're extremely lucky – this city has a lot for you!
We've curated a list that includes only the top-notch Japanese restaurants that serve lip-smackingly good sushi rolls. Meshiagare!
YU-OR-MI
$$ | (702) 473-5200 | WEBSITE
View this post on Instagram
Located in the Arts District, YU-OR-MI is one of the best sushi restaurants in Las Vegas, serving you the authentic flavors of Japanese cuisine. This restaurant has plenty of nigiri, original sushi rolls, and appetizers good for sharing.
YU-OR-MI Sushi Bar also offers vegan and vegetarian options. What this sushi restaurant offers are made artistically, giving a refreshing take to every dish.
Pair your order with premium sakes and Japanese Whisky for the best dining experience.
Kaiseki Yuzu
$$ | (702) 778-8889 | WEBSITE
View this post on Instagram
Kaiseki Yuzu offers multi-course meals and an a la carte sushi and nigiri menu. Its selections change seasonally to match the flavors of spring, summer, fall, or winter.
This restaurant along Spring Mountain Road brings traditional Japanese gastronomy right to your table. Advanced reservations are required, so be sure that you check ahead.
Dining here is worth your time and effort, though. Thanks to Chef Azeuchi's skills and craftsmanship, you can never go wrong with any dish from Kaiseki Yuzu.
Sushi Roku Las Vegas
$$$ | (702) 733-7373 | WEBSITE
View this post on Instagram
As you dine at Sushi Roku Las Vegas, you will get a spectacular view of the Strip from its dining room at Caesars Place.
This contemporary sushi restaurant spins the authentic Japanese flare mixed with the classic flavors of Latin American and European gastronomy.
Sushi Roku Las Vegas offers a sushi sampler with five different sushi rolls. A sampler is an excellent option for new diners, as you can taste every flavor in one order. You can add other sushi and sashimi dishes to complete your platter.
The complex yet delicious flavors of Sushi Roku Las Vegas' sushi rolls are a must-try, and ordering its sampler is a great way to enjoy every bite.
Sushi Hiroyoshi
$$$ | (702) 823-2110 | WEBSITE
If you're looking for premium sushi and maki, Sushi Hiroyoshi is the place to be. This restaurant is available for take-out and dine-in, though the dining room can be small for large groups.
Sushi Hiroyoshi's Chef Hiro-san specializes in creating lip-smackingly delicious premium sushi, maki, sashimi, and more.
Enjoy the balance of authentic Japanese flavors with Sushi Hiroyoshi's hidden sushi gems. Besides sushi rolls, this restaurant also offers fine, freshly cut fish to indulge in.
Yummy Grill & Sushi Restaurant
$$ | (702) 562-8668 | WEBSITE
Yummy Grill & Sushi Restaurant is one of the best sushi restaurants in Las Vegas, serving authentic sushi made with the highest quality ingredients.
This restaurant presents a modern take on the classic Japanese sushi rolls. Among these dishes are the Screaming Orgasm Sashimi and the Spicy Yellowtail Sashimi.
This restaurant ensures the use of only the freshest ingredients available. Using the finest ingredients, Yummy Grill & Sushi Restaurant creates the best Alaskan Roll, Garlic Tuna Nigiri, Crunch Roll, and a lot more.
Yui Edomae
$$$$ | (702) 202-2408 | WEBSITE
Sophisticated. High-end. Yui Edomae is a sushi restaurant along Arville Street with different selections of tasty sushi and omakase meals.
This Japanese restaurant has straightforward, simple dining rooms that allow guests to focus on the real deal: premium high-end sushi.
Yui Edomae has an excellent array of appetizers, soups, desserts, and rolls. Pairing every order with wine and Japanese sake will level your whole dining experience up. Truly, Yui Edomae has one of the best sushi Vegas can offer.
Yama Sushi
$$ | (702) 696-0072 | WEBSITE
Another one of the best sushi restaurants in Las Vegas is Yama Sushi. Yama Sushi is a compact Japanese joint that diners love for its fantastic selection of sushi rolls, salads, appetizers, and soups.
Yama Sushi also has a beautiful wine list, with the Cabernet Sauvignon and White Zinfandel.
This restaurant also showcases different types of imported beer, like the Sapporo, Asahi, Corona, and Modelo. Besides those refreshing drinks, Yama Sushi has sparkling sakes, Daiginjo sakes, and shooters.
Sushi Kame Omakase
$$$$ | (702) 771-0122 | WEBSITE
Sushi Kame is one of the best sushi restaurants in Las Vegas, located in Chinatown. This restaurant has kaiseki and omakase options diners can order three days in advance.
Besides that, Sushi Kame also offers a la carte selections for salmon, snapper carpaccio, sea urchin shooters, and more.
This restaurant has an Omakase room, which showcases a diversity of ingredients with an excellent play on textures. Chef Eric crafts personalized meals for every diner.
Before making your meal, he makes sure to entertain guests and converse about their preferences and curiosities regarding the cuisine.
Sen of Japan
$$ | (702) 871-7781 | WEBSITE
View this post on Instagram
Are you having a hard time choosing from the best sushi restaurants in Las Vegas? Here's Sen of Japan, an impeccable casual dining restaurant serving the best quality sushi at a reasonable price.
This restaurant located at W Desert Inn Road has a menu designed by Chef Nakano Hiromi. Chef Nakano Hiromi is the former head chef of the famous Hard Rock Hotel's NOBU.
Sen of Japan proudly provides diners with fresh dishes crafted with a medley of high-quality Japanese ingredients. This restaurant and sushi bar is open to dine-in and take-out orders.
Nobu Restaurant at Caesars Place
$$$$ | (702) 785-6628 | WEBSITE
View this post on Instagram
Nobu Restaurant will satisfy your sushi and sashimi cravings. This restaurant has every dish to satisfy your palate.
Immerse yourself in imported Asian and Japanese fish, seafood, and other staples through this Japanese restaurant at Caesars Place.
Nobu offers dine-in and take-out dining options. Guests who opt to dine in will experience a unique dining moment where food is cooked right in front of them. Thie Nobu Lounge is perfect for cocktails, dates, and large events.
Kabuto Edomae Sushi
$$$$ | (725) 205-1356 | WEBSITE
View this post on Instagram
If you ever thought you could only enjoy authentic sushi from the bay of Tokyo, you aren't exactly correct. Kabuto Edomae Sushi is here in Las Vegas! Kabuto Edomae Sushi offers fantastic sushi rolls for the best deals in the city.
This restaurant showcases unique dining to guests, with the most intimate chef-to-guest experience of all.
Kabuto Edomae Sushi accepts reservations up to one month in advance. Booking is made through Resy, or you can opt to call them by phone.
Mizumi Japanese Restaurant – Wynn Las Vegas
$$$ | (702) 770-3320 | WEBSITE
View this post on Instagram
Mizumi features a traditional and contemporary take on Japanese cuisine, bringing French influences to your table. This Japanese restaurant in the heart of Las Vegas also has a robatayaki bar and a teppanyaki dining room for you to enjoy.
Live tableside cooking is offered in this restaurant, where guests can feel intimate. What's great is that Mizumi features a private Japanese garden surrounded by a 90-foot waterfall. Indeed, the place brings a unique experience to guests.
RA Sushi Bar & Restaurant
$$ | (702) 696-0008 | WEBSITE
View this post on Instagram
If you want a place to have fun, RA Sushi Bar & Restaurant might be your best pick. RA Sushi Bar & Restaurant is a lively food spot that gives off a sexy and lively ambiance.
Sign up for this restaurant's email program, The Hook Up, to receive gift certificates and other promotions.
This restaurant is available for online ordering, delivery, take-out, and curbside pickups. You can verify if your location is catered to through RA Sushi Bar & Restaurant's website.
Osaka Japanese Bistro
$$ | (702) 876-4988 | WEBSITE
Osaka Japanese Bistro was Las Vegas' first Japanese restaurant in 1967. Since then, it has become the town's favorite sushi restaurant of all time. Currently, the Nakanishi family's second-generation operates the restaurant.
This award-winning Japanese cuisine restaurant features a sushi bar, teppanyaki grill catering, and a lot more delights. With its full menu of Japanese delicacies, you'll be able to satisfy your palate through its overflowing flavors.
Sushi Fever Restaurant
$$ | (702) 838-2927 | WEBSITE
View this post on Instagram
Immersive and stunning are two words to describe Sushi Fever Restaurant. This restaurant along Sahara Avenue features an immersive experience of Japan's interesting culture and cuisine.
Located at The Venetian Resort, Sushi Fever Restaurant wows guests with a dramatic art installation, showcasing a 3D illustration of ribbons surrounding the dining room. Art lovers will indeed love the visuals that this restaurant projects.
Not only does this restaurant promote Japanese art, but other countries are featured too! Get a glimpse of the wonders and cultures of Brazil and Peru at Sushi Fever Restaurant.
Sushi Mon
$$ | (702) 304-0044 | WEBSITE
Original sushi for all people. That's what Sushi Mon is all about. Sushi Mon is one of the best restaurants in Las Vegas that confidently serves diners the freshest fish daily.
Sushi Mon is home to friendly servers and hospitable staff to approach and serve you in this hip restaurant.
Besides that, Sushi Mon uplifts its goal of having everyone experience the various traditional Japanese dishes, following the original Japanese way of eating.
Sushi Kaya
$$ | (702) 257-9496 | WEBSITE
Sushi Kaya is a contemporary Japanese restaurant that serves authentic sushi through casual dining. Being just a few minutes away from the Strip, this restaurant is convenient for all guests.
This restaurant only uses the freshest ingredients, using freshly-caught fish delivered every morning.
With their sushi come mouthwatering Korean appetizers for you to enjoy. Those seeking an unmatched cultural experience will have fun dining at Sushi Kaya.
Kaizen Revolving Sushi
$$ | (702) 463-8272 | WEBSITE
Looking for the perfect restaurant means checking for quality, authenticity, and affordability. With Kaizen Revolving Sushi, these three things are ensured.
The name of the restaurant, Kaizen Revolving Sushi, stems from the Japanese word "Kaiten," which translates to "conveyor belt."
Dishes here are served through a conveyor belt, which is a new way to dine with your friends and family.
Conclusion
Wow, that's a lot of entries for the best sushi restaurants in Las Vegas! The whole Vegas experience wouldn't be complete without good food, right?
Perhaps you already have a food place on top of your mind by this time. We wish you let the good times roll with one of the best sushi restaurants in the city!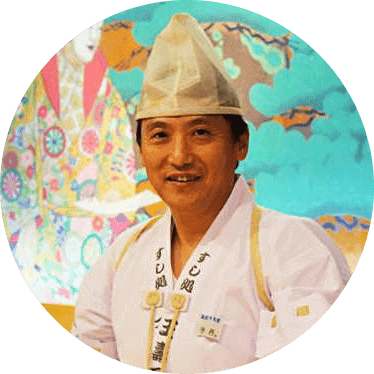 Hiroshi Nakamura, a Tokyo-born sushi chef turned US-based writer and critic, is the voice behind ichisushi.com, blending traditional sushi wisdom with modern insights.