There are 131 neighborhoods in the city divided into quadrants centered on the Capitol Building.
It has a population of roughly 700,000, making it the 20th most populated city in the United States as of the 2020 Census. Yet, surprisingly, the district contains almost 8,000 acres of parkland, accounting for nearly 20 percent of the city's total area.
Washington, DC, has many fantastic sushi restaurants to choose from, and only the best made it on this list. Here are the 23 best sushi restaurants in Washington, DC:
Sushi Taro
$$$$ | (202) 462-8999 | WEBSITE
View this post on Instagram
Open for dinner Tuesday through Saturday, Sushi Taro is one of the few restaurants in D.C. with a Michelin star. Sushi Taro is arguably one of the best sushi places in Washington DC.
They offer à la carte and tasting menus, but it is recommended to grab a seat at the highly-coveted counter.
Nobu Yamazaki is a second-generation Japanese-American who relocated to Tokyo to pursue his dream of becoming a master omakase chef.
Every night, he serves the best of the daily market, with specialties ranging from unique veggies to rare cuts of fish to a shabu-shabu of octopus still moving before dunked in steaming broth.
Yume Sushi
$$$ | (703) 269-5064 | WEBSITE
View this post on Instagram
Saran Kannasute, a Bangkok native, is not afraid to experiment with opposing flavors like salmon smoked with lavender. He stands behind a sleek sushi counter with a graffiti-splashed geisha mural. A fancy pillar of foie gras, caviar, and tuna rose, is called "The Winner."
Nama Sushi Bar and Restaurant
$$ | (202) 414-7066 | WEBSITE
View this post on Instagram
Nama Sushi Bar is one of two locations in D.C.; the other is on 14th St. inside TICO. They offer sushi, sashimi, nigiri, and maki rolls.
The sushi and rolls at Nama are good, but the best reasons to visit this opulent hideaway are the shrimp tempura with a chile-yuzu sauce and pig gyoza in a truffle-soy sauce. In addition, vegetarians can savor nigiri with spicy beet tartare and crisp quinoa.
Kaz Sushi Bistro
$$ | (202) 530-5500 | WEBSITE
View this post on Instagram
Join KAZ Sushi Bistro for a mix of the most refined flavors from Japanese cuisine with a western touch, and enjoy what the night has to offer.
Choose from various small plates, sushi, and many types of rolls and soups. If you enjoy surprises, order their "Omakase" and leave it to the chef to decide.
Sticky Rice
$$ | (202) 397-7655 | WEBSITE
View this post on Instagram
Sticky Rice has a gong that rings with every order of a sake bomb. But most notably, they have inventive sushi rolls with ingredients like fried sweet potato.
This sushi hole flips boring dining upside down. In addition, vegan options abound on the menu for people who don't care for the super-fresh fish.
Sakana Japanese Restaurant
$$ | (202) 887-0900 | WEBSITE
This cozy, low-key restaurant serves sushi, noodles, and other traditional Japanese dishes. Sakana Japanese Restaurant is located in the Dupont Circle area and serves lunch and dinner.
Some menu favorites include their spicy tuna roll, crunchy shrimp roll, eel with avocado roll, and yellowtail with scallions.
Sushi Nakazawa
$$$$ | (202) 289-3515 | WEBSITE
View this post on Instagram
Sushi Nakazawa offers a Nigiri-sushi-only "Omakase" menu that includes around twenty pieces of Nigiri. They get their fish and shellfish from worldwide, with a particular emphasis on Japan.
Unfortunately, they cannot accommodate vegetarians or other dietary restrictions such as raw food or rice. However, if you're looking for one of the best sushi places in Washington DC, Sushi Nakazawa is your place.
Nooshi
$$ | (202) 293-3138 | WEBSITE
View this post on Instagram
With trendy gold-toned walls, Nooshi is a total overhaul of their downtown restaurant, Oodles Noodles. A talented chef oversees the sushi bar, which features a wide range of sushi appetizers and entrées such as maki rolls and beautiful sashimi platters.
Expect to see some aspects from their other restaurants, such as a half Peking duck served Yanu-style and popular huge noodle dishes. A three-course meal might include ultra-fresh sushi, Peking duck, and calamari.
Kotobuki
$$ | (202) 281-6679 | WEBSITE
Sushi, Sashimi, and Kamameshi are Kotobuki's specialties. Kamameshi is meat (or vegetables) cooked in a traditional iron kettle. While the menu isn't extensive, it offers just the right amount of sushi items.
They provide various sushi rolls, sashimi, chirashi, oshuizushi, and tekka don. For example, their sushi special includes tuna, whitefish, salmon, California, eel, shrimp, and salmon roll.
Sushi Gakyu
$$$ | (202) 849-3686 | WEBSITE
Sushi Gakyu is one of the few (If not only) sushi restaurants in D.C. that offers FUGU Puffy Fish. However, they are known for their Omakase sushi course, which includes four appetizers and twelve premium Nigiri sushi and dessert pieces.
They also offer their Okimari fixed price menu, consisting of three appetizers, ten premium nigiri, and one maki roll.
Sushi Ogawa
$$$ | (202) 813-9715 | WEBSITE
View this post on Instagram
Ogawa serves edomae (Edo-style) sushi, made with fish imported from Tsukiji Market in Tokyo, Japan, as per family custom. For a spectacular omakase experience, the Chef at Sushi Ogawa meticulously crafts each piece of sushi.
The restaurant offers two different options for dine-in- Chef's Selection or their Premium Selection. Both choices include an appetizer, sashimi, sushi, soup, and dessert. Sushi Ogawa is most definitely one of the best sushi places in Washington DC.
Sushi Hachi
$$ | (202) 450-6452 | WEBSITE
View this post on Instagram
Sushi Hachi is located in Washington, D.C.'s historic and charming Eastern Market area, and promises simple food, loyal to its origins, and affordable. Eight is represented by the name "Hachi" in Japanese.
Eight is a lucky number that traditionally represents happiness. They are also on 8th Street, so it is a tribute to their surroundings.
Bluefin Sushi
$ | (202) 333-6774 | WEBSITE
Since 1996, Bluefin Sushi has happily provided high-quality Japanese cuisine to D.C. residents. Chef John has extensive expertise in various Japanese restaurants and takes great pride in his food's freshness and high-quality ingredients.
While Bluefin doesn't offer an omakase experience, its menu offerings are reasonably extensive. They have unique maki sushi, spicy rolls, seaweed outside rolls, inside-out rolls, and sushi entrees.
Momiji
$$ | (202) 408-8110 | WEBSITE
View this post on Instagram
Momiji may not be the fanciest Sushi restaurant in D.C., but it's still one of the best in the city. They offer sushi bar appetizers such as Tuna Tataki and Pepper White Tuna and sushi bar entrees like a Nigiri and Sashimi combo and a Chirashi Dinner.
You can also order regular and specialty sushi by the roll, like the Crazy Roll (smoked eel and avocado) or the Spicy Blue Crab Roll.
Tono Sushi Restaurant
$$ | (202) 332-7300 | WEBSITE
One of the best things about Tono Sushi is their happy hour special from 5-7 pm; you can order select rolls for $1 each!
Of course, they also offer specialty rolls such as the Rainbow Roll, Volcano Roll, Dragon Fire Roll, and KimChee Tuna Roll. If you want something standard, Tono Sushi offers maki and nigiri sushi.
Sushi Capitol
$$ | (202) 544-9888 | WEBSITE
View this post on Instagram
Sushi Capitol serves traditional fresh Sashimi and Nigiri Sushi, Maki Sushi (Seaweed on the Outside), and Rolls containing Rice in a small setting. With three locations in the greater D.C. area, Sushi Capitol is a favorite for locals.
Sushi AOI
$$ | (202) 408-7770 | WEBSITE
Sushi AOI is dedicated to perfecting the art of sushi making. Every meal is professionally prepared to the highest quality standards by their meticulous chefs. The restaurant offers maki and nigiri sushi, spicy rolls, and vegetarian rolls.
Sushi Keiko
$$ | (202) 333-3986 | WEBSITE
View this post on Instagram
Sushi Keiko offers Hoso-Maki (sushi with seaweed on the outside) such as Eel and Avocado, Yellowtail and Scallion, and their Asparagus Carrot Roll.
They also provide Ura-Maki (sushi with rice on the outside), such as a Salmon Avocado-Cilantro Roll, Tuna Jalapeno Roll, and Crunchy Spicy Scallop Roll. Sushi Keiko also offers Nigiri such as Shiitake, Tuna, and Sweet Scallop. Lastly, their Sashimi dishes are excellent choices as well!
Shibuya Eatery
$$$ | (202) 450-2151 | WEBSITE
View this post on Instagram
Darren Norris offers several specialties at Shibuya Eatery. Fresh sushi, ramen, kushiyaki (grilled over 975-degree binchotan charcoal), and small meals such as Japanese potato salad are all on the menu at Shibuya Eatery.
Zeppelin
$$$$ | (202) 506-1068 | WEBSITE
Zeppelin Restaurant & Bar, which opened in 2019, serves sushi and Japanese charcoal-grilled yakitori.
Chef Minoru Ogawa, who studied under his master-chef father in Japan, serves traditional Edomae-style nigiri sushi and an Omakase bar. Zeppelin is one of the best sushi places in Washington DC, hands down.
Rakuya
$$ | (202) 265-7258 | WEBSITE
Rakuya has a relatively small menu, but the sushi combinations are delectable. They include a 14-piece deluxe Chirashi assortment, a 12-piece Jo Nigiri variety, and even a 45-piece deluxe sashimi assortment (including sea urchin).
While the assorted combinations are probably the best bang for your buck, Rakuya also offers sushi a la carte.
Toryumon Japanese House
$ | (202) 785-4600 | WEBSITE
Toryumon Japanese House is located in downtown D.C.'s Central Business District. They serve delectable Southeast Asian fare.
It's a hip restaurant with inventive sushi, Tokyo-style ramen, and Asian fusion dishes! All of the menu items are freshly cooked, with meticulous attention to even the most trifling details.
O-Ku
$$$ | (202) 888-8790 | WEBSITE
O-Ku is a stylish restaurant located in the Union Market District. They offer traditional small meals and sushi feasts. O-Ku Sushi promotes real Asian food with a regional approach through a menu that emphasizes unusual ingredients and excellent presentations.
The chefs procure the freshest fish from the world's finest markets and local, sustainable sources, from petite plates to sushi specialties.
Final Thoughts
As you can see, Washington, DC, is full of fantastic sushi restaurants.
However, if you want the whole sushi experience, try the Omakase bar at some restaurants listed above. It's not a cheap experience, but it will be worth every penny for the culinary adventure alone.
Enjoy the best sushi places in Washington DC!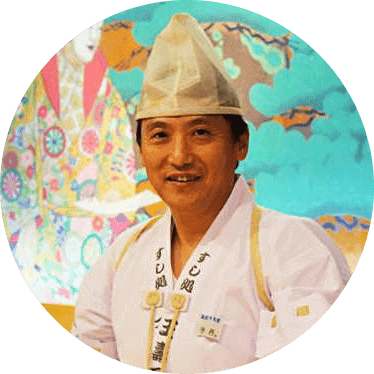 Hiroshi Nakamura, a Tokyo-born sushi chef turned US-based writer and critic, is the voice behind ichisushi.com, blending traditional sushi wisdom with modern insights.