Miami is known for its beautiful beaches. It has access to the freshest fish in town. This edge gives some of the best sushi in the city. Name your choice! You can go for classic izakaya or extravagant feasts. Here are the 18 best sushi places in Miami to help satisfy your cravings.
Wabi Sabi
$$ | (305) 890-7228 | WEBSITE
View this post on Instagram
Wabi Sabi debuted in 2018. It uses simple but classical techniques to serve sushi in a relaxed atmosphere. Donburi bowls are also a delight here.
Sushi fans can order a la carte fish items. They can also indulge in the Wabi Sabi Omakase. It includes 12 slices of nigiri and a maki of the chef's choosing.
The restaurant embraces the beauty of imperfection. To present guests with unexpected and remarkable experiences, the team focuses on hospitality and ingredients.
Traditional sushi rolls and hand rolls are available. You can also taste meticulous omakase plates, refined vegetarian choices, and varied private dining experiences.
Uchi
$$$$ | (305) 995-0915 | WEBSITE
View this post on Instagram
Uchi is derived from the Japanese word "home." It is housed in a renovated South Austin bungalow.
Since 2003, award-winning Chef Tyson Cole has pleased the eclectic dining population. Guests from all over the country and worldwide take delight in his signature take on Japanese cuisine.
The place offers a sleek and tranquil ambiance. It serves inventive sushi and sashimi produced with fish flown in daily from the Tsukiji market.
Here you can avail of the 10-course chef's selection or a six-course signature dish. You may also try a six-course vegetarian menu if you wish to sample everything.
Makoto
$$$ | (305) 864-8600 | WEBSITE
View this post on Instagram
Are you looking for an exquisite sushi menu? Come to Makoto! This long-time cafe remains a go-to destination. Hungry shoppers also come here for Makoto's modern Japanese meals. They love the charcoal robata and unexpectedly affordable bento boxes.
Okuwa is a maestro of Edomae-style sushi. He is one of Miami's most talented chefs. He innovates tradition for savvy diners looking for something fresh.
Makoto prides on a bright new aesthetic. The new look will elevate your eating experience. You'll surely love the comfy banquettes. There are more seats available at the sushi bar. Of course, the meals and wine will be fantastic as always.
OMAKAI Sushi
$$$ | (786) 579-9995 | WEBSITE
View this post on Instagram
OMAKAI opened in 2019. It offers an authentic, fabulous omakase experience to everyone. It simply redefines the sushi standard of sushi.
The place provides customers with superb quality sushi. It takes pride in emulating the Japanese principle of Omotenashi. This means genuine and unpretentious hospitality from within.
OMAKAI's seasoned team strives to teach its clients true sushi expertise. You'll taste a culinary adventure that includes chef-selected appetizers, nigiri, and hand rolls.
A la carte menus are also offered for more experienced sushi eaters. Here you can sample a variety of dishes. Regardless of the menu, you can enjoy high-quality sushi at an affordable price.
Pubbelly Sushi Brickell
$$$ | (786) 899-5043 | WEBSITE
View this post on Instagram
The award-winning Pubbelly lads are responsible for this sushi spot. Diners can expect a traditional sushi dish with a unique twist. Tuna pizza and bigeye rolls are among the menu's highlights. The must-order crab roll with yuzu butter is tasty and Instagram-worthy.
Pubbelly also serves a combination of Japanese and Latin-inspired meals. You'll surely come back for the high-quality food. When Pubbelly first debuted in 2010, it quickly became a local favorite. It's still popular a decade later, receiving several awards.
Pubbelly teamed up with Miami Waterkeeper to implement more eco-friendly business practices. It started with the launch of their new takeout containers.
Nossa Omakase
$$ | (305) 539-9711 | WEBSITE
View this post on Instagram
Nossa Omakase is a modern take on the classical Japanese Omakase feast. It incorporates Latin inspirations and a Miami flair.
This eating spot provides a cozy setting hidden from view. Only ten chairs are available at the sushi bar. This setup will give you service and attention not typical in a traditional Omakase menu. Indulge on a 16-18 course supper crafted by chef Max Kamakura.
The menu changes frequently. Delicacies include lobster sashimi and uni on crispy rice. Wagyu nigiri and truffle temaki are also available. These dishes all reflect Kamakura's Brazilian heritage and Japanese upbringing.
Zuma Miami
$$$$ | (305) 577-0277 | WEBSITE
View this post on Instagram
Zuma is a stylish, minimalist restaurant in the center of Downtown. It serves internationally famous modern Japanese meals. There's a vibe for everyone at this fan-favorite restaurant. You can hang out at the always-bustling bar. You may also indulge in a gigantic sushi buffet.
Zuma also offers an extravagant weekend brunch. This choice allows diners to sample all the restaurant's best dishes for one low price.
The place has two separate rooms that are ideal for any occasion. The elegant private dining area and waterfront terrace are perfect settings for a business or social luncheon.
Azabu Miami Beach
$$$ | (786) 276-0520 | WEBSITE
View this post on Instagram
This New York import has a "secret" sushi bar that offers omakase. It uses domestic and imported seafood from Japan's finest fish markets.
Azabu is a Michelin-starred cafe. It brings together various experiences under one roof through Japanese hospitality. It improves Miami's culinary scene with authentic Japanese dishes.
This spot is a full-service dining room with a magnificent open kitchen. Tokyo-trained chefs run the secret sushi counter. It's where fantastic omakase happens.
Azabu is located within The Stanton hotel. It's a good choice for a luxury night out with raw fish. It isn't cheap, but it's worth every penny. It has both indoor and outdoor dining.
NAOE
$$$$ | (305) 947-6263 | WEBSITE
See the high price tag? The compact, eight-seat NAOE provides one of the top-notch sushi encounters in Miami. What do you enjoy here? You can have crab nigiri or fresh uni seasoned in saltwater. Don't miss the mystery ice cream as the finale!
At NAOE, Chef Kevin specializes in natural Japanese dishes. He offers a special Chef's Choice dinner at about $280 per head. Please set aside 2-3 hours for dinner. You can only make reservations online through Yelp. Information about private dining is ready upon request.
Hiyakawa Miami
$$$ | (305) 333-2417 | WEBSITE
View this post on Instagram
Hiyakawa is a modern Japanese restaurant founded in tradition. It combines an unshakable commitment by using only the finest ingredients from worldwide. The restaurant's focus is on seasonality, simplicity, and kikubari. It's a Japanese art of anticipating others' needs correctly.
The team creates 50 dishes per night using time-honored techniques and seasonal ingredients. Everything is unique, from their aged sauces to fresh wasabi.
This gorgeous Wynwood restaurant serves a la carte fried foods. There are some extremely nice things to eat here, especially sushi. You can get sushi by item or choose from a variety of platters.
Osaka Miami
$$$$ | (786) 627-4800 | WEBSITE
Osaka is known for its raw offerings, such as nigiri and unique rolls. It also offers a large selection of omakase plates. Larger dishes such as seafood rice skillets are also available.
For almost two decades, this has been a place where journeys are shared. It all started in Asia, where the owners searched for fantastic waves and inspiration. It's a place where you can sample more than just Nikkei food. It also provides a unique experience centered on the delight of all five senses.
Osaka is a lively place that radiates a unique vitality to all its visitors. This has enabled the cafe to overcome borders.
Akashi Japanese Restaurant
$$ | (305) 665-6261 | WEBSITE
Akashi first opened its doors in 1993. Larry Chi and his wife Barbara founded the eatery. It was the town's newest sushi bar then. Customers have flocked to this classic Japanese eatery for more than two decades. It serves sushi, handmade rolls, and Japanese entrees.
You'll enjoy staples here, such as a Dragon Roll. Pork gyoza is also a must-try. The Mermaid Roll is filled with avocado, spicy tuna, and other tasty components.
Akashi has received countless awards throughout the years. It's because they enjoy what they do. More importantly, the team is committed to the craft of sushi.
Shibui Japanese Restaurant
$$ | (305) 274-5578 | WEBSITE
View this post on Instagram
Come to Shibui if you're looking for sushi in the suburbs. This Japanese restaurant has been a favorite for over 40 years. It has already garnered several accolades.
The place serves a vast choice of fresh sushi, rolls, and sashimi. Just like in Japan, you can also complete the experience with tatami seats. Shibui maintains traditional Japanese dishes. It also adapts to the availability of ingredients from around the world.
The team generated fusion-style meals. For instance, the Peruvian ceviche has been a favorite of regulars. They're also the inventors of a couple of rolls that you can only buy in Miami.
Itamae
$$ | (305) 631-2664 | WEBSITE
Itamae offers 40-seat accommodation. It offers technique-driven Peruvian-Japanese tastes and traditions. It also uses domestic and seasonal ingredients. The Infatuation named the cafe one of the most fantastic restaurants in Miami. It also made it to the 2021 New York Times' Restaurant List.
At Itamae, there are so many delicious foods on the menu. Sushi is one of them. You can also try ceviche, tiraditos, and other dishes. Itamae specializes in rolls. However, the sushi bar frequently offers handroll and sashimi specials. Diners say the rolls are exceptional!
Katana Japanese Restaurant
$$ | (305) 864-0037 | WEBSITE
Katana offers pleasure, even though it is a restaurant where patience is required. The restaurant is small. You gently graze on passing nigiri while sipping your drinks.
Come prepared for a considerable wait to eat here, especially during weekends. The restaurant also does not accept reservations.
Katana offers a sushi boat dining experience. It isn't fantastic because of the novelty of floating sushi boats. It's because the sushi on those boats is very delicious. Varying color plates are charged at different prices, from $2.50 each. If there's something you want, reach out for it.
Matsuri
$$ | (305) 663-1615 | WEBSITE
View this post on Instagram
Matsuri is an excellent restaurant with an extensive menu. You can come back and get something completely different the following time. As a result, it is always crowded with customers who value their delicious meals at a reasonable price.
The service is relatively quick. If you take a seat and place an order, the meal will usually arrive within eight minutes.
Matsuri is one of Miami's top sushi restaurants. It's been around for a long time. It's always fresh and fabulous. It has a wide sushi bar section, which you will enjoy. There are plenty of tables and a fantastic vibe throughout.
Poke OG
$$ | (239) 980-2912 | WEBSITE
View this post on Instagram
Poke OG is directly next door to Mr. Omakase. The same people manage it. If Mr. Omakase seems too much effort/money for you, check out Poke OG. While Poke is more affordable, the commitment to quality is immediately apparent after just one bite. It's also an excellent option for takeout.
The restaurant offers many sushi box choices. These are beautifully packed and even contain a small paintbrush so you can apply the sauce with precision. The place also serves poke bowls, as the name implies. Yet, there's nothing wrong with just going here for sushi rolls.
Ahi Sushi Bar
$$$ | (786) 899-0779 | WEBSITE
View this post on Instagram
Ahi Sushi opened in 2018. It is located on Calle Ocho's main street. Its sushi counter seats 6-8 guests comfortably. It also offers a limited a la carte menu.
The restaurant also offers omakase, ranging from $90-$130. The omakase is a good option if you're looking for a somewhat more formal experience. It's the Japanese custom of letting the chef choose your meal. Seasonal veggies and fresh fish are included.
Chef Bas and his collaborators have produced various unique dining gourmet experiences in Miami. The cafe offers fresh sushi, sashimi, and classic poke bowls for lunch.
Summary
Sushi in Miami varies greatly. You can order an omakase or just takeout rolls and nigiri. Whatever sushi experience you choose, you'll have options. Choose one from the 18 best sushi places in Miami. You can trust that these locations will provide a memorable sushi dining experience.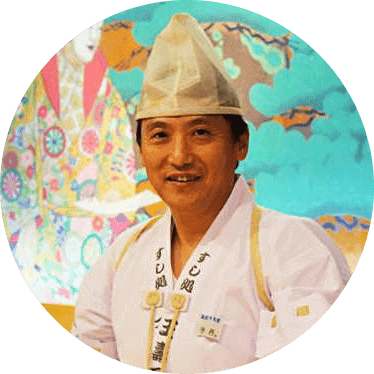 Hiroshi Nakamura, a Tokyo-born sushi chef turned US-based writer and critic, is the voice behind ichisushi.com, blending traditional sushi wisdom with modern insights.