Sushi is one of the most famous staple foods in Japan. This exquisite cuisine has captured the hearts of many people, not only in Japan, but also worldwide.
That's why you can find Japanese-inspired restaurants almost everywhere now, even in the United States. In this article, we will show you the Top 12 best sushi places in Annapolis, MD, where you can buy sushi to satisfy your cravings.
Joss Cafe & Sushi Bar
$$ | (410) 263-4688 | WEBSITE
View this post on Instagram
The first sushi place on our list has been serving its patrons in Annapolis, MD, for more than 30 years. Established in 1991, Joss Cafe & Sushi Bar has proven that steady growth can help a restaurant stand the test of time. They specialize in serving Japanese delicacies and mixing them with a contemporary feel to make each dish special and unique.
If you come to Joss Cafe & Sushi Bar, take some time to try out their menu items. Take note of some of their most popular menu items, such as the Spicy Scallop Roll, Shrimp Tempura, Spicy Tuna Roll, Crunchy Ebi Roll, and Maryland Crab Rolls. You can also bring your friends or family with you as you enjoy these delectable Japanese cuisines.
P F Chang's
$$ | (410) 573-2990 | WEBSITE
View this post on Instagram
For those who are craving sushi and other Asian cuisines, P. F. Chang's has you covered. In the past 3 decades, this restaurant has been living up to the concept that started it all.
They are famous for serving various handmade cuisine from different parts of Asia, such as China, Korea, Thailand, and Japan. With more than 40 years of passed-down traditional recipes, they have become the established restaurant they are today.
One thing that makes P F Chang's stand out is its vast menu with many options. For vegetarians, there are also gluten-free menu items that they can enjoy and choose from. This restaurant is one of the safest options that you can go to for Asian food.
Their best-selling dishes include the Shrimp and Pork Dumplings, Mongolian Beef, Fried Rice, Dynamite Roll, Kung Pao Dragon Roll, and Shrimp Tempura Roll.
Yama Sushi Bar
$$ | (410) 266-8878 | WEBSITE
Are you trying to find a good sushi restaurant while on a tight budget? Do not worry cause Yama Sushi Bar is here to satisfy your sushi cravings at an affordable price. Located on West Street, they boast of serving their patrons at the lowest price in the area. Bask in their sushi offerings' beauty and exquisite taste as you enjoy your meal.
If you are mainly craving sushi, Yama Sushi Bar is an excellent place to go since they offer a wide range of menus that serves sushi primarily. From Sushi Appetizer to Specialty Rolls and Sushi Entrees, you'll never run out of options. Try out some items from the Yama Special Rolls like the Phoenix Roll, Paradise Roll, and Red Moon Roll.
Tsunami – Annapolis
$$ | (410) 990-9868 | WEBSITE
Another great restaurant where you can enjoy fresh sushi is Tsunami, located on the heart of West Street. This restaurant is open daily from 5 pm onwards to serve its customers the best dining experience possible. They also give importance to local artists in terms of wall arts or live music, which is always a big boost.
Their menu is commendable since they have everything you could ever ask for related to Japanese cuisine. They also have rice bowls, sushi plates, noodles, greens, soups, and edamame with wide varieties to choose from.
Be ready to try their signature rolls, such as Yellowtail Carrot Hosomaki Rolls, New Yorker Sumo Roll, Salmon Nigiri, and Octopus Sashimi.
Ziki Japanese Steakhouse
$$ | (410) 224-6598 | WEBSITE
View this post on Instagram
Taking a stroll around Town Centre Blvd and suddenly craving sushi? Ziki Japanese Steakhouse is here to satisfy that. Located at the premises, enjoy a relaxing atmosphere as you dine in and enjoy fresh sushi plates. They are open daily from 12 noon.
Ziki Japanese Steakhouse is an excellent restaurant for sushi lovers since they offer a whole menu section full of sushi. Before checking out the Entrees, you can start with some appetizers like Combination Sunomono and Itako.
They also have Specialty Rolls that you can enjoy. These include sushi food items such as Crunchy Spicy Yellowtail Roll, Dragon Roll, Spicy Rio Roll, and Soft Shell Crab Roll.
Shika Sushi and Ramen
$$ | (410) 990-0888 | WEBSITE
View this post on Instagram
The next restaurant on our list is Shika Sushi and Ramen, one of Annapolis's best budget-friendly Japanese restaurants. They aim to provide their customers with the best dining experience at an affordable price without sacrificing quality. They usually start at 11 am and take lunch breaks from 3 to 4:30 pm.
What's great about this establishment is that they offer more than sushi. So, if you feel like eating more than just sushi to satisfy your hunger, you'll have many other options to choose from.
But if you're planning to just have sushi, do not worry since they have a whole menu section dedicated to it. Their must-try Specialty Rolls include Dancing Dragon Roll, Kiss of Fire Roll, and Triple color roll.
Nano Asian Dining
$$ | (410) 267-6688 | WEBSITE
If you're looking for a place where you can enjoy fresh and delicious sushi mixed with a great interior, then dine in with Nano Asian Dining. This restaurant gives off a modern and thoughtful touch in everything they do, from its menu items to the establishment's interior.
Their sushi bar offers a wide selection to satisfy each patron's sushi cravings. Starting with the appetizer, there are many options, such as Tuna Harumaki and Yellowtail Sashimi App.
They also have various sushi menu sections to suit everyone's taste: A la Carte Sushi (Two Pieces), Sushi Roll (Maki), Japanese Big Sushi Rolls, Lunch Special from Sushi Bar, and Entrées from Sushi Bar.
Seafood Palace Buffet
$$ | (410) 216-2186 | WEBSITE
The key to a great dining experience is to find a fantastic restaurant that can offer you nothing but the best. With Seafood Palace Buffet, you'll never run out of meal options since they provide a variety of American, Oriental, and Japanese food served buffet style. They are open from 11 am daily to serve all of their patrons.
What I love about Seafood Palace Buffet is that you'll see every food served in a buffet style, which gives you an overview of what you should try out first.
They have a lot of selections to choose from, such as seafood, meat, ham, sausage, salad, fruit, dessert, and the classic sushi bar. They have more than 15 different sushi variations daily, from the traditional California Maki to Special Dragon Rolls.
Genji Sushi Bar
$$ | (410) 573-1800 | WEBSITE
View this post on Instagram
The next restaurant on our list is the Genji Sushi Bar, one of Annapolis's best sushi bar restaurants.
Starting with only a tiny sushi bar in Philadelphia in 1997, Genji now has more than 200 sushi bars all over the United States and the United Kingdom. For over 25 years, Genji has stayed true to its value from the start, "uncompromising quality, freshness, authenticity, and customer appreciation."
Sushi lovers will definitely have a blast at Genji Sushi Bar since they offer many variations of sushi from their delectable sushi bar. Their menu is separated into sections for easier viewing and choosing of dishes. Make sure to try out some of their menu items from Poke Le Le, Box of the Month, Special Rolls, Deluxe Sushi Sets, and Inside Out Rolls.
Nagoya Asian Bistro & Sushi Bar
$$ | (410) 757-0300 | WEBSITE
Another top sushi restaurant on our list is the Nagoya Asian Bistro & Sushi Bar. They aim to serve their customers with an extensive menu of traditional Japanese food and offer the freshest sushi they can give. They are open from Tuesday to Sunday at 11 am. Feel the authenticity and Japanese vibe whenever you dine in with Nagoya.
Of course, their menu should be commended for its wide spread of Asian flavors. You'll certainly never run out of options with their menu, and make sure you have the time to try out a dish from each section.
For those who are craving sushi, make sure that you try some of their notable menu items. These include the Sushi & Sashimi Combo, Yellowtail Jalapeno, Crazy Tuna Roll, Shrimp Cucumber Roll, and Nagoya Dragon Roll.
Oishi Japanese Cuisine
$$ | (443) 214-5762 | WEBSITE
View this post on Instagram
The Oishi Japanese Cuisine is a restaurant located just outside Annapolis with a diverse offering of various Japanese dishes recreated in their own style. You can come and visit their restaurant from Wednesday to Monday. They are open from 11 am on weekdays and 12 noon during weekends.
One unique offering they have compared to other sushi restaurants is that you can choose your own selection of ingredients. The chefs can whip up a meal designed for you right at the get-go.
But if you want to try out their signature dishes, do as you please. Make sure to try out some of their best-selling dishes such as Two Rolls, Tuna Tataki, Sushi & Sashimi Platter, Oishi Boat, Snow White Roll, and Key West Roll.
Sakura Japanese Steak, Seafood and Sushi Bar
$$ | (410) 573-0006 | WEBSITE
From its humble beginning in Fredericksburg, Virginia, in 1988, Sakura Japanese Steak, Seafood, and Sushi Bar is an excellent established sushi restaurant today. They have proved that a small start can turn into something unbelievable with hard work and perseverance.
For more than 30 years, they have served their patrons the best quality steak, seafood, and sushi they can offer. They now have 19 locations all over Maryland, Virginia, New Jersey, and California.
This restaurant offers a separate menu for its sushi bar with 6 different sections and more than 50 different sushi variations. Some of their most popular dishes include Tobiko Nigiri Sushi & Sashimi, Avocado Roll, Spider Roll, Tuna Paradise Roll, and Sakura Combo for Two.
You surely wouldn't want to pass on the opportunity to eat at the 2nd best Asian restaurant in America as ranked by the Consumer Reports Magazine.
Summary
We hope you could properly check out each restaurant we recommended as the 12 Best Sushi Places in Annapolis, MD.
Now, you can search for and satisfy your sushi cravings wherever you are in Annapolis. Don't forget to share this article with your friends for the next time you guys will enjoy fresh, delectable sushi; you'll have an idea where you can find them.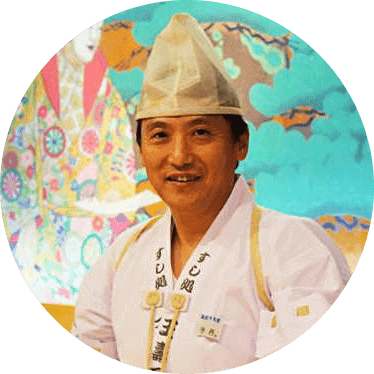 Hiroshi Nakamura, a Tokyo-born sushi chef turned US-based writer and critic, is the voice behind ichisushi.com, blending traditional sushi wisdom with modern insights.