Welcome to the fun world of banana sushi, the perfect after-school snack for busy households. This fun fusion of tropical fruit and whatever toppings you can imagine is sure to be a hit with your kids, even the picky eaters!
Our picks for the top banana sushi recipes include healthy and sweet options, and we also have vegan options. Best of all, they only take a few minutes to make!
To make sure we had the best possible recipes, we looked at dozens of recipes, reviews, blogs, and YouTube videos. The result? We have a fun collection of banana sushi recipes that you can eat right away or store in the refrigerator.
We invite you to take a look, figure out which recipes your kids love, and fit them into your busy schedules for a healthy, fun snack.
Finding healthy snacks for fussy eaters can be hard. But, this recipe for banana sushi appeals to their sweet tooth. This recipe is crunchy and super quick!
Have your kids help you peel the banana and slice it in bite-sized pieces. Next, slather on the peanut butter and roll it in Rice Krispies. Put it on the plate and snack time is ready!
2.
Coconut Banana Sushi
Give your kids a fun tropical-inspired twist with this coconut covered banana sushi! Get big bananas, peel them, and cut them into two-inch pieces.
Be careful so you don't cut yourself! Put on a layer of room temp cream cheese and roll the whole thing in coconut. Flip the bananas up on their ends, add a skewer to make it easy to pick up, and serve to your kids.
This quick snack takes about a minute to put together, so it's perfect to grab and go. Get bananas, carefully peel them and set them aside.
Lay out your tortilla and carefully spread on your favorite nut-based spread, like Nutella or peanut butter. Put the banana on one side and roll it up. When you get a nice "sushi" roll, slice it into bite-sized pieces.
4.
3 Ingredient Banana Sushi
Who doesn't love chocolate? Once you peel your banana, carefully melt a bowl of dark chocolate in the microwave. We like to stir it every 10-15 seconds so it doesn't burn.
Cover the bananas with the melted chocolate. Be careful! It's hot! Quickly sprinkle some crushed nuts, like pistachios on the chocolate before it sets. Slice the bananas into two-inch pieces and serve.
Honey and peanut butter combine with the crunch of granola in this banana sushi recipe. Peel and slice your bananas and put them on a piece of waxed paper.
Mix the nut butter and honey in a small bowl and drizzle it over your bananas, coating everything. Carefully sprinkle your granola on the top and cut them into 1/4-inch slices. This is a fun and messy recipe.
6.
Vegan Banana Sushi
Start this banana sushi recipe by peeling the bananas. Next, carefully stick a skewer longways through the banana, being careful so you don't poke yourself.
Slather on a generous amount of peanut butter, then a dusting of sesame seeds. Kids will love the slight crunch the sesame seeds bring to the sushi. We like to put them in the refrigerator for a cold treat on hot days.
Any kids who crave a sweet treat after school will love this recipe! Start by peeling and slicing your bananas. Then, get a small bowl, drop a dollop of peanut butter in it, and pop it in the microwave for 10-15 seconds to melt it.
Drizzle it over the banana, and then we like to add crushed granola, mini chocolate chips, and strawberry pieces. This is a messy treat.
8.
Chocolate Dipped Banana Sushi
Melt a big bowl of chocolate while you peel your bananas. Next, get a fork and carefully dip the bananas in the melted chocolate, being careful not to drop them.
Let the extra chocolate drip off and move your banana to a plate. Let your kids sprinkle their toppings on. We like crushed cereal and coconut because it's sweet. To finish, we get small skewers and pick up the pieces.
These sprinkle-covered banana sushi bites are a kid's dream! Peel your bananas and pick out whatever nut butter you want to use. We picked peanut butter and covered the banana with a thick layer.
Then, we rolled the bananas in sprinkles, making sure we packed them on. To finish, I carefully cut the banana into bite-sized pieces, arranged it on a plate, and served it.
10.
Nutella Banana Sushi
Kids love Nutella, just don't tell them that it can be healthy! For this recipe, grab your favorite type of tortilla and a jar of Nutella. Spread a generous layer of Nutella all over your tortilla and put your peeled banana on one side.
Carefully roll it up, making sure you don't let any Nutella spill out. To finish, slice it into bite-sized pieces and flip them up on end to serve.
Get yourself a tortilla (we like spinach) and lay it on your cutting board. Slather peanut butter on half of your tortilla and carefully lay sliced strawberries on the other half.
Starting at one side, roll your banana up in the tortilla with the strawberries and peanut butter. To finish, slice it into pieces and drizzle with melted peanut butter and a sprinkle of flaked coconut.
12.
Protein Banana Sushi
Sometimes, you have to sneak protein into your kid's food. Get a whole wheat tortilla and some chocolate protein spread. Coat the inside of your tortilla and roll a banana up in it.
For the outside, smear on a layer of white chocolate on the top and dip the roll in granola. We like to drizzle caramel on the plate and lay the banana sushi pieces on it.
Take your kid's favorite cereal and put a small amount in a plastic bag. Carefully tap it with a rolling pin or heavy-bottom sauce pan to crush it before putting it in a shallow bowl or plate. Peel your bananas and carefully trim the ends. Roll it in melted peanut butter and dip it into the crushed cereal before you slice and plate it.
14.
Raw Vegan Banana Sushi
This banana sushi recipe is packed with protein. To start, peel your banana and carefully slice it lengthwise, being careful not to cut your fingers. Get a spoon and scrape out the seeds to make shallow boats.
I like to fill one side with hemp seeds and the other with almond butter. Put the sides together, add almond butter to the top, sprinkle with cinnamon and hemp seeds, and slice.
Get a skillet and lightly toast your tortilla shell before spreading on a layer of peanut butter. (Make sure you don't burn it!) Put your banana on the peanut-butter slathered tortilla, roll it up, and slice it.
Drizzle your banana slices with honey and sprinkle on a generous layer of nuts and cinnamon. We like this recipe warm or cold, and the honey adds just the right amount of sweetness.
16.
Strawberry Nutella Banana Sushi
Buy large flour or wheat tortillas and lay one out of your cutting board. Cover one side with Nutella, making sure you get right to the edges.
Place your peeled banana on one side and sliced strawberries on the other on top of the Nutella. Roll it up, making sure it's tight. Carefully slice the roll, flip it on one side, and top with a slice of strawberry.
Peel your banana before carefully spreading on a layer of peanut butter using an offset spatula. Roll the banana in your puffed rice cereal, pressing gently to pack the cereal on.
Slice it into bite-sized pieces and top with sliced strawberries, mangoes, and quartered blackberries. We like to add a smear of peanut butter to each fruit piece to make it stick to the banana roll better.
18.
Raisin, Cinnamon, Peanut Butter Banana Sushi
Finally, you want to get a tortilla and spread one side with a generous layer of peanut butter. Sprinkle in a handful of raisins and cinnamon to taste.
Next, peel your banana, carefully trim the ends, and roll it up in the tortilla, making sure it's tight. Carefully slice bite-sized pieces and arrange them on a plate. If you like, you can sprinkle more cinnamon on the top.
Summary
These 18 healthy and fun banana sushi recipes are a great way to involve your kids and give them choices about their snacks. With nearly limitless combinations possible, you can experiment and see which recipes your kids prefer. We bet they'll like many of the ones we listed!
18 Delicious and Easy Banana Sushi Recipes for Everyone
Directions
Select your favorite recipe.
Organize all the required ingredients.
Prep a Banana Sushi in 30 minutes or less!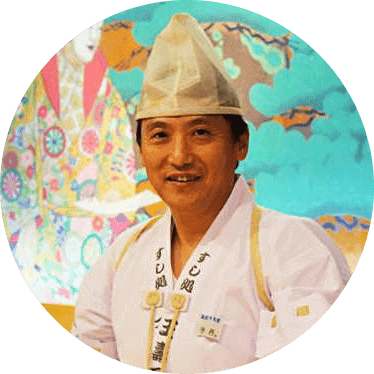 Hiroshi Nakamura, a Tokyo-born sushi chef turned US-based writer and critic, is the voice behind ichisushi.com, blending traditional sushi wisdom with modern insights.