We can all agree that sushi rolls are pretty famous. But most of the time, vinegared rice and raw fish are foods that kids don't like. If you happen to encounter this, we take you on some of the best sushi recipes for kids. Sooner than later, you will find your little ones craving sushi.
Sushi Recipes for Little, Cute Kids Are you a parent who struggles with having a picky eater kid? Raise your hand if you are one. You need to go a long way to make your kids try new foods like sushi.
But this is not impossible. You can always present sushi rolls creatively and playfully. Plus, you can always ask kids to join in the kitchen. Welcoming these cute little ones into your kitchen may even spark their curiosity about sushi rolls.
We will start with traditional sushi rolls but a more straightforward and kid-friendly version. Then we go to some recipes that will recreate sushi in more exciting and fun ways for kids.
So, here we go! Get ready to jot down these 20 best sushi recipes kids will surely enjoy.
Maybe you are worried because your kids are not eating enough vegetables lately. So, we wanted to help you make a healthy dish for them but with a twist. Why not try making a Rainbow Vegetable Sushi.
Because of its beautiful and colorful vegetables paired with dipping sauce, this sushi recipe is fun that your kids will genuinely love. What's more, fun is that you can let your kids pick red or green vegetables for their sushi.
2. Tuna Mayo & Tamago Sushi for Kids by Miwa's Japanese Cooking
Some moms can relate that raw fish may not be the best choice for kids. Most of them do not like the taste of it. But, nowadays, you can try other alternatives to making kid-friendly sushi.
Tuna Mayo & Tamago Sushi are among the most popular sushi rolls for children. With this easy video tutorial by Miwa's Japanese cooking, you can make a sushi recipe attractive for your little kids. Go ahead and try making one!
Do you want to introduce sushi rolls to your kids? The fantastic news is that you can make sushi yummier, appealing for children, but easy to make. With simple ingredients, start making Baby sushi.
It is more exciting that baby sushi uses cooked beef to replace raw fish. Then, combine it with vegetables like carrots and cucumber to make it healthier. Trust me. This sushi recipe is perfect for dinner or a party for kids.
4. Fruit Sushi by Full-Time Kid
Creating fruit sushi is a beautiful way to let your kids in the kitchen. Plus, this is a good treat and surprise for them. Just gather some honey, cinnamon, peanut butter, strawberries, tortilla, and banana.
You can combine it with any other fruits you and your kids like. But be careful when using your butter knife. So, that's how simple it is. Watch this video by Mya and start rolling on!
It is no lie that you will do everything for sushi. But here's the deal. Pickiness of your kids kicks in. They start putting off sushi. For some reason, seaweed tastes weird, which turns off their love for sushi rolls.
So, here's another recipe that is seaweed-free, kid-approved, and easy to make. It's none other than Cucumber Sushi. Remember that an apple corer is very important when trying to make cucumber sushi for kids. Promise, this will make your life much easier.
6. Candy Sushi for Kids by BBC Good Food
Candy or sweet sushi is not your ordinary sushi. You can even joke around with your kids by making sushi that looks like fish but tastes like candies. Try making a superb sweetie sushi for your children's snack or birthday celebration.
Start by making Rice Krispie Squares. You can even get these cute little kids to make candy sushi. Follow the steps in this video tutorial by BBC Good Food for Kids.
Are you running out of ideas of what you should pack for your kid's lunch? Then, try making this sandwich sushi for your school-age children. What's more lovely is this simple meal would not take too much of your time.
With a sandwich sushi roll, you can add some cuteness and fun to your kid's lunch box. Always remember not to put too much stuff in each roll. Plus, ensure that you pick the proper bread to pack the roll together.
8. Bacon Sushi Kid-Friendly Recipe by Kenmore
Here's another perfect and quick lunch box recipe for kids. You do not need to worry since it is easy to make. But do not take only our word. Try doing this bacon sushi at home.
Along with that, bacon sushi is an excellent recipe since some kids may not like the taste of raw tuna or fish. So, it's more fun to try making this DIY bacon sushi roll.
And you don't need to wonder what's next. With this detailed guide by Kenmore, you can successfully create an appealing sushi roll for kids.
Come to think of it. Sometimes, sushi is not a kid-friendly type of food. But you can make it very kid-pleasing. You can make a killer egg, sesame, and edamame sushi roll. Plus, you can be resourceful since you can make good use of leftovers while doing this dish.
Also, this sushi recipe for kids only needs essential cooking tools. And you don't need to use an oven or stove. The bonus part is this sushi recipe is nutritious. Check out this quick but healthy sushi recipe for kids.
10. Omelet Sushi Roll Recipe for Kids by How Daily
Next on our list is a perfect sushi recipe for a picnic or on-the-go packed lunch. We assure you that kids and the whole family will ask you for this repeatedly. You can prepare this omelet sushi roll recipe in 20 minutes.
All you need to do is gather eggs, carrots, avocado, and other sushi ingredients. To make it yummier, serve it with ketchup, chili sauce, or any sauce your kids like. You can make your picnic with your family much more memorable with an omelet sushi roll.
Have you ever heard of allergy-friendly sushi? You can quickly introduce a sushi dish to your kid by making an avocado sushi roll. What's more incredible is that this avocado sushi roll recipe is perfect for parents who have kids with allergies.
Plus, making an avocado sushi roll is one of the best ways to introduce sushi to kids who have not yet tried eating raw or cooked fish.
You can always make your kid's meal delightful and colorful. With this recipe from Florida Daily Farmers, your kids will always look forward to their breakfast.
This sushi recipe is easy to make with ten minutes of prep time. Check out their page and find out more about how to make this breakfast sushi for your little ones. Start your kid's day with something they will never forget.
13. Bread Sushi for Kids by Happy Wife Diary
Most of the time, kids are not familiar with sushi rolls. But you can always present sushi in a fun way by transforming it into bread sushi. You only need to prepare minimal ingredients to make this bread sushi for kids.
Omelet, mayonnaise, carrots, and cucumber will do the magic. To make it lovely, you can use hotdogs instead of eggs. Then, try making this easy-to-follow bread sushi recipe for kids with this video guide by Happy Wife Diary.
Here's another sushi recipe that will surely take your kids to the kitchen. Surprisingly, you will find them doing their recipe and have so much fun. Try making this kid-approved, fun, and easy candy sushi roll recipe.
For this sushi recipe for kids, you need Rice Krispie cereal, marshmallows, fruit roll-ups, and gummy candies. With only 15 minutes, you can make your kids a delightful snack. Next time, you can even make your kids try authentic sushi.
15. Kid-Friendly Egg Sushi Rolls
Encourage your kids to eat sushi by cooking them this egg-rolled rice sushi roll. Since sushi rolls are handy, they are perfect for your kid's little fingers. You can make their field trip snacks more adventurous and fun.
While making this, try to mix some add-ons to make it more delicious. Diced carrots, green onions, seaweed, and cheese are great ingredients to start. Along with that, this egg sushi recipe for kids is a thrift idea. You can make use of leftover ingredients in your kitchen.
We all can relate to sushi as a well-known healthy dish. And making sushi rolls at home is a pretty exciting activity for all ages. So, follow this step-by-step sushi recipe, and enjoy making California sushi rolls with your kids at home.
This easy California sushi maki is flavorful and fun to do. You can make it tasty by adding wasabi, pickled ginger, and soy sauce. If your kids are a little hesitant, try inviting them into the kitchen when you are making sushi. Having kids join you would sometimes do the trick.
17. Vegan Kappa Maki Sushi for Kids by Niyati's World
Next on our list of best sushi recipes for kids is one made by an 8-year-old kid herself. In this video, Niyati will help you make vegan kappa maki sushi the kid's way. Invite your kids to join and try doing this in your kitchen.
Engage in a fun way of cooking, eating, and bonding with your kids with this kid-friendly version of kappamaki sushi. You will only need the essential sushi ingredients like seaweed and cucumber.
Dessert sushi is an entirely different story. But here we are. At times, sushi can be the enemy of kids. Tuna and fish are not children's things. But you can slowly introduce to them the world of sushi through this chocolate peanut butter and banana sushi.
Why not make sushi and play around with your kids simultaneously? The key ingredients for this fun sushi snack are rice cereal, nut butter, and bananas. Add some nuts and chocolate chips to make a sushi coating to round it up.
19. Kid's Sushi by Everyday Gourmet
Ham in a sushi roll is pretty amazing. Kid's sushi is not your average sushi roll. It is unique but easy and fun to make. We are telling you. This recipe is the best way to recreate sushi rolls.
To spice up the flavor of kid's sushi, try buying a double-smoked ham at your local grocery store. With this detailed video guide by Everyday Gourmet, you can make sushi rolls for kids in a more exciting but delicious way. Next time you know, you will find your kids asking when to have sushi again.
20. Nutella and Banana Sushi by Kidspot
Your kids are now coming home after a long, tiring day at school. To reward them for studying hard at school, make them this Nutella and banana sushi by Kidspot.
While this is not the traditional way to have sushi rolls, we'll it is a recipe worth the try. You can even rush this quick sushi snack in minutes. Check out the detailed recipe at Kidspot on YouTube.
Final Thoughts
These are only a few thrilling sushi recipes for kids to try. As kids will not enjoy the taste of raw seafood, we list down the 20 best sushi recipes made of other ingredients.
These sushi recipes are colorful that you would be in awe of how much your kids enjoy them. Plus, you can encourage your child to try authentic sushi later. And this time, they will not say no to sushi rolls.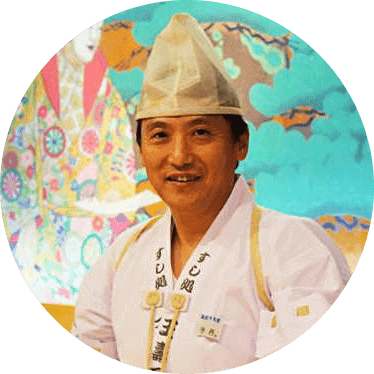 Hiroshi Nakamura, a Tokyo-born sushi chef turned US-based writer and critic, is the voice behind ichisushi.com, blending traditional sushi wisdom with modern insights.