Many sushi recipes include fruits to partner with the seafood, such as mango, avocado, and cucumber. But have you heard of having fruits as the main ingredient? Here are 24 fruit sushi recipes for those who want something healthy and vegan while still eating delicious foods.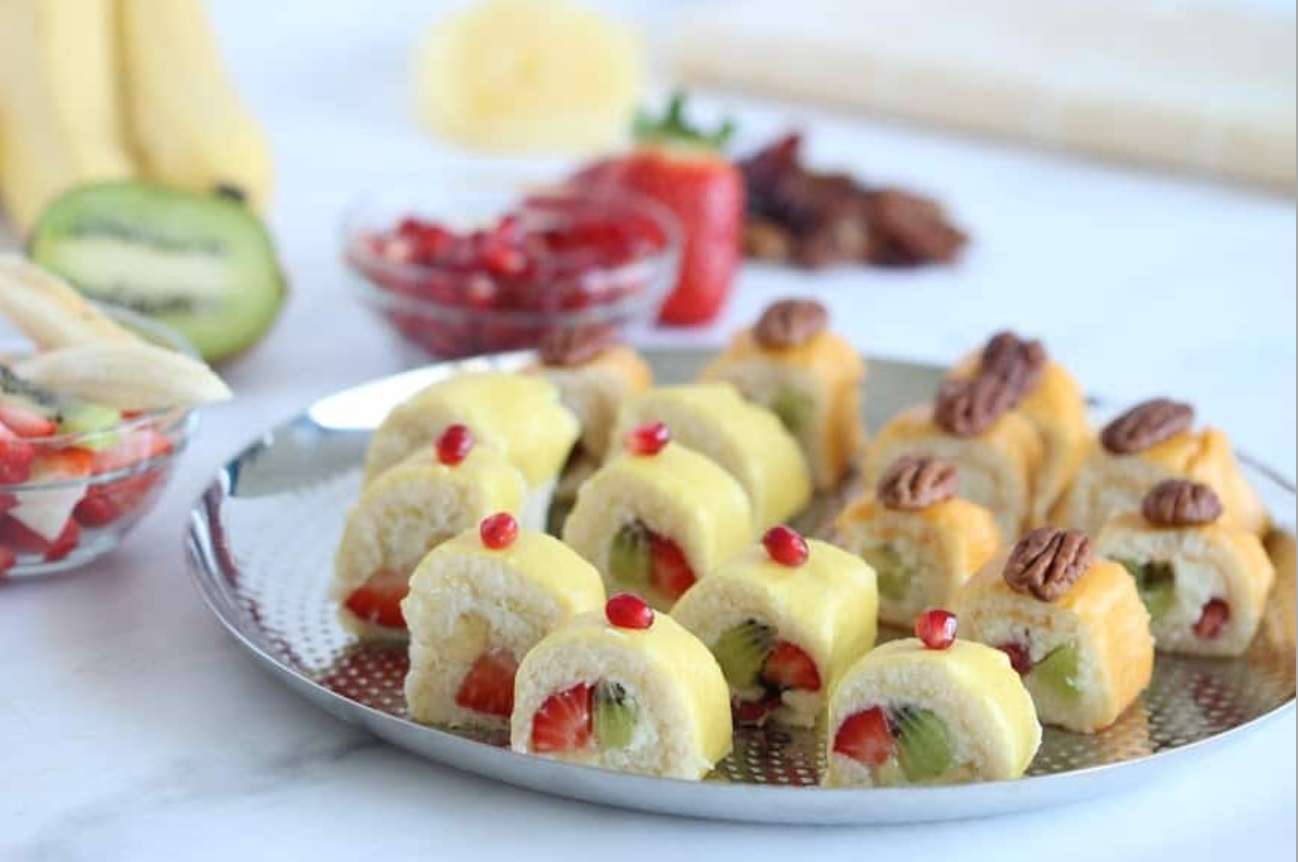 Not everyone feels the same way to rice as a dessert, and if you are one of them, this recipe is perfect for you. To replace the rice, use cooked coconut batter instead.
The filling can be any fruit, primarily tropical, to go with the coconut flavor like kiwi and strawberries. Upgrade the roll by using colorful soy wraps to make the rolling effortless and a more excellent look.
Tropical fresh fruit sushi recipes
If you like tropical fruits, this is a refreshing dish that you may make. Instead of seasoning the sushi rice with sushi vinegar, you will mix it with coconut milk and vanilla extract.
The main star of the filling is the strawberry, which you can partner with kiwi or pineapple. Moreover, you may elevate the sushi by rolling it on toasted coconut or topping it with thinly sliced mangoes.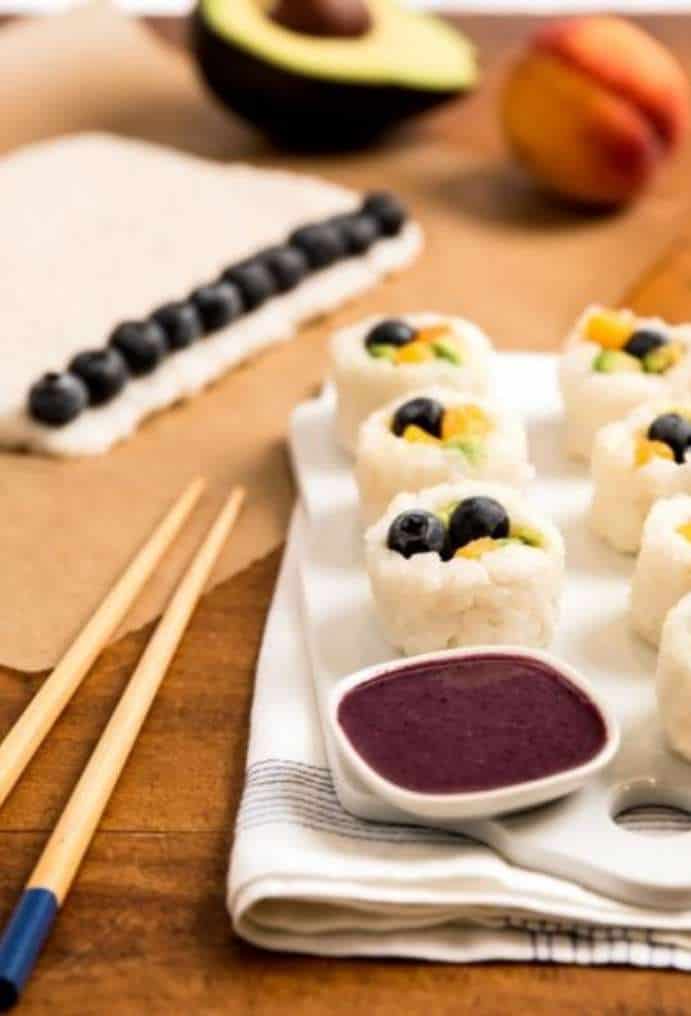 This fruit sushi has a flavorful filling that explodes in your mouth with a unique dipping sauce. The filling has blueberry, avocado, and apple, peach, or plum slices which are interesting palette combinations and texture profiles of creamy and crispy.
Additionally, the dipping sauce is best on its own. It is a puree of blueberries, yogurt, and honey or maple syrup for a vegan option.
Dessert Imitation Sushi
If you want entirely different sushi, try this recipe. The ingredients, even the rice and nori are all imitations. The rice is desiccated coconut, coconut oil, honey, and vanilla extract, while the nori sheets are coffee, coconut oil, cocoa powder, chocolate liquor, and chocolate graham.
The fillings combine two or more strawberries, raspberry, kiwi, and mango fruits. Serve this dish with a chocolate sauce and let your stomach be delighted.
This ultimate fruit sushi is a fruit within a fruit. It maximizes the use of fresh fruits available and brings them to the spotlight. The base of the sushi are fruits that have a diameter wide enough to fit another fruit.
You may also use a whole fruit slice as a base and top it with small fruits like blueberries. Use peanut butter or almond butter as adhesive.
This recipe is simple yet highly likable fruit sushi for children. It uses rice with sweetened coconut milk that you will shape into an oval where you will top the fruits.
Each oval will have a kiwi slice, raspberry, and mandarin orange that gives an exciting mouth feel when eaten with just one bite. If the fruits don't stick to the rice, use honey or maple syrup as glue.
Fruit Sushi with Roll-ups
For those who have picky eater kids, try this recipe and watch them enjoy it. It is sweet sushi with fresh fruits and wrapped with a fruit roll-up. Mix the sushi rice with coconut milk, sugar, and salt.
Nothing can go wrong with fresh mango, kiwi, and strawberries if you are unsure what fruit to put for the filling. Serve this with chopsticks, or eat it with your fingers.
The combination of sweet mango and sticky rice is to die for, but other fruits go well with this recipe. To make the fruit sushi balls, have many thin slices of fruit to cover the rice.
You may have one fruit at a time or combine your favorite fruits. You may also make different sauces such as raspberry vinaigrette, blackberry or strawberry dressing, and chocolate sauce.
Vegan Special: Fruit Sushi
This vegan-style fruit sushi recipe has a different way of making sushi rice. Instead of mixing the cooked rice with the coconut milk, you will cook the rice in the sweetened coconut milk with sugar, vanilla extract, and water.
You may add any fruits you will like for this recipe, while you will wrap the whole roll with thin mango slices that substitute for the nori sheet.
Sushi rolls can be fun and colorful with this recipe. Furthermore, it uses candy fruits, an excellent treat for sweet tooths.
Replace the rice with rice crispies and the nori with fruit roll-ups. Instead of fresh fruits, replace the filling with candies, specifically colored licorice or gummy worms, and fruit twist sticks. Use different colors and flavors for a more attractive and enjoyable snack.
Avocado Nigiri
Avocado is a common ingredient when making a sushi roll. However, this fruit will be the star of a nigiri in this recipe, making it creamy and rich. You will use standard sushi rice with sushi vinegar for this recipe since avocado does not need sweet ingredients to go with it.
Small nori strips will hold the avocado in place, just like in Tamago sushi.
Another nigiri recipe uses arborio rice instead of sushi rice with added lime zest and coconut milk. Instead of a more fun presentation, this fruit sushi has more class and simplicity.
You may top it with your choice of ripe kiwi, mango, big strawberries, and white dragon fruit. Serve this with a chocolate sauce with whipped cream. Replace the cream with coconut whipped cream for a vegan option.
Fruit Nigiri
This recipe can be enjoyed with vegan and nonvegan as there are other substitutes for the ingredients. It is simple, and you can make it with different types of fruits. Just like the other fruit sushis, the sushi rice has coconut milk.
However, for the fruits to stick to the rice, you may use condensed milk or maple syrup. You may use any fruits, even jackfruit, grapefruit, and blackberry.
Mango and Dragon Fruit Maki Rolls
Try this recipe if you are adventurous with your food or want a fruit sushi roll with bold flavor. The filling of this maki roll has avocado, asparagus, Capri, and shiitake mushrooms that blend well with the thin slices of mango and dragon fruit toppings.
To make this food journey extra unique, serve this with a drizzle of Sriracha on the plate where you will place the sushi roll.
This recipe has a different turn from the rice substitute. Instead of using another fruit or roll-up, it uses homemade or store-bought angel food cake. Since the base or the cake is a blank canvas, you may choose any fruit that you would want to have for your sushi.
You sprinkle black sugar on top of the fruits. However, the suggested sauce for this recipe is strawberry or raspberry.
Dessert Sushi Roll with Preservatives
This fruit sushi roll may take longer than the other recipes, but it will be worth your time. Instead of using fresh fruits, this recipe used orange marmalade and mixed berry jam with agar.
The filling is easy to make and has a jelly texture, creating a more consistent texture. Furthermore, replace the nori sheet with a strawberry fruit roll-up that you may also make at home.
This recipe is an excellent snack for summer as the fruits used are refreshing. The fruits used for the fillings are strawberries, cantaloupe, and pineapple. Wrap this with yellow soy wrappers with coconut sushi rice for a more summer vibe.
You may substitute the soy wrapper for a fruit roll-up if you want a sweeter, fruity dessert. Roll it on toasted coconut for garnish.
Banana Sushi Roll with Whole Wheat Tortillas
This sushi roll is an easy snack at any time of the day, especially before working out, as it is full of proteins. It is not too sweet and only requires three ingredients. Instead of using rice to wrap the sushi, you will use a whole wheat tortilla.
To make the banana stick inside the bread, you will spread peanut butter first, which always goes well with the banana.
This sushi roll is another recipe that doesn't use fresh fruits but fruit flavors. People who are avoiding gluten can enjoy it. Instead of using rice, it uses Rice Chex cereal with melted white vanilla baking chips, which are gluten-free.
Use different colors of gummy worms for the fillings to have a colorful center. The nori substitute will be Betty Cracker fruit roll-ups, chewy fruit snacks of any flavor.
Peach Fresh Fruit Sushi
This recipe is another fruit sushi that does not only goes with peach but also with strawberry and kiwi. The sushi rice for this sushi is different, as it uses jasmine white rice, coconut milk, sweetened coconut shreddings, and almond extract.
To ensure that the fresh sliced fruits will stay at the top of the rice, use berry fruit rolls as the tape. Lastly, serve this with maple syrup.
You may DOLE from the wonderfully grown fruits they sell in the grocery stores. However, they also have recipes on their website for using their fruits, such as fruit sushi. This recipe uses nori or seaweed sheets and coconut rice to wrap sliced bananas, grapes, pineapple, and strawberries.
You will get every fruit in just one bite. Sprinkle the sushi with cashews and coconut for texture and added flavor.
Tropical Fruit Sushi Donut
This recipe is interesting because of the shape and the process. The rice is steamed instead of boiling to cook. To give it a pinkish tone, paint the rice with a red dragon fruit sauce with coconut cream.
You may also paint the rice with white chocolate for extra sweetness. Add mango, dragon fruit, kiwi, and other fruits for more colors and flavors, and drizzle the dragon fruit sauce.
Raw Paleo Vegan Avocado Cucumber Sushi
Avocados and cucumber are a common addition to sushi rolls, but what if they are the sushi rolls? This recipe contains vitamins, minerals, antioxidants, live enzymes, and fiber. You will shave an English cucumber lengthwise to have a beautiful, long ribbon.
Spread a mixture of avocado, cumin, and greens for more nutrition to the cucumber ribbons and roll them. You can do it in less than 5 minutes.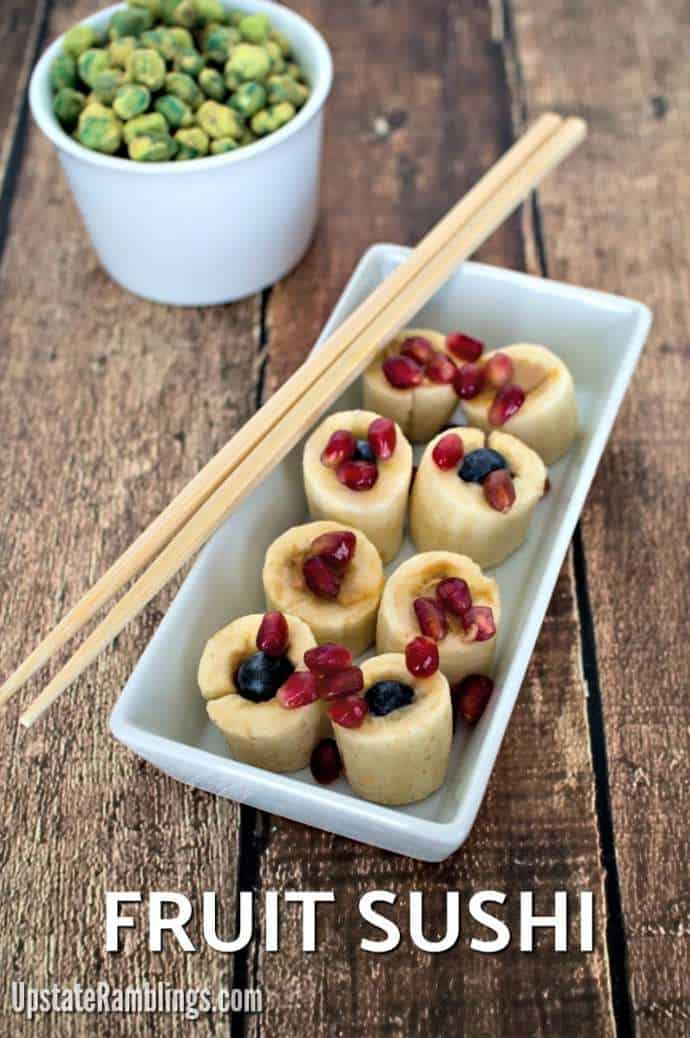 Instead of containing both fruits in a roll, the banana will have the blueberries in the middle. It is one of the creative ways to eat fruits.
You may also stuff peanut butter in the middle of the banana whole and top it with strawberries, grapes, pomegranate arils, or other fruits. This dish is also perfect for Japanese Udon noodles with peanut sauce with Wasabi Peas on the side.
Conclusion
The best thing about making your food is that you can be as creative as possible and make your rendition of dishes. Standard sushi consists of sushi rice and raw fish, but these 24 fruit sushi recipes offer a different way to enjoy this food.
27 Best Fruit Sushi Recipes
Directions
Select your favorite recipe.
Organize all the required ingredients.
Prep a Fruit Sushi Recipe in 30 minutes or less!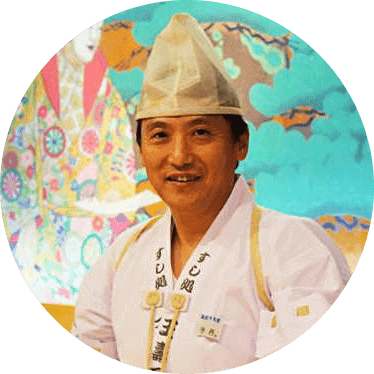 Hiroshi Nakamura, a Tokyo-born sushi chef turned US-based writer and critic, is the voice behind ichisushi.com, blending traditional sushi wisdom with modern insights.