Thanks to its oceanfront setting, Myrtle Beach is home to more than its fair share of seafood joints. And if you're looking for great sushi, you'll find plenty of it here.
From traditional Japanese eateries to modern fusion restaurants, we've pulled together this handy list of the best sushi places in Myrtle Beach to help you narrow it down.
Odori Japanese Steakhouse
$$ | (843) 663-0630 | WEBSITE
View this post on Instagram
Odori's made-to-order sushi rolls are a hit with both visitors and Myrtle Beach locals. The restaurant's just off Main Street, so it's a top pick for a pit stop mid-shopping spree.
Aside from the classic rolls, the menu features plenty of tempting specials, like the flaming lips roll – a winning combination of spicy crab, avocado, and cream cheese, deep fried and topped with a slice of jalapeno and a dollop of fiery hot sauce.
Yamato
$$ | (843) 448-1959 | WEBSITE
This family-friendly Japanese restaurant has bagged itself a lakeside spot at Broadway on the Beach. There's a fun atmosphere here – the hibachi chefs get glowing reviews for their upbeat energy and sense of humor.
And the huge sushi menu lets you pick from more than 30 different rolls, including a selection of modern takes on the classics. Try the rising sun roll – a fried California roll dabbed with spicy tuna.
Miyabi
$$ | (843) 449-9294 | WEBSITE
This place serves up steak and seafood around a lively hibachi grill, and it's got a separate sushi bar with a quieter vibe. Their beginner's dish is a hit with those trying sushi for the first time – you get a piece of shrimp, a piece of crab, and four pieces of California rolls to try.
There's plenty to keep seasoned sushi connoisseurs satisfied, too. And whatever you choose, you can wash it all down with traditional hot or cold sake.
Art Burger Sushi Bar
$$ | (843) 839-4774 | WEBSITE
View this post on Instagram
If you like your sushi with a side of sea views, Art Burger Sushi Bar will be right up your street. This laidback beachfront eatery takes inspiration from traditional sushi spaces – think industrial décor and clean lines.
As for the food, there are a bunch of specials to get your teeth into, like the beach roll, which combines salmon, crab, and Hamachi with sriracha, tempura flakes, and spicy mayonnaise. If you're feeling brave, order the omakase and let the chef come up with something just for you.
King Kong Sushi
$$ | (843) 626-2444 | WEBSITE
View this post on Instagram
King Kong Sushi first flung open its doors in 2007. And it must have been a hit, as the chain opened its second joint just two years later – this time with a sought-after spot on Broadway at the Beach.
The menu's stacked with traditional Japanese sushi and hibachi-style dishes, so you'll be spoilt for choice. In fact, there are almost 30 different specialty rolls to choose from. As for the décor, it's a cozy setup – think warm lighting, low ceilings, and dark wood furnishings.
Co Sushi
$$ | (843) 839-1733 | WEBSITE
This up-to-date Southeast Asian restaurant offers a choice of indoor and outdoor seating, including shared booths and high-top tables. It pairs its extensive sushi offering with a bonus line-up of Vietnamese dishes, like ramen and pho.
Diners rave about the Kung Fu crunch and rainbow rolls. Plus, the drinks menu lists a whole bunch of signature cocktails alongside traditional hot and cold sakes.
Lil Tokyo Steakhouse & Sushi Bar
$$ | (843) 839-5858 | WEBSITE
View this post on Instagram
This family-owned steak and seafood joint shows off a hard-to-beat sushi selection. You'll find it right outside Coastal Grand Mall, so it makes for a perfect lunch stop while you're treating yourself to a spot of retail therapy.
We recommend trying the Myrtle Beach roll – it's stuffed with salmon, avocado, cream cheese, octopus, and crab. Order a cold glass of sake to wash it all down with, and you're onto a winner.
The Grumpy Monk
$$ | (843) 712-8020 | WEBSITE
This small chain has a couple of spots in Myrtle Beach, and the Broadway at the Beach joint is their most popular.
Craft beer might be the specialty here, but that doesn't take away from the stellar sushi – it's been dubbed some of the best in town. It's a walk-ins-only set-up from March to August, so be prepared to wait for a table at busy times. It'll be worth it, we promise.
Wicked Tuna
$$ | (843) 712-2430 | WEBSITE
View this post on Instagram
With a beachfront postcode by Myrtle Beach Boardwalk, it'll come as no surprise that Wicked Tuna's a popular dining spot with tourists and locals alike. The interior décor follows a beachy theme, and the wide windows line up sea views to match.
Their sushi menu covers all the classics, like spicy crab rolls and salmon nigiri. What's more, they catch their own fish every day, so freshness is guaranteed. Drop in for their daily happy hour to nab sushi rolls from as little as four dollars a pop.
Sugami
$ | (843) 692-7709 | WEBSITE
If you're looking for a casual steak and sushi bar with a laidback vibe, this is your spot – diners praise the friendly staff and relaxed atmosphere. The Sun News even once dubbed it the locals' favorite.
The sushi menu reels off more than 120 options, from single pieces to huge sharing platters, so you're bound to find something that takes your fancy. And, the offering changes with the seasons, making the most of the freshest fish on offer all year round.
Indo Asian Bistro & Sushi
$$ | (843) 691-9557 | WEBSITE
View this post on Instagram
This pan-Asian restaurant has been described as a hidden treasure. And, it gets plenty of praise for its big portion sizes and great customer service. The menu reels off all the classics, and there's a selection of chef's specials to try, too.
Take the Hawaiian roll, for starters – it combines sweet pineapple and coconut with salmon, asparagus, and cream cheese. Every dish is made to order and their raved-about sauces are all homemade.
Buoys on the Boulevard
$$ | (843) 663-0330 | WEBSITE
View this post on Instagram
Buoys on the Boulevard is a relative newcomer to the Myrtle Beach dining scene – it opened its doors in March 2018. The colorful seafront eatery shows off a dedicated sushi bar, and customers can't get enough of it.
The menu ticks off everything you'd expect, from specialty rolls to sushi and sashimi a la carte options. Make a beeline for this place during happy hour, and you can tuck into six-piece rolls for under four dollars.
Soho Steak & Seafood Sushi Bar
$$$ | (843) 443-9441 | WEBSITE
View this post on Instagram
If you're after a livelier dinner-and-drinks spot, Soho Steak & Seafood Sushi Bar is well worth checking out. By day, it's a sleek eatery, and by night, it transforms into a chic bar, where live music comes courtesy of DJs.
The decent-sized sushi selection and rooftop dining area make this place a hit with tourists and locals alike. And while the menu's varied, the sushi gets rave reviews from customers on TripAdvisor.
Osaka Sushi Buffet
$ | (843) 839-5959 | WEBSITE
If you want to fill your stomach on a budget, Osaka Sushi Buffet might be just what you've been looking for. This place lays out a selection of traditional sushi, from avocado rolls to spicy salmon rolls.
You can help yourself to as many plates as you like for less than $20, so there's no chance of leaving hungry. And there's even a grab-and-go option for when you're in a hurry, or just fancy a quick, no-frills lunch.
Summary
So, there you have it – our pick of the best sushi places in Myrtle Beach. All that's left to do now is pick which one takes your fancy and go get your sushi fix. Hopefully, you'll get the chance to try a few of them while yo.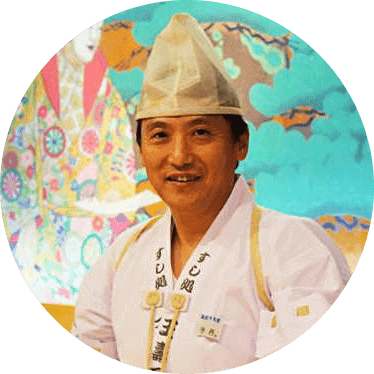 Hiroshi Nakamura, a Tokyo-born sushi chef turned US-based writer and critic, is the voice behind ichisushi.com, blending traditional sushi wisdom with modern insights.