Whether you're celebrating on your own or with your lover, family, or friends, these 20 Best Heart-Shaped Sushi Recipes will surely make your heart skip a beat. While romantic and intimate dinner dates sound amazing, I'd rather celebrate Valentine's Day at home and prepare a hearty meal for my loved ones. It's my own way of expressing just how much I care for them.
Believe me, you can prepare and whip up Valentine's Day without going through much hassle and trouble because these heart-shaped sushi recipes got your back. Love is in the air, or is it the smell and aroma of these sushi meals in your kitchen?
Are you ready and up for a flavorful sushi treat that will leave your taste buds singing and your tummy full and satisfied? Then, it's time for you to try this salmon heart-shaped roll for the best sushi experience.
This heart-shaped sushi recipe features smoked salmon, kombu seaweed, sushi rice, and nori seaweed, all smothered and filled with the subtle spiciness of wasabi paste., the mild, slightly sweet flavor of rice vinegar, and salt and sugar for a tasty and satisfying sushi bite.
2. Valentine's Day Heart-Shaped Sushi Appetizer Recipe
Ah, the Valentine's Day heart-shaped sushi appetizer-it's the ultimate food masterpiece with so much to like! Between the delicious vegetable ingredients of asparagus, carrots, avocado, and cucumber all wrapped in nori sheets and sushi rice, it's pretty hard to resist.
And let's not forget the crab cakes, Japanese daikon, and rice vinegar for a more fantastic blast of flavors!
If your end goal is to impress your date, look no further because this cucumber, avocado, and crab legs heart-shaped sushi recipe is here to save the day. Its fancy name alone already leaves a mark, don't you think?
This heart-shaped sushi recipe is made with cucumber, avocado, shredded crab legs, and shrimp tempura together with sushi rice and sriracha sauce all wrapped in seaweed sheets.
You'll like how the veggie toppings and sauce balance out the taste of seafood. This recipe is often an entrée in many Japanese restaurants, so you might think it requires cooking expertise. Surprisingly, this one is not that challenging to make!
4. Crab Sticks Heart-Shaped Sushi Recipe
Are you planning to pop the question this coming Valentine's Day? I'm sure your lover will say yes, but this crab sticks heart-shaped sushi recipe will seal the deal for you!
This sushi meal is packed with crab sticks, red peppers, and cucumber, all topped with sushi rice and Philadelphia cheese tightly wrapped in a pink soy wrapper. I assure you the taste is so satisfyingly rich and delicious that no one is able to say no.
If you feel you've had the best sushi experience yet, wait until you have this tuna and salmon heart-shaped sushi recipe. I can't say and emphasize enough just how delightful and satisfying this sushi meal is! I just love how juicy, tender, and crispy the tuna and salmon are.
The combination of nori sheets, sushi rice, tuna, rice vinegar, salmon, beetroot, and Japanese pickles make this sushi exceptionally delicious. This classic heart-shaped sushi recipe is ideal for a Valentine's Day celebration with the love of your life, but also quick enough to whip up at any time of the week.
6. Easy Semi-Wrapped California Heart Sushi Roll Recipe
Sure, California sushi roll is an ordinary, budget-friendly sushi option. But it only takes one simple ingredient addition to make it magical and elegant. Throw in lumps of Kani imitation crab sticks into the nori sheet and wrap it together with cooked rice, cucumber, and roasted sesame seeds.
And voila, you'll have a romantic sushi dish that will definitely make you giddy and blissful. With this easy heart-shaped sushi recipe, no one can dare to tell you that you're saving too much money!
I don't know what makes sushi an intimate date night-worthy meal, but it's just the way it is. There's something so romantic about this easy heart-shaped sushi recipe.
Not only is it mouthwatering, but also amazingly easy to whip up and work with. In this twenty-five-minute heart-shaped sushi recipe, all you have to do is to add the fillings of your choice into the nori sheet and rice soaked in vinegar, sugar, and salt. Squish the roll tightly, cut the sushi roll into pieces, serve, and enjoy. Bon appetite!
8. She Knows Heart-Shaped Sushi Recipe
This heart-shaped sushi recipe is the ultimate definition of delight. With its layers of nori seaweed sheets, delicious sushi rice, and fillings of yellow and red bell peppers, this heart-shaped sushi roll is a taste of heaven.
It has only three main ingredients, but it's surprisingly a snap to make. It takes me only 30 minutes to prepare and whip up this epic sushi dish. So, less time in your kitchen means more time for you to celebrate with your loved ones!
Are you on a strict budget? Here's a Valentine date-night worthy sushi roll recipe that would not break the bank. T-bone, burger steaks, sirloin, or roasted chicken may be the traditional meals for Valentine's Day, but this tuna steak sushi roll recipe won't disappoint you either.
It features sushi-grade tuna, avocado, carrot butterfly, masago, and a dash of Sriracha hot sauce. This heart-shaped sushi meal might be low cost, but at the end of the day, all it takes is a fantastic recipe to make it appear like it costs a thousand bucks.
10. Cured Salmon Maki Heart-Shaped Recipe
Cured salmon gets the full credit of 100 points just for the food presentation alone. From sushi rice to nori seaweed sheets to the black Tobiko and Ikura, this heart-shaped sushi roll is super-duper stunning, to say the least.
What makes this sushi meal stand out, even more, is its Ikura or salmon roe ingredient, and of course, its heart shape that makes it more delightful and pleasant to the eyes.
If this Tobiko fish roe egg doesn't make your mouth water now, I don't really know what will. Tobiko fish, salmon, and avocado are a match made in heaven! This Valentine's sushi roll recipe is the ultimate proof. The nori seaweed sheet is bathed with sushi rice, slices of avocado, tobiko fish eggs or sesame, and tuna.
Make Valentines night extra special with this dynamite roll heart-shaped sushi recipe. The crispy seaweed sheet hugs the marinated sushi rice, shrimp, and cucumber. On top of everything, it's loaded with slices of avocado for a fresh contrast to the seafood filling.
Hold your horses, guys, because this heart-shaped sushi recipe will make you fall in love and scream for happiness.
This California Rolls recipe features fresh tuna meat and crab meat together with Japanese sushi rice wrapped in a nori seaweed sheet. Drizzled with wasabi and fresh ginger for a spicy and tangy kick, this heart-shaped California rolls recipe would be truly impossible to resist!
14. Avocado & Tuna Heart Sushi Rolls Recipe
Why make dry and bland lunch meals when you make and whip up this simple avocado and tuna heart-shaped sushi rolls recipe?
You'll just need to prepare six main ingredients that are surely kitchen staples: tuna, avocado, sushi rice, seaweed paper, and spicy Japanese mayo. Finish it with crispy tempura flakes and top it with the avocado and tuna heart-shaped sushi rolls. Delish!
Now, this is what I call a Valentine's Day paradise. Each pink-heart-shaped sushi roll is stuffed with delightful veggies of sweet potato, purple carrots, and yellow bell peppers.
If you like a hot and spicy taste, put in some red pepper flakes, have some Sriracha sauce, and freely adjust the taste to your choice and liking. Eat one of these heart-shaped sushi rolls a day, and I'm telling you, your body will thank you for this!
16. Sweet Potato, Avocado & Smoked Salmon Heart-Shaped Sushi Recipe
This heart-shaped sushi roll puts a spin on a Japanese classic. It's a rich and colorful display of Japanese sweet potato, chives, white sesame seeds, white Japanese sushi rice, and salmon in a nori seaweed sheet.
Super fresh, umami, and slightly hot and spicy, the flavor of this sushi roll is totally exceptional and sensational. You don't really need any side dish to go and pair with this. Although, if you're famished and thirsty, pair it with a chill sparkling wine!
Never eat boring sushi rolls again, thanks to this smoked salmon Valentine's sushi recipe. Slices of Norwegian smoked salmon give it a golden glow.
Coupled with pickled ginger, wasabi paste, rice vinegar, and nori seaweed sheet, this heart-shaped sushi meal has tons of flavors. With its fantastic and satisfying taste, it makes a light, sumptuous meal by itself. Or pair it with a miso soup or edamame for more substance.
18. Toasted Sesame & Tuna Heart-Shaped Sushi Roll Recipe
Whenever I feel down or stressed, I crave light but fresh and hearty eating meals like this toasted sesame and tuna sushi roll recipe.
Add sushi-grade tuna, English cucumber, and avocado to the Pacific sushi nori sheet. Then, drizzle the soy sauce and sprinkle toasted sesame seeds on top. The cucumber and avocado fillings are just some fresh offerings for this heart-shaped sushi roll recipe.
Surprise your lover tonight with this sushi love hearts recipe for an awesome and sumptuous dinner. A wasabi and Japanese mayonnaise coat the heart-shaped sushi rolls filled with avocado, carrots, and smoked salmon.
All the sushi ingredients combined offer and create a wonderful taste sensation. It's much better and budget-friendly than Japanese restaurant takeout and only takes a few minutes to whip up and make.
20. Sushi Creation Tuna Heart-Shaped Sushi Roll Recipe
This is not your ordinary and traditional tuna sushi roll meal. This tuna sushi heart-shaped sushi roll recipe is packed with different seafood ingredients you will surely like and enjoy. Sushi rice, tempura batter, crab, tobiko red, tuna, and avocado are only a few ingredients.
The list of this heart-shaped sushi recipe might be pretty long and quite pricey, but I assure you that this recipe creates an exceptional and wonderful culinary experience.
The Takeaway
Indeed, these 20 Best Heart-Shaped Sushi Recipes will put you and your lover in the mood for some romance. Whether it's tuna, salmon, or pure veggie toppings, creating heart-shaped sushi rolls is one of the creative ways to say, "I love you."
So, this Valentine's Day, why not come up with a surprise for your significant other by crafting these heart-shaped sushi roll recipes? Better yet, why don't you make it together?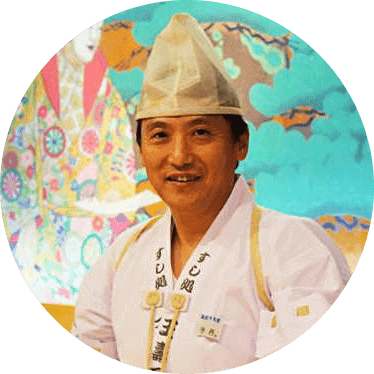 Hiroshi Nakamura, a Tokyo-born sushi chef turned US-based writer and critic, is the voice behind ichisushi.com, blending traditional sushi wisdom with modern insights.