These 18 Best Carrot Sushi recipes will fulfill and satisfy your sushi cravings without breaking your strict, meatless diet. After all, a sushi roll doesn't have to contain tuna, scallops, or salmon.
While most sushi rolls and maki have fish as their main ingredient, there are a bunch of vegetarian options you can enjoy out there. So, cheer up, vegetarians!
These recipes are definitely for you. Don't let your diet get in the way of having and savoring a mouthwatering Japanese sushi meal because these carrot sushi recipes are ready to save the day.
This carrot and cucumber sushi roll recipe is a fantastic place to start for beginners in the kitchen. It's super easy to prepare and make and needs only six main ingredients. Simply cover your seaweed or nori sheet with sushi rice seasoned with rice vinegar.
Layer in the strips of carrots and cucumber, roll up the vegetables, then slice, and serve with gari and soy sauce! Not only do these carrot sushi rolls taste savory and amazing, but they're also fairly quick and fun to make too! So why not gather the whole family together and start now your carrot sushi-making party?
2. Cucumber, Avocado, & Carrot Vegetable Sushi Recipe
Cucumber, avocado, and carrot sushi is another amazing veggie roll perfect for newbies and for when you desire a light but delightful lunch. And the exciting part is that it would not take too much of your time to make at home.
It's just a thin roll of sushi rice with avocado, cucumber, and carrot wrapped with pickled ginger, roasted sesame seeds, and wasabi. Because of their light and refreshing taste, these carrot sushi rolls would definitely be an excellent palate cleanser! Plus, they're keto and vegan-friendly too!
Do you want a show-stopping finger food bite to impress and serve your lovely guests? Well, these salmon carrot sushi recipes are delightful, mouthwatering and bite-sized. They're super duper exciting to make, so go and bring out your creative side!
Salmon carrot sushi is rolls made of thin strips of nori or seaweed sheets wrapped with smoked salmon, black radish, and carrots. Take it to another level and make a delicious dip from water, orange juice, and orange zest!
4. Carrot Cucumber Cream Cheese Sushi Recipe
This hand-rolled carrot, cucumber, and cream cheese rolls makes every sushi night so effortless. It's perfect for sharing as everybody gets to decide and pick what goes into their own sushi rolls.
This recipe is made out of rolled cone of nori filled with Indrayani rice, carrot, sushi vinegar, cream cheese, and cucumber. The grocery store is at your beck and call when it comes to the topping and the filling. Choose any veggies or fish to pair with this carrot sushi recipe! I'm sure that it will all be delicious!
Being vegetarian means being imaginative and creative with sushi roll recipes. Whoever came up with this spicy carrot Lox sushi recipe is definitely a genius. The plain sushi rice is marinated and seasoned with rice vinegar, water, sugar, and salt.
Carrot lox and avocado are tossed in a vegan mayo and sriracha sauce for an extra spicy kick! You can get a premium sriracha sauce and vegan mayo at your local Asian or Japanese store. While it can be a bit pricey, the money will definitely be worth it once you get a luscious bite of this spicy carrot Lox sushi recipe.
6. Deep-Fried Carrot Sushi Roll Recipe
Now, these deep-fried carrot sushi rolls are the ultimate lunch box and dinner meal treat. They're incredible finger food, easy to grab and go. Without any hint of surprise, the carrot sushi roll is one of the most famous Japanese sushi rolls.
It's made by filling teriyaki sauce, pork, asparagus, carrot, and well-seasoned sushi rice in a seaweed sheet. Roll it up, and you're good to go! This carrot sushi roll is a fantastic alternative for those who don't like to eat and devour raw fish. It's perfect for children, vegetarians, and meat lovers alike.
While Californian maki, scallop, or tuna roll is the most popular kind of sushi, there are tons of other rolls worth your money and time. Raw carrot sushi recipe has the same crisp and delightful taste we all know, love, and crave. Instead of the usual salmon, tuna, or scallop filling, there's carrot, avocado, bell pepper, and kohlrabi.
Since these vegetable sushi rolls are mouthwatering, they're challenging to compare with other sushi rolls, which I think, is part of the thrill and fun! Promise, you'll get blown and surprised after each and every bite!
8. Carrot "Rice" Vegan Sushi Recipe
The flavor combinations in these carrot rice "vegan" sushi rolls are interesting, but you would not believe how they blend together to create a delightful and satisfying meal.
Make your sushi fillings inside a crispy seaweed sheet with processed and seasoned carrot rice, cucumber noodles, and grilled okra. Using a bamboo mat, press tightly and carefully all the ingredients together and drizzle it with amino and soy sauce for a final wrap!
Hailing its popular name from the array of delicious ingredients, this vegetable sushi roll tastes good as it looks!
This roll recipe is stuffed with premium-quality springwater salmon, Lebanese cucumbers, and large carrots all tossed in sushi rice seasoned with wine and wrapped together in a nori sheet.
Definitely stunning! Serve up these savory salmon, carrot and cucumber sushi rolls with wasabi or Japanese-style pickled ginger and soy sauce!
10. Tuna, Cucumber. & Carrot Sushi Recipe
Tuna, cucumber, and carrot sushi is a classic roll recipe filled and packed with delightful ingredients. If you desire to give bursting new flavors a shot, give these sushi rolls a go! This carrot sushi recipe is filled with canned tuna, sushi rice seasoned with vinegar, and carrot and cucumber sliced into matchsticks.
Feel free to add any vegetable toppings you like and wish to add to. While there are a lot of ingredients involved in this vegetarian sushi recipe, I'm sure that it's all worth every penny in your wallet!
If you're not too supportive on the idea of including and tucking raw salmon into your rolls, Rainbow Carrot Vegan Sushi is just the ticket. Now, the secret to these rainbow carrot sushi rolls all goes down to its perfectly seasoned sushi rice.
I'm telling you it's all about getting the perfect rice vinegar, wine, or seasoning in point. Wrap it with other delicious and colorful ingredients of orange carrot, purple carrot, yellow carrot, mango, cucumber, and avocado. Finally, dip them in a soy sauce or wasabi of your choice!
12. Cucumber, Egg, & Carrot Sushi Recipe
If you have a sushi obsession or are just an avid fan of these Japanese rolls, but hate the sheer amount of calories that go in just one roll, use carrots instead.
I promise you, this vegetarian alternative isn't bland at all. In this Filipino-style sushi recipe, the carrot ingredients are pulsed and wrapped with vinegared rice, seafood, raw vegetables, and even tropical fruits, so you'll get a hint and idea that it's mouthwatering!
As the adage says, you can never ever go wrong with the classics, and this also applies when you're having sushi rolls. Avocado, cucumber, and carrot sushi is always my favorite and go-to meal!
The sweet chili sauce made of agave, garlic powder, and sriracha sauce is the secret magic behind these traditional rolls. You can get your hands on a premium-quality sweet chili sauce at your local grocery store, but there's no stopping you from making your own DIY version!
Egg, carrot, and Kohlrabi sushi may not be the most popular sushi, but it's so fantastic and amazing! Who would have thought that egg, shredded carrot, Kohlrabi sticks, sushi rice, and nori would blend perfectly well?
Just because you're a vegan doesn't mean you can't indulge in delicious and luscious sushi rolls! All you need are tamari, soy sauce, and wasabi for a unique and extraordinary burst of flavor.
Here's everything you like about sushi rolls. It's not only flavorful, savory, and mouthwatering, but also happens to be vegan and diet-friendly too. Fluffy rice, carrots, cucumber, spring onions, and sesame seeds are wrapped in a seaweed nori sheet and topped with maple syrup, fresh lime juice, and vegan mayonnaise.
Give me anything with well-seasoned Japanese sushi rice and seaweed, and I'll gladly devour it! Even this basic combo of carrot, avocado, fried tofu, carrot, and parsley will make me giddy and happy.
If you think crafting and making sushi rolls needs master sensei skills, think twice! With just a simple bamboo mat, carrot vegetable sushi rolling can easily be achieved!
This carrot sushi roll recipe is sweet, crispy, crunchy, and downright delicious too! This mouthwatering roll recipe is a variety of cucumber, red pepper, and dried seaweed. Drizzle with mayonnaise or wasabi and soy sauce on the side for a wholesome sushi experience.
18. Hotdog, Cucumber, and Carrot Sushi Roll Recipe
Now, these hotdog, cucumber, and carrot sushi rolls are something unique and extraordinary! Named as hotdog sushi, this delicious roll is a recipe you may have never tried or even heard of.
The hotdog is stuffed with thinly sliced carrots and cucumber all wrapped in a well-seasoned vinegared sushi rice. They're perfect for lunches, picnics, bento boxes, and whenever you feel and want a snack break!
Final Thoughts
From ingredients like hotdogs, eggs, salmon, and cucumber, there are so many options to fill those sensational carrot sushi rolls.
With sticky and well-seasoned sushi rice and just a bamboo mat at your beck and call, the possibilities for making sushi rolls are endless. So, be your own sushi chef and dive now into these 18 Best Carrot Sushi Recipes!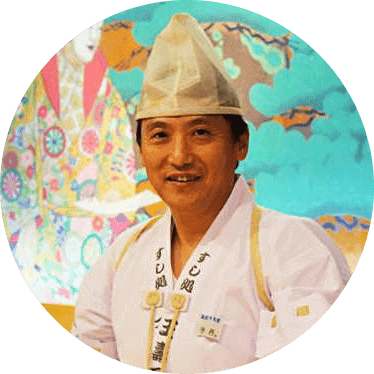 Hiroshi Nakamura, a Tokyo-born sushi chef turned US-based writer and critic, is the voice behind ichisushi.com, blending traditional sushi wisdom with modern insights.