Fruits make everything better, whether desserts or a hot day outside. Fruits also make sushi better and add a tangy and fruity touch to the roll.
Sushi rolls with fruits as their complementary or star ingredients are rolls that identify as Hawaiian roll sushi. Here are 17 Hawaiian roll sushi recipes that you can try.
This recipe offers a good and ample serving of lobster Hawaiian sushi roll that will satisfy your craving.
If you love lobster, you can count that box checked as this recipe combines the goodness of lobster meat, sushi rice, cucumber, mango, avocado, and other flavorings to make one of the best rolls you may have tried so far.
The fruity taste of mango goes so well with lobster meat and the sushi rice, and then adding up to the crunch are the slices of cucumber.
Dip a piece in your preferred sauce, and there you have it, a mouth-filling combination of flavors. If you feel a little bit in the mood to invite guests, this recipe will help impress them and bring you together with good conversations over good food.
2. Hawaiian Sushi Roll
This recipe is composed of many of your favorite things in sushi. The dish is enjoyable not only for adults but also for children. This Hawaiian sushi roll combines nori, sushi rice, avocado, ham, asparagus, and your preferred seasoning.
There are days when you do not want to wrap your sushi roll with a nori sheet. During these times, you can just skip it. If you do not like nori so much or have kids to feed that are not fans of nori, there are instructions for both.
This recipe is easy, and assembling it can just be done in below 30 minutes, depending on the amount.
There is a Hawaiian wrap called musubi composed of ham, nori, and rice. This recipe is an elevation of the said recipe as this uses ham and turkey as meat and filling for this type of sushi.
Like the previous recipes, this one is straightforward to make. You need to prepare the following ingredients: Hawaiian sliced bread, sliced ham, sliced turkey, mayo, a slice of cheddar cheese, and avocado.
These ingredients are very easy to find in your local stores or the supermarket, so there's not much hassle finding them individually and putting them together.
Of course, you need a rolling mat to make it easier to roll. You can then create a sauce of your choice and enjoy it.
4. Crazy Mango Sushi Roll With Tempura Shrimp Recipe
You need to put together essential ingredients like mango and the star ingredient for this recipe. The main ingredients include avocado, tempura shrimps, sushi vinegar, sushi rice, and nori.
You would want to make sure that the mango you choose is sweeter instead of sour. It's important to note that what you should get is sweet and slight tang instead of sweet and sour.
Just a hint of tanginess will be enough—the sweetness and tang of the mango balance the crunch from the tempura shrimps.
Avocado slices are also a good combination, neutralizing any extra sweetness and sourness from the mango. Soft and crunchy just go so well with each other!
This recipe is packed with flavorful ingredients resulting in a delicious bite! You would need to prepare quite a handful of ingredients before starting the process.
However, you wouldn't need to worry so much as none of these ingredients are specifically hard to find.
Among the list is, of course, the star of this recipe, tofu, mango, pineapple, avocado, deseeded red chili, carrots, spring onions, nori, wine vinegar, yuzu juice, soy sauce, and other flavoring ingredients.
This recipe includes a step-by-step guide on making all the components, namely, sushi rice, mango salsa, and dipping sauce. Everything might seem confusing at first, especially if it's your first time making this type of sushi.
However, the recipe is detailed and easy to follow, so there's no need to worry. All that's left to do is to try your best!
6. Mango Dragon Roll Recipe
For this recipe, you are about to make a pretty colorful sushi roll with three different colors of tobiko.
In this recipe, you will need to prepare mango, mango sauce, tempura shrimp, avocado, eel sauce, and three shades of tobiko, namely green, red, and black.
These different ingredients do not only complement each other by their color but also by their taste. The crunch and softness of the avocado, mango, sushi rice, and tempura shrimp combine beautifully in this roll.
The tanginess of the mango slices plus the popping goodness of tobiko is just something you won't expect to work, but they do! They work very well with each other, not just because of their texture but also their taste combined.
Aside from an excellent combination of flavors, this roll also has a good presentation, so your taste buds and eyes feast.
This recipe takes the classic Hawaiian musubi to another level. If you have already tried Hawaiian musubi and you like it, you will surely love this sushi roll version.
This variation has pineapples, so it's even more refreshing, juicy, and tangy, just like how you like it. The main ingredients are spam, sushi rice, and pineapples for this recipe. The instructions include how you can flavor your sushi rice.
Of course, you are always allowed to make adjustments. This consists of the number of ingredients. As for your rice, you can always flavor it to taste.
If you like your sushi roll to have a dominant pineapple taste, you can add a portion depending on your liking. You are also free to choose your preferred sauce.
8. Mango Avocado Sushi Roll Recipe
This recipe maximizes two popular fruits used in sushi. As you may have already tried, avocado and mango together in a sushi roll is nothing but perfection.
Of course, it depends on many factors, including how ripe the mango and avocado are. Since mango has a more overwhelming taste, picking a mango with just the right sweetness and tang should be essential.
You can always taste the mango and avocado, so you know if they will complement each other nicely. This recipe uses salmon, mango, avocado, honey, nori, sushi rice, and other flavorings.
This recipe emphasizes letting the salmon soak in the mango flavor, so the salmon alone has their kick instead of being bland.
If you are someone who likes cheese and just loves to taste them in sushi, you will surely love this recipe. As the recipe's name suggests, this sushi is made as if it's a sandwich but also prepared as if it was sushi.
It can be confusing, but it just makes sense once you put everything together. This recipe is a great lunchbox recipe if you happen to be looking for something to prepare for your kids or special someone.
Chicken and cheddar sandwich sushi is also very easy to prepare, so it's almost no sweat when preparing these delicious rolls. Bread, chicken, and cheese just hit the spot in combination.
For this recipe, there are also minor ingredients involved that enhance the overall taste of the sushi roll. You are always free to experiment and try new things.
Have you ever heard of inside-out sushi? If you haven't, you might want to try making one like this recipe. Perhaps you are already familiar with California Rolls. This recipe is an elevation with a unique twist to level up the classic California Roll.
You will need to prepare the essential things for this recipe, like sushi rice and nori. This recipe has a special spicy mayo that is also up to your liking.
As for the sushi rice, this recipe also has a step-by-step guide to making it. So, there's a need to worry as you will get the hang of it as you follow the steps designated. A fruity and meaty sushi roll is just perfect drizzled with spicy mayo!
If you love musubi, you will surely love musubi burritos more. As the name suggests, this recipe combines the classic Hawaiian musubi and a classic Mexican burrito.
These two popular dishes from different parts of the world sound like a total treat combined in one dish.
This recipe will need spam, sushi rice, unagi sauce, cucumber, scrambled eggs, flour, breadcrumbs, Furikake, nori, coleslaw mix, fried onions, and different flavorings as you desire.
Now, you are ready to recreate one of the most popular Hawaiian food but with a twist! The recipe instructs everything you need to do in preparing, cooking, and assembling to be sure that you have a guide throughout the process.
The three main ingredients of this dish are already mentioned in the recipe name. These three ingredients contribute differently to the sushi roll, and all of their contributions are good and helpful in letting the flavors sink and spread in your mouth.
You would need to prepare real crab meat, mayonnaise, lemon, sugar, sushi rice, avocado, mango, red bell pepper, and black sesame seeds for this recipe.
This recipe also has instructions as to how you would cook the sushi rice to have a guide for that. The different ingredients just click once they reach your taste buds.
The slightly sour effect made by the lemon, vinegar, and mango mixes well with the crab meat, avocado, and the crunch from the red bell peppers.
If you are looking for a new Hawaiian snack, you should try this recipe. This recipe is made with spam, rice, and nori sheet slices. The spam used in this roll is specially prepared to be crispy, salty, and sweet, complementing the rice well.
To do this, the spam is seared until you get that crispy perfection you are aiming for. The next step is to caramelize these babies until they become salty and sweet, just enough for your liking.
The typical way of assembling musubi is by having a whole slice of spam on top of bulk rice and then a nori sheet as a blanket that holds them together. However, you assemble them into smaller pieces for this recipe, mimicking sushi roll slices.
For this recipe, you will be trying out making classic shoyu musubi. You would need to prepare the basics of the recipe, including spam, rice, nori, sugar, soy sauce, and other flavorings you want to include.
This recipe involves instructions for creating the sushi rice too. You can always alter portions of the recipe as you would prefer.
Perhaps, you don't want your spam to be too sweet, and then you should lessen the amount of sugar you put on it while caramelizing it.
A good musubi always have their ham sweet and salty. By balancing these flavors, you achieve the ideal taste of a classic musubi.
This recipe walks you through the processes of making musubi and lets you explore the complexities of achieving the essential parts of the recipe you might want to focus on. Making this ham musubi is very easy, and you will find it fun.
This recipe includes mango puree, which separates this dish from other sushi with mango.
You will need to prepare shrimp tempura, mango puree, ripe mango, wasabi for an extra kick, nori, sushi rice, avocado, imitation crab, and other seasonings.
This sushi roll is not only pleasant to your taste buds, but it's also very excellent and pleasing to the eye. The presentation of this dish is sure to make your day even better.
This recipe is an interesting dish to make as it includes some of the crowd's favorite fruits like mango, strawberries, and avocado. These will be accompanied by shrimp tempura and any other meat fillings you might want to add.
You can also add some cream cheese as it's highly suggested for this recipe. What's good about this recipe is that it only suggests and never requires, so you can customize your roll as much as you want.
17 Best Hawaiian Roll Sushi Recipes
People who haven't tried sushi with fruits in them are missing out. The savory taste of sushi rice and your choice of meat, meeting the tangy and fruity goodness of fruits, just makes sushi extra special.
If you want to try these types of sushi, you can try these 17 Hawaiian roll sushi recipes.
Directions
Select your favorite recipe.
Organize all the required ingredients.
Prep a Hawaiian Roll Sushi Recipe in 30 minutes or less!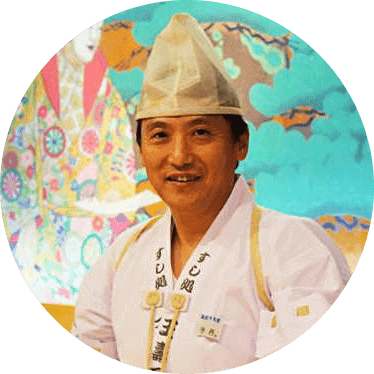 Hiroshi Nakamura, a Tokyo-born sushi chef turned US-based writer and critic, is the voice behind ichisushi.com, blending traditional sushi wisdom with modern insights.