Craving sushi? Ever consider learning how to make one at home? Here are 28 sushi rolls recipes that you can try out if you want to learn how to satisfy your craving.
Making your sushi roll at home offers more perks for you, too, as you can customize and learn techniques to improve your cooking skills.
This recipe includes crunchy veggies like carrots and the star of the show, cucumber. This recipe also adds up some reasonable amounts of avocado and spicy mayo.
This recipe is best for people who watch their diet closely. This is also okay for vegetarians to try, so it's flexible. Aside from all these, this recipe is relatively easy and composed of easy-to-find ingredients.
2. Philadelphia Sushi
This sushi involves the famous salmon in the meat department. Like any local Philadelphia sushi, this recipe also uses cheese, specifically the Philadelphia cheese.
If you like sesame seeds on your sushi, you might want to try this recipe. Thai recipes include the usual necessary things like avocado and, of course, rice and nori.
This roll is famous for being an inside-out roll, meaning the salmon or the crab goes inside the rice. This recipe is suitable for beginners as it provides detailed instructions for making the Alaska roll.
This recipe can be finished in just 20 minutes, so you can always try out this recipe if you want something delicious quick.
4. King Crab California Sushi Roll
If you are up to some seafood cravings, here is a recipe that involves roasted Alaskan king crab. This recipe will indeed emphasize the meaty and juicy characteristics of the crab leg.
The spices and mayo then accentuate the flavors. Adding a little bit of spice would be wasabi and some additional taste contributed by roasted sesame seeds.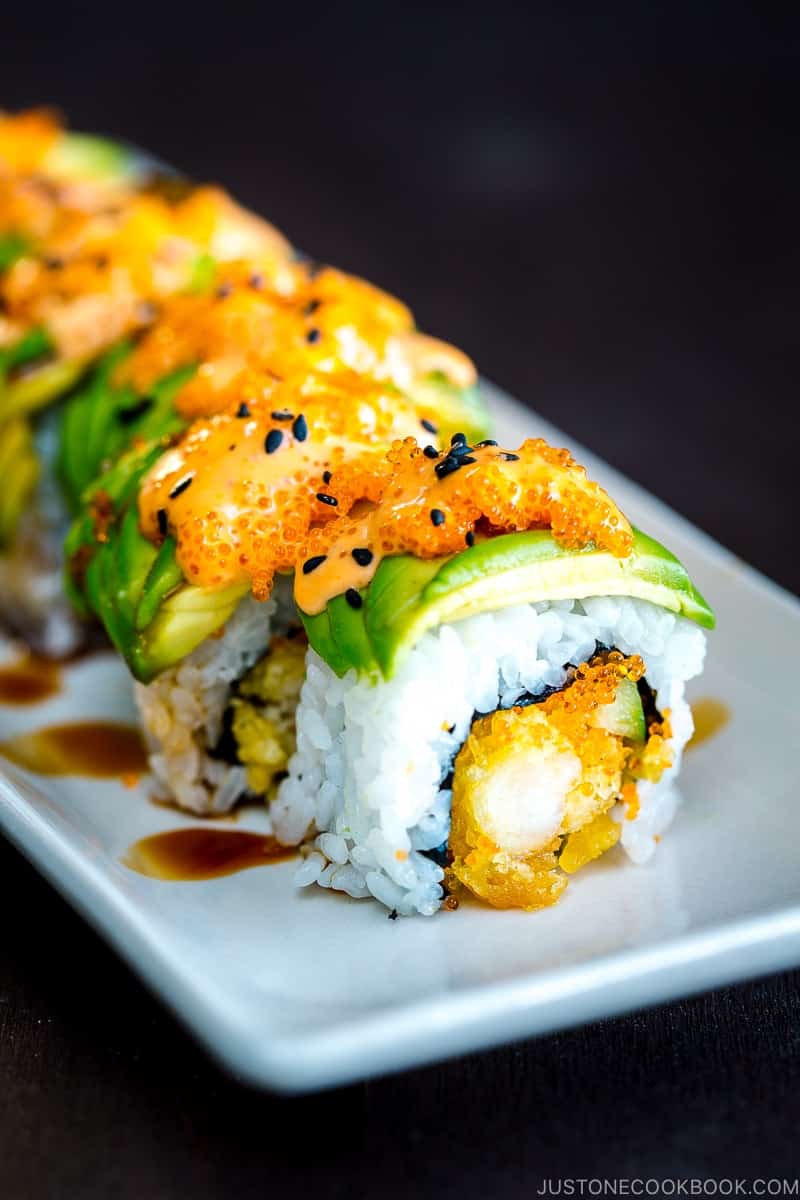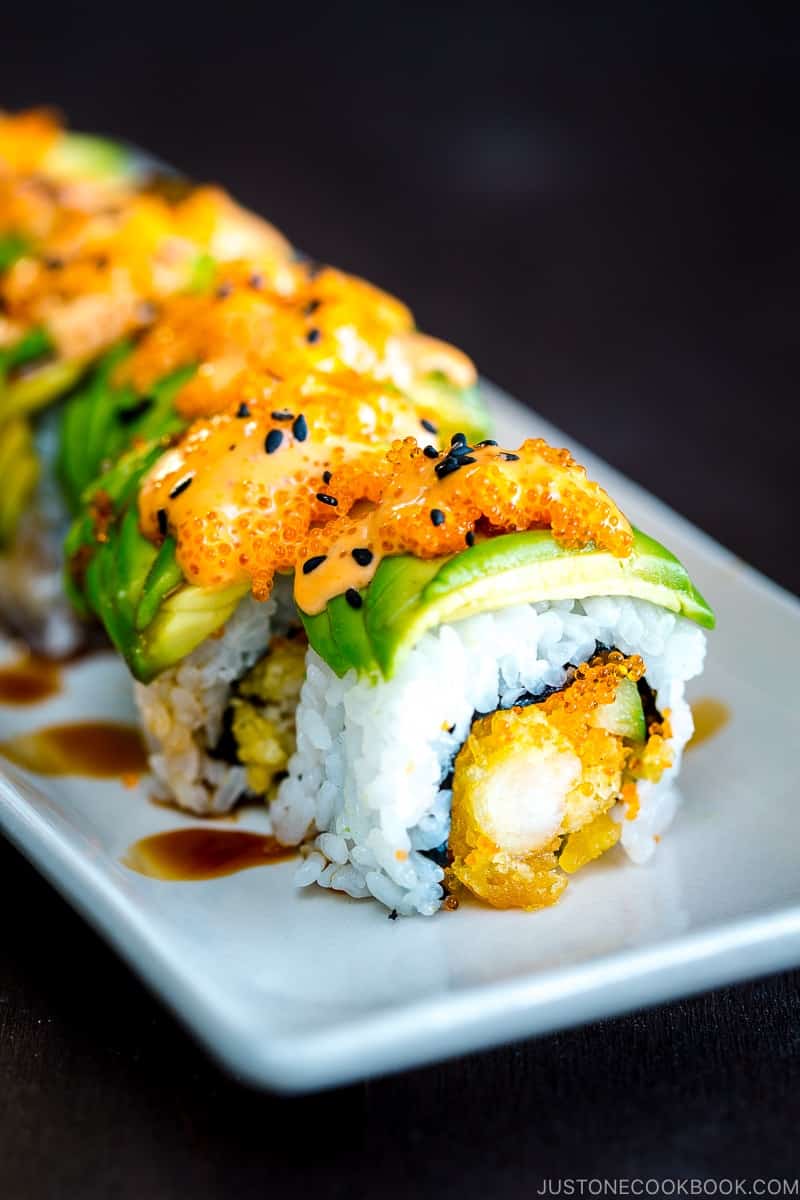 This sushi type is one of the most unforgettable in terms of visuals. You can immediately tell what it is upon seeing it as it is plated.
If you want to cook something fancier and something more visually attractive, you can try cooking the dragon roll. Its key ingredients include shrimp tempura, avocado, and cucumber. It sounds like a fantastic roll, doesn't it?
6. Octopus Sushi
This is one of the rarer sushi made at home as it's not every day that people buy octopus to make as sushi. However, if you plan to try it out, this recipe would be a good starter.
This recipe can be made with grilled or seared octopus, and it's up to you. While this seems more work, the recipe is pretty easy to follow.
Boston Sushi Roll offers the goodness of fresh ingredients but with cooked meat. So, if you are someone who does not fancy raw fish or meat in your sushi roll, this recipe is perfect for you.
The cooked shrimp matches the crunchy cucumber so well. Some people use tempura shrimp, adding an extra texture to the batter or coating. The avocado also complements the shrimp well.
8. Shrimp Tempura Roll
Shrimp tempura roll is for people who enjoy a little bit of crunch in their sushi roll. This recipe is made with battered, covered, and baked shrimp and crunchy and juicy cucumber and avocado.
The crunch of the tempura shrimp and cucumber mixes well together, giving you the balance of juicy veggie and crunchy meat. Of course, you can't miss the rice and nori too.
If you love tuna, these sushi rolls might be the one for you. This recipe is easy to put together as you can purchase tuna in most local supermarkets around you.
The spiciness in this roll is not too much, so it doesn't overwhelm your mouth. However, you can always adjust the level of spiciness while you make it or after by adding wasabi.
10. California Rolls
The California roll is one of the most popular types of sushi roll served worldwide. It's also one visually pleasing sushi roll with all the colors involved.
This recipe involves a step-by-step guide on positioning, rolling, and making the sushi roll, which is perfect for beginners. Like any good California roll, this recipe involves crab meat, avocado, and cucumber.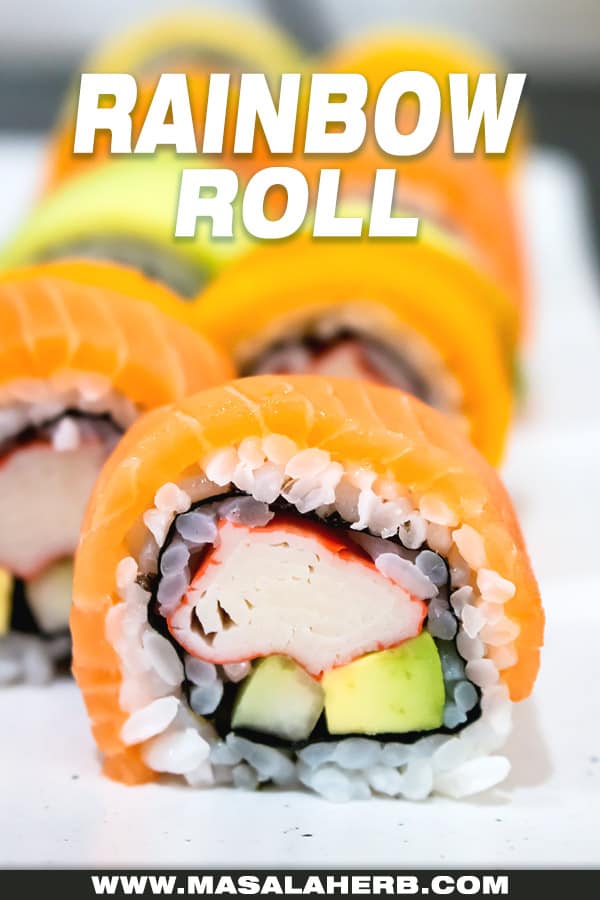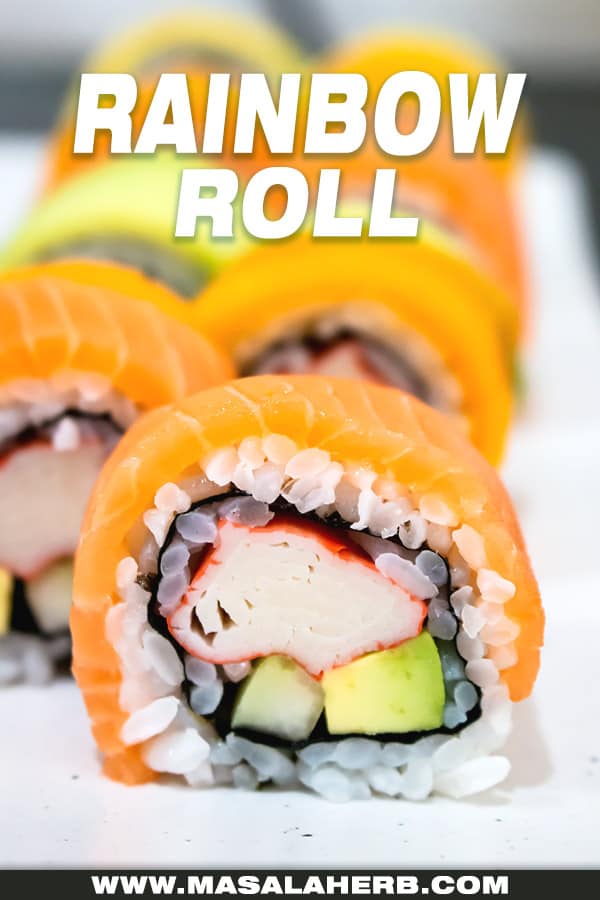 As the name suggests itself, this recipe is made with fresh and colorful ingredients, just like how a good rainbow roll should be. This recipe involves imitation crab, avocado, cucumber, salmon, mango, sushi rice, and nori.
There are also substitutes available if you happen to miss an ingredient. Together, all these good things create a combination of flavors that you surely won't get enough of.
12. Spider Roll
Spider roll is in the same league as the dragon roll in visually attractive plating.
This type of sushi includes a soft-shelled crab, avocado, asparagus, and the tempura batter that will be used to coat the soft-shelled crab. The legs of the meat are extended so that it looks like a cute, edible spider.
This sushi roll recipe is pretty easy to put together. Salmon and avocado go well with each other, especially if combined with a good amount of well-seasoned sushi rice and nori. The recipe is simple and includes minimal ingredients too.
The main things you would need are avocado, salmon, sushi rice, and seaweed wrap. This avocado and salmon sushi roll recipe is undoubtedly a quick fix for your sushi cravings.
14. Flying Tiger Sushi Roll
This type of sushi is also one of the most visually pleasing rolls out there. The colors complement each other very well, and so are the flavors. This recipe includes salmon, tobiko, asparagus, and many more.
The name might suggest a more complicated process, but this recipe makes it easier for you, and it's not that hard. The flavors in each ingredient complement well with each other.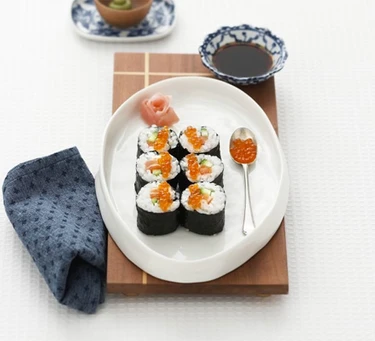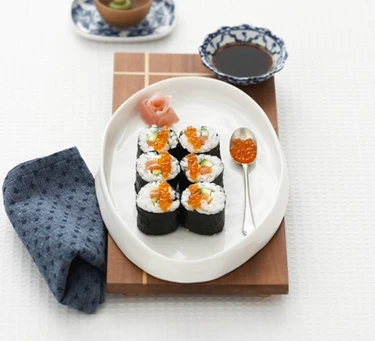 This recipe is also one of the easy sushi rolls to prepare. Of course, the star of this recipe is from the name itself, salmon and cucumber. These two ingredients work well together.
The soft salmon with sushi rice and the crunchy cucumber bits will fill your mouth deliciously. Aside from cucumber, you can always make your twists on the recipe according to your preference.
16. Dynamite Rolls
Dynamite rolls are one of the more popular types of sushi served worldwide. This is western-style sushi made of prawn tempura, cucumber, radish, green onions, avocado, sushi rice, and nori sheet.
The combination of flavors bursts into your mouth, creating excellent harmonic bites. Like a stick of dynamite, the flavors explode in your mouth. Perhaps loads of ingredients can be a scare, but this recipe will lead you just right.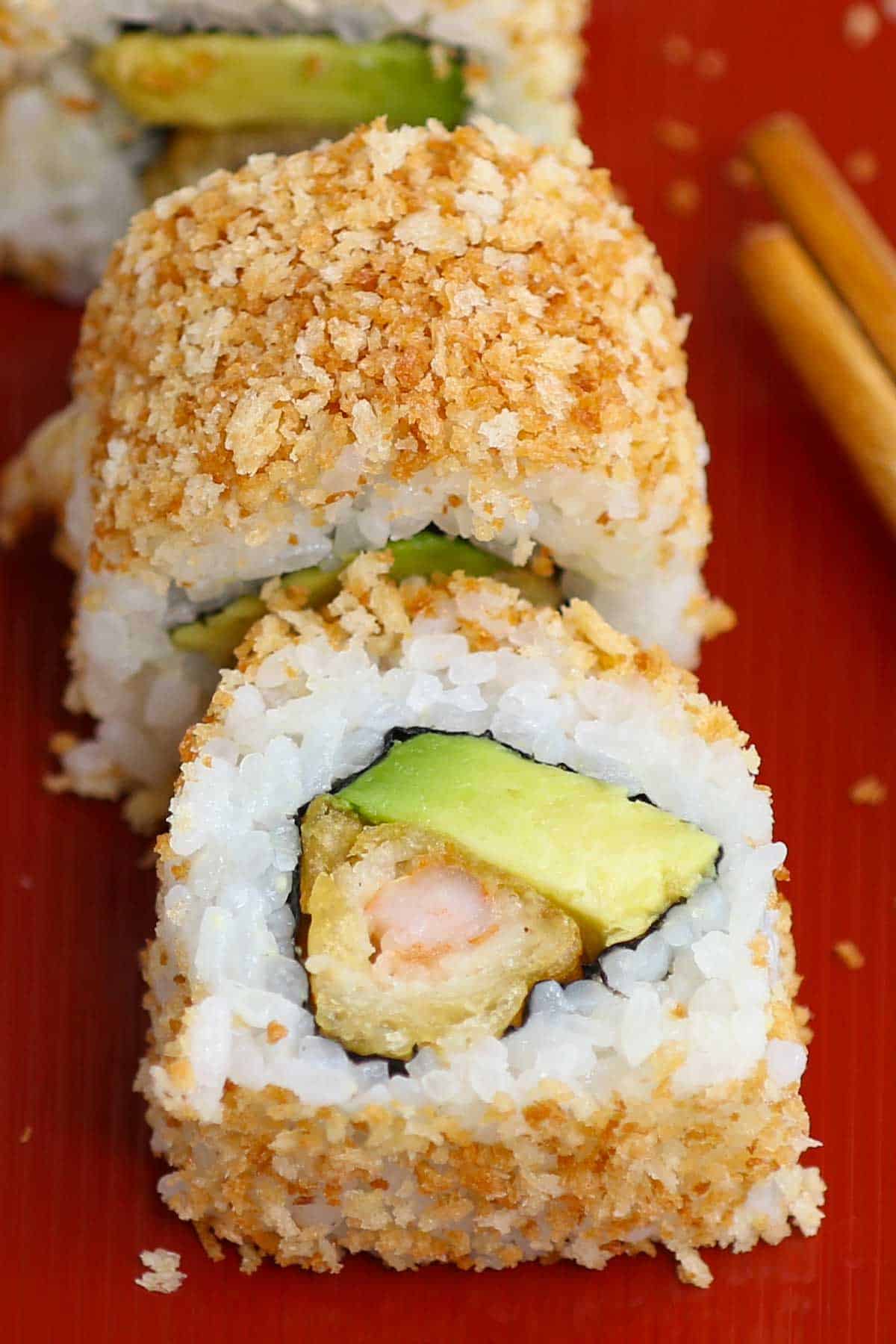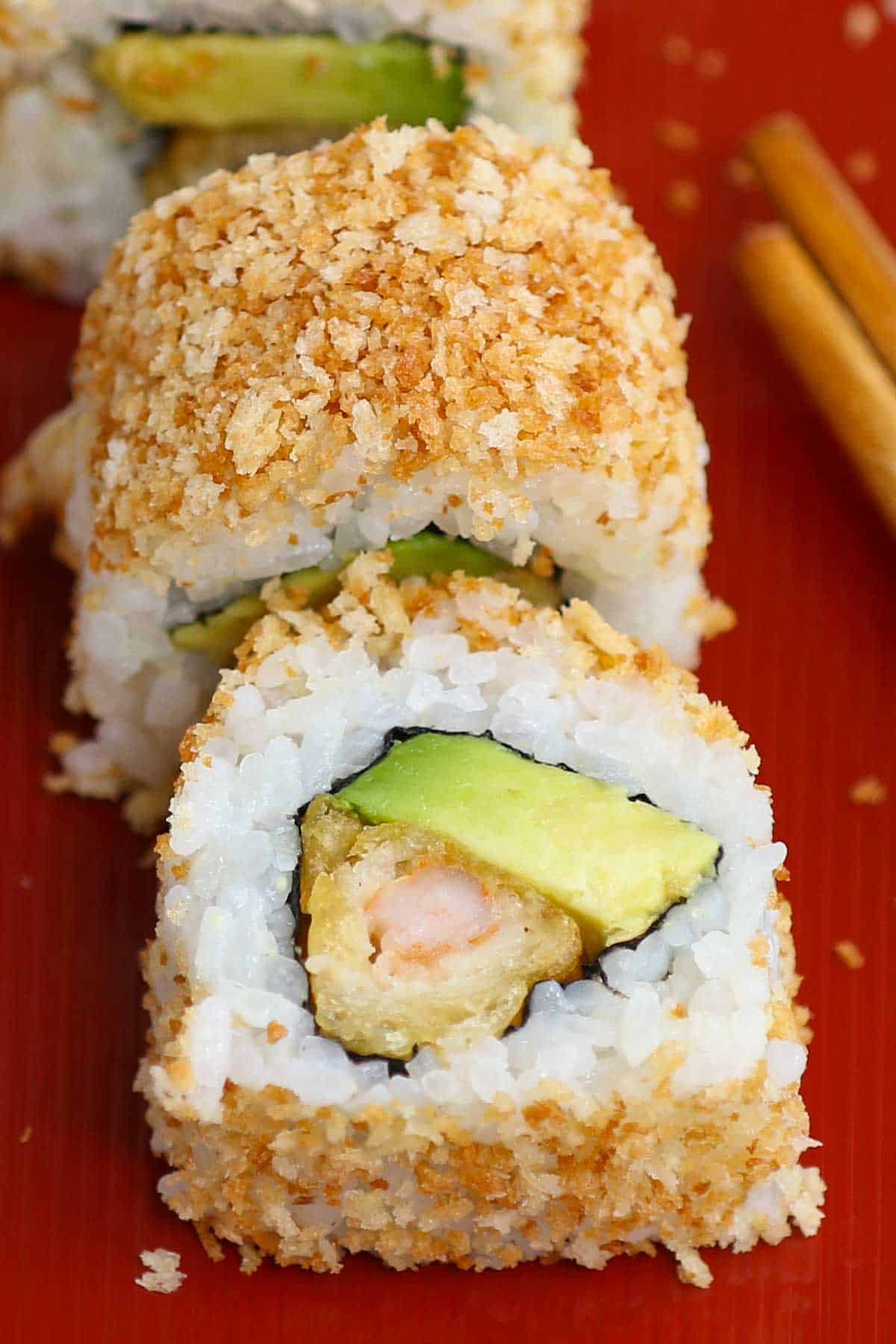 From the word crunchy, you can already guess what this means. The crunch is thanks to the layer of toasted panko breadcrumbs wrapped around the roll. This simply means you are to expect a good crunch every after bite!
The crunch is an excellent contrast to the soft rice and meaty shrimp inside. If you happen to crave a crunchy bite of sushi, then this recipe might be for you.
18. Caterpillar Rolls
If you happen to see this type of roll, you probably know that it looks like a caterpillar from that moment on. The bright green tops made with avocado are something self-evident about them.
This recipe is perfect for getting extra creative and blowing your guests away. Another thing about this dish is that it has gluten-free options if you prefer them better.
Yes, the name itself sounds very healthy, and it is nutritious, indeed. This vegetable sushi recipe is made of cucumber, avocado, tomatoes, red onions, asparagus, lettuce, and other ingredients that help enhance the overall flavor of the roll.
This ultimate veggie combination will surely remind you that vegetables are indeed good for you. This is also vegan-friendly if you happen to be watching your food consumption.
20. Surf and Turf Roll
The name of this sushi roll itself has a catchy ring on it. This recipe consists of soft shell crab, shrimp, ikura, filet mignon, steamed asparagus, avocado, and microgreens.
Despite having many things going on and in play in this recipe, one bite is enough to say that the ingredients work well in elevating everything in the dish. The filet is seared to perfection in this recipe and goes well with the crunchy crab.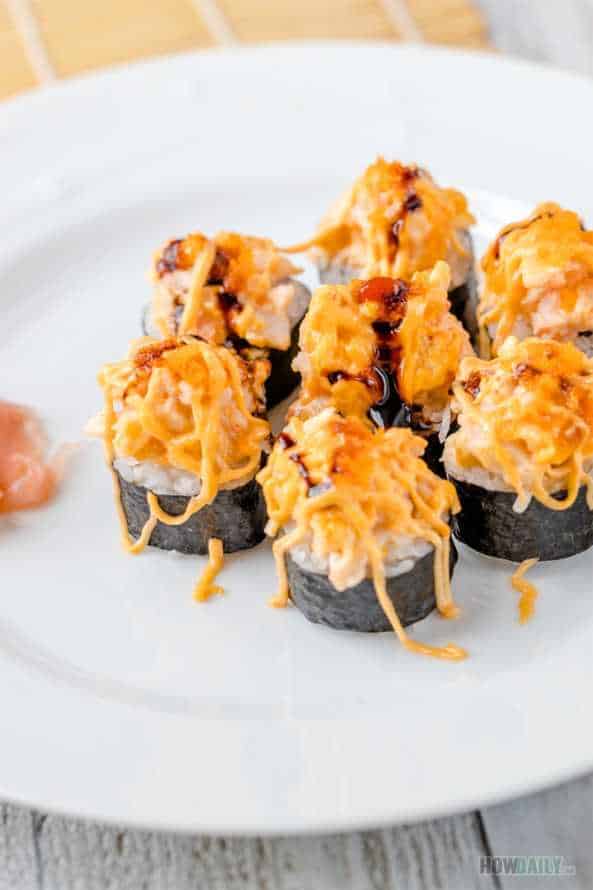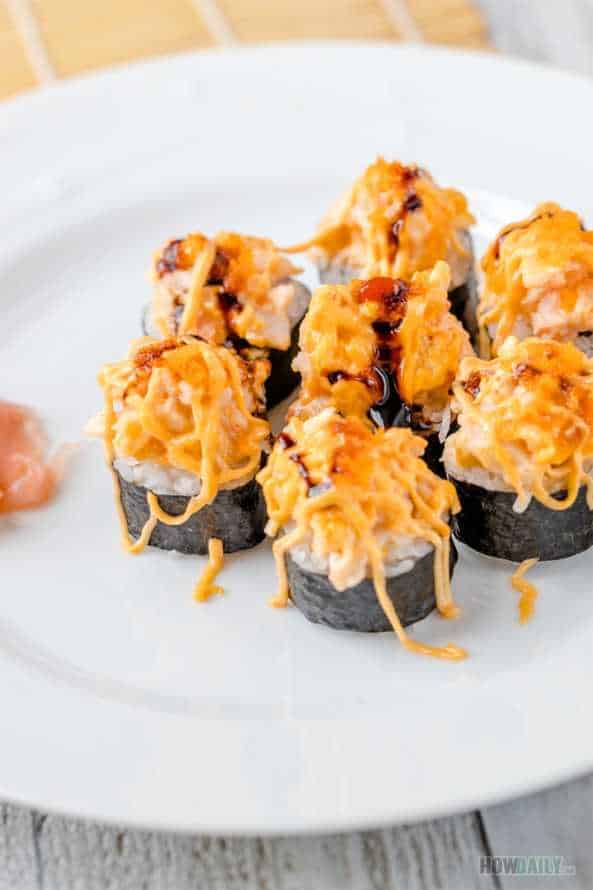 This unique and just plain extra sushi roll will take you to new levels of flavor. Burning volcano sushi roll with lava topping is an elevated version of the standard maki roll. A lava topping accompanies each slice and each bite of this sushi roll.
The topping is baked, and it just makes every taste even better. Hot, flavorful, and overall, a good sushi experience is guaranteed.
22. Teriyaki Chicken Sushi Roll
If you happen to be craving teriyaki and sushi simultaneously, then why not experience them both in a roll? This recipe takes your typical sushi roll to another level by adding the great flavors of chicken teriyaki into the fillings.
The flavorful experience does not end with the roll alone, and the sauce is also a winner for sure. This recipe is also easy and quick.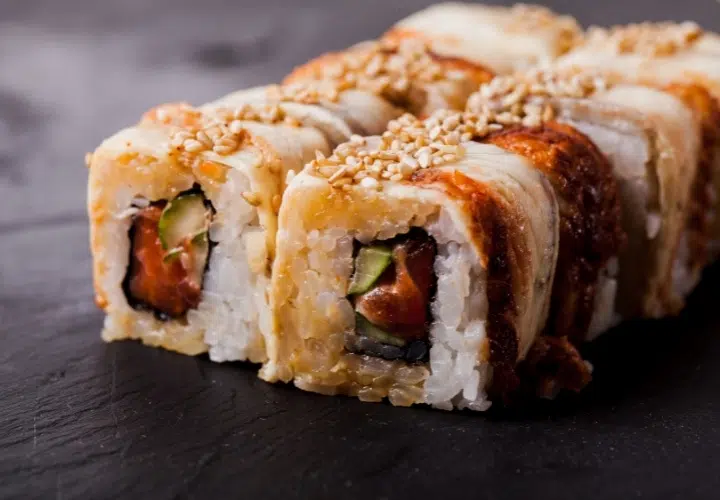 This unagi sushi roll recipe is homemade and is designed to be easy to follow, even for beginners. You may have already known that unagi is sweet and rich in taste.
As with any other unagi sushi roll, this recipe consists of Japanese eel, nori, cucumber, onions, unagi sauce, and sushi rice. The fish meat complements well with other ingredients involved, so if you like eel meat, this recipe is for you.
24. Fire Cracker Roll
Fire cracker rolls are also on the list of sushi rolls that would most likely steal your attention. This is because of the roll's bright colors, which are usually in the shades of red and orange.
The bright-colored sauce toppings also contribute to the delectable color of this roll. You can be as creative as you want with the toppings. Usual toppings include spicy mayo, sriracha, sushi sauce, and crushed Flaming Hot Cheetos.
This recipe is a creative vegan sushi roll recipe, so if you are looking for an excellent spinoff to your standard vegan sushi roll, this might be the one for you.
This recipe is filled with positive health benefits as well as positive flavors. The flavors get together really well. The hint of sweetness, citrus, crisp, buttery texture, and the flavor work well together.
26. Tuna Mayo Sushi Rolls
Tuna Mayo Sushi Rolls is one of the easier rolls to make. It's easy to find tuna, and even canned tunas are available. The same goes for mayo. There is always mayo in your local supermarkets.
And so, this recipe goes on to the list of sushi rolls that are easy and fast. This is perfect, especially if you are craving a quick fix of sushi roll involving tuna meat.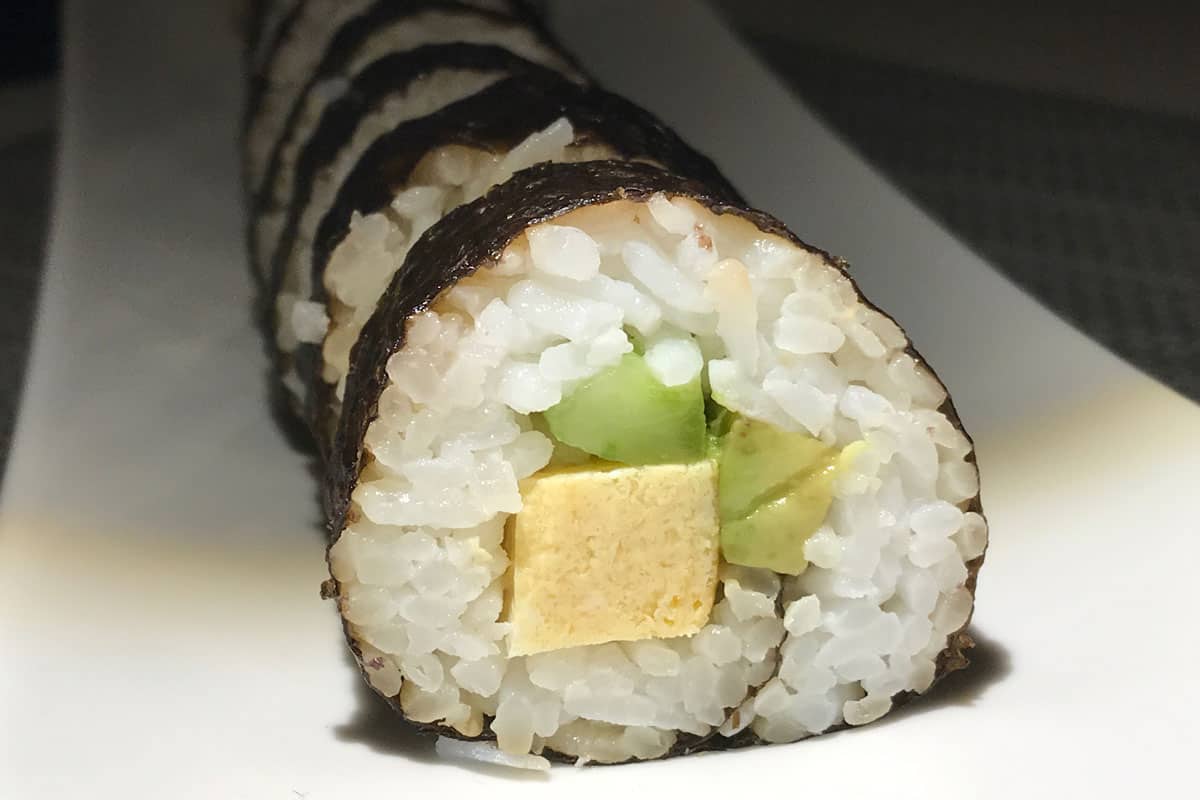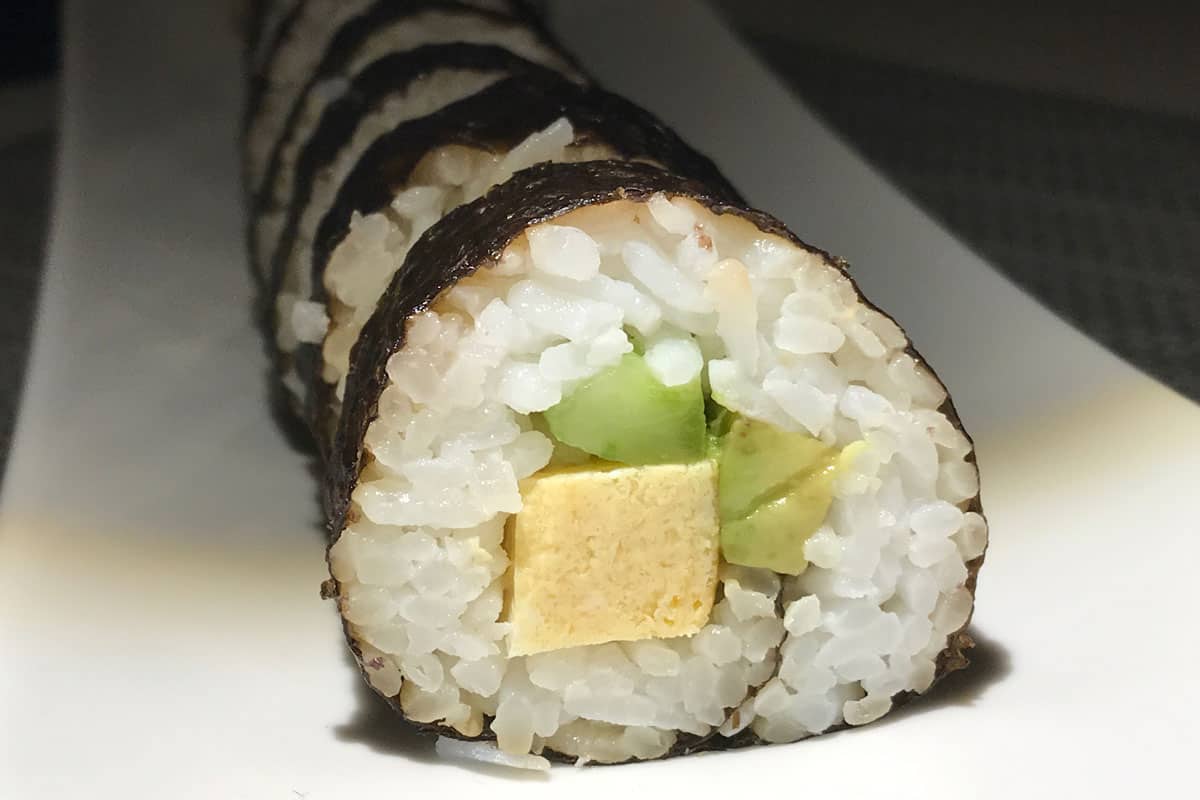 This recipe adds one of the most loved breakfast food, eggs, into a sushi roll's fillings. This recipe is easy to put together as the ingredients are easily found in your kitchen.
The main characters in this story are cucumber, avocado, and Japanese omelet or tamagoyaki. This sushi roll recipe is ideal as a comfort sushi roll as it just feels warm and comforting along with its delicious taste.
28. Tamago Maki
As you might already have guessed, this sushi roll recipe also features tamagoyaki or a Japanese omelet. In this recipe, tamagoyaki takes the place of nori and soy paper.
This recipe changes and, in a way, create a separate but also a tasty type of sushi roll. This recipe is also a reasonable deviation from the usual sushi rolls available.
28 Best Sushi Rolls Recipes
These 28 sushi rolls recipes should be a good exploration journey for your sushi-cooking experience. There is still a lot to learn and dive into.
It's always good to continue learning about the art of sushi and applying new techniques to enhance your skills in cooking, especially if you happen to be interested in Japanese cuisine.
Directions
Select your favorite Sushi Roll recipe.
Organize all the required ingredients.
Prep a Sushi Rolls Recipe in 30 minutes or less!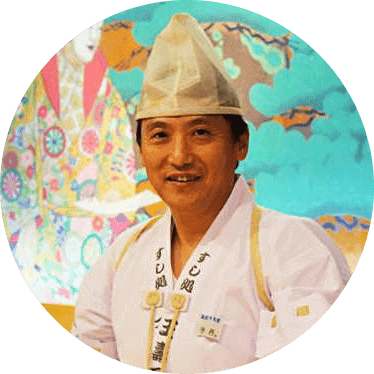 Hiroshi Nakamura, a Tokyo-born sushi chef turned US-based writer and critic, is the voice behind ichisushi.com, blending traditional sushi wisdom with modern insights.