Did you know that sushi does not always have to go with raw seafood? Yes, you read that correctly! You can eat and enjoy sushi without munching on raw fish, shrimp, or salmon by making cowboy sushi. These 23 cowboy sushi recipes are ready to amaze your tastebuds with savory flavors and flares. Check them out!
Cowboy Sushi
What is cowboy sushi's main ingredient? Beef. That's why it's called "cowboy" sushi!
Cowboy sushi is a perfect choice for sushi lovers who don't like seafood or would like to try something new. Cowboy sushi is a type of sushi that uses beef for its filling or topping. Other ingredients of this kind of sushi may include jalapeno sauce, teriyaki sauce, avocado, sushi rice, and nori.
There are many types of beef you can use to make cowboy sushi. Some of these are Wagyu and Angus beef, making mouth-watering cowboy sushi meals. These are all cooked meat, and the best thing about preparing homemade cowboy sushi recipes is you can control the rawness of the beef according to your liking.
Cowboy sushi recipes make a great twist to traditional sushi. These recipes give a fresh and creative take on what sushi lovers call classic. With the different cowboy sushi recipes, you're never torn between Japanese and Western gastronomy. You'll have the best of both worlds: beef and sushi!
B + C Guides made a straightforward and easy-to-follow Cowboy Sushi Recipe. This recipe only has 12 quick steps and a few ingredients. To make B + C Guide's cowboy sushi, prepare kosher pickles, okra, ham, and cream cheese. With only four ingredients, you'll be able to enjoy delicious cowboy sushi. What's better than that!
2. Cowboy Sushi Roll by Rimoe Kitchen
Rimoe Kitchen made a compelling video on making Cowboy Sushi Roll Combo. This recipe calls for beef steak, and the chef will teach you how to make it in the video.
Other ingredients required in this video are cream cheese, sushi rice, nori, asparagus, jalapeno, sauces, and your favorite garnish. You can pick whatever you're craving – mango sauce, eel sauce, spicy mayo, or eel sauce. In just a few steps, your cowboy sushi roll combi is ready!
Making cowboy sushi does not mean you have to have all the sushi equipment like seaweed wraps and bamboo mats. This recipe by Kent Rollins proves that.
This recipe is an easy DIY sushi recipe that will teach you how to make sticky rice, layer the ingredients, and roll the sushi. You need a total of 35 minutes for this cowboy sushi. This recipe by Kent Rollins yields four rolls of delicious cowboy sushi.
4. Get Out and Grill!'s Beef Cowboy Sushi Roll
If you're a fan of cream cheese, asparagus, and grilled steak, Get Out and Grill's Beef Cowboy Sushi Roll Recipe is for you. This appetizer is ready to surprise your mouth with delicious tastes of barbecue seasoning and other fantastic flavors that will leave you craving more! Plus, the smokey taste of the meat in this cowboy sushi is a must-try.
5. My Military Savings' Down & Dirty Cowboy Sushi
If you love traditional sushi but want to take your sushi dining experience to a new level, try My Military Savings' Down & Dirty Cowboy Sushi.
This cowboy sushi recipe uses smoked sausage, spinach tortilla, dirty rice, roasted red peppers, green onion, mayonnaise, and barbecue sauce. As you can see, the recipes are a perfect match, and they're mouth-watering! This recipe makes four servings and is excellent as an appetizer.
6. Tennessee Gun's Cowboy Sushi Recipe
Tennessee Gun has a Cowboy Sushi Recipe perfect for those who want to try a creative twist on Japanese-American cuisine. He actually made this to help his wife for Thanksgiving but decided to share it with you because of the techniques he figured out.
How thoughtful is that! Tennessee Gun will teach you tips in making the novel cowboy sushi, with ingredients like kosher dill pickles, cream cheese, and sliced ham.
7. TODAY's Cowboy Roll
Cowboy Sushi Rolls don't have to be made only with nori, raw meat, and sushi rice. Tracy Griffith of Today has an interesting take on the cowboy roll, with a delicious recipe you can try. This recipe makes inside-out rolls and yields four big servings.
This recipe calls for kosher salt, nori, sushi rice, saga blue cheese, baby spinach, and jalapeno dipping sauce. To see the complete ingredients list for this Cowboy Roll, head out to Today's website.
8. Cowboy Sushi by The Damn Kitchen
The Damn Kitchen has a quick video that teaches a simple way to make cowboy sushi. The Damn Kitchen's recipe is packed with your favorite ingredients, like bacon, seasoned venison, cooked pork rib, fried taters, and fresh jalapeno.
With the variety of meat you have in this recipe, you're sure to get a burst of various flavors in your mouth!
9. Just A Pinch's Cowboy Roll
Just A Pinch is back with 100% easy-to-understand and follow recipes. This Cowboy Roll recipe by Just A Pinch calls for simple ingredients, like broccoli wrap, red onion, baby spinach, and jalapeno soy sauce.
This recipe uses skirt steak, grilled medium-rare. But, the good thing is, you can alter its cooking according to your preference. You can also add different spices depending on your liking. You can indeed be inventive and creative in making Cowboy sushi!
10. Cowboy Sushi Recipe by Billy Bob's Texas
Do you believe making cowboy sushi can be done in less than 30 minutes? If you still don't, try out Billy Bob's Texas' Cowboy Sushi Recipe. This recipe is by their executive chef.
The video is just one minute, so if you don't have all the luxury of time, watching this video is an excellent idea to learn how to make cowboy sushi quickly.
11. FoodService Director's Cowboy Sushi Recipe
Sushi has been an excellent part of American cuisine, so sushi master chefs try to experiment with its flavors and cooking style. This Cowboy Sushi Recipe on Food Service Director's page presents inventive cowboy sushi by Chef Bradley Dickinson.
This recipe uses Wagyu beef to create delectable, appetizing sushi rolls. These cowboy sushi rolls are a perfect mix of Japanese and Western gastronomy. It's also an excellent addition to a tasting menu!
12. Japanese Cowboy Roll by Sushi Chef Mike
Prepare nori, cream cheese, scallions, avocado, bacon, and steak to make Sushi Chef Mike's Japanese Cowboy Roll Recipe. This recipe is deep-fried in tempura batter, and it yields two rolls you can cut into eight pieces. In this video, you'll be taught how to layer the ingredients, roll the sushi, plate, and garnish.
13. The Oklahoman's Cowboy Sushi
The Oklahoman features a Cowboy Sushi Recipe written by Dave Cathey. This page includes a step-by-step guide on how you can make the perfect cowboy sushi, and all instructions are from "A Taste of Cowboy" by Kent Rollins.
The total time required to prepare this sushi is an hour and a half. The Oklahoman's Cowboy Sushi Recipe makes three rolls of cowboy sushi, which can be sliced into 24 to 30 pieces.
This recipe has tips and tricks for you, including the best technique for cutting meat. You'll also be taught to make a tasty cowboy sushi sauce on The Oklahoman's page.
14. Butter & Salt's Cowboy Sushi Recipe
Butter & Salt's Cowboy Sushi Recipe is a fun video on how you can make creative cowboy sushi at home. This video requires sushi rice with barbecue ingredients, chicken breasts, whole pork, coleslaw, baked beans, and mac and cheese. The ingredients perfectly match each other; Overall, they make a great combination!
15. Wagyu Nigiri by The Wagyu Shop
Cowboy sushi uses beef or steak for its meat. This recipe makes Japanese Wagyu Nigiri using short-grain rice, short rib lock, salt, and sugar. This recipe is super easy to make, and even beginners can successfully create this recipe at home. No special equipment is required but prepare a kitchen torch lighter to sear the short rib beef.
16. Cowboy Roll by T-REV Recipes
This recipe is another masterpiece by T-REV Recipes. This video is a step-by-step guide on making delicious and inviting cowboy rolls at home. T-REV Recipes will teach you to fry the ingredients to make a delectable beef cowboy roll. T-REV's Cowboy Roll will amaze your taste buds, and even sushi beginners can do this recipe easily!
17. Ninja Baker's Cowboy Sushi
Ninja Baker's Cowboy Sushi Recipe uses Angus Beef, soy sauce, Japanese sake rice wine, garlic, butter, carrots, rice, rice vinegar, sugar, nori, and sea salt.
With the simple sushi staples, you can make delicious and creative sushi rolls that twist the traditional way of making sushi. The main ingredient in Ninja Baker's recipe is tender Angus beef to make your sushi tasty, savory, and lip-smackingly delicious!
18. Homemade Sushi Cowboy Way by Cowboy Kent Rollins
Do you want to make cowboy sushi the cowboy way? Look no further because Cowboy Kent Rollins is here to help you out! This recipe by Kent Rollins shows the original way of cooking cowboy sushi at home. With the tips and techniques in this video, you'll be able to make the best cowboy sushi rolls you've ever had!
19. The Jackfruit Vegan's Cowboy Sushi
If you're just getting into sushi, then The Jackfruit Vegan's site is perfect. This page is dedicated to Cowboy Sushi, including the perfect recipe you can try.
The Jackfruit Vegan briefly describes cowboy sushi and explains the number of calories you can get from every roll. Besides the sushi recipe video, The Jackfruit Vegan also shows the different types of sushi like Black Dragon Sushi, Oklahoma Roll, and Rainbow Roll.
20. Cowboy Maki Sushi by Leo Samson TV Channels
Chef Leo Samson has a video dedicated to cowboy maki sushi. This video teaches you a cowboy maki sushi recipe with various ingredients to make inventive cowboy sushi.
This recipe requires sushi rice, nori, cucumber, avocado, and beef. Chef Leo Samson will also give you tips, like using a sharp knife to slice your cowboy sushi roll.
21. Beef. It's What's For Dinner's Sushi-Style Beef Roll
This Sushi-style Beef Roll recipe perfectly matches the top cowboy sushi recipes on this page because it has the main ingredient we all love: beef! Beef is indeed one of the best ingredients for sushi. This recipe calls for cooked beef, nori, rice, and Asian dressing.
You can add your favorite vegetables like slices of avocado, green onions, red bell pepper, zucchini, and carrots for the fillings. This beef cowboy sushi is the perfect balance of healthy and delicious!
22. Cowboy Roll by Umami Dream
Are you craving corned beef and barbecue sauce? Check out Umami Dream's Cowboy Roll Recipe. This recipe calls for original barbecue sauce, corned beef, green onion, avocado, sushi rice, and nori.
As you see, you only need simple ingredients to satisfy your craving. Following this recipe is straightforward, only requiring a few steps and simple ingredients!
23. Beef Steak Sushi with Teriyaki Sauce by Beyond Kimchee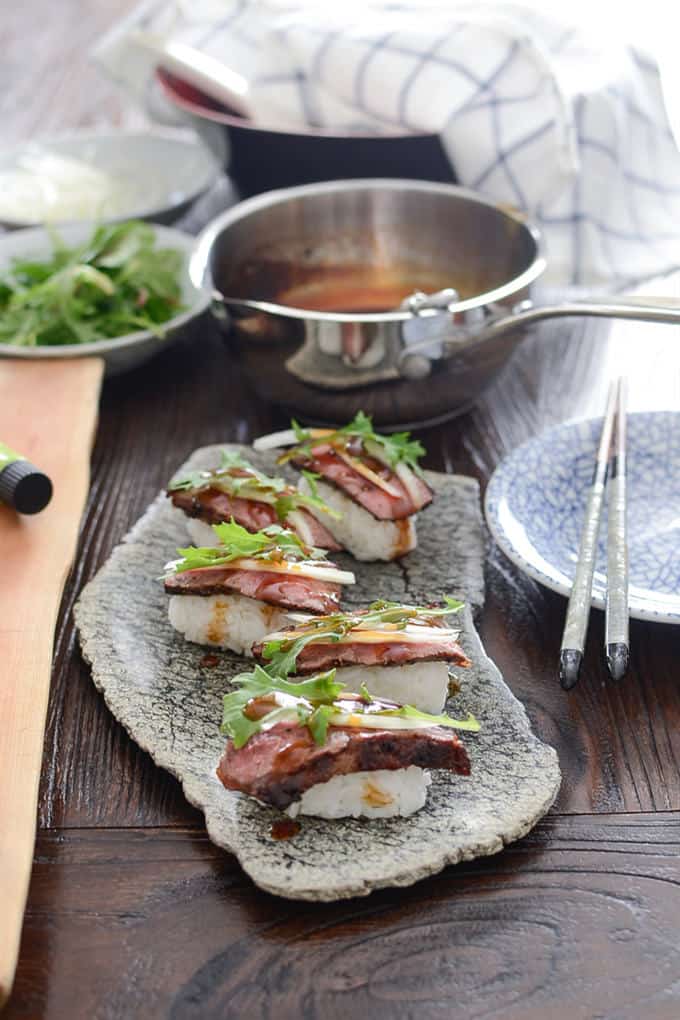 If you don't like seafood but love sushi, Beyond Kimchee's Beef Steak Sushi might be your top choice among all the cowboy sushi recipes. This beef sushi recipe is perfect for sushi beginners because it's easy, straightforward, and quick to make.
This recipe is served with teriyaki sauce, which you can do by following Beyond Kimchee's step-by-step guide. It tackles everything – from making sushi rice and grilling the steak to building your beef nigiri.
Final Thoughts
Our list of the top cowboy sushi recipes proves that sushi is not only for seafood lovers. Sushi can be enjoyed by beef fans too! Cowboy sushi is the perfect snack for those who want a different take on traditional sushi.
It gives you an impeccable balance between Japanese and Western cuisine. The best thing about it? You can easily make these cowboy sushi recipes at home!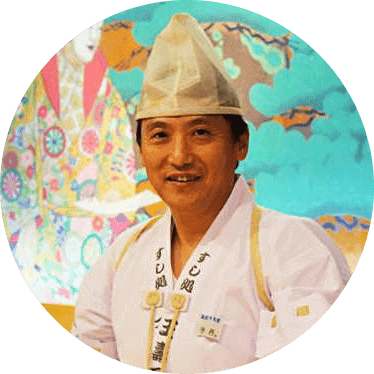 Hiroshi Nakamura, a Tokyo-born sushi chef turned US-based writer and critic, is the voice behind ichisushi.com, blending traditional sushi wisdom with modern insights.