Are you a sushi fanatic? How many different sushi rolls have you tried so far? Today's sushi rolls differ significantly from the original sushi.
Sushi has evolved into several delectable varieties. Here are 20 Alaska Roll sushi recipes to try if you're searching for something different in taste and looks.
This Alaska roll is a delectable appetizer or light supper option. It's super nutritious and protein-packed!
Ingredients for this recipe are readily available. Thus, creating it at home is simpler than you might think! Choose excellent rice brands for sushi rice. They will work well for the Alaska Roll.
You can pair this Alaskan sushi roll with ginger dressing. Adding a dash of chili oil on top also adds a spicy touch. Other great sauces that go nicely with this recipe are Sriracha mayonnaise, eel sauce, and ginger miso dressing.
2. Alaskan Sushi Roll
To slice the fish and other ingredients into precise strips for this recipe, you'll need a sharp raw fish knife. The knife makes a significant difference.
One of the primary ingredients in this recipe is avocado. It's best to drizzle it with lemon juice to keep the avocado from browning. The salmon inside and on top of the sushi make this recipe unique. It's also crucial to use sushi-grade fish.
You can find the ingredients for this Alaska Roll at most supermarkets. If you don't have any raw salmon, tinned or smoked fish will suffice. For the vegetables, you'll need cucumber and avocado.
This roll is fun to make and delicious. To give your sushi that extra heat, try using spicy mayo. If you want, you can also dip it in soy sauce.
This meal is so simple to prepare. You can enjoy eating it with your loved ones in under 20 minutes. It's only cooking the rice that takes time, but it's still very manageable.
4. Chef Johny's Alaska Sushi Roll
You'll need roughly 80-90 grams of sushi rice to make this recipe. Do you like Philadelphia cream cheese? This dish will not leave you disappointed.
This sushi roll's ingredients are rather unusual. You'll need smoked salmon for the filling and raw salmon topping.
The vegetable utilized is asparagus. How about a little charred hot Japanese mayo on top of your sushi? This recipe will give you a taste of it.
You can create this tasty Alaska roll sushi at home in under an hour. The ingredients and procedures are so simple. Avocado, as usual, is included.
This Alaska Roll is similar to Dragon Roll or Boston Roll, with its rolled inside-out style. Fresh salmon is ideal for this Alaska roll sushi. However, if raw salmon is too much for you, you may steam or air fry it for a healthy sushi dish.
Serve the sushi slices with soy sauce for a classic taste. If you want a more modern flavor, try Masago sauce.
6. Authentic Alaska Roll
Do you want your sushi folded? Then this is the recipe for you. A sushi roller is not necessary for this dish. It's a simple take on sushi rolls.
You'll need a strip of kelp to make the sushi rice. When combining the rice, make sure to use the cut motion to avoid mashing it.
Avocado, imitation crab sticks, and salmon are the remaining ingredients. To make the crab salad, you'll need Japanese mayo.
This recipe for Alaska roll sushi is quick and easy to make. You can prepare it in a few minutes. It's unlike any other sushi you've ever had. It also makes a delicious lunch or dinner.
This recipe is typically a seafood sushi roll. This dish consists of a sushi roll filled with seafood. Salmon, cucumber, cream cheese, avocado, and rice make up the seafood filling.
The salmon's orange color contrasted beautifully with the green seaweed. The tiny bits of black sesame seeds and the white rice seasoning also look fantastic.
8. Alaska Roll
The complete sushi-making process will take you less than three minutes. It's simple to follow. You'll need rice, a seaweed sheet, and tuna for the filling. The toppings are salmon with thin lemon strips.
The sushi rice is unusually laid over the nori sheet in this Alaska Roll recipe. This recipe will show you how to spread the rice from one edge to another.
This Alaska Salmon Roll takes about two minutes to prepare. You'll get to taste canned salmon that has been turned into a creamy spread. Drain and chunk it first.
Cucumber and wasabi paste complement this food perfectly. If you don't have cucumbers, you can use green onions and avocado.
Eight sushi slices will result from this recipe. It's plenty to fill you up with a hearty high-protein lunch or dinner. Serve it with a delectable dipping sauce. You can also garnish it with soy sauce.
10. Mihiro's Alaska Roll
For this recipe, you'll be making the sauce first. You'll need soy sauce, mirin, sake, sugar, and some starch. You'll need cucumber, kanikama or imitation crab meat, and avocado for the filling.
Lay them out on the mat rather than stacking salmon slices on top. Then roll it up with the sushi to completely cover the roll.
This Alaska Roll recipe is another fantastic sensation. Avocado and fresh salmon are rolled from the inside out. Then you'll have to coat the sushi roll in panko. It's a Japanese breadcrumb that is very crispy.
This Alaska roll differs from typical sushi in that it is deep-fried. What it does, though, is give the rolls a terrific bite and texture.
The crispness of the smoked or fresh salmon and avocado contrasts beautifully with the melting creaminess of the initial taste.
A few extras go well with this Alaska roll as well. You can add a sprinkling of spice pepper or a splash of sweet and savory eel sauce to the roll.
12. Easy Alaskan Sushi Roll
This roll is a quick and straightforward dish to make at home. Fresh salmon, avocado, and cucumber are required. To ensure your safety, get sushi-grade fish. Remember that the nori sheet's shiny side should be at the bottom.
You'll also learn how to secure the bamboo mat by taping the edges in this method. You can also spread the rice with a wooden spoon. Top the sushi roll with wasabi, pickled ginger, or soy sauce if desired.
This variant of Alaska Sushi Roll is a non-Japanese international dish. The preparation time for this meal is about 10 minutes. The cooking time is about 20 minutes. You'll need nine ingredients in total, but some are optional.
After the roll has been made, you can add a layer of raw or smoked salmon strips to the top. You can also use spicy mayonnaise.
There are two approaches to adding mayo. First, you can quickly spread it using a fork across the top of the roll. The other way is the "Instagram-worthy" method.
You'll place the spicy mayo sauce in a little bag like a chef. Then press the sauce out of the bag while zig-zagging up and down the roll, like frosting a cake.
14. Simple Alaska Sushi Roll
This Alaska Sushi Roll is another quick and easy meal to try. Sushi rice, seaweed sheet, sliced cucumber, and sliced avocado are primary ingredients.
Prepare mayonnaise, masago, sliced sockeye salmon, and wasabi sauce for the sauce and toppings. This recipe will appeal to both the eyes and the stomach with these ingredients.
It's a sight to behold with the sliced salmon and the creamy sauce on top of the rolls!
This recipe is for you if you like sushi but you haven't tried making it at home yet. If you've never had an Alaska Roll but know how a Boston Roll or Dragon Roll tastes, you'll notice a similarity in flavor.
In this recipe, you'll learn how to create the best Alaska roll sushi at home. The recipe is simple to follow. You can prepare it at home whenever you like.
Even if you create the dish at home, try to use responsibly caught salmon. Its taste and texture are already well-known.
16. Alaskan Roll
Because this recipe uses a ball of sushi rice, the layer will be thick. You'll be able to eat large, thick sushi rolls. This recipe calls for avocado, imitation crab stick, and prawn tempura. To finish the roll, you'll need fresh salmon slices.
Fresh tuna, spring onion, fish roes, mayo, and sriracha sauce are required for the dressing. To keep the heavy dressing in place, you'll need to spread wasabi mayo on top of the roll.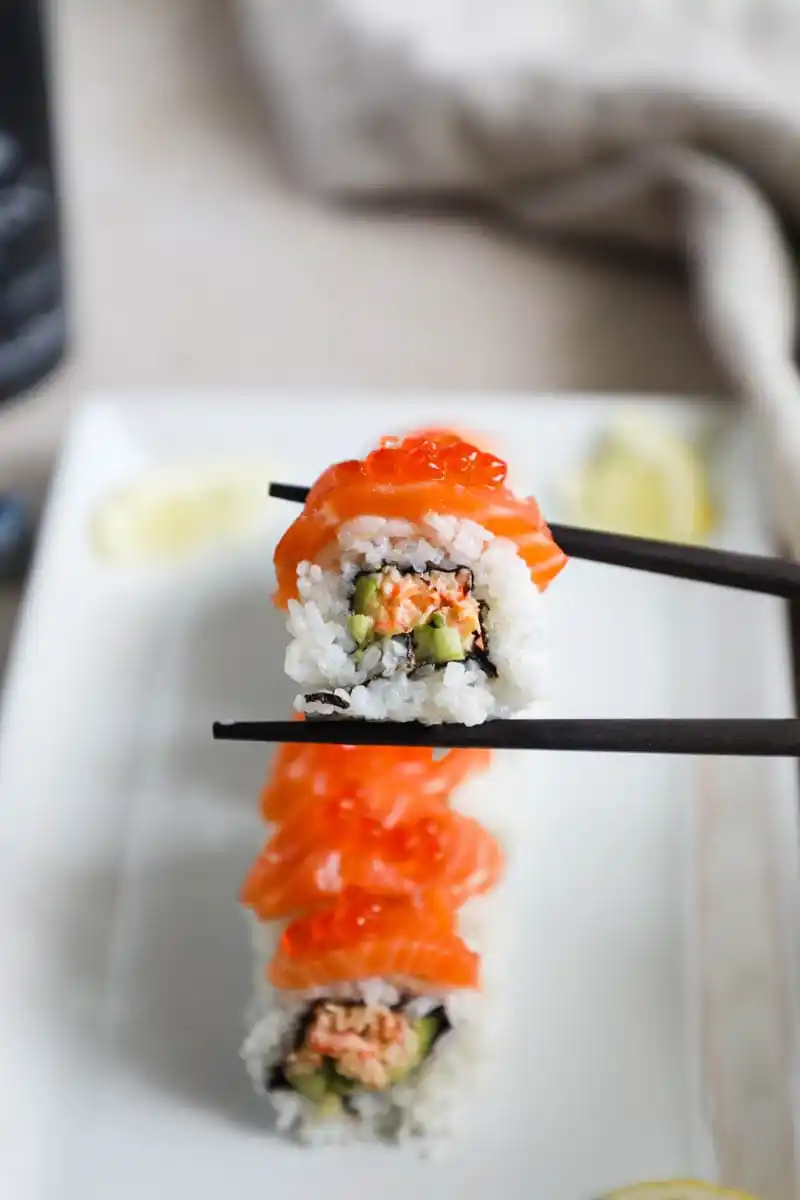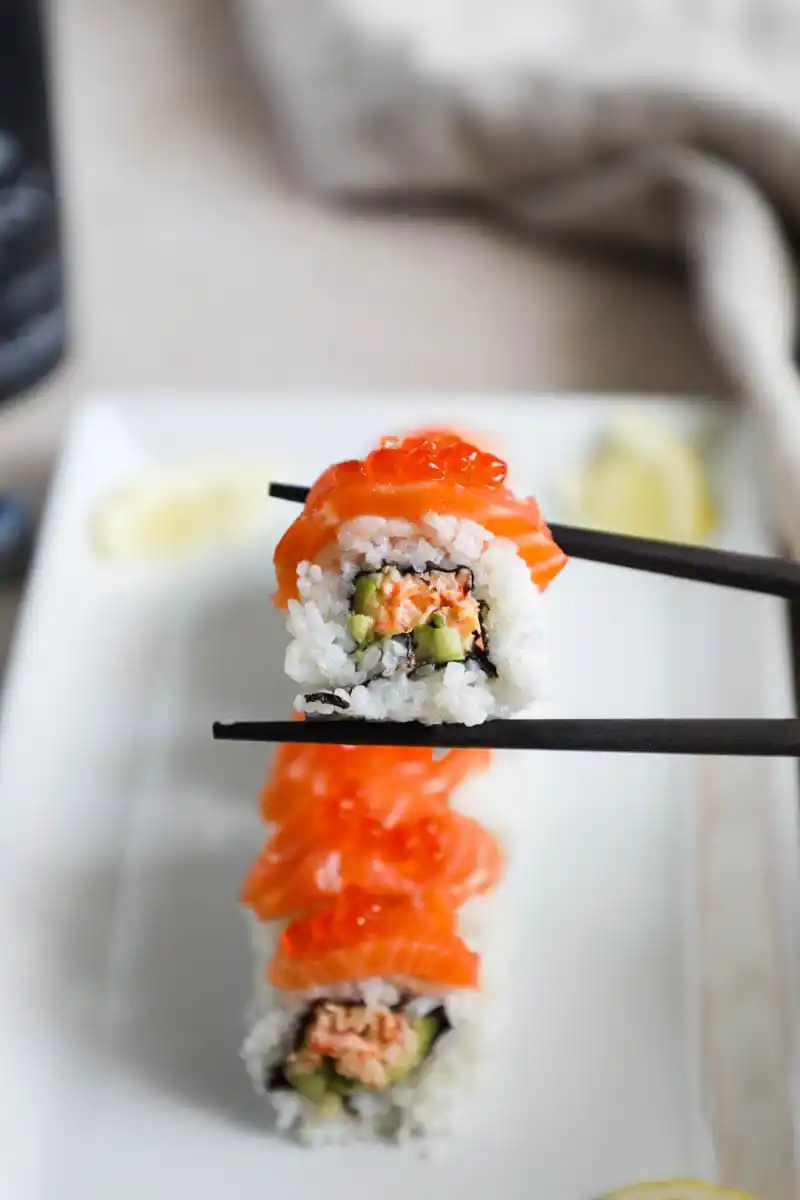 This dish is a great American take on sushi that takes only minutes to prepare! Flavorful imitation crab, avocado, and cucumber are rolled in seasoned sushi rice and nori sheet.
You'll garnish with raw salmon and ikura in this roll. You can pair this roll with tasty sides like Kani salad or spicy tuna onigiri.
If you're looking for decadent sushi that's also light and healthy, this roll is for you. This inside-out sushi roll is simpler to make than it appears, and it's ideal for a date night or a fun family supper at home.
18. Alaska Roll with Chef Chris
Because the avocado and salmon slices used for the filling are thicker, this Alaska Roll recipe is more extensive and thicker.
Instead of narrow strips, they're chopped into pieces. You'll need sushi rice, nori sheets, avocado, and salmon to make this dish, much like the previous varieties.
This Alaska Roll is simple to make. You'll notice that cutting the avocado and salmon into thicker slices is also easier. This is something that every home cook can achieve!
It's straightforward to create this Alaska Roll Sushi at home. Today, you can make it with little to no effort. This sushi roll is a delicious and healthful appetizer or meal.
Ingredients for this Alaska roll sushi are readily available at your local supermarket. You can savor an Alaska sushi roll wrapped in nori and filled with salmon, crab meat, avocado, and cucumber.
You will adore this magnificent Alaska roll if you enjoy Japanese cuisine and sushi. This cuisine will delight you with its delectable flavor and satisfy your hunger.
20. Alaskan Avocado Roll
Chef Devaux demonstrates how to prepare a tasty but healthy salmon avocado sushi roll for this recipe. This food is ideal for a low-carb diet.
It's something you'll enjoy not just eating but also preparing. It's a simple roll, but it's delicious! It's visually pleasing and truly a piece of art. To serve, simply roll it up as you would a sushi roll and drench it in wasabi paste or soy sauce.
You'll also learn to cut and peel an avocado to avoid damaging it correctly. You'll need to chop avocado slices into incredibly thin pieces for this recipe.
It would be advantageous if you could complete the task with precise hand positioning.
20 Best Alaska Roll Sushi Recipes
Are you seeking an easy way to prepare dinner after a long day? If you enjoy sushi, an Alaskan roll would be an intelligent choice.
It's simple to make and serve. It's just as healthy as the other rolls. Here are 21 Alaska Roll sushi recipes to try that will not let you down.
Directions
Select your favorite recipe.
Organize all the required ingredients.
Prep a Alaska Roll Sushi Recipe in 20 minutes or less!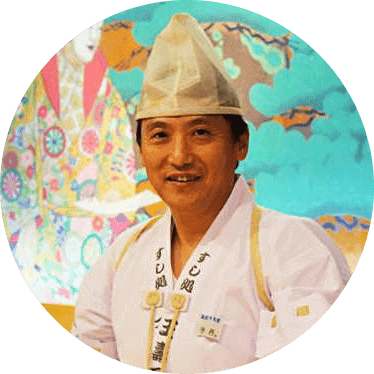 Hiroshi Nakamura, a Tokyo-born sushi chef turned US-based writer and critic, is the voice behind ichisushi.com, blending traditional sushi wisdom with modern insights.