San Jose, California, has a lot to offer when authentically making sushi. These places have everything from traditional sushi to special rolls and other Japanese dishes. Here is a list of the best sushi places in San Jose, CA.
Izaka-Ya
$$ | (408) 452-8751 | WEBSITE
The family who runs the restaurant gives it a natural, down-to-earth vibe. There are fresh fish, good rolls, and many ways to put them together on the menu.
In addition to the usual sashimi, nigiri, and 10-piece omakase (chef's choice) options, two people also have Sushi Boat A or B options. The second one has 16 nigiri pieces, 11 sashimi pieces, a California roll, and a tuna roll. There is a good selection of fried and grilled appetizers and main dishes.
Sanraku
$$ | (408) 363-2110 | WEBSITE
It doesn't matter that Sanraku is a chain, and this location is in the Oakridge Westfield Mall. Once you're inside, the decor and service are very Japanese. The fish is fresh and well-cooked, and there are a lot of great beers and sake to choose from.
Like the Sushi Tokujo platter, you can order nigiri and sashimi from the "chef's choice" menu. It has seven pieces of nigiri and six pieces of the chef's best bluefin tuna roll.
Mizu Sushi Bar & Grill
$ | (408) 260-7200 | WEBSITE
Mizu Sushi bar and grill is a big, modern restaurant. Their menu focuses on tasty specialty sushi with creative names.
Sometimes you want to try eating something different than the usual rolls, and Mizu Sushi has just what you need: specialty rolls. People like this busy restaurant because it serves Japanese and Korean food, including some of the best sushi.
Don't worry if you don't like any of the specialty rolls. You can also try the maki rolls, sashimi, and platters. Don't forget to order your favorite drink to go with your sushi.
Cha Cha Sushi
$$$ | (408) 265-2416 | WEBSITE
A casual restaurant with a lot of tasty sushi and other traditional Japanese dishes, that's what Cha Cha Sushi is!
This simple sushi place doesn't look like much at first, but when you look at the menu, you'll see why it's so popular. In 2008, chef Hanson Cha opened Cha Cha, and was later run by his family.
It has reasonable prices for high-quality maki, nigiri, sashimi and tempura, udon, yakitori, donburi, teriyaki, and stir-fried noodles. Chef Hanson loves local sports, so some of the rolls on the online menu are named after them.
Yuki Sushi
$$ | (408) 287-9854 | WEBSITE
This place's signature rolls are made with natural ingredients.
People love the sushi rolls at Yuki Sushi more than anything else. Yes! We're sure you've heard a lot about how extensive their menu is, and it's true. So, if you want authentic sushi in the city, you should go to Yuki Sushi.
There are many different kinds of food on the menu, like sushi appetizers, sashimi, regular rolls, specialty rolls, and main dishes.
Some of the best food on the menu are nigiri and sashimi. Hamachi, maguro, and different kinds of sashimi or sake are all good things.
Kazoo Japanese Sushi Boat Restaurant
$ | (408) 288-9611 | WEBSITE
View this post on Instagram
Kazoo Japanese Sushi Boat Restaurant is a casual place with a menu of sushi rolls and other Japanese classics that changes all the time.
Sushi, nagiri, sasimi, name them! When you go to Kazoo Sushi, you can try much tasty food. You can get sushi here that you can't get anywhere else, and you can also learn more about the history of the culture.
People love to visit this restaurant because they like the food and the atmosphere. It's a lot of fun, and you can relax in their comfortable seats.
Tomisushi Restaurant
$$$ | (408) 257-4722 | WEBSITE
Tomisushi Restaurant is a small sushi place that serves classic rolls and other Japanese dishes.
If all you want is sushi, you should go to Tomisushi. It's a popular modern sushi restaurant in San Jose with more than 150 different kinds of sushi to suit everyone's tastes.
When you come to this restaurant, you'll find a unique concept with sushi plates, tempura, teriyaki, and other traditional Japanese dishes. If you want more than sushi, don't worry. At Tomisushi, you can eat as many of your favorite Japanese dishes.
Minato Japanese Restaurant
$$ | (408) 998-9711 | WEBSITE
View this post on Instagram
This simple restaurant with booths serves sushi, katsu, udon, and more.
It's new and fashionable. Casual. This family-owned restaurant has been serving authentic Japanese food and specialty sushi rolls since 1957. Their menu is made with the freshest ingredients and unique recipes passed down from one generation to another.
People are hungry and in a hurry. In that case, they can order one of their special lunch boxes, which come with chicken, tempura, tonkatsu, rice, soup, and salad. You can also order it with shrimp, sushi, or gyoza.
Kenji Sushi
$$ | (408) 985-1889 | WEBSITE
Kenji Sushi is a modern Japanese restaurant with traditional sushi and a spicy rolls menu.
Kenji Sushi seems excellent in every way: it has the right tastes, vibes, and setting. This makes it a great place to eat the best meal ever on any day. Inside, it's cozy and comfortable, and the walls have incredible designs that make the place look superb and colorful.
Sushi is everyone's favorite food in San Jose. It's a great meal that anyone can eat whenever they want because it's made with many different things, including raw fish.
Seven Seas Sushi
$$ | (408) 899-6271 | WEBSITE
Seven Seas Sushi has great traditional and modern Japanese dishes and meals that show off the art of Japanese cooking. The restaurant's staff loves what they do and has a lot of experience.
They make sure that their cooking method is followed and stays the same so that the dishes taste like real Japanese food. Customers should come to try out their bold creations.
Try out some tasty options and give your taste buds a break. It's much more than the usual healthy choice.
Sushi Confidential San Jose
$$ | (408) 913-8080 | WEBSITE
Sushi Confidential San Jose is a sushi place in San Jose. It is on San Pedro Street. They have made dishes for lunch and dinner every day that make your mouth water. People who don't eat meat or dairy can also eat at the restaurant, so they don't have to give up their favorite foods.
The restaurant was opened in 2012 to serve tasty sushi to the public and teach many people how to cook them.
Sushi Kan Japanese Restaurant
$$ | (408) 453-1070 | WEBSITE
You can get real Japanese food cooked to the highest standards and tastes great at Sushi Kan. Each meal they make is different from the others. Also, they say you won't be disappointed.
At this place, you can order Japanese food. Good teriyaki salmon, nigiri, and spicy rolls are fun to eat.
Because Sushi Kan is so friendly, people feel comfortable and have a good time there. People often say that the people who work here are friendly. People who come here say they get great service. Here, food costs about what it should.
Ginza Sushi
$$ | (408) 841-9837 | WEBSITE
Try something different than the food in Japan. The pepper chicken, tuna sushi, and shrimp tempura at this restaurant are all cooked well enough to make it worth going. Many people say that the wait staff here serve good orange crumble. Don't miss the chance to get some tasty orange wine, house wine, or beer.
At Ginza Sushi, you can get food to go. Many people here say that the staff knows what they are doing and that the service is done professionally. Here, you'll pay fair prices. This place is quiet and has great decorations.
Sushi Koya
$$ | (408) 960-6339 | WEBSITE
Sushi Koya is known for its modern sushi, traditional maki, and new kinds of appetizers. Guests can get great service while eating fresh, high-quality sushi and creative cocktails with tiki themes in a trendy, lively setting. You can drink sake, craft beer, or a martini while you watch the best sushi chefs in the area make the freshest rolls.
At this restaurant, you will enjoy a good latte. The staff here is said to be friendly. People like to talk about excellent service in their reviews.
Ozumo Santana Row
$$ | (408) 886-3090 | WEBSITE
Ozumo San Francisco was the first restaurant in the United States to be designed by Japan's well-known Super Potato Design, which gave it a truly authentic look. It was one of the first large, high-end Japanese restaurants to offer sushi and sashimi, a robata grill, and the U.S.'s most extensive list of premium imported sake.
Ozumo has been named one of the "Top 100 Restaurants" by the San Francisco Chronicle, and it is still one of the best fine-dining restaurants in the city. You can try their menu and experience the excellent service they can give.
Miyakko Japanese Cuisine
$$ | (669) 309-0146 | WEBSITE
People like this restaurant because it serves good Japanese food. Come here for perfectly cooked fried seafood, eel, and salmon nigiri if you're hungry. After a tiring day, you can enjoy a tasty beer. Miyakko serves drinks like good tea.
This place is good for people in a hurry but still want to eat dinner out. This place is great because the professional staff works hard and stays positive. This place has a wide range of good food at reasonable prices. Here, guests can feel at ease because of the beautiful decor and cozy atmosphere.
Sushi Maru
$$ | (408) 998-8170 | WEBSITE
Sushi Maru is one of the few places in San Jose that serves authentic sushi in a very beautiful setting. On the menu, they have a small but good selection of sushi. They also serve tasty Mix Sashimi Dinner, Homemade Wasabi, Katsu Curry, and more.
The place is decorated beautifully, and the Japanese items around it add to its charm. Whether it's a busy night or a slow afternoon, Sushi Maru makes sure you get the best service possible. Even though it's a bit pricey, the place is worth every penny.
Kenzo Sushi
$$ | (408) 226-2114 | WEBSITE
Kenzo Sushi is the only restaurant that is both stylish and old-fashioned.
You might think that all sushi is the same, but everything is of very high quality at Kenzo restaurant. You can tell by how soft the rice is and how fresh the fish is. You can have a regular lunch or dinner or choose "All You Can Eat," which means you can eat and enjoy the food as much as you want.
Kenzo Sushi serves Japanese food, like sushi, sashimi, udon, gyoza, tempura, and miso soup.
Summary
San Jose never lets you down when it comes to delicious, fun, and varied restaurants. It can be hard to figure out where to go for the best sushi places in San Jose, California, but the places on the list will help you enjoy great sushi. So, when do you plan to go to the next sushi place?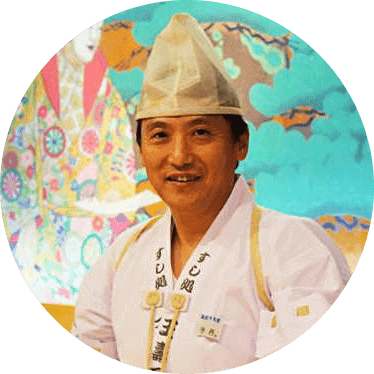 Hiroshi Nakamura, a Tokyo-born sushi chef turned US-based writer and critic, is the voice behind ichisushi.com, blending traditional sushi wisdom with modern insights.