Portland is a known food destination located about an hour from the Pacific Ocean. It's no wonder that the city's sushi offerings are both tasty and diverse.
Below are the 15 best sushi restaurants in Portland, OR, worth visiting. These fantastic sushi spots can suit every preference, mood, and occasion.
Sho
$$ | (503) 977-3100 | WEBSITE
Sho boasts of its vast selection of Japanese comfort foods. However, make sure not to overlook its signature sushi rolls. The ingredients used are all from scratch sourced locally.
The restaurant provides a high-end sushi experience, even for takeouts. You'll find your favorites in its extensive nigiri menu and other sushi rolls. Like uni made from sea urchins, rare sushi is also available here.
Sho offers takeout as well as indoor and outdoor seating. It's perfect for family outings because of its size and diversity. You may sit at the sushi bar and watch some sumo wrestling if you're eating alone.
Yoshi's Sushi
$$ | (503) 833-2940 | WEBSITE
View this post on Instagram
Yoshi's is a forward-thinking, classically inspired sushi food cart. It's based in Multnomah Village's French Quarter. Chef Ikeda focuses on freshness and approachability when creating exquisite sushi for everyone.
The chef opened his first self-titled concept, Yoshi's, in Portland. He ventured into this after more than 20 years behind prominent sushi bars, including Bamboo Sushi.
The eatery defies notions of what constitutes "excellent sushi." It demonstrates delectability to even the humblest food service establishments: the food truck.
Yoshi's offers a limited menu of creative rolls, omakase dinners, and unusual handrolls.
Masu Sushi
$$$ | (503) 221-6278 | WEBSITE
Masu Sushi has been offering a superb sushi menu for over 15 years. You can indulge in various sushi, including excellent vegetarian rolls with authentic wasabi.
Masu's maki selection is extensive. A separate section dedicated to vegan sushi rolls is also available.
The St. Helen's Volcano Maki is a must-try! It is made with scallops, crab salad, and cucumber. Then it's baked with Japanese aioli and topped with smoked bonito or eel sauce.
Masu is now offering takeout and delivery as well as limited dine-in options.
Murata
$$ | (503) 227-0080 | WEBSITE
View this post on Instagram
Murata is a traditional Japanese eatery located directly across from Keller Auditorium. It serves everything from Japanese hotpot to pickled mackerel. The cafe offers both take-out and dine-in options.
The sushi platters and fish offerings are Murata's most vital points. You can delegate discretion to the chef or choose their top a la carte.
The chef's selection of sushi is unbeatable. Additionally, you can enjoy the melt-in-your-mouth salmon nigiri and house-cured mackerel nigiri.
Since 1988, this teeny-tiny restaurant has retained an old-school vibe. You'll see the chefs wearing ties and joking around with guests. Soothing jazz plays in the background.
Kaizen Sushi
$$ | (971) 288-5160 | WEBSITE
View this post on Instagram
Kaizen is a downtown sushi joint from the owners of Portland's popular Mirakutei. It serves a range of salmon and mackerel cuts. It also goes above the norm by coating maki with yuzu tobiko or garlic butter.
The Pacific NW roll is a must-try if you're a fan of super-involved sushi rolls. It has spicy albacore capped with more garnishing like pesto and eel sauce.
At Kaizen, you'll see skilled sushi chefs who love to show their talents to the customers. Each chef has a distinct personality that shines through in each dish they prepare for you.
Mirakutei Sushi & Ramen
$$ | (503) 467-7501 | WEBSITE
Mirakutei is the last renowned Portland eatery of legendary sushi chef Hiro Ikegaya. It is a cherished sushi joint where you'll experience fantastic omakase.
Chef Hiro hired and trained the current brother proprietors, Job and Nicolas Martinez. He urged them to continue his unique cooking legacy.
Guests can enjoy Dungeness crab nigiri and salmon sushi dishes here. The appetizer menu features several raw seafood recipes, including scallops with uni.
Mirakutei offers both onsite and take-out dining options. Furthermore, the eatery serves the most incredible ramen in town, with a house-made broth.
Bluefin Tuna & Sushi
$$ | (503) 281-6804 | WEBSITE
View this post on Instagram
Bluefin originated in South Korea in 2011 and has extended into Northeast Portland. The eatery is particularly well-known for its charming circular sushi. Thus, Bluefin stands apart from the majority of sushi restaurants in Portland.
Here at Bluefin, you can eat tiny round Temari nigiri. Despite their modest appearance, they're packed similarly to a regular nigiri. The fish here is fresh and flavorful.
The restaurant's name isn't all for show. The eatery does sell varying chops of bluefin tuna at market rates. Bluefin serves take-out and indoor dining options.
Zilla Sake
$$ | (503) 288-8372 | WEBSITE
View this post on Instagram
Effortlessly sleek and relaxed, Zilla has developed into a destination for fresh sushi. It is recognized for its rigorous sourcing and tasty sushi selections. The meals are reasonable, with a focus on culinary exploration.
Here you'll taste unusual sushi options like wild fluke and monkfish liver. Traditional sushi favorites like tuna and salmon are also available. Highlights include Hokkaido scallops paired with wasabi cultivated in Oregon.
Would you like to taste the Tsunami? It's a bright, flavorful mix of yellowtail, green onion, and ponzu. It's loaded with crunchy cucumber and Dungeness crab.
Nimblefish
$$$ | (503) 719-4064 | WEBSITE
Nimblefish is Portland's own Edomae sushi restaurant. It delivers beautiful fresh and cured fish in a small cafe. Seasonally, the fish rotates and features a range of curing techniques. Simple and new cuts of fish are also available.
The eatery is frequently mentioned when people discuss the best sushi in Portland. The restaurant has recently returned for indoor dining.
Nimblefish is a 12-seat restaurant that specializes in omakase. Its omakase focuses on ingredients from Japan and the Pacific Northwest. After the nigiri offerings, you can pick from the a la carte menu, besides omakase.
Kashiwagi
$$ | (503) 233-3946 | WEBSITE
View this post on Instagram
Kashiwagi is located in the Division-area. It is the reopening of a former Southwest Portland sushi joint.
The primary purpose of this comeback is to repay the help the Kashiwagis received when they needed it most. It also welcomes new companions to this Portland music and sushi family.
Chef Kashiwagi tops soft rice pillows with crab, coho, and pickled mackerel. Maki with chopped scallops garnished with chili mayo is also available. You can't also go wrong with the tempura sushi made with calamari.
Take-out and limited indoor dining options are available at the restaurant.
Yoko's Japanese Restaurant & Sushi Bar
$$ | (503) 736-9228 | WEBSITE
View this post on Instagram
For decades, Yoko's has had a cult following with its over 30 years in business in Oregon. It's still going strong with a menu of affordable nigiri and exquisite maki.
Yoko's provides a variety of salmon options, from ikura to smoked. Fan favorites include the poki roll, which is available for takeout.
The eatery combines sushi with punk rock. Even on weeknights, the waiting list is full. Regulars joyfully greet the sushi chefs when they come in.
Authentic sushi and hot Japanese dishes are served from an open, stylish counter. The relaxed and pleasant mood blends well with the stylishly contemporary ambiance.
Afuri Izakaya
$$ | (971) 386-2945 | WEBSITE
Afuri is a Japanese eatery famed for its superb ramen of hand-rolled noodles. But, don't overlook its extensive nigiri menu. You'll surely enjoy Oregon's crisp and clean bincho.
Another house specialty is unagi. Unlike most overly sugary versions, how wonderfully meaty and gently seasoned it is. You can eat indoors or outside or take it to go.
Portland provides Afuri with what no other American city could. The restaurant takes soft water from a nearby pure spring. This high-quality water lets the eatery make the best Japanese dishes like sushi.
Saburo's
$$ | (503) 236-4237 | WEBSITE
Saburo's is a small but popular sushi restaurant in Southeast Portland. It has been drawing visitors since it first opened in 1988. Expect a line to get in, but the wait will be well worth it.
You don't have to splurge on money on sushi to feel satisfied. Saburo's offers good sushi in large amounts for an affordable price. Each piece is enormous, taking many bites to eat up.
The luscious scallop nigiri and crunchy salmon skin salad are highlights. There are many options for sushi lovers, including traditional and deep-fried.
Bamboo Sushi
$$ | (971) 229-1925 | WEBSITE
View this post on Instagram
Marine Stewardship Council awarded Bamboo Sushi as the first sustainable sushi chain in 2008. The business makes decisions with the utmost respect for the earth and the people who live on it.
The eatery's objective is to serve a purpose. It seeks to be upfront about how it obtains its food offerings to decrease its carbon footprint.
Bamboo Sushi is the city's most famous sushi restaurant. Locals like the restaurant's environmental devotion. A patio and sidewalk seating for people-watching is also available.
Departure
$$$ | (503) 802-5370 | WEBSITE
View this post on Instagram
Departure takes pride in its healthy sushi presentation infused with elegant design. Its ambitious menu provides savory rolls stuffed with fermented chili and smoky radish.
The restaurant offers street food starters and meal-sized classics. It also boasts of noodle and rice specialties and sustainably sourced sushi.
Departure is Portland's sky-high sanctuary for both leisurely and chef-driven dining. The place is as bold yet harmonious as its cuisine.
Once you step inside, you'll find cutting-edge interiors matching Portland's heritage. Departure is the ideal setting for encounters of all tastes and styles.
Summary
Portland is close to Oregon's west coast. This proximity makes it a top destination for delicious seafood.
Fresh fish combined with Japanese cooking can give you a unique sushi restaurant experience. You will not be disappointed if you visit any of the 15 best sushi restaurants in Portland, OR.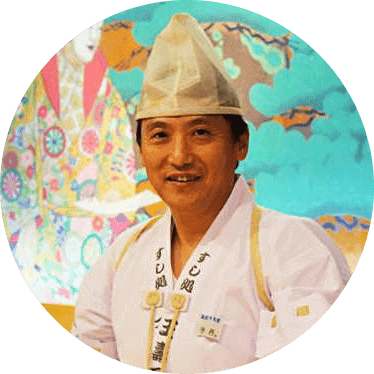 Hiroshi Nakamura, a Tokyo-born sushi chef turned US-based writer and critic, is the voice behind ichisushi.com, blending traditional sushi wisdom with modern insights.