The raw and fresh taste of Japanese sushi is something that we all crave. However, what will you do if you cannot find any spot near you that would offer you this? Stop and brace yourself as we are going to unfold the 12 best sushi places in Berkeley, California!
Sumo Roll
$ | (510) 841-9000 | WEBSITE
As per the business owner, Mr. Kimura Gino, the sushi roll restaurant which was established in 2015, was not his unique idea. It was inspired by a San Francisco-based diner called Sushiritto.
The goal of establishing was to serve healthy and complimenting 'sumo'-sized sushi in Berkeley. Whenever possible, the business wants to use organic crops as their ingredient.
Although the spot is small, the management tried their best to maximize the space and have outdoor seating, parking, and wheelchair area available. They also practice dine-in, online order, and pick-up. Sushi roll also offers free wifi services for its customers.
Kyoto Sushi
$ | (510) 527-3288 | WEBSITE
Kyoto Sushi was established in 1998 and is still serving delicious to-go sushi up until the present. It is a family-owned business whose purpose is to serve affordable, healthy, and fresh food.
The place offers bike parking, street parking, outdoor seating, take-out option, and catering services. However, they do not entertain drive-thru orders, reservations, and android pay.
When it comes to the ambiance, Kyoto Sushi is described as a quiet and very casual spot. You can comfortably dine in this place while watching television and devouring your sushi. The price, on the other hand, is affordable compared to other restaurants.
Sushi California
$$ | (510) 548-0737 | WEBSITE
The owner of Sushi California was a hardworking Japanese man who creatively fused Okinawa's native cuisine with American style. The name Sushi California was given by the owner because he dreamt of making this a chain restaurant all over the world– sadly, it didn't happen.
This sushi restaurant has a relaxing atmosphere with its live jazz music performances available every Monday and Friday. The area is neat and maintained very well by management. You can choose from the variety of sushi dishes they have at a reasonable price. Some of its features include free wifi, wheelchair accessibility, and parking space.
Katsumi Sushi
$ | (510) 529-4799 | WEBSITE
Katsumi Sushi, located on Durant Avenue in Berkeley, is a vegetarian-friendly restaurant. The pricing is cheap, but the service and food are priceless! They offer the staple Japanese cuisines like sushi and veggie roll, nigiri, poke bowls, sushi hand rolls,
Katsumi sushi is best for group orders or if you just like to have a normal lunch or dinner. A casual yet moderately noisy ambiance will welcome you as soon as you enter the place. Outdoor seating is available as well as free use of wifi and television. There is also street and biking parking its guests can use.
Kirala 2
$$ | (510) 649-1384 | WEBSITE
Kirala 2 or Kirala Takeout is an extension restaurant of Kirala Main Dining founded in Ward Street, Berkeley. Due to the growing number of customers, the owner decided to put up another sushi spot that only features take-out orders.
Faster transactions are feasible because they prepare them beforehand without losing their freshness. Guests who are in a hurry may take Kirala 2 as their resort rather than the other branch.
Despite the moderate price, people are amazed by how fast the service and tasty the food in Kirala 2 is. The location also suits the ambiance of a sushi restaurant.
Asaka Sushi & Bar
$ | (510) 529-4218 | WEBSITE
At Hopkins Street in Berkeley, you can find a sushi diner where you can eat and take out your food. Asaka Sushi & Bar is a go-to place for people who crave raw, fresh, and tasty sushi and sushi rolls. They are proving to their guests that their dishes are more than just their mouthwatering appearance.
Asaka sushi & bar has heated and covered seating outside the main dining area. They also have a private parking lot which all customers are free to utilize. Their restrooms are surprisingly gender-neutral. Indeed, Asaka & Sushi Bar is a top-notch sushi diner for everyone to enjoy!
Sushi Secrets
$ | (510) 529-4647 | WEBSITE
Sushi secrets is another spot that promises excellent food and service for customers that will visit their diner. Well, that is not just a promise though, since they garnered a total of 4.1 ratings given by google users. The price is considerably low, unlike other sushi restaurants. Nevertheless, quality sushi is their priority.
There is no booking system in Sushi Secrets– which is good. Meanwhile, delivery and takeaway of orders are available as well. They accept credit cards for a more convenient payment experience. Parking and wifi are also accessible. Come and visit Sushi secrets to know their secret!
Nikko Sushi
$$ | (510) 704-8224 | WEBSITE
Nikko Sushi ranks as the 16th best sushi restaurant among 91 competitors in Berkeley. According to their website, the operation days are from Sunday to Saturday except for Tuesday when the diner is closed.
Either dine-in or take-out, you can still enjoy their nigiri, hand rolls, special rolls, and basic rolls. Healthy food and small plate options are available too.
Nikko Sushi restaurant is child-friendly, cozy, and casual. It has an entrance and parking space accessible for wheelchairs. The service is also swift and smooth because the personnel are very accommodating. The price list is average and is still economical.
Party Sushi
$$ | (510) 841-1776 | WEBSITE
A sushi party will welcome you at the Party Sushi restaurant! All types of sushi they are selling taste heavenly. Basic rolls, hand and veggie rolls, sashimi and nigiri are some of the dishes listed on their menu. A wide range menu and affordable prices are the advantages of this eatery among other sushi bars.
You can take out and dine in at this place. Yet if you want, book your order and have it delivered. Truthfully, a serene ambiance, friendly management, and good service are a must for a diner– luckily, they have it all here at Party Sushi!
Mainichi Sushi
$$ | (510) 280-5037 | WEBSITE
An authentic variety of Japanese sushi, excellent service, and an enjoyable atmosphere are the assets of Mainichi sushi restaurant. Among the available menu are nigiri, sashimi, rolls, special rolls, baked rolls, deep-fried rolls, and hand rolls.
They also sell sake– an original Japanese alcoholic drink. But, you can still order other kinds of beverages like beer and wine. The food presentation is so superb. It is unexpected knowing that their pricing is just average.
Similar to the other diners, you can have your order delivered and taken out. Parking and wheelchair convenience can be observed in this sushi restaurant too.
Sushi Go Go
$$ | (510) 990-6184 | WEBSITE
Sushi Go Go is located on University Avenue in Downtown Berkeley. However, they also have other branches in San Francisco, Oakland, and Union City. The restaurant is closed on Mondays but operates the rest of the week at exactly 4:30 PM.
For a generous price, Sushi Go Go offers well-presented sushi dishes. Their salmon sashimi costs 7.95 dollars for four pieces. They are also known for their sushi boxes. Some of these are the honey box, happy box, holiday box, lucky box, Go Go box, and the sushi lovers box. Sushi in trays and combos are also available.
Sushinista
$ | (510) 529-4885 | WEBSITE
As the name suggests, Sushinista is a sushi restaurant where customers can design their own sushi dishes. The owners call the guests "Sushinistas". The goal is to serve nutritional and colorful meals made from locally-grown ingredients. A clean, fun, and friendly environment are what the owner pledges as you enter the place.
Sushinista restaurant highlights outdoor seating and wheelchair accessibility. They also have delivery and take-out services. This place is recommended for everyone, whether you come as a student, as a group or as family– you are welcome. The management made sure the place is LGBTQ-friendly as well.
Final Words
Remember, you don't have to travel far away just to have a taste of your favorite sushi dish. It is already a famous cuisine in every part of the world. Hence, worry no more because you now know the 12 best sushi places in Berkeley, CA. Give yourself a treat!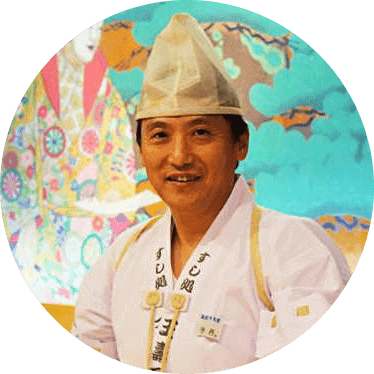 Hiroshi Nakamura, a Tokyo-born sushi chef turned US-based writer and critic, is the voice behind ichisushi.com, blending traditional sushi wisdom with modern insights.