Sushi is regarded as a unique art form in Japan. How it looks is as essential as how it tastes. Sushi needs to be the proper color, taste, and texture. Sushi with squid is no exception. It requires several precise processes. Here are 20 squid sushi recipes to help you.
This recipe will suffice if you can only locate arrow squid in your area. If you're new to the world of sushi, don't worry. This recipe was created as part of a class project. You have a strong chance of succeeding.
All of the ingredients are readily available. The method is very straightforward, even if you are unfamiliar with how to cut sushi. After preparing all ingredients, create a rice ball and add the squid on top. That's how simple it is!
2. Ika with Beef Teriyaki Sushi
This recipe calls for unconventional sushi preparation methods. Instead of utilizing nori to wrap the fillings, you'll use a whole squid. You'll have to fill the squid with beef teriyaki and cut it afterward.
This recipe is unique because it uses various ingredients such as butter and ground beef. It's a tastier squid sushi version with the meat sauteed in butter. The meat is also peppered and seasoned with teriyaki sauce. So yummy!
This recipe is simple and enjoyable to execute. The ingredients will take roughly 45 minutes to prepare. The cooking time is around 10 minutes.
You'll need medium-sized squid tubes for this dish. Before grilling them, season them with salt and chili powder. Avoid overcooking the squid since it will become tough.
The sauce elevates this dish even further. This meal is served with black bean aoili. It's more than just mayonnaise. The major component in this unique sauce is fermented black beans.
4. Ika Sushi
You'll be astounded at how beautifully squid transforms in this recipe. You must rinse away all of the squid ink. It'll be challenging to get it off your cutting board if you don't.
This recipe will walk you through the entire process of filleting and making nigiri. You'll start by figuring out how to get the cuttlebone out of the squid's body. Don't worry! It only takes a few seconds. It readily pops out.
It's also simple to separate the body and leg. You'll have to put in some effort, but it's doable. You can also easily remove the entire skin.
Sushi trimming requires precision as well. Squid strips measuring about 5 mm are what you need. Slitting ultra-thin squid sheets is also required. Don't worry; it's effortless to do. When creating sushi, keep in mind that size matters.
This recipe yields around eight sushi pieces. The main ingredients are squid tubes and sushi rice. The remaining ingredients are ordinary household products. You can add Kombu as you wish. It's a type of edible seaweed. It improves the flavor of the sushi.
This is yet another straightforward recipe. You need to wet sushi rice with vinegar and roll it into eight long dumplings. Coat the squid slices with wasabi paste underneath. Place them on the rice balls. Press down and shape the sushi. There you have your nigiri squid!
6. Giant Squid Sushi Roll
Unlike most recipes, this one calls for large squid slices rather than little strips. This will be a large sushi roll. As a result, it's known as "Giant Squid Sushi." Larger rolls require more careful treatment.
Sushi rice, crab, and avocado are among the other ingredients. Cucumber strips can also be added. It resembles a rainbow roll in appearance. The final result has a pleasing appearance. Fish eggs on top add to the appeal.
This cuisine is made from the inside out. The nori seaweed and sushi rice must be flipped so that the nori seaweed is facing upright. Squid pieces, crab strips, and fresh avocado are all good additions. To complete the dish, drizzle it with eel sauce.
Do you also enjoy fried calamari and sushi? Then this dish is for you. You can make delicious sushi by combining the two. With a tasty tempura-fried squid inside the roll, you'll go mad.
It's as good as any sushi you've ever eaten. If frying squid doesn't make you gag, that is. Sushi rice and squid tubes are, of course, significant elements. To remove any traces of squid ink, thoroughly rinse the tubes.
Mix the ingredients in a small food processor until smooth to make the dipping sauce. This stuff is strong. So if it's too much for you, add extra water to taste.
8. Crispy Squid Sushi
This sushi roll is another inside-out version of squid sushi. The sushi rice must stick well to the nori sheets.
This recipe is also unique in that it includes asparagus. It is pretty costly, but it is nutritious. Frying the asparagus makes it crunchy. The squid is also crispy since it is fried in its oil.
You'll need fried mushrooms for the toppings. Crispy carrots can also be added. You'll surely love this roll because it's not only tasty but also nutritious.
This recipe is ideal for those who cannot tolerate spicy foods. With its varied ingredients, it appears simple yet tastes excellent.
It's simple to put together. Only five items are required. Sushi rice, mustard, cucumber, squid spears, and seaweed sheets. It will take you about 15 minutes to create two servings.
10. Ika Nigiri
Do you despise squid sushi because it reminds you of rubber bands? Here's a recipe to get you started. This recipe for squid sushi will teach you how to cut squid properly.
To make it less chewy, you'll need to know how to make minor cuts. It takes time, but it is well worth it. After all, you're craving perfectly cooked squid.
The soy sauce appears to be unique. It must be made entirely of soybeans and aged for one year. It has no added colorants or caramel. That's why the color is more red than dark or black. It is salty and mild in flavor.
This is another squid sushi that you'll love. Because you know seafood's quality and shelf life, it's best to do it yourself. Second, you can adjust the strength of the wasabi paste.
You can always make this recipe into something tasty. It's straightforward but unique. It will only take you about 15 minutes to prepare.
You have to form the cooled sushi rice into sausage-like shapes. Add some wasabi and a squid chunk to finish it off. Then, wrap a nori strip around the nigiri. That's all there is to this delicious sushi!
12. Squid Sushi
Bigfin reef squid will be used in this dish. It's also known as oval squid. This kind of squid has a sweet flavor. It's only available in high-end restaurants.
Bigfin reef squid is also a soft and nourishing fish. You can eat it softly even if you don't remove the skin. However, because it's thick, the portion where you use the knife will be finely divided. So, after removing the skin, cut the squid.
You'll need sushi rice and thin squid pieces to make this dish. The final product is entirely white. It appears basic and straightforward, yet it is pretty tasty.
This simple recipe makes a great appetizer. It's as easy to make as counting 1-2-3! The cooking time for four servings is around 30 minutes. This meal goes well with pickled ginger and Japanese soy sauce.
Sushi rice accounts for almost a third of the total ingredients. It's simple to put together. Naturally, you'll begin by shaping the sushi rice into a cylinder.
Apply wasabi paste to the top for additional garnishings. Shisho or bay leaves can be used to cover it. Finally, add the squids on top.
14. Squid Seafood Sushi
You'll be inspired to cook this sushi dish with the necessary expertise and precision. You'll learn how to clean and peel squid properly. It's not difficult to separate the head and the bone from the flesh.
This meal is prepared in a high-end restaurant. It is, however, one that is simple to follow. The outstanding knife skills will motivate you to pay attention to minor details. It may appear complicated, but the sushi you'll eat will be well worth the effort.
Do you enjoy eating squid meat? Then you'll undoubtedly enjoy this recipe. The ingredients and preparation procedures provide a tasty and appealing squid meal.
This recipe yields 16 servings. You'll need nori sheets and eight fresh squids for the primary ingredients. You'll use canned tuna and tofu, spinach, and chopped carrot in the stuffing. Can you imagine the wide range of these savory ingredients?
Even the aroma of sauteed garlic and onions will make you hungry. Furthermore, the red color of the sauce will enhance this recipe's appeal.
16. Japanese Squid Sushi
This recipe demonstrates how to clean squid properly. You'll need to divide it into three sections: the head, the body, and the legs. The lowest sections of the leg should not be included because they are bitter. You must also correctly remove the mouth and eyes.
Surprisingly, the skin peels off pretty quickly. If removing it by hand is difficult, you can use a cloth.
Cut it on both sides because the firm part of the squid's body is difficult to chew. There are also two places on the squid's body's center upper section that must be discarded. Cleaning both sides will take some time, but it will be worthwhile.
This sushi dish is simple to prepare. Sushi rice and squid bits are all you'll need, along with the sauce. Simple but delectable!
17. Japanese Squid Sushi Street Food
This recipe will teach you how to wash squid properly. To remove all squid ink, you must do this thoroughly. You'll also see how the skin may be removed while the squid's body remains intact.
It just takes around five minutes to prepare this sushi. It also appears simple because it is entirely white. Dip the sushi in soy sauce, and your taste buds will be begging for more!
18. Braided Squid Sushi
Do you believe you can't be creative when making sushi with squid? You're completely wrong! This recipe is unique but simple to prepare. Of course, it necessitates patience and competence.
If you think braiding is exclusively for hair, you'll be surprised by this recipe. Squid meat can also be braided. Don't expect to braid it the same way you would human hair.
The essential ingredients are only rice and squid. You can make a gorgeous sushi masterpiece with just a few items for the seasoning!
You'll also learn how to wash the rice for this dish properly. When cleaning and preparing rice, keep in mind that you should not stir sushi rice. Season the sushi rice with red vinegar.
18 Best Squid Sushi Recipes
If you're seeking new sushi dishes to try, there are 20 squid sushi recipes to choose from above. Squid appears to be challenging to handle.
Nevertheless, it is effortless to incorporate into sushi creation. Don't just stick to traditional sushi ingredients. Purchase some squid right now. Sushi made with squid will not disappoint.
Directions
Select your favorite recipe.
Organize all the required ingredients.
Prep a Squid Sushi Recipe in 30 minutes or less!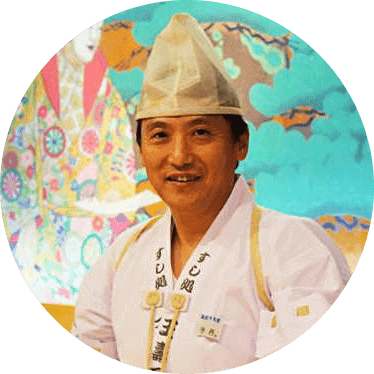 Hiroshi Nakamura, a Tokyo-born sushi chef turned US-based writer and critic, is the voice behind ichisushi.com, blending traditional sushi wisdom with modern insights.