Who does not love sushi? If you often watch anime, read manga, are fond of visiting Japanese restaurants or just admire the food and culture of Japanese, then it is not hard to love sushi.
Your searches might be full of the best sushi place in town. But what if, instead of going to a sushi place, the sushi will go to you? Yes, it is possible to have homemade sushi. However, you might find dicing, slicing, and rolling hard to get by.
Well, let us introduce sushi bowls to you. Making one does not allow you to go through the hassle of making a mess of hand-rolling sushi.
Sushi Bowl
A sushi bowl is a deconstructed sushi roll; some call this lazy sushi. You do not have to struggle making a sushi roll, but you can still enjoy the tastiness of the sushi. It contains the essential ingredients that make a sushi roll tasty, but it is assembled in a bowl.
If you are unfamiliar, a sushi bowl looks like sushi rice, topped with fruits, fish, vegetables, sesame seeds, and seaweed sheets, and dressed with mayo, salad dressing, or sauce mixture of liking.
But sushi bowls differ from the sashimi, and some have raw fish while others do not have one. It depends on the type of sushi. You will discover more about it below. But you might confuse sushi bowls with poke bowls. The poke bowl is the cousin of the sushi bowl, and it originates from Hawaii.
It tends to have more ingredients and is served with rice, vegetables, protein (fish, tofu), and dressing. If you crave for sushi bowl but do not have the right ingredients on hand, do poke bowls instead. It is customizable based on the fresh ingredients you have.
Well, sushi bowls and poke bowls sound easy to do! We have your back if you are looking for easy and budget-friendly sushi bowl recipes.
Try These 19 Sushi Bowl Recipes
Before we go on to different sushi bowl recipes, they all have one thing in common: perfectly cooked sushi rice. It may take years to master the perfect sushi rice, but having a well-prepared one for your sushi bowl is easy if you use a rice cooker.
1. California Roll Sushi Bowl
No cap, but California rolls are pretty addicting! You do not have to visit the nearest Japanese restaurant or make an effort to create a sushi roll with the best combo of fresh veggies, crab meat, avocado, and spicy mayo— you can have it deconstructed in a bowl!
This recipe introduces tobiko, daikon sprouts, and citrus zest to add more taste to the sushi bowl. You will be amazed at how this sushi bowl is arranged!
This may be unfamiliar to you, but this Teriyaki Jackfruit sushi bowl recipe is one of the best plant-based sushi bowls. The simmered unripe jackfruit in teriyaki sauce is a gamechanger. If the smothered jackfruit in BBQ sauce makes vegan pulled pork, the teriyaki makes you remember shredded chicken teriyaki.
You have to ensure that you bought the unripe jackfruit in brine; this recipe does not work on jackfruit in syrup. What does this slathered jackfruit in teriyaki sauce tastes like? It's time to give it a try.
3. Crunchy California Roll Sushi Bowl
This hits different with every bite; you will feel the crunch. The crunchy California roll is different from the regular recipe that you know. The crunch comes from the panko breadcrumbs, thinly sliced radishes, and pickled ginger.
Crunchy California Roll Sushi Bowl is best drizzled with sriracha mayo. You can add however much you want this time.
The concept of a tataki bowl is similar to sushi and poke bowl. Its only difference is how the lean meat is prepared. Tataki bowls have semi-raw or flash-cooked fish, yet this is still a Japanese style of cooking. This albacore tuna recipe needs sushi or sashimi-grade albacore tuna.
Flash-seared style of cooking makes the sides crispy while the inside remains rare. Moreover, the fish is sometimes pounded with fingers and marinade when seasoning.
You can use other sushi-grade fish if you do not have albacore available at the market.
Poke bowls are similar to sushi bowls. For your poke bowl, you can use brown, white, sushi, or microwaveable frozen rice. Let's use sushi rice in this recipe. Use quality sushi-grade salmon and top it with crunchy vegetables and tropical fruits.
This combination will make your poke bowl light, fresh, and satisfying with its different textures. A spicy, creamy dressing will highlight the fish and vegetables. To make it spicy, create a spicy mayo sauce with sriracha and greek yogurt.
6. Quinoa Salmon Poke Bowl
The Japanese and Asian influence on this poke bowl recipe is highly recognizable. Although poke bowl is a Hawaiian dish, this recipe used cubed sashimi-grade salmon and seasonings. But instead of using sushi rice, this recipe uses quinoa.
You can pick between the two variations: traditional soy sesame dressing or creamy Japanese mayo and shichimi togarashi, whether you want to keep it traditional or have the innovative creamy one. If you are doubtful about what a shichimi togarashi is, it is a red pepper mix that adds taste to the poke bowl.
It is always about the rice in traditional sushi rolls, but this time let's skip the rice and go for high-protein quinoa. Customize the sushi bowl using your desired sushi combination; this time, it is spicy tuna.
Quinoa can be dry and bland; adding kale will soften and add flavor to it. The spicy tuna, quinoa, tropical fruits, and fresh vegetables make this sushi bowl: crispy and nutty. You can serve this sushi bowl in hot or cold quinoa, whichever you prefer.
If you wish to have some spicy sushi bowl on your table today, you do not need to visit a sushi place. You can get it done at home. This tuna sushi bowl has a distinct taste because of its unique dressing.
Make the regular tuna sushi bowl and top it with avocado wasabi for its dressing. A large ripe avocado is recommended for this recipe. But if you only have smaller ones, adjust the recipe accordingly.
9. Easy Canned Tuna Sushi Bowl
You do not have the energy to prepare an impressive sushi bowl yet are still eager enough to satisfy your cravings? If you have a canned tuna in your kitchen pantry, then this is enough to save the day!
This recipe only needs your favorite canned tuna, ripe mango, and chili powder to have the full taste of the sushi bowl you have been craving for.
Tight on budget but wants to enjoy a tuna sushi bowl? You can load a bowl with a spicy tuna salad from canned tunas. Make sure to read the label that it is wild-caught. Add spiralized cucumber, avocado, and shredded cabbage on the top.
This recipe is different from the previous one; the spice came from the tuna salad. But, you can still improve the salad dressing with chili sauce to make it spicier. See? You do not need to visit a sushi place. This preparation does not cost an arm and leg.
Sushi-grade salmons are rare to find. It takes luck to bake a salmon. But, the find and effort to make this a satisfying sushi bowl is worth it. It will always hit the spot.
Top the baked salmon sushi bowl with avocados, seaweed sheets, carrots, and cucumber, and drizzle a sticky homemade sweet soy sauce to make the dish more flavorful.
12. Vegan Sushi Bowl + Smoked Tofu
Do you think you can't enjoy sushi because you are vegan? This vegan sushi bowl will help you with your cravings.
Instead of having sashimi or tuna on top, this recipe suggests smoked tofu. Smoked tofu might be new to your ears, but it is available at your local grocery store. If you are wondering what it tastes like, it has a ham-like taste.
Also, you can add a little more fun to your vegan sushi bowl by dressing it with spicy vegan mayo.
Low carb diet is a trend now. It helps people "reset" their body intake. Instead of using the regular sushi rice, you have to substitute it with seasoned cauliflower rice. The rice is topped with low carb vegetables, avocado, cooked shrimp, and sriracha mayo.
If you practice meal prepping, this sushi bowl recipe works well. You can keep them in the refrigerator for up to 3 days. However, exclude the avocado. It must be served with fresh avocado; otherwise, it will have a dark texture.
Who would have thought there is a tasty gluten-free, low carb, keto sushi bowl?
Concept and dressing influenced by Japanese cuisine, this poke bowl is a feast for the stomach.
Instead of using sushi rice, the recipe uses whole grain brown rice. In deconstructed sushi (bowl) rolls, the lean meat toppings are usually ahi tuna or sashimi-grade salmon. But in this recipe, it is cooked shrimp. Topped with Sriracha mayo to have some spice.
15. Vegan Sushi Bowl + Sticky Tofu
We had a vegan sushi bowl with smoked tofu. Let's make this one a little different. Instead of having a dried tofu topping, this recipe suggests sticky tofu. You have to make a sauce mixture, shallow fry the tofu then fully coat it with the made sauce mixture. Creating the sticky tofu may be added work, but it is worth the try!
You do not have to worry about not having a sushi bowl because you are completely vegetarian. This vegetarian sushi bowl recipe is perfect for you! You substitute protein with chickpeas and sweet potatoes.
Strong wasabi taste with a little sweetness; you can achieve this if you use a black radish. The radish will provide a strong spicy flavor, and the mango on the side will balance out this strong flavor with its sweetness.
No chickpeas this time, only sweet potatoes, but let's give it a twist. This recipe introduces ginger soy dressing to add taste to the sushi bowl.
Roast the sweet potatoes until they are tender and brown. Drizzle the ginger soy dressing to your liking. There's a bonus! You can enjoy it with a wasabi paste and pickled ginger if you want.
18. Chirashi Sushi Bowl
Scattered sushi is the literal translation for Chirashi sushi. It is a no-brainer to create this sushi bowl. You can put together anything in this sushi bowl, from vegetables to eggs to seafood toppings! It does not have to be raw.
You can add a little texture and flavor to your Chirashi Sushi bowl with ikura (salmon roe) and toasted sesame seeds. Chirashi Sushi bowl is perfect for parties or family gatherings. It accentuates the dinner table because of its colorful appearance!
Another all-vegetable sushi bowl for our vegetarian and vegan fellow. This recipe does not require any extra effort to find and prepare the ingredients. It is heavy on fresh vegetables and fruits.
Although specific vegetables are listed on the recipe, you can find other substitutes of your liking. Some love to have sliced shiitake mushrooms, sweet potato, and radish on their sushi sala. You will definitely find this recipe tasty without needing a stand-in for tuna.
You see, we want you to enjoy it. We have prepared all types of sushi bowl recipes we can find that may suit your diet. These are how you can create a delicious sushi bowl in less than 30 minutes at home.
Summary
Enjoy one at home even if you are vegan, low carb, or vegetarian! Nothing can stop us from having good sushi. Do you have a sushi bowl recipe? Share it with us!
19 Sushi Bowl Recipes You Should Try At Home
Directions
Select your favorite recipe.
Organize all the required ingredients.
Prep a Sushi Bowl Recipes in 30 minutes or less!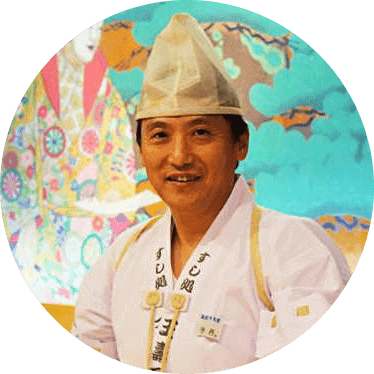 Hiroshi Nakamura, a Tokyo-born sushi chef turned US-based writer and critic, is the voice behind ichisushi.com, blending traditional sushi wisdom with modern insights.