Rice paper is a light and versatile edible material commonly used to wrap Vietnamese foods. Usually, rice paper sheets come in dried packs.
Rice paper makes ideal wrapping because it's translucent yet sturdy. Rice paper wraps always look elegant and inviting.
It's a brilliant idea to wrap sushi in rice paper. It is a combination of Vietnamese and Japanese cuisine.
The palates work harmoniously. The rice paper mellows out the distinctive tangy flavor of traditional sushi fillings.
Compared to traditional nori seaweed wraps, rice paper is easy to handle during preparation. For example, you don't need a bamboo rolling mat.
Here's a tip. If you're new to handling rice paper, start with using one sheet at a time for a better grip and easier manipulation. As you gain more experience, you can experiment with using two sheets for added sturdiness.
Enjoy the following rice paper sushi recipes!
These vegan-friendly rice paper sushi rolls would look very inviting on any serving table. They are tasty white dollops with a pop of color in the middle.
Follow this simple yet sophisticated recipe to achieve this beautiful look. You will use white sushi rice, mango, avocado, and roasted red pepper.
Wasabi traditionally accompanies sushi, so drizzle the dish with velvety wasabi mayonnaise. Sprinkle black sesame seeds for a stunning visual effect.
2. Rice Paper Sashimi Rolls
This lovely recipe forgoes sushi rice to make delicious sashimi rolls. This dish is gluten-free as it uses rice paper, which is naturally gluten-free, in place of the traditional nori seaweed used in sushi rolls.
Sashimi is Japanese for small pieces of raw fish. The dish uses slices of raw tuna, salmon, cucumber, and avocado. On top of being gluten-free, these rolls are perfect for a keto diet because they contain very few carbs.
Make delicious sushi rolls using both nori seaweed and rice paper! The key is to use seaweed snacks as part of the sushi filling.
Seaweed snacks are industrially-packaged seaweed sheets that come in small roasted pieces. You can also use large nori seaweed sheets cut into smaller pieces.
You don't have to use sushi-grade salmon or sushi-grade rice for filling. This recipe uses cooked sockeye salmon and jasmine rice.
Imagine the excellent taste of sautéed salmon glazed with authentic teriyaki sauce and sprinkled with toasted sesame seeds. Bite into these spring rolls to meet these rich flavors.
These rolls use sweet vermicelli rice noodles like traditional Vietnamese spring rolls. The cucumber, bean sprouts, and many herbs contribute to the dish's remarkable freshness.
Dip your rolls in a sauce made of crushed roasted peanuts for that classic Vietnamese touch!
These spicy delights should take less than half an hour to prepare. The perfectly thin golden crisp of the fried rice paper is simply delectable.
The sizzling combination of sriracha, soy sauce, garlic, ginger, and jalapeno makes this dish amazingly hot. It's chockfull of vegetables as well.
You can substitute canned tuna for sushi-grade salmon or tuna. You can also use tofu! Using tofu makes it vegan-friendly and vegetarian-friendly.
6. Crispy Rice Paper Sushi Rolls
In addition to rice paper, these crispy rolls use classic sushi fillings. This recipe also uses imitation crab as a substitute for sushi-grade fish.
The ingredients are affordable and accessible. In addition to rice paper and imitation crab, you will need sushi rice, cucumber, avocado, toasted sesame seeds, and roasted seaweed sheets.
After putting together your wraps, lightly sautée them in vegetable oil. The eventual crispiness is to die for!
This dish is a vegan masterpiece! It substitutes sushi-grade fish for a traditional Japanese staple, tofu.
First, pan-fry the tofu and then tenderly glaze it with a teriyaki sauce you'll make from scratch. Teriyaki sauce, yet another Japanese specialty, wonderfully complements the tofu. The fillings are diced carrots, Japanese cucumber, avocado, nori seaweed sheets, and white sesame seeds.
8. Crispy Rice Paper Seaweed Rolls (Gimmari) with Glass Noodles
Gimmari refers to popular Korean street food consisting of Korean glass noodles wrapped in nori seaweed and deep fried. Gimmari are extremely tasty and addictive!
This recipe modifies standard gimmari using a wrap of two layers: rice paper and nori seaweed. The fillings are glass noodles and carrot slices.
The firm, crispy rolls make excellent finger food. Don't forget a dipping sauce made of soy sauce, vinegar, and chili!
These spring rolls are inspired by a completely original recipe found on TikTok. This recipe uses furikake instead of vinegar to make sushi rice. Furikake is a Japanese condiment that incorporates beautiful umami flavors into the dish.
It's a kid-friendly recipe if you leave out the wasabi. Tuna and avocado make up the filling. It's an amazingly versatile recipe because the recipe developer lists tuna substitutes; you can even make it vegetarian!
10. Crispy Salmon Seaweed Rolls with Rice Paper
This simple dish will take you less than half an hour to assemble from start to finish. The recipe video is outstanding, with clear visual instructions on handling the dish's tricky parts.
For example, it shows you how to prepare your rice paper perfectly. It will also show you how to make an excellent teriyaki dipping sauce from scratch. Slices of salmon and asparagus make the filling.
Are your kids picky eaters? Worry not! They won't reject these rainbow sushi rolls. The brightly colored fillings are simply too inviting. This recipe uses food coloring powder to color the sushi rice. The colored sushi rice is visible through the translucent rice paper wrapping.
Use purple cabbage as a filling to add to the exciting color palette! The sushi rice colors are red, pink, blue, and ebony, but you can choose different food colors too.
12. Rice Paper Rolls with Sushi Rice
These rice paper rolls are like regular maki sushi rolls, except with rice paper instead of nori seaweed as the wrapping. Prepare sticky sushi rice as you would for standard sushi rolls.
Shrimp katsu filling makes every bite deliciously crispy. Cucumber and avocado filling add delectable freshness. Drizzle with Japanese mayonnaise and sriracha sauce.
You can whip up these delicious rolls in less than 30 minutes! With the combination of nori algae, black sesame seeds, and mango, this vegan dish is a brilliant, unconventional take on standard sushi rolls.
Rice paper wraps these tasty fillings. The fillings include nori algae and black sesame seeds, reminding one of traditional sushi. The filling also contains mango.
Serve the rolls with a thick, creamy avocado dipping sauce. Using avocado as both a filling and dipping sauce creates a striking harmony.
14. Fried Salmon Avocado Rice Paper Rolls
Make simple rice paper sushi rolls with a crispy twist. Fry the salmon before using it as a filling. Then sautée the rolls until they are golden brown. This recipe is great for when you can't access sushi-grade salmon.
Other fillings this recipe uses are raw sliced red peppers and avocado. Consider sautéeing the red peppers and the salmon in a stir fry for the filling.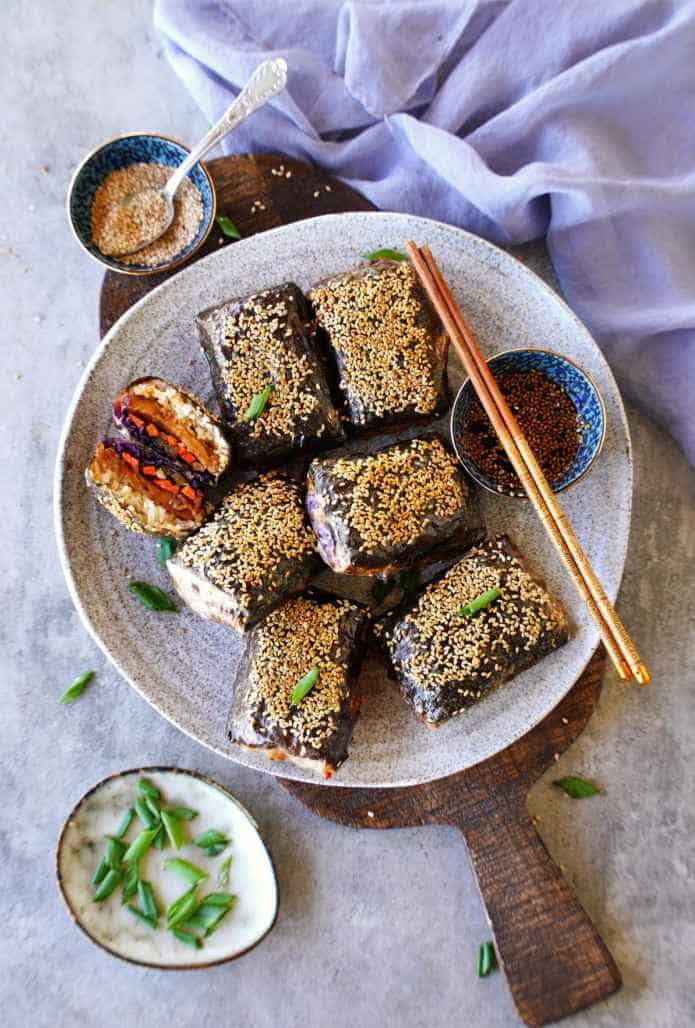 Vegetable gyoza inspires these rice paper dumplings. It's quite difficult to make gyoza, Japanese dumplings, from scratch.
Impressively, these rice paper dumplings take only 35 minutes to make from start to finish. That's because rice paper is easier to handle than dumpling flour.
These dumplings are vegan-friendly. It uses a filling made of carrot, zucchini, red cabbage, and sushi rice. Serve with a beautiful tofu glaze made with tamari, maple syrup, and lemon juice.
16. Firecracker Salmon Wrapped with Rice Paper
This super straightforward recipe will take you around 15 minutes to prepare. It's an easy delicious snack that went viral on social media.
Join millions of people who love this recipe! You will use simple and readily available ingredients.
Fry your salmon pieces. Wrap your fried pieces in rice paper with green onion, avocado, and jalapeño peppers. Fry again! Serve with a sesame soy dipping sauce.
Onigirazu refers to Japanese sushi sandwiches that look like half wraps. These vegan rainbow onigirazu are unique because of their brilliant colorful appearance.
The color comes from the filling that consists of dark green toasted nori, orange mango, muted yellow sweet potato, bright green avocado, and purple cabbage slaw.
The filling also uses organic rice sushi. Add sesame seeds and furikake seasoning for a beautiful crunchy touch.
18. Hanoi Rolls
These sushi rolls have sushi shrimp as a filling. Traditionally, the shrimp is used raw for the filling. However, you can lightly simmer the sushi shrimp in a small amount of water. Wrap the sushi shrimp in rice paper with sushi rice, mango, cucumber, green onion, cilantro, and green lettuce.
It's a fresh-tasting dish because of the fruits, vegetables, and herbs. Serve with a lovely sweet-and-sour sesame dipping sauce.
Summary
You can enjoy these rice paper sushi dishes for breakfast, lunch, dinner, or as simple snacks. There are very few rules when it comes to rice paper sushi!
Feel free to be creative as you prepare them. These rice paper sushi recipes are a start as good as any.
18 Rice Paper Sushi Recipes
Directions
Select your favorite recipe.
Organize all the required ingredients.
Prep a Rice Paper Sushi Recipe in 30 minutes or less!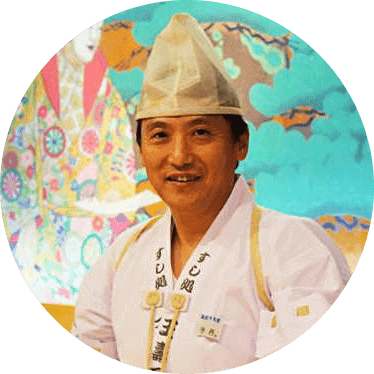 Hiroshi Nakamura, a Tokyo-born sushi chef turned US-based writer and critic, is the voice behind ichisushi.com, blending traditional sushi wisdom with modern insights.