Rice has been a primary ingredient in Japanese cuisine. One of their famous rice dishes is sushi.
To make your sushi experience more exciting, here are twenty-six crispy rice sushi recipes you can choose from. Whether you are a pro or new in sushi making, we have the perfect recipe.
This recipe from Aubrey's Kitchen is a perfect appetizer for family and friends. It blends the umami from the tuna, the creaminess of avocados, and the crunchiness of crispy rice. If you are fond of spicy tuna sushi or ahi poke, you will love this recipe.
The spicy tuna has a hint of honey, chili, and mayonnaise. It's a perfect recipe for an easy but flavorful crispy rice sushi recipe.
2. Crispy Rice Spicy Salmon by Chef Hiroyuki Terada
Renowned sushi chef Hiroyuki Terada shares another new sushi recipe. This recipe did not disappoint. If you want gourmet sushi at a low price, look no further.
The crispy rice is breaded with cornstarch and deep-fried. The spicy salmon is then topped for savory goodness in one bite. The recipe is easy to do and results in a restaurant-quality dish.
Salmon and crispy rice is a match made in heaven, and this recipe will prove it. The salmon topping is sweet and savory, mixed with spicy sauce and sriracha. The crispy rice is also packed with many flavors from the seasonings.
It's a trouble-free recipe, perfect for beginners in the kitchen. Despite its easiness, the result is a crispy and flavorful sushi bite.
4. Crispy Rice Spicy Salmon by Lookcatchu
An excellent and easy recipe for beginners, try out this spicy salmon recipe. The sushi packs a spicy kick with its sriracha and jalapeno sauce. Of course, the sushi rice is not left behind.
The sushi rice is crisp on the outside crust yet soft and chewy inside. The spicy salmon topping wraps the sushi roll together. It's a perfect contrast for those who want a savory and crispy sushi roll.
This smokey and crispy recipe from I Heart Umami is an excellent snack and appetizer. The sushi rice is crunchy, creamy, and chewy, packed in one bite. On the other hand, the smoked salmon gives the recipe a distinct flavor.
The bang-bang sauce pulls the sushi together. It's sweet, creamy, and spicy, all simultaneously. If you want an easy yet delicious meal, this recipe is perfect for you.
6. Spicy Tuna on Crispy Rice by Chef Ralph Scamardella
This easy yet gourmet recipe from Chef Ralph Scamardella is here to impress. This spicy tuna on crispy rice is not only for your taste buds but also for your eyes. The guide helps you plate and serve the crispy rice sushi to ultimate perfection.
Of course, it's not all about aesthetics. The herbs and spices of the spicy tuna truly elevate the sushi to another level.
Ahi grade tuna, crispy rice, and avocado are a match made in heaven, and this recipe is here to prove it. The blend of creaminess, crunchiness, and freshness of the ingredients is perfect for an appetizer or meal.
The recipe is straightforward; even beginners can make it trouble-free. The Fork Bite even list down different method to ensure that you have the perfect sushi for your preference.
Do you want your tuna recipe with a bit of kick? This spicy tuna on crispy rice recipe by Spoon University will not disappoint. You need four ingredients tuna, sushi rice, spicy mayo, and oil.
The savory sushi is inspired by traditional nigiri sushi. It's a great recipe if you are a big fan of spicy tuna maki rolls. You can also add sriracha and scallions to scale up the spiciness.
9. Crispy Rice Tuna Tartare Poppers Recipe by How to Make Sushi
Impress your guests with this tuna poppers recipe by How to Make sushi. The sushi is both crispy and chewy. Along with the herbs and spices, the tuna topping combines the sushi for a delicious and flavorful meal.
This recipe is excellent for novice home cooks who want to level up their plating and cooking skills. Everyone will surely love your tuna tartare poppers.
Goop's easy and quick, crispy rice sushi recipe is excellent for beginners as it's straightforward and manageable to follow. You can even customize your toppings depending on your preference.
It's perfect crispy sushi for fish and seafood lovers. The sushi rice is crisp on the outside but soft and chewable inside. With a drizzle of sot sauce, this recipe is an excellent snack.
11. Spicy Salmon with Crispy Rice by Pearl Lok
This relaxing and aesthetically pleasing tutorial will surely relax and motivate you simultaneously. Pearl Lok shares her spicy salmon with crispy rice recipes inspired by what she saw on social media. Combining crunchy and delicious rice with spicy salmon truly elevates the meal to the next level.
A spicy and flavorful punch in every bite is within this crispy rice recipe. The recipe is inspired by the spicy tuna sushi from traditional sushi restaurants. It's a great mix between the raw flavor of the tuna and the crispiness of the rice.
The sauce is flavorful and provides a spicy kick to the recipe. The recipe is easy and very quick to prepare.
13. Crispy Rice and Spicy Salmon by Sam Eats
The crispy rice recipe by Sam Eats is an excellent partner with beer or other beverages. The deep-fried golden crust of the rice heightens the dining experience like no other. The spicy salmon topping is a perfect accompaniment to the sushi rice.
If you want an easy yet gourmet recipe, this one is for you. It's a great appetizer and sushi snack for you to enjoy.
This crisp sushi recipe is perfect for those who want to try out the trend. The recipe by Santos Mijano will walk you through the different ingredients and processes for crispy sushi rice. It's fast, trouble-free, and perfect for beginners.
Since there are no exact toppings in the recipe, you can let your imagination run wild. You can use seafood, meat, and vegetables to make the perfect crispy sushi.
15. Spicy Tuna Crispy Rice by Make it Relle
Do you want a restaurant-quality dish at home? This spicy tuna crispy rice recipe got you. With just little ingredients and quick preparation, you can taste this recipe in no time.
This sushi recipe aims to pack the umami with every bite. From the rice seasoning to the unagi sauce dressing, you will indeed taste the flavors of the sushi.
Lindsey Eats presents their delicious spicy salmon crispy rice. It's teeming with the traditional salmon flavors and crispy rice. A dish is an excellent option for a snack and appetizer.
The flavors of jalapeno and scallions are also a primary part of the recipe. You will indeed taste different flavors with every bite.
17. Air Fryer Crispy Rice Spicy Tuna Recipe by Spoonstix
Air fryers have been an ongoing trend for a while now. With this recipe by Spoonstix, you can utilize your air fryer to the fullest. The rice is crispy, yet the oil used is few.
This recipe is a great way to minimize the usage of oil. The crispy rice is also faster and easier to prepare with the help of the air fryer.
Are you looking for a vegan crispy rice recipe? Well, this recipe from Brocc Your Body has your back.
The creamy avocado and fresh cucumbers are the primary toppings of this recipe. The honey and vinegar combination in the crispy rice gives the sushi a significant boost in flavors and aroma. If you are a fan of vegetables, you should try out this recipe.
19. Spicy Tuna Over Crispy Rice by Chef Donny
This crispy sushi bite recipe by Port and Fin is perfect for those looking forward to preparing new and exciting recipes. The variation of topping to choose from will suit everyone's taste. This recipe has it all, whether you like tuna, salmon, or prosciutto.
The crispy sushi bites are a great way to start a great dining experience. The assortment of flavors will tickle your appetite until you want more.
21. Spicy Tuna Crispy Rice by Chef Hiroyuki Terada
Another recipe from renowned sushi chef Hiroyuki Terada. This time he utilizes tuna for his recipe. The formula is excellent for novice home chefs that want to upgrade their skills.
It's easy yet results in gourmet crispy rice sushi. With a few ingredients and quick preparation, you can surely make this recipe in no time. It's a great steppingstone recipe for beginner sushi makers.
Are you looking for a gluten-free crispy sushi recipe? Well, you are in luck. This spicy tuna recipe from A Dash of Dolly is gluten-free.
The recipe contains ahi tuna and crunchy rice. The seafood flavors are oozing in this recipe. It's elevated by the spicy sauce, jalapenos, and squeeze of lemon. If you are looking for a delicious gluten-free recipeto try out, this one is perfect for you.
23. Crispy California Roll by Fusion Food Chanel
This crispy California roll recipe brings the California roll to another level. The rice is crisped with tempura batter. The stark contrast between the rice and creamy imitation crab filling is a perfect combo for a great meal.
We could not recommend this recipe enough. If you want to level up your California roll, this dish is a great way to start. It's easy and quick to prepare.
This recipe from Izzy Cooking is crunchy and crisp inside and out. The shrimp tempura is coated with crispy batter mixed with avocado and cucumber slices. Then, the whole sushi roll is coated with tempura batter and deep-fried.
If you are a fan of crunchy rice and shrimp tempura this recipe is excellent. However, it's recommended to use healthier oil substitutes such as olive and avocado oil.
This crunchy sushi roll by Chef Jar is crisp inside and out. The roll contains shrimp tempura, avocado, and cucumber slices. Then, the sushi rice is made crunchy with panko breadcrumbs.
The roll is excellent for a large serving as it can be sliced into many pieces. The recipe is also easy to follow and prepare. Try this one out if you want an easy and crunchy sushi recipe.
25 Best Crispy Rice Sushi Recipes
Sushi has seen many innovations in the past. It's about time the rice is made into something new. We hope this list of twenty-six different crispy rice sushi recipes helps you find the perfect one for you.
Directions
Select your favorite recipe.
Organize all the required ingredients.
Prep a Crispy Rice Sushi Recipe in 30 minutes or less!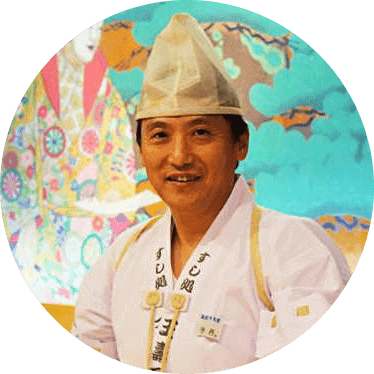 Hiroshi Nakamura, a Tokyo-born sushi chef turned US-based writer and critic, is the voice behind ichisushi.com, blending traditional sushi wisdom with modern insights.