Korean sushi – also called kimbap, or gimbap – looks a little bit like its Japanese cousin, but there are three major differences between these two Asian snack foods.
Japanese sushi is filled with raw fish, while Korean sushi (Kimbap) is filled with cooked ingredients, like a fried egg, barbecue bulgogi beef, or ham.
The rice in Japanese sushi is seasoned with rice vinegar, while

Korean sushi recipes

call for the rice to be seasoned with just a bit of sesame oil.
Japanese sushi is served with wasabi paste and pickled ginger, while Korean kimbap is served with kimchi and spicy radish paste.
Kimbap is generally sweeter than sushi, is served in smaller pieces (truly bite-sized), uses more leafy greens, and may use brown or black rice rather than the standard white rice. Like sushi, Kimbap can be made at home easily.
Here are some of the best Korean sushi recipes out there:
This excellent and simple variation on "Yachae Kimbap" or vegetable-based Korean sushi includes some of the classic ingredients like Korean ham and imitation crab, but you can make a vegetarian or vegan version by substituting the meat for tofu.
The great thing about this recipe is that vegetables are center-stage, with fresh spinach and carrot coming through just as clearly in each bite as the savory ham.
This recipe also calls for yellow radish pickle (danmuji) a classic ingredient for kimbap which you can get from any local Asian or Korean food store. This one unique flavor makes the kimbap.
Tuna Gimbap from Chef Julie Yoon
Tuna kimbap is a mouth-watering variety that is nothing like the tuna maki that the Japanese serve. The tuna in Korean sushi is cooked and flaked, rather than raw like in Japanese sushi. In this recipe, tuna is the main ingredient
Julie Yoon fell in love with kimbap while visiting Korea and this represents her take on the traditional dish, rather than an authentic recreation. She describes her tuna kimbap as having some of the best flavors in a tuna fish sandwich, only experienced in a new way.
This recipe from Serious Eats is a very traditional one, using some of the most classic kimbap ingredients. The filling features braised burdock root, Korean ham, imitation crab, egg, carrot, cucumber, danmuji, and Korean odeng fishcakes.
Unlike Japanese sushi, the filling for kimbap is cooked, so this recipe includes instructions for gently pan-frying the fillings to soften them to the perfect texture for kimbap.
If you want a classic kimbap that includes it all, this recipe from Serious Eats will help prepare each part and assemble a Korean kimbap roll that would fit in in a bunsik in Seoul.
How to make gimbap (aka kimbap: 김밥)
This demonstration guides you through the steps to make simple kimbap, with fillings including cooked spinach, bulgogi beef, danmuji, and egg.
If you want to see how a traditional kimbap is made, preparing each of the fillings and then assembling it all yourself, this video will show you how.
Maangchi is a great cook who knows her kimbap, and her website includes the recipe and instructions that are written out, in case that is easier to follow than the video.
Korean-American mother of two, Hyosun, offers this nostalgic Kimbap recipe from her childhood with traditional ingredients, including thinly-sliced bulgogi beef and Korean fish cake.
The photos are helpful and there are some extra tips and suggestions here that could take your kimbap to the next level.
For example, if you have some leftover kimbap (it is best eaten on the day it is prepared) you can give it a whole new life by dipping it in egg batter and pan-frying it!
Delicious Triangle Kimbap Recipe
This variation on kimbap is even more convenient than the picnic-friendly original. These folded pouches of kim (seaweed, also called nori in Japanese) are filled with kimbap ingredients and can be eaten on the go. Traditionally, a triangle kimbap is filled with a single filling.
However, you can easily fill it with rice and other ingredients too. In this video from Angie's Kitchen, Angie demonstrates a particularly delicious-looking recipe for triangle kimbap filled with gochujang beef and served with tuna mayo.
This family recipe from home chef Holly at BeyondKimchee.com is a detailed and comprehensive guide to making a kimbap with a little bit of everything in it – including some special ingredients that are authentic for kimbap but less common in quick recipes, especially in the west.
Holly uses perilla leaves, Asian chives, watercress, and lettuce, in addition to cucumber pickles and jalapeno pickles. These fresh ingredients give this kimbap a green, fresh taste with subtle veggie flavors that come through in the rice and seaweed.
Holly also has some fun ideas for kimbap filling for meat-eaters – including a recipe for spicy shredded squid that is perfect for kimbap.
Another important detail about this recipe is that it uses a different style of rice that is still authentic, but less common.
Holly doesn't love the strong flavor of sesame oil in most kimbap, so instead, she uses Korean plum extract (mashil chung). According to Holly, everyone says her mother's recipe with plum extract is the best kimbap!
How To Make Gimbap with Momofuku's Eunjo Park
"I see kimbap almost like a blank canvas and you can definitely use any kind of filling you want. What is stopping us from putting anything in the kimbap is ourselves" – Executive chef at Momofuku, Eunjo Park.
In this video by an expert, Eunjo Park, she demonstrates the key steps in making both a vegetable and a salmon kimbap, sharing some helpful hints to get each step just right. The key to delicious kimbap is in the details.
These two recipes are worth the master teaching them – although they seem basic, they include some exceptional ingredients that present a twist on the standard versions.
Park's vegetarian kimbap included danmuji and pan-roasted pea shoots, while her marinated salmon kimbap is served with a spicy horseradish sauce.
This variety of kimbap is popular at bunsik (fast food) restaurants and features breaded, deep-fried shrimp as the main ingredient. Biting into a shrimp kimbap, you can immediately taste the crunchy breading and the savory sweetness of the shrimp meat.
According to Futuredish, a common mistake is to try to pack too much protein into kimbap, and not even leafy greens and vegetables, resulting in a heavy kimbap that is off-balance.
This recipe calls for regular-sized shrimp (not tiger shrimp or prawns) and doesn't include any other protein like ham, egg, or beef. This kimbap do taste like fast food. Pair a roll of this kimbap with a bowl of homemade Korean ramen for the ideal bunsik experience.
This variation of kimbap uses a kind of flat, fried omelet and the normal kim paper to enclose the kimbap.
The kimbap ingredients are prepared individually and assembled in the normal way, by using a mat to roll the kimbap the same way you would sushi. Afterward, a newly-fried, flat omelet is wrapped around the roll so that it can be cut and served together.
This kimbap is delicious and great for breakfast. It is best served hot, with the roll going right into the pan with the egg, so it is not ideal as fast food or picnic treats.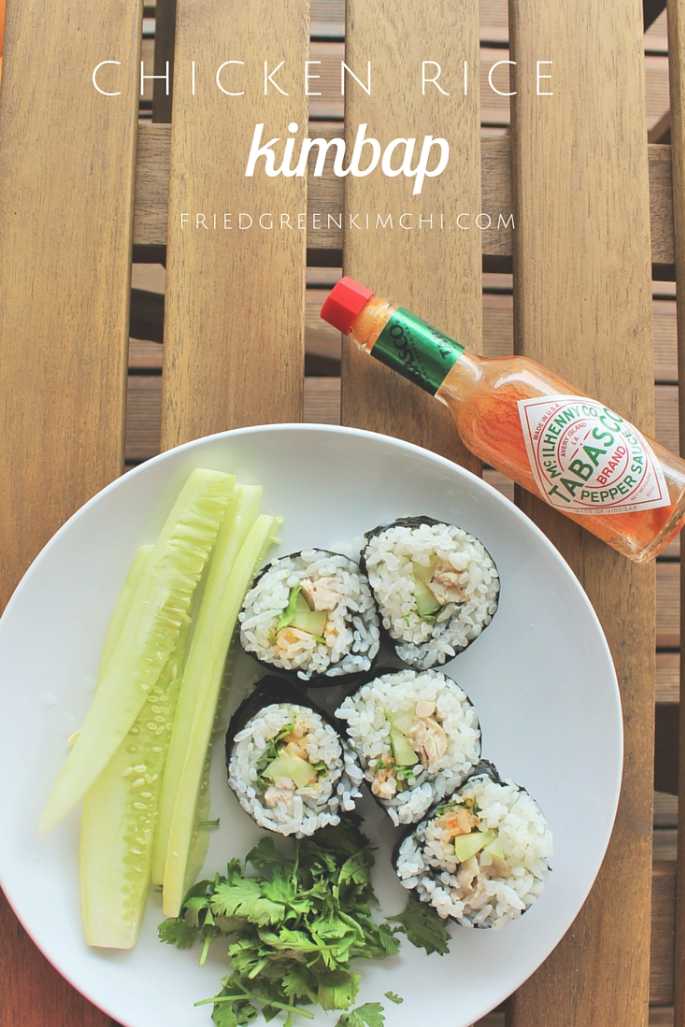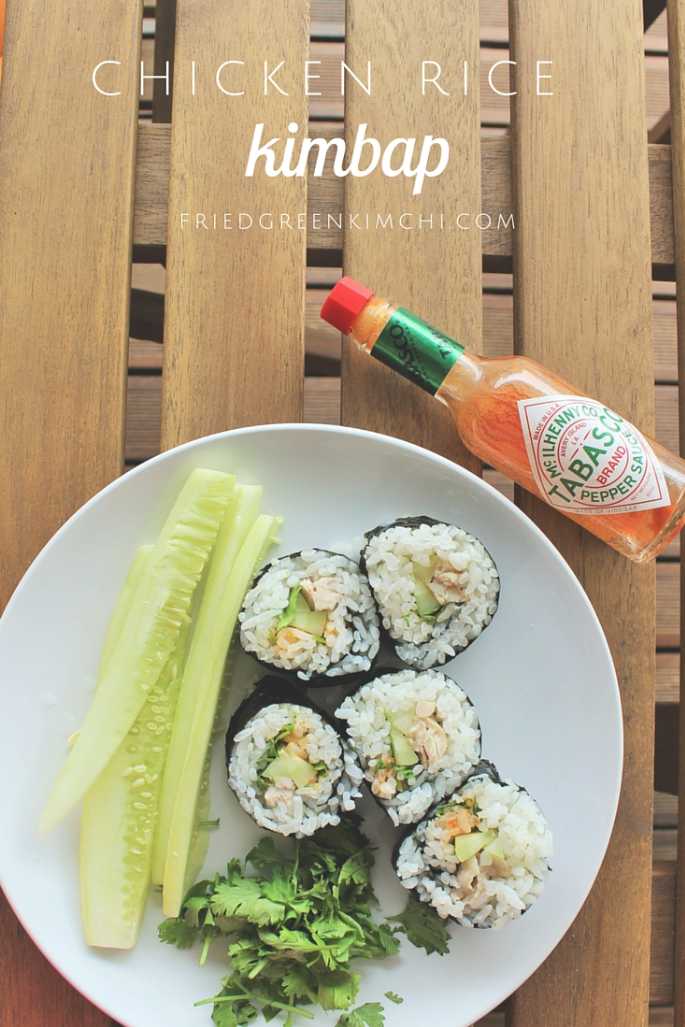 This kimbap represents a fusion of Korean and Singaporean cuisines. "Chicken rice" is local street food in Singapore. It's literally chicken and rice, but the spices and the wholesome quality make it a favorite convenience food for Singaporeans.
This kimbap uses classic Singaporean chicken rice as its main ingredient, braised with garlic, ginger, and scallions. The chicken itself is so good that you'll have to restrain yourself from eating it all before you make kimbap with it! It is soft and flavorful.
There is something beautiful about mixing the beloved convenience foods of Korea and Singapore, and the result is so good you have to try it at home.
Simple Egg Kimbap Recipe
This recipe makes egg the main ingredient. Egg kimbap is very popular, and in this variety, carrots, spinach, and danmuji complement the scrambled egg filling for a treat that could be served for breakfast.
The demonstration shows you how to prepare each ingredient, season the rice, and assemble everything yourself. If you have kim paper, rice, and sesame oil, chances are you have everything else you need to make this recipe.
This cheese kimbap also uses kimchi fried rice as a base, rather than the traditional sesame flavored rice. Sliced mozzarella cheese is the sole featured ingredient.
If you prepare the rice and put it on the kim paper hot, the cheese will naturally melt as you roll it so that when you cut the roll each piece will have gooey cheese in the middle.
If you happen to be saving them in the refrigerator or eating them later on, it's easy to pop them in the microwave under some plastic wrap for 30 to 60 seconds to help them regain their gooeyness.
Kimbap Recipe
Kimbap was host Seonkyoung Longest's favorite food growing up, and she associates it with her childhood, as many Korean people do. Kimbap is the go-to food for picnics in Korea, and it is the perfect food for a family adventure.
In this video, she shows you her best secrets for preparing authentic Korean kimbap the way she remembers. Her recipe includes seasoned bulgogi beef and egg.
Longest wants to remind everyone that there are no rules in kimbap! You can add anything you like. She uses traditional ingredients but encourages anyone to experiment and see what is possible.
Easy Kimchi Kimbap
It wouldn't be Korean sushi without kimchi. Many kimbap recipes are served with a side of kimchi, but this variety makes kimchi the main ingredient and puts it right inside the kimbap.
In this video demonstration, you can see how kimchi kimbap is put together and served. If you want to try it, you probably already have kimchi available, but you can make your own kimchi at home for a completely authentic experience.
10 New Ways to Enjoy Kimbap
In this video, 10 different recipes are covering a range of different kimbap – from Yachae kimbap (vegetable Korean sushi) to triangle kimbap to kimbap that is stuffed with kimchi.
You might be familiar with these varieties if you're already a fan of kimbap, but there is probably at least one recipe here that will inspire you.
There is not a huge amount of detail to each recipe, but the ingredients and techniques are all demonstrated so that if you see something you like, you can recreate it yourself.
16 Best Korean Sushi Recipes
Try these Korean sushi recipes out for yourself and remember – there are no rules and no limits when it comes to what you can put inside kimbap. Once you master these recipes, get creative and fill your kimbap with whatever you like!
Directions
Select your favorite recipe.
Organize all the required ingredients.
Prep a Korean Sushi Recipe in 20 minutes or less!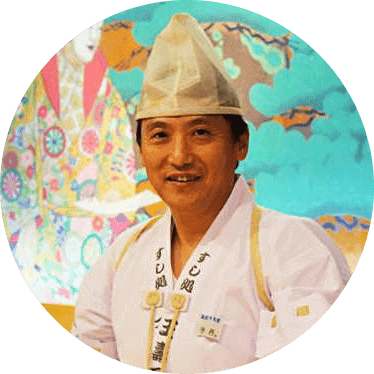 Hiroshi Nakamura, a Tokyo-born sushi chef turned US-based writer and critic, is the voice behind ichisushi.com, blending traditional sushi wisdom with modern insights.