If you're into high protein diets or just want some delicious and satisfying low-carb dinners, this keto sushi collection has you covered. It includes recipes to satisfy cravings and make your family and friends rave about keto sushi.
One thing's for sure, you'll never run out of tasty options.
Take a look at what we've got and explore a whole new level of tasty and nutritious keto recipes. Your taste buds will dig it. And you can spice things up with low-carb ingredients like cucumber, avocado, and even cauliflower rice to create culinary magic.
Try this recipe if you want sushi but keen to keep it low on carbs. It's got all the awesome flavors of regular sushi but with a light and fresh twist.
And get this: you don't even need a sushi mat. What's more, you'll love how easy it is to customize. You can fill it with whatever toppings you dig and make it yours.
2. The best keto sushi recipe
This video brings to you two popular low-carb keto sushi recipes. There's one with cooked cauliflower rice and the other raw. You'll see how professional chefs turn cauliflower into rice using a food processor.
Grab a bamboo roller and let the magic begin. Throw in softened cream cheese, smoked salmon, cauliflower, and soy sauce or coconut aminos.
4. Keto sushi with sriracha sauce
If you want something delicious, you won't go wrong with this recipe. You can mix cauliflower rice, tuna, mayo, avocado, cucumber, and sesame seeds. What makes it special is the sriracha sauce.
This recipe swaps regular rice for cauliflower seasoned with vinegar. And it tastes just as delicious as the real deal.
The best part is that you can easily make it your own by adding your favorite fillings and toppings. Grating up some fresh cauliflower gives it that extra oomph.
6. Keto appetizer recipe with wasabi cream sauce
This keto-style California roll comes with something that gives it a bit of a tangy taste. Wasabi cream sauce adds that thing. There's also canned crab meat with zero carbs to enjoy. On top of that, you can add in sriracha sauce for a spicy taste.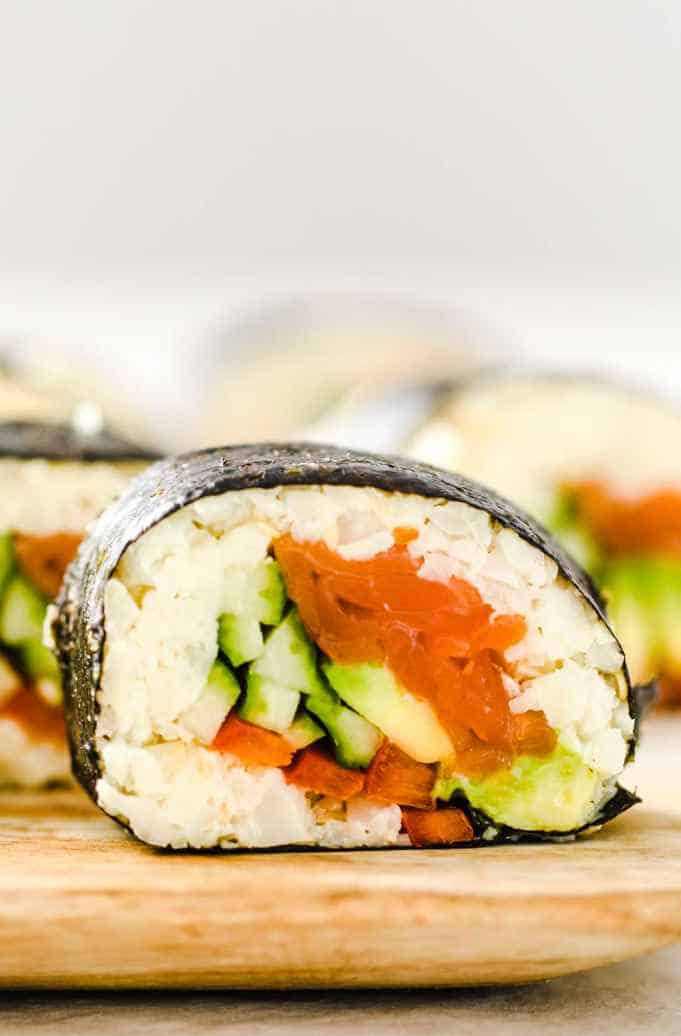 With this recipe, the flavors are totally on point. You get that yummy mix of rice, fish, and veggies, but without all those carbs. The cauliflower rice is super light and fluffy, and it soaks up all the flavors from the filling.
All you need is a sushi rolling mat, some nori sheets, and whatever fillings you love. Also, pack up on fresh salmon, avocado, and cucumber. Just roll it all together, cut it into bite-sized bits, and voila. You've got a gorgeous plate of keto sushi.
8. Low-carb keto sushi with furikake seasonings
Keto sushi has never been this delicious and easier to make. You can be good to go with cauliflower rice, Persian cucumbers, green onion, pickled ginger, avocado, and salmon.
Also, throw in furikake seasonings, sesame seeds, seaweed, and spicy mayo. In any way, that's what Keto-style treats are all about.
Forget sushi rice, you can switch it up with thin cucumber slices and cauliflower rice. And you can't have a California roll without the star ingredient – fresh avocado.
This recipe does wonders by whipping up sushi bursting with flavor. You can enjoy this while sticking to your low-carb lifestyle.
10. Spicy tuna sushi – keto budget recipe
With this recipe, it has never been easier to make sushi look and taste so good. And get this, you don't have to worry about spending too much. This one is easy and good for your pocket.
Here's a yummy sushi recipe that's keto-friendly. The good thing is that you still get all the goodness.
On top of that, you'll learn what to do if the wrapper doesn't seal. Putting a bit of avocado on the edge should do the trick. Give it a shot and see how it turns out.
12. How to make keto nori sushi rolls
There's no denying that nori rolls are easy to make. The trick lies in picking the best ingredients and doing what the experts do. With this one, you mix vegan mayo, cauliflower rice, salt, and rice vinegar. That way, you get a flavorsome sushi rice.
This sushi recipe comes with a secret ingredient. You won't guess what it is – it's the number 18. To make these rolls pop, you'll need 18 shrimp pieces, red pepper, and avocado.
Just make sure they're all roughly the same size, so your rolls look super fancy. And there's more. You'll also need 18 cucumber strips. One huge seedless cucumber, sliced in half, should do the job.
14. Making keto sushi using Orzo Pasta as rice
Get your groove on with this recipe; it shows you how to make delicious keto sushi using Orzo Pasta. You also learn how you to cut and roll sushi. Fillings used for this one include chicken, avocado, salmon, and cucumber.
Get ready to have your taste buds blown away. Simply throw in sesame seeds, scallions, cucumber, red bell peppers, avocado, laver (nori), and cauliflower rice.
It's a flavor explosion you don't want to pass up. The sesame seeds are what give this recipe a whole new level of nutty and toasty flavor. And the scallions go well with everything else.
16. Bacon-wrapped keto sushi
This recipe is undoubtedly big on flavor, thanks to the good things that bacon brings. It does some bit of magic when you add cream cheese, carrots, avocado, and courgettes. You can go for zucchini too.
Here's another really yummy recipe for you. Picture this: crunchy cucumber, radishes, red onion, and mayo all coming together in a delicious combo.
And wait, it gets even better. Add in some Tuong Ot sriracha sauce for an extra kick and a squeeze of lime juice to make those flavors pop. Canned salmon brings in some healthy omega-3 goodness.
18. Best keto casserole
Make delicious keto sushi using real crab. On top of that, you throw in cream cheese, furikake, cauliflower, and cucumbers. Your sauce options include unagi and tamari for that appetizing zing.
This tasty recipe to does wonders to your sushi turning into a casserole. It's a fantastic way to enjoy all those sushi flavors without the hassle of rolling it up.
And the best part? Just pop some frozen cauliflower rice in the microwave, steam it, and you're good to go.
20. Fake rice sushi recipe (no dairy products)
If you want good keto sushi without any dairy, this one is for you. So, how do you do this? Simply swap cottage cheese for cauliflower. On the other hand, you can hold the roll together using cold water.
This mouth-watering keto sushi recipe gets its zing from only five ingredients. The best part? No rice required. Instead, it's packed with other tasty and healthy ingredients.
Avocado, for example, adds a creamy texture and is full of good fats. Plus, the sushi rolls get an extra crunch and flavor boost from red bell pepper.
22. Spicy keto sushi
Here's your chance to learn how to prepare spicy keto sushi the right way. What you do with the cauliflower and the spice or sauce you use makes a big difference. So, do exactly what the recipe says and the sushi will turn out just right.
These rolls are perfect for quick and effortless lunches. You can stash the smoked salmon in the fridge for a whole week once you've opened it.
And the best part? You don't even need to bother cooking or preparing anything. It couldn't get any simpler than this.
24. Making sushi rolls with Konjac noodles
Konjac noodles are a good pick if you want to skip rice. In this recipe, you mix them with cream cheese and vinegar for a mouth-watering taste. Also, you use cucumber, crab stick, and avocado to make the rolls.
This sushi roll recipe is super fast and effortless to whip up. And get this, you only need five ingredients and five minutes to make them.
There's no rice (cauliflower or regular), keeping it nice and easy, but insanely tasty. You can spice things up with pickled ginger, tamari sauce (or coconut aminos), and wasabi paste.
26. Summer rolls with homemade peanut sauce
If you ever wanted to make sushi rolls with homemade peanut sauce, then you're in luck. This recipe includes shrimp, shirataki noodles, cilantro, cucumber, mint, lettuce, and purple cabbage.
Summary
It's no secret that the best keto sushi recipes have quality ingredients. To do a good job making them, follow what the creators did. That way, what you come up with is sure to taste delicious and tantalize your friends and family.
There's no need to be a sushi master to create these keto-friendly treats. Just grab some nori sheets, cauliflower rice, and your preferred fillings. Then roll it up, slice it into bite-sized treats, and boom. You've got a guilt-free sushi feast right in front of you.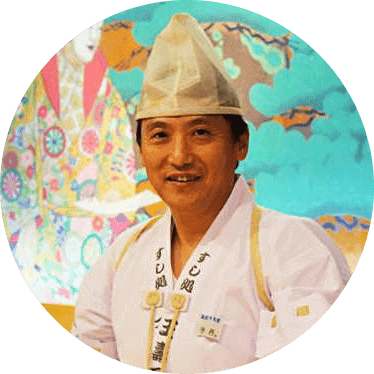 Hiroshi Nakamura, a Tokyo-born sushi chef turned US-based writer and critic, is the voice behind ichisushi.com, blending traditional sushi wisdom with modern insights.