Are you up for sushi today? Why not make your sushi at home? Luckily, making homemade California Rolls is simple. You don't need special ingredients and supplies to achieve a deliciously lip-smacking roll! Here are 24 California Roll Sushi Recipes for you.
California Roll is a type of sushi that would make you crave sushi's crunchy cucumbers, creamy avocado, umami crab sticks, and tasty nori. California Roll is perfect for those who aren't keen on eating sushi with raw fish.
A pack of 10 California Rolls has 328 calories in total, with 1.2 grams of fat, 63.1 grams of carbohydrates, and 13.8 grams of protein. The percentage breakdown of this is 3% fat, 17% protein, and 79% carbohydrates.
So are you currently craving California Rolls? Let's not make this even longer – We've gathered the easiest recipes that will surprise your mouth with the powerful flavors of California Roll Sushi. Let's begin the sushi party!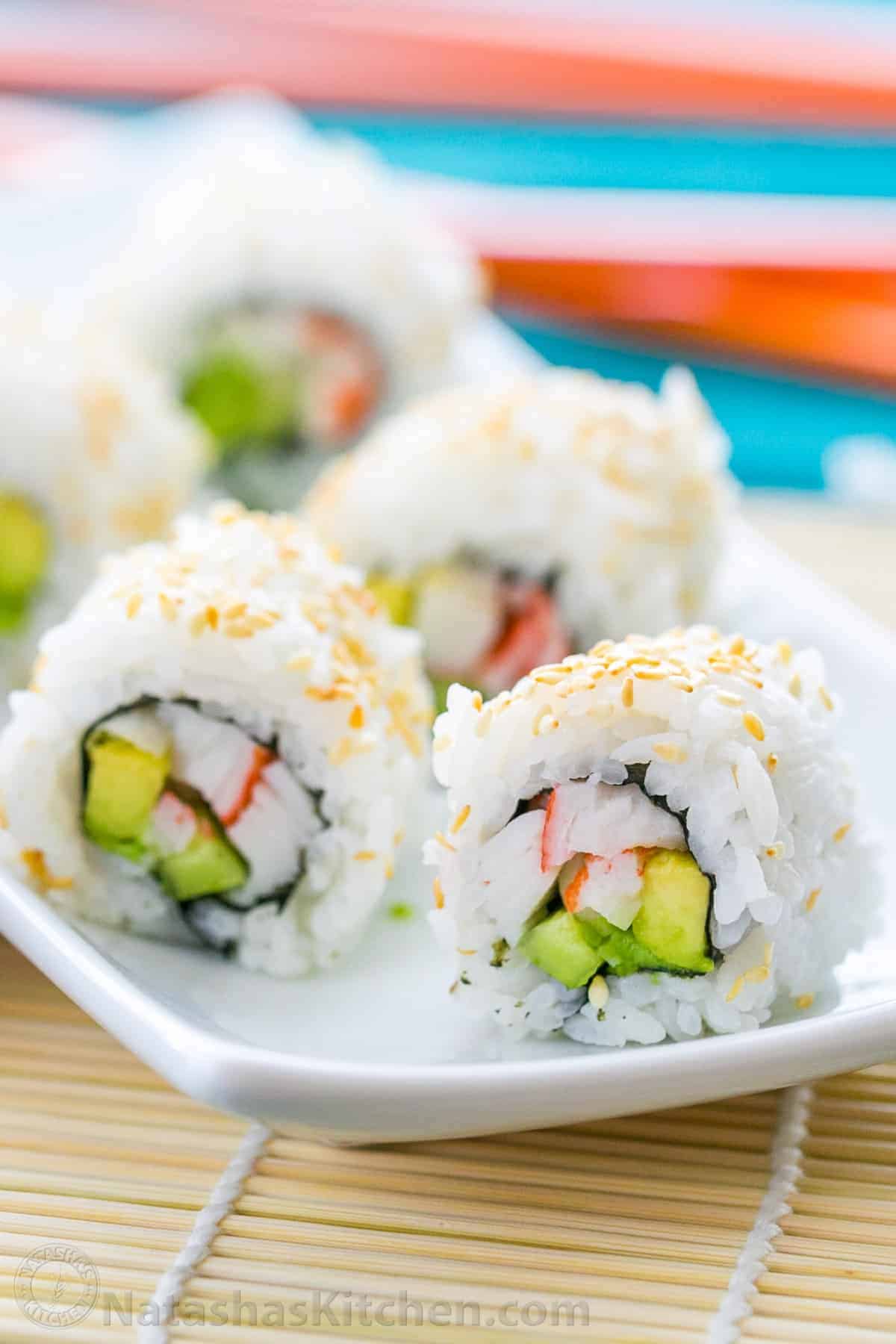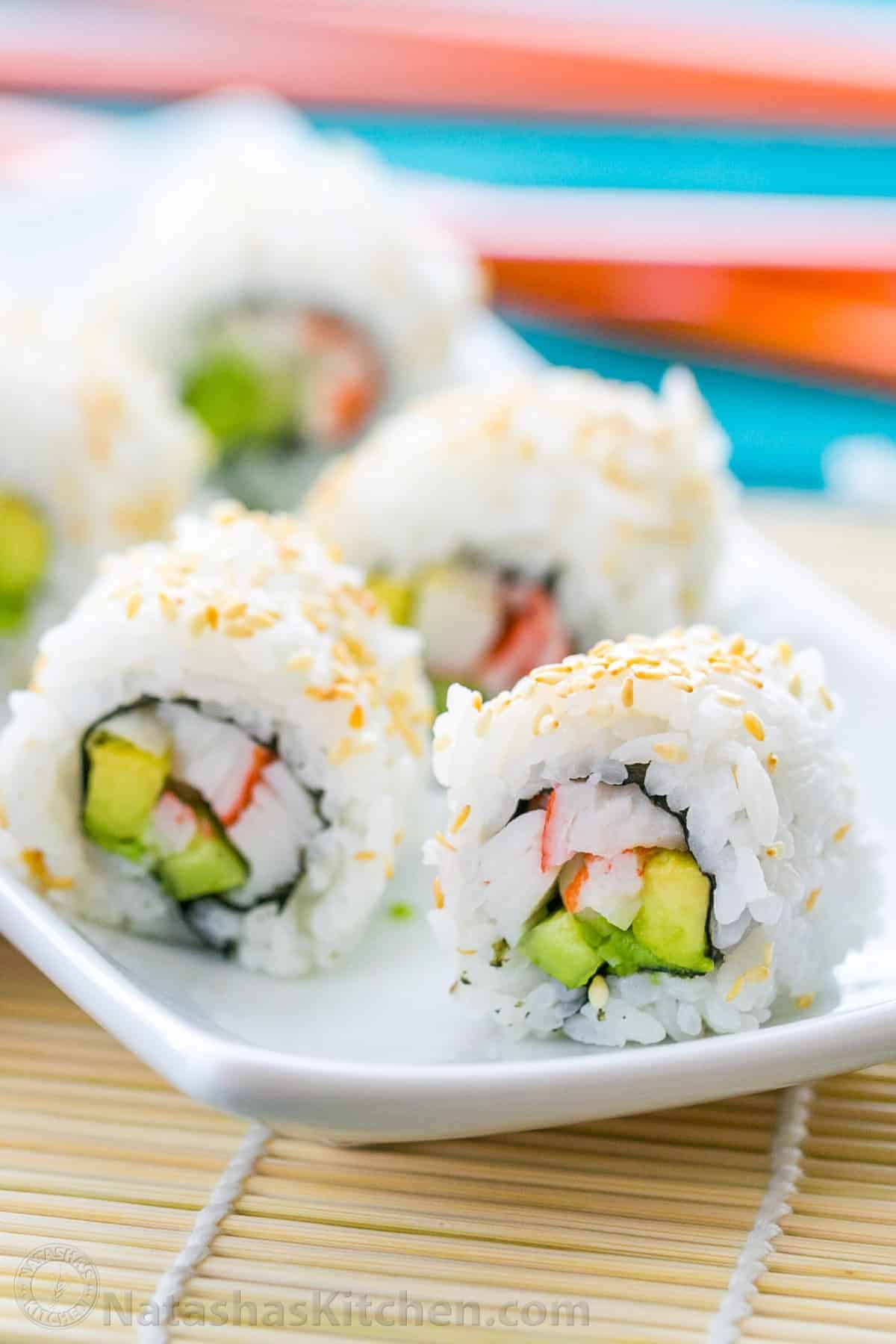 Sushi lovers who aren't brave sushi goers will love Natasha Kitchen's Sushi Rice and California Rolls recipe. This recipe uses Japanese short or medium-grain rice, and spicy mayo topping dipped in wasabi or soy sauce.
Natasha's Kitchen also says having a rice maker for your sushi rice will make things easier. No salt is required for this recipe!
2. YUMMY's California Maki Recipe
What else will complete a California Roll? Mangoes, of course! YUMMY's California Maki Recipe uses fresh mangoes, cucumber sticks, and imitation crab as fillings.
This recipe by YUMMY is straightforward, and you can quickly prepare your roll without any hassle! First, you need to find the ingredients and follow YUMMY's sushi tips and tricks.
94% of people say they'll make this California Roll recipe by Tasty. This recipe makes four servings of delicious California Rolls. This quick and easy California roll sushi recipe is insanely good, and you'll probably be craving more rolls. If you're looking for a quick recipe for lunch or dinner, this tasty snack recipe might be your best pick!
4. DIY Sushi California Rolls Recipe by Its Judy Time
One of the best California Roll Sushi Recipes is It's Judy Time's DIY Sushi California Rolls recipe.
This recipe uses an affordable sushi-making kit online, but you can also buy yours from your local grocery stores and Asian markets. This recipe by Judy will also teach you how to cut sushi, so you don't ruin your favorite snack.
Allrecipes' California Roll sushi yields eight servings. What's good is you can adjust the original recipe to the number of servings you want to make on the Allrecipes website.
So, whether you're having a family dinner or a large gathering, you're sure to serve the right amount of California Rolls. The total calorie content of the California Rolls Sushi by Allrecipes is 232 calories.
6. Howcast's California Roll Sushi Lessons
If you're just getting into sushi, you should try making California Rolls by following Howcast's California Roll Sushi Lessons. This recipe is straightforward to follow. It will teach you everything you need to know, starting from the basics, like evenly cutting your cucumbers and avocados.
The techniques and tips you can get from this video are helpful. Don't forget any of them to make the best California Roll!
This recipe by Pressure Cook Recipes' Amy and Jacky brings sweet-umami California Rolls. This easy recipe is a treat to make! Cooking this recipe is a fun experience, especially if you are a beginner in the kitchen. So don't be afraid to try out this simply creative recipe by Amy and Jacky.
Amy + Jacky's California Roll uses mayo crab with tasty avocado and crunchy cucumber wrapped with dried seaweed. Eating these rolls will be a delight with its seasoned rice and toasted sesame seeds.
8. Best California Roll Recipe by No Recipes
No Recipes created a simple California Roll Recipe. This recipe will walk you through every step important to making the best California Sushi Rolls. It will tackle everything you need to know, such as how to make sushi rice, prepare sushi fillings, perfectly roll sushi, and properly slice sushi.
This helpful guide will teach you to cook sushi like a pro! If you don't like imitation crab, this recipe by No Recipes uses real crab for the maki. In this video, you'll also learn how to pick the best fillings like avocado and nori.
You'll love making this California Roll Recipe by Food Network if you're a new sushi fan. This recipe makes flavorful, delicious sushi rolls that yield six servings. Preparing this recipe would take only about 50 minutes.
To cook this recipe, you need about 25 minutes. A total of 1 hour and 15 minutes is the time you'll need to make this recipe. Well, that time will surely be worth it after tasting your yummy California Sushi Rolls!
10. Spicy California Maki Recipe by Yummy
Raise your hand if you like Spicy California Maki. This recipe by YUMMY is a delight to spicy food lovers!
YUMMY's Spicy California Maki recipe twists the original California Roll with spicy crabsticks and mayo toppings. You will also learn how to prepare a nice sushi mat and how to roll sushi like a sushi pro in this video.
Just One Cookbook has a California Rolls recipe for you, filled with tasty avocado, sweet crab meat, and refreshing cucumber. This recipe will teach you, step by step, how to cook the delicious homemade sushi roll.
Just One Cookbook also narrates how you can do the perfect sushi rolling technique. There are only five key ingredients to this recipe, so why not try?
Chef Arnold's Easy California Maki Rolls Recipe is a simple recipe with ingredients you can buy anywhere. You need sushi rice, cucumber, lettuce, mayonnaise, crab sticks, nori, and a bamboo mat. This recipe also adds a bit of a surprise to your regular maki: riped mangoes!
In this video, Chef Arnold made everything easy for you, with tips for preparing the best sushi rice to the perfect sushi rolling technique. This video indeed has everything laid out for you.
Another one of the best California Roll sushi recipes is by Taste. This California Rolls recipe will only take 45 minutes of your time for preparation and 25 minutes for cooking. This recipe makes ten servings with 339 calories per serve.
Making California Rolls is not as difficult as you think. With Taste's California Rolls recipe, you'll surely make the tastiest and yummiest California Rolls!
14. 3-way California Rolls Recipe by AngelaMinjiKim
Triple the fun with AngelaMinjiKim's 3-way California Rolls. This recipe uses seasoned rice vinegar, white rice, flaked-style imitation crab meat, cucumbers, and avocado.
This recipe also requires sesame seeds, nori, and mayonnaise. And if you like to spice up the roll, you can make spicy mayo by mixing mayonnaise and sriracha sauce.
Are you making California Sushi Rolls for a sushi party? Try Taste of Home's California Sushi Rolls recipe. This recipe makes 64 pieces of California Sushi Rolls, and the total time for preparation is an hour.
Comparable to store-bought or restaurant meals, Taste of Home's recipe tastes good! It is also one of the easiest California Roll sushi recipes out there.
16. A Japanese Sushi Chef's California Rolls Recipe
Are you looking for delectable sushi that will make you go "Oh my"? Read and try Oh My Food Recipes' Homemade California Roll Recipe. Ohmy Foodrecipes' Homemade California Roll recipe yields tasty sushi rolls you'd want to eat all day! This recipe will guide you to quickly make the delight with guide photos and a video.
If you also love other Japanese food, Ohmy Foodrecipes has a lot on its website for you!
18. How to Make California Rolls by Sushi N Fish
We can't stress how making sushi is easy. Here's Sushi N Fish's California Rolls recipe, an easy sushi recipe you can try. This recipe only requires six ingredients you probably already have at home. These ingredients are sushi rice, seaweed, avocado, cucumber, mayonnaise, sesame oil, and crab mix.
Even great is that you only need three tools for this recipe: a knife, a bowl, and a spoon! And just like that, you'll be able to create delicious California Rolls whenever you're craving.
Did you say you're obsessed with sushi? Well, it's time to try Hungry Huy's California Roll recipe. Hungry Huy's recipe is one of the best California Roll sushi recipes out there, with crunchy cucumbers and tasty avocado rolled in seaweed with deliciously seasoned sushi rice.
This recipe bags a lot of tips and tricks for you to make the most delectable rolls!
Making sushi is always quick and easy. Learning it is plain and simple, too! This recipe by iCookUtry proves that making delicious California Rolls is quick to learn. Even kitchen newbies will love to try this out.
And in no time, they'll be making yummy and unmatched sushi whenever, wherever! Indeed, sushi can be anyone's favorite because it's fun to make and delicious to taste.
Simple. Straightforward. Easy. Somewhat Simple's California Roll Sushi Recipe is your key to cool and tasty sushi. This recipe uses accessible supplies and ingredients, all of which you can buy from your nearby stores.
One of the best things about making sushi is that it's quick, easy, and inexpensive. As you see, you don't have to spend lots of bucks to achieve the best California Roll that matches that of a restaurant.
22. Secrets of Sushi's California Roll Recipe (Updated!)
Every sushi lover is curious about the process of rolling sushi ideally. But don't fret. Don't be intimidated because Secrets of Sushi is here to help you out! This recipe by Secrets of Sushi teaches you to prepare and cook delicious California Rolls and gives you tips on how you can roll sushi the best way.
If you want to learn from the expert, you should definitely look into this recipe by Secrets of Sushi.
Are you just getting into sushi? Here's an easy and simple California Roll recipe for you: Delish's Best California Roll Recipe. This recipe does not use any raw fish. You need imitation crab, which is a California Roll staple.
You'll also be needing a sushi mat for this recipe so you can achieve the perfect roll. If you do not have that, you can create your DIY sushi mat with a hand towel and a sheet of plastic or parchment paper.
This recipe produces four servings of sushi, with a total time of 1 hour and 45 minutes to get everything done.
24. Seonkyoung Longest's California and Spicy Tuna Rolls
Make the number one sushi in America, the California Rolls, with Seonkyeoung Longest. This California Roll recipe will walk you through making five rolls of luscious sushi. You will also be taught all about seaweed, like which side you should use for the roll.
You'll learn tips and tricks in handling sushi as well. This video will teach you how to prepare a sushi mat too. As a plus, Seonkyoung Longest also has a recipe for spicy tuna rolls in this video.
24 Best California Roll Sushi Recipes
Making the delightful Japanese treat does not need to be stressful. In fact, preparing California Rolls is very easy and simple! All ingredients can be found in stores near you. Anyone who says you can't make sushi like a pro at home is lying! With our list of the best California Roll Sushi Recipes, you can make sushi anytime, whenever you crave it.
Directions
Select your favorite recipe.
Organize all the required ingredients.
Prep a California Roll Sushi Recipe in 20 minutes or less!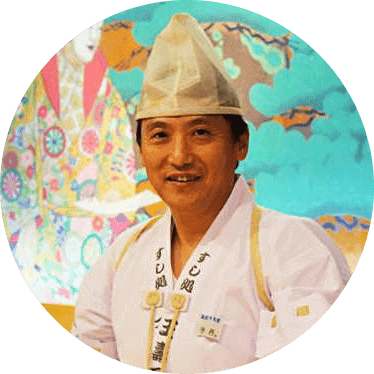 Hiroshi Nakamura, a Tokyo-born sushi chef turned US-based writer and critic, is the voice behind ichisushi.com, blending traditional sushi wisdom with modern insights.