Yellowtail is Japanese amberjack found in the sea between Japan and Hawaii. It is a popular winter delicacy as the fat content is high during these times.
This fish is familiar in sushi and sashimi. Here are the top choices if you are looking for yellowtail sushi roll recipes.
This recipe is perfect for those who love a little kick of spiciness in their yellowtail sushi roll.
It is a simple makizushi dish with nori sheets of dry seaweed, Japanese mayonnaise such as Kewpie, and peeled, julienned cucumber topped with tobiko or flying fish roe.
What gives the hotness of this sushi roll is the Sriracha sauce, which is a common addition to Japanese mayonnaise to make sushi spicy.
Hamachi Jalapeno Roll
The hamachi jalapeno roll is perfect for a flavor-packed and spicy yellowtail sushi roll with many ingredients. Of course, yellowtail hamachi is the main ingredient, the jalapeno for heat, avocado, and edible flower.
For a homemade hot sauce for this recipe, you will need a mixture of Sriracha, kimchi sauce, mayonnaise, sesame oil, and scallions. If the spiciness is not enough, drizzle Sriracha and spicy mayonnaise on top.
This yellowtail roll is easy to make and only requires the fish, green onion, and rice wrapped in nori. It is a Hosomaki or thin roll that is not inside-out like most sushi rolls, making it a perfect homemade sushi roll for those who are beginners in sushi making.
Additionally, it does not require many ingredients, saving you the trip to the market and money.
Tekkamaki is a sushi roll with tuna that gives a red color. For white tekkamaki, you will substitute the tuna with white fish meat. Out of all the white fish available, yellowtail is the best for white tekkamaki as it is chewy and tasty.
It uses toasted nori sheets, shiso leaves, and rice. The shiso leaves give a refreshing citrus flavor with a hint of cinnamon and mint.
Spicy Hamachi Sushi Roll
This dish is another spicy uramaki or inside-out sushi that uses yellowtail in two ways: plain sashimi slices and a yellowtail mixture. Instead of using yellowtail or hamachi sashimi slices, this recipe will require finely diced yellowtail mixed with spicy mayo.
The sushi roll filling includes the spicy yellowtail, slices of avocado, and julienned cucumber. Lastly, top the roll with yellowtail sashimi slices.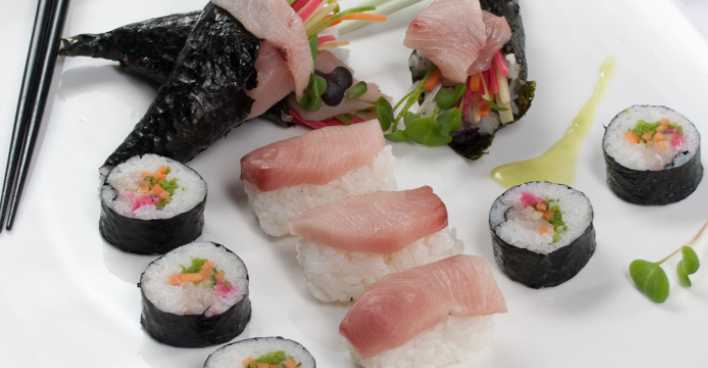 Another easy-to-make sushi roll is the temaki, or hand rolls. It is fun to make as it does not have to be perfect. However, you may only use Japanese rice for the best result.
The yellowtail must be cut for sashimi and accompanied with rice, finely chopped green onions or chives, pickled ginger, wasabi, and optional daikon sprouts. Wrap all these ingredients in a cone with a nori sheet.
Captain's Roll (Hamachi Lover's Roll)
Commonly, people use raw fish when making sushi and sushi rolls. However, this recipe will require both raw and deep-fried hamachi or yellowtail.
The deep-fried hamachi with tempura batter and cucumber is the filling and a thick spicy mayonnaise line. The hamachi sashimi, green onions, and tobiko are the toppings of this uramaki roll. Interestingly, instead of wasabi, you will serve it with hot sauce.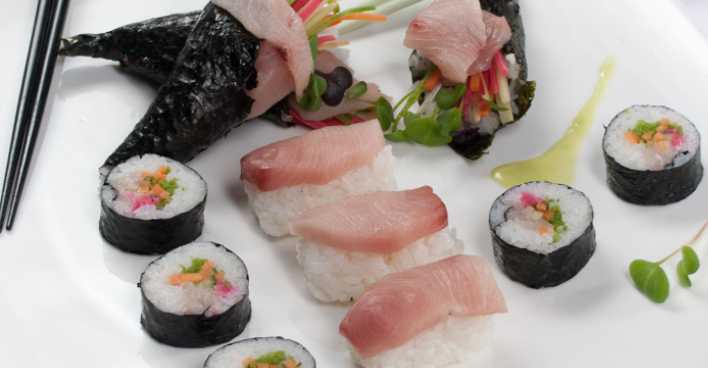 This yellowtail sushi recipe is not only refreshing but healthier at the same time as it cuts 150 calories per ounce.
Instead of using rice and nori, typical sushi roll ingredients, this recipe uses ribbon sliced, peeled cucumbers to wrap the fish and cilantro. Although the cucumber is delicate, this dish is worth trying if you look for a different sushi roll style.
Yellowtail (White Tekkamaki) Specialty Sushi in Nagasaki
Tekkamaki has a red center since the filling is tuna. However, yellowtail will be the center of the roll for this recipe, making it white tekkamaki. What makes it unique is the significant portion and the marinated yellowtail sashimi.
The ingredients include shiso leaves to cancel the fishy odor of 4 layers of the fish. Because sushi rolls must be bite-sized, the slices for this dish are thin.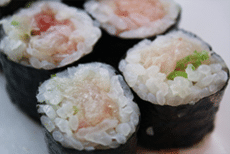 Scallions perfectly complement a buttery or fatty fish, like yellowtail. This dish has a perfect melody of soft and sharp flavors.
Instead of using the sliced yellowtail fillet, this recipe is best when using the leftover scraps from making the fillet as it adds more texture to the sushi roll. This dish tastes good while also not wasting fish scraps.
This recipe doesn't require nori sheets, and the filling consists of many ingredients wrapped in rice with furikake. Furikake is a popular condiment mainly added to rice and fish that commonly consists of sesame seeds, dried fish flakes, dried chopped seaweeds, herb, salt, and sugar.
The yellowtail is finely chopped before adding the soy sauce, furikake, green onions, carrots, mayonnaise, and Sriracha to make the filling mixture.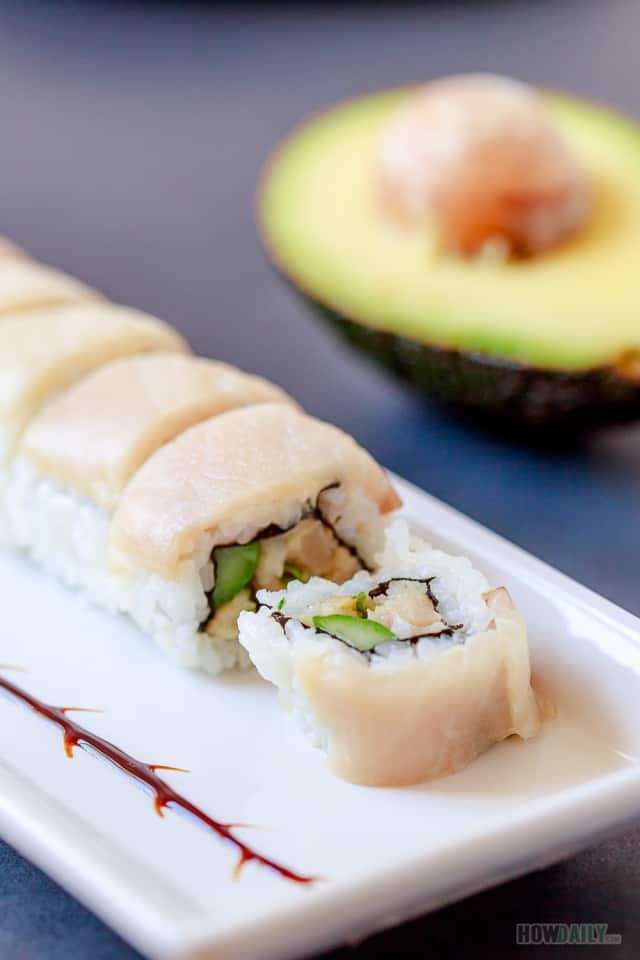 Hamachi refers to the upper portion of a young yellowtail fish. It is leaner than other parts and has a mild and sweet flavor with a buttery texture.
This recipe has Negi hamachi or hamachi with scallion, Sriracha, spicy mayo mixture, and cucumber for the 'filling' of the roll. The top also has spicy mayo and wasabi for extra heat while finishing the cover with a freshly sliced hamachi.
Rainbow Roll is an uramaki inspired by the famous California roll wherein there are crab, avocado, and cucumber inside the sushi. However, the different toppings of seafood plus avocado gave the name rainbow roll.
The seafood includes raw yellowtail, salmon, tuna, mackerel, and other fish. Meanwhile, the shrimp used is cooked. Add some sesame seeds and masago or tobiko on top, and it is ready to serve.
Simple Hamachi Lover Roll
This sushi roll is another recipe for those who love hamachi. Aside from the sushi rice and nori sheets, this dish only needs the yellowtail or hamachi, avocado, and Sriracha.
What makes it a Hamachi lover roll is that the filling uses fresh sashimi, and so does the topping making it double the hamachi goodness. You may also add a special sesame mayonnaise sauce to partner the sushi roll.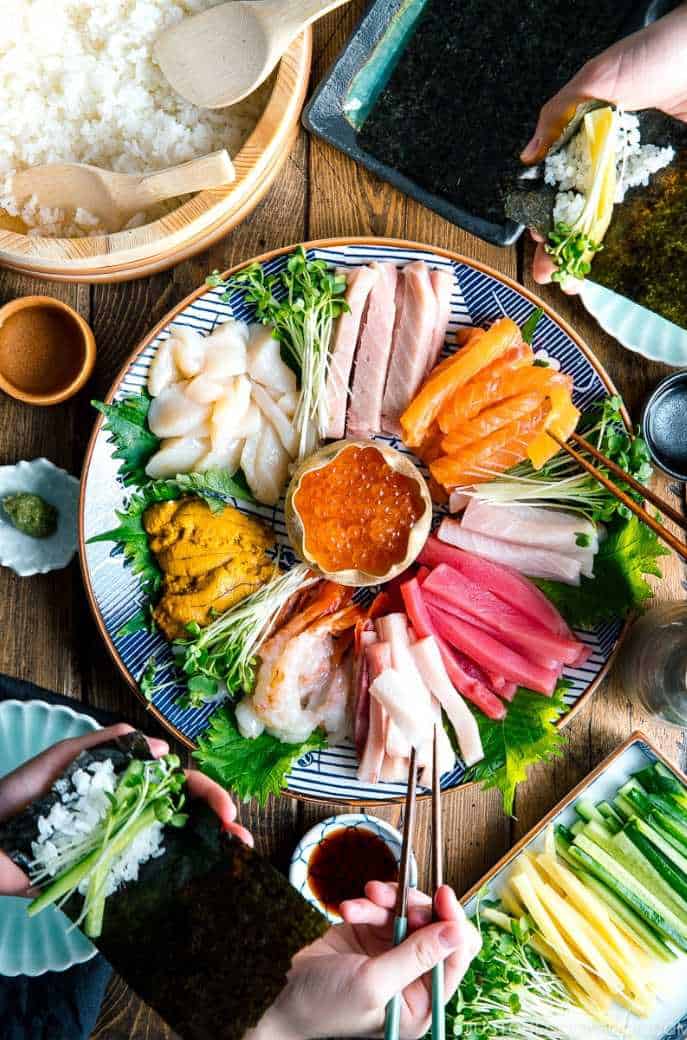 One perfect way to enjoy sushi is to make it with the whole family. And because each member has their preferences, creating their temaki sushi with the ingredients laid out is the best way to bond.
You have to prepare sushi rice, nori sheets, sashimi fish (such as yellowtail, salmon, and tuna), veggies, and fruits on a platter and let them enjoy making their sushi roll.
If you like hamachi or yellowtail and Ebi or shrimp, this is a perfect dish. This roll is unique as instead of pairing the yellowtail with another raw fish, and it has cooked shrimp in the center.
Every layer of the sushi roll is different. The inside has the shrimp and cucumber. On top of the sushi, the layers are spicy yellowtail mixture, fresh yellowtail sashimi, and avocado.
Summary
The best thing about making your sushi rolls is that you may customize them however you like. You can make it spicy, sweet, or even simple. If you are looking for different yellowtail sushi roll recipes, try any in the list and let it bring you to flavor town.
17 Best Yellowtail Sushi Roll Recipes
Directions
Select your favorite recipe.
Organize all the required ingredients.
Prep a Yellowtail Sushi Roll Recipe in 30 minutes or less!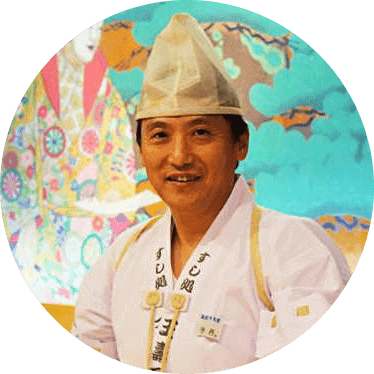 Hiroshi Nakamura, a Tokyo-born sushi chef turned US-based writer and critic, is the voice behind ichisushi.com, blending traditional sushi wisdom with modern insights.