Unagi, or freshwater eel, is a Japanese delicacy that has caught on with sushi lovers around the world.
Unagi is typically barbecued and served with eel sauce (also called Tare, or Unagi No Tare in Japanese), which is a mix of mirin, soya sauce, sugar, and sake. The sweet, salty, meat is soft and delicate.
In addition to non-sushi eel dishes like Unadon (eel rice), there are 4 popular sushi rolls made with unagi:
Unagi Nigiri – a piece of nigiri sushi where rice is topped with unagi and tied together with a nori ribbon.
Unakyu – traditional unagi rolls combine unagi and cucumber (kyuri) inside a roll enclosed by nori paper
Uramaki – inside-out rolls with unagi and avocado on the inside.
The Dragon roll – an uramaki (inside-out roll) with fried shrimp or crab on the inside, and unagi layered on top. Avocado is usually involved.
Unagi sushi is often served topped with sesame seeds and garnished with pickled ginger and wasabi. Here are some of the best unagi sushi recipes out there:
1. The Unagi Sushi Roll from Sushi and Desserts
These uramaki rolls are prepared using masago (roe, or fish eggs), cucumber, mayonnaise, and avocado. The rolling and preparation techniques are demonstrated by the chefs at Sushi and Desserts on Youtube.
In this video, they guide you through exactly how to put together and roll out the sushi. The result is a perfect Maki roll. The spicy barbecue eel is offset by the mayonnaise and avocado for a balanced taste experience.
In this recipe for unakyu, Food blogger Izzy uses crunchy cucumber to complement the spicy unagi.
Izzy recommends coating your hands with tezu water (a mix of water and rice vinegar) to keep them from sticking to the rice while rolling it and placing the bamboo mat on top of the finished roll to gently squeeze it again for a better shape.
Her maki rolls are served with unagi sauce and her recipe is easy to follow with plenty of helpful photos.
3. Blowtorch Unagi Nigiri from Keep it Fluffy
This sushi recipe is sure to impress guests. The unagi and nori paper are cut into short strips. The chef places the unagi on top of the rice and ties the two together with a strip of nori.
Then, they use a blowtorch to heat the nigiri rolls! The intense but indirect heat causes the nori to tighten around the nigiri and the cooked unagi to reheat as though it were back on the barbecue.
It's a fascinating culinary moment to watch or recreate. The unagi, rice, and nori all smell incredible when heated and can be served immediately. This recipe video goes through how to assemble the nigiri and how to blowtorch it.
This elevated uramaki unagi roll by Rachel Ray uses some different ingredients, including kaiware (daikon sprouts) and sea kelp. It also uses both Sushi Su seasoning and an unagi glaze, which are made at home.
If you have access to an Asian or Japanese food store that stocks these, and a spare afternoon, you're ready for this complex and subtle unagi roll recipe.
The instructions are minimal but guide you through the process of making the sushi rice and assembling the rolls with the ingredients. The mix of interesting flavors and ingredients in this Food Network recipe makes for perfect dinner party sushi.
5. Unagi Nigiri from Sushi by Kunihiro
This recipe is full of extremely helpful information for beginner chefs who want to make excellent nigiri sushi.
According to Kunihiro, the lack of availability of fresh eel in the west means that even Japanese restaurants use pre-barbecued, frozen unagi and this doesn't taste great if it is just thawed and used to make sushi.
Kunihiro shares tips for making frozen unagi more delicious: he washes the fillets and bakes them at a high temperature.
In this recipe video, Kunihiro also makes unagi sauce from scratch and shows you how to assemble the perfect unagi nigiri.
This uramaki recipe includes onions as part of the filling, for a bit of a twist.
Cooking Frog goes through the process of making the sushi rice and assembling the unagi maki rolls inside-out, as well as offers some tips for chefs who are struggling with the rolling process.
These unagi maki rolls look excellent and can be served with the unagi sauce recipe included.
7. Roasted Sushi Nigiri from Yum Yum Cook
In this video demonstration, Denis Lim from Yum Yum Cook shows you how to make unagi nigiri at home. He shapes the rice, cuts the baked unagi, and assembles the nigiri.
There is nothing fancy about this simple recipe, but the demonstration of the basics is thorough and helpful. The unagi nigiri is finished by being brushed with a glaze of unagi sauce from the recipe included in the description.
This recipe video is worth watching if you are looking for a quick guide to the basic techniques you'll need to make unagi nigiri.
This food blogger uses canned barbecue eel rather than frozen. Although either will do the job, canned eel chunks must be deboned.
In this recipe, the canned unagi is added to thickly-sliced cucumber or avocado and rolled inside-out as uramaki. They are served with unagi sauce. The recipe includes step-by-step photos to guide you through the process.
9. Unagi Eater Rolls from The Japan Food Channel
These rolls are a new take on the traditional dragon roll, using fried shrimp, mayonnaise, and avocado. They are rolled as uramaki without the unagi, which is pressed into the top of the roll.
Each piece of sushi includes a slice of unagi on top. The mix of flavors is altogether different, with the fried shrimp and mayonnaise taking center stage in the roll and the unagi and unagi sauce complementing all of the internal flavors.
The unagi eater roll is an ideal recipe for experienced lovers of unagi who would like to try something different.
This unagi nigiri recipe comes with a ton of helpful hints, including advice on deboning previously frozen unagi fillets. The instructions are for unagi nigiri, but many of these tips could be applied to any unagi dish.
Although there are no new ingredients or techniques included in this recipe, there is more detail about best practices here than in other recipes.
This Secrets of Sushi recipe also includes some interesting facts about unagi that you might not know.
11. The Viper Roll from Master Sushi Chef Hiroyuki Terada
This interesting variation on an unagi dragon roll uses some new ingredients and puts them together in an interesting way. This recipe comes from master sushi chef Hiroyuki Terada, who illustrates how to put it together step-by-step.
The viper roll consists of a maki roll filled with imitation crab, cream cheese, masago, and asparagus with barbecued unagi on top, drizzled in eel sauce.
This expert chef demonstrates perfect technique as he assembles these ingredients into a maki roll that any unagi lover will appreciate. This viper roll is an interesting new take on a dragon unagi roll by a master chef.
Unagi pairs well with ingredients that offset and complement the sweetness, saltiness, and fattiness of the meat – like avocado, cucumber, or cream cheese.
In this updated unakyu unagi maki roll recipe from My Eclectic Bites, unagi is rolled with red bell pepper to provide an extra pop of sweetness.
These rolls have nori on the outside, and cucumber, avocado, and sweet bell pepper on the inside making them a little bit more approachable for beginners. This unakyu recipe is simple but full of complex and complementary flavors.
13. Live Eel Unagi Nigiri from Nick Digiovanni
This recipe goes above and beyond almost anything else on the internet when it comes to replicating authentic, unagi nigiri the way you might find it in Japan.
Since almost all of the unagi used in sushi outside of Japan is shipped frozen or canned, the authentic taste of fresh unagi is a delicacy that has historically been out of reach in the west.
In this video, chef Nick Digiovanni sources sustainably farmed freshwater eel from Maine so that he can demonstrate how to kill, fillet, and "barbecue" fresh unagi for a taste experience that is worlds apart from the salty, sugary, chemically preserved, and reheated unagi fillets used everywhere else.
If you are interested in a truly authentic unagi nigiri that is unlike anything else you can get from anywhere but the best restaurants, this unagi nigiri recipe will show you how to make sushi from live eels.
This recipe for uramaki rolls includes green onions and avocados to complement the sweet and salty unagi. Julie includes some helpful tips on rolling out sushi and using canned unagi.
The rolls are drizzled with unagi sauce. This recipe is basic but produces beautiful maki rolls, and with Julie's tips, it is a great resource for beginners.
15. The Eel Dragon Avocado Roll from Oishii Japanese Eatery in London
Unagi is the main ingredient in this dragon roll, although everything is put together a little differently and there are some new flavors incorporated.
In this video, chef Mahed from the Oishii Japanese Eatery in London demonstrates how to put together an uramaki roll filled with cucumber and barbecue unagi, with rice on the outside and topped with a layer of sliced avocado.
The eel dragon avocado roll is served with a drizzling of mayonnaise and homemade teriyaki sauce on top. The recipe video guides you through assembling these ingredients and shows you the finished result, which looks restaurant-worthy.
The Great British chefs offer this traditional recipe for unagi nigiri and spice it up by using a blowtorch to reheat the unagi while it is on the roll.
This unlocks a whole new flavor and creates a mouth-watering aroma as the smell of the unagi mingles with the warming sushi rice. This unagi sushi recipe has clear directions and the results look great.
17. Dragon Sushi Roll from Sushi Chef Kai
This dragon roll is technically an uramaki and includes finely julienned cucumber and barbecue unagi on the inside and rice topped with finely sliced avocado on the outside.
Chef Kai goes through the rolling process and illustrates how to put everything together. This video demonstrates excellent technique as Chef Kai shows you how easy it can be to assemble an uramaki roll.
17 Best Unagi Sushi Recipes
If you want to try your hand at rolling unagi sushi, these are some of the best unagi sushi recipes online.
If you're a beginner eel lover looking to make something restaurant quality, there are excellent beginner guides that will help you with preparing the unagi from a can or from frozen and putting it all together.
If you're already an unagi lover, there are some incredible chefs out there using different techniques and ingredients to create unique unagi sushi flavor combinations.
Try out any of these unagi sushi recipes to experiment with the distinctive flavor of a Japanese delicacy.
Directions
Select your favorite recipe.
Organize all the required ingredients.
Prep a Unagi Sushi Recipe in 30 minutes or less!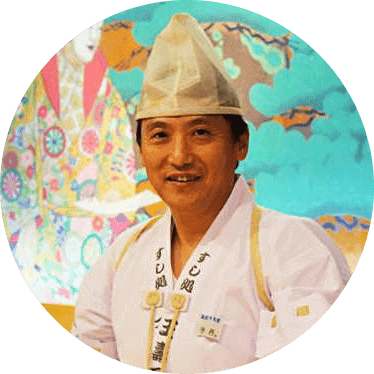 Hiroshi Nakamura, a Tokyo-born sushi chef turned US-based writer and critic, is the voice behind ichisushi.com, blending traditional sushi wisdom with modern insights.