For this post, we will provide 19 sushi recipes without seafood that will be game changers! Especially for individuals who don't like raw fish or seafood in their meals.
Some might think that sushi without seafood is not considered sushi. Well, that belief is entirely incorrect and will need clarification first.
The term 'sushi' refers to the sour taste of the vinegared rice used in this dish, which is a key component of sushi. Sushi vinegar rice is the main ingredient of sushi, not seafood. So technically, as long as a version of it has vinegar rice, no matter what it is accompanied with, it is still considered sushi.
We hope the explanation clarifies your doubts about this list, as we also carefully picked all these from different sources. We ensure these are excellent recipes, and you will enjoy making them as much as eating them!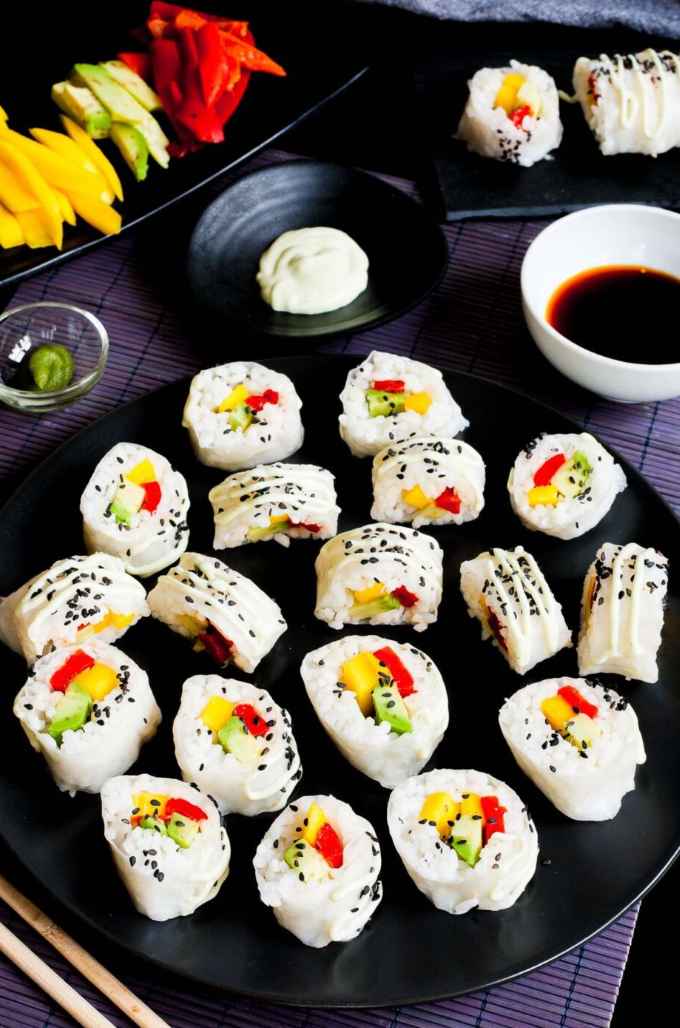 This sushi recipe uses rice paper instead of a seaweed wrapper, which gives it a distinctively different taste from traditional sushi that uses nori.
Although the rice may give a sour and sweet taste, and the roasted bell pepper provides a smoky flavor, it is still best to add garnishes for more flavor instead of serving it as it is. Adding tofu is also a good choice.
2. Teriyaki Chicken Sushi
This Teriyaki chicken sushi is not your typical go-to sushi! But this can still satisfy your craving for excellent and flavorful sushi, so feel free to try this simple dish even at home!
This dish has very few, easily accessible ingredients. It is also a low-cost version of sushi, unlike when using raw, expensive fish or seafood. You can also cook your own teriyaki sauce if you prefer.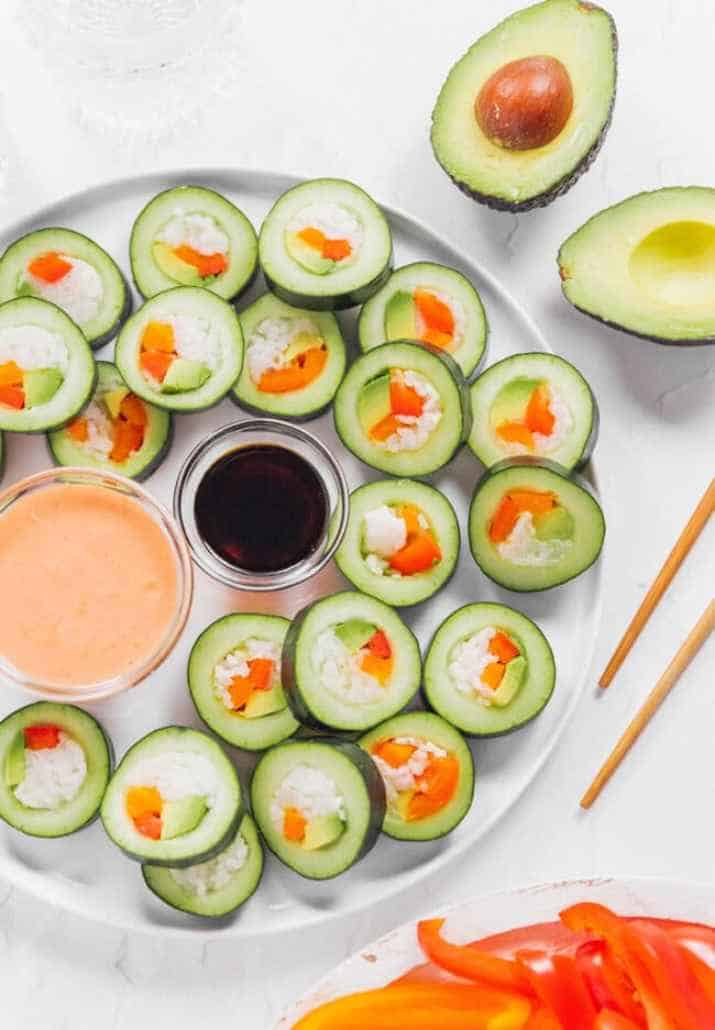 This cucumber sushi is the perfect recipe for people who dislike seafood, including the seaweed sheets! But scooping the inside of the cucumber might be challenging, so ensure to pick a straight cucumber.
This Cucumber sushi has a unique and beautiful appearance, as all the fillings complement each other's colors. Serve this vegetarian version of sushi on any occasion, and you will impress your guests!
4. Tamago Sushi Recipe
Tamago sushi is a kind of nigiri– the egg is placed on top of the vinegar rice. Even not professional cooks can make this recipe as it is elementary. The steps are also easy to follow.
In order to make this recipe appetizing, ensure that the eggs you use are fresh and well-cooked. The egg is the highlight of this sushi and also the deal breaker!
Have you ever tried sushi with black rice? If not, this is your chance to make it and taste how it differs from regular white sushi rice.
This Black rice sushi is entirely vegetarian as it doesn't have a nori sheet. Not to mention also the healthy filling of this sushi, made from tofu, carrot, cucumber, and avocado. This sushi is a great lunchbox meal!
6. Indian-Style Paneer Sushi
Let's travel to India with this Indian-style Paneer sushi! This recipe is quick to make and has loads of color and flavor. This sushi features Paneer, a typical acid-set cheese in the country.
Paneer has a crumbly texture and milky taste. Expect these when you make this sushi, although these may change once you add the other ingredients. Indian-style Paneer sushi is an excellent recipe for unique palates!
Avocado sushi roll is one of the easiest recipes you can try if it is your first time making sushi! It has minimal ingredients, and the filling only needs a fresh avocado. This is an affordable sushi recipe that your family and friends will surely enjoy.
Follow the exact measurements of ingredients, and you will make 2-4 rolls of sushi. You can make this recipe in just 30 minutes.
8. Sesame Rolled Sushi
If you are a big fan of sesame seeds, you should try this Sesame Rolled sushi! This sushi has the right crunch in every bite, and you will also enjoy the nutty flavors that come with the sesame seeds.
Not only that, this Sesame rolled sushi is filled with nutritional benefits. It is a healthy yet delicious sushi alternative for vegans.
This sweet mango coconut sushi roll is an excellent sweet sushi dish. You can serve this as a dessert at family gatherings or even at friendly get-togethers. Sweet mango sushi embodies the word innovation, proving that sushi can also become a sweet delicacy.
The only downside of this recipe is its many ingredients, and the steps might be tricky or intimidating for first-time sushi makers.
10. Sweet Potato Sushi Roll
Don't be surprised, but a hard sweet potato can also be used as a sushi filling; all you need to do is to bake the sweet potato until it becomes soft.
This Sweet potato sushi roll offers a fresh take on the usual fried or boiled sweet potatoes. It features a straightforward recipe with only a few essential ingredients. This recipe will level up your sushi game!
Let's add bacon to the list of sushi fillings because it's a popular alternative to raw seafood. Our next recipe features a mouth-watering Bacon sushi roll!
Other than the meaty taste of bacon, this roll is also delicious because you will add roasted bell peppers and garlic aioli on top. This recipe is an excellent option for those who prefer other meats instead of seafood.
12. Vegan Roll with a Twist
Instead of using nori sheets, this roll with a twist will use Romaine lettuce leaves to make the dish entirely vegan. However, this twist is so delicate to do and will require your patience. The excellent sense of timing is also helpful, especially when boiling the lettuce.
Nevertheless, this sushi is worth it as it is nutritious and delicious. Plus, the ingredients are easy to find and affordable.
Another recipe with a plant-based filling is this Spicy Eggplant sushi! Make this by pan-frying the tender strips of eggplant in chili paste and garlic. Then roll it with sushi rice on a nori sheet.
This recipe is one of the easiest to make, requiring only 45 minutes of your time from preparation to cooking. Remember, using a homemade chili paste is much more ideal than store-bought ones.
14. Shiitake Mushroom Sushi
Shiitake mushroom is commonly used for vegan dishes as an alternative to real meat as it resembles its taste. It also has a rich earthy flavor and is used for sushi. You will need the dried shiitake mushroom for this exact recipe since it has a more intense umami flavor.
Make this Shiitake mushroom sushi for a tastier treat for your family!
Try this unique sushi recipe with Chioggia Beets as the filling! It's a fresh and flavorful sushi that everyone should experience eating. Pair it with pickled ginger or sesame seeds to bring out the tangy and gingery taste.
For dipping, the combination of vegan mayo and sriracha is an exceptional choice, but soy sauce works just as well.
16. Healthy Oyster Mushroom Sushi
Here is another recipe for our mushroom lovers! This healthy oyster mushroom sushi is very flavorful and has great texture. It is a simple yet satisfying version of sushi that everyone should try.
Although Oyster mushrooms are expensive, making this sushi is worth it. After all, you will only need a few pieces of mushroom. Also, you can add other fillings like carrots, cucumber, and avocado.
Here is a fresh sushi spring rolls recipe to spice things up at your dinner table! You can make this recipe in just 30 minutes, and we suggest eating it right away to maintain its freshness.
Fresh sushi spring roll is a vibrant and eye-pleasing dish. But besides that, it is also packed with nutrition from all the vegetable fillings. Plus, the avocado dipping sauce is truly impeccable.
18. Ultimate Breakfast Sushi
Are you tired of the usual breakfast combo of fried eggs and sausages? If yes, this breakfast sushi might get you excited!
Ultimate breakfast sushi is a simple recipe since all ingredients are already in your kitchen pantry. In fact, you can use any of your leftover sausages and eggs, likewise to the veggies. With this recipe and more patience, you can now serve a fulfilling breakfast sushi!
Last on this list is a Vegan yam and tofu sushi roll recipe that you can make in less than 30 minutes! You can serve 4 people using this recipe, but you can constantly adjust the measurements if needed.
This version of sushi is excellent for the body. You can get 7 grams of protein, 11 grams of fiber, 50 mg of Calcium, 28 mg of Vitamin C, etc.
Final Words
If you don't like seafood, whether raw or cooked, feel free to try any of these recipes. Don't miss out on your favorite food; let it adjust to your needs! Speaking of adjustments, this list of 19 sushi without seafood recipes gives you various choices; try making them and let us know what you think!
19 Easy To Make Sushi Without Seafood Recipes
Directions
Select your favorite recipe.
Organize all the required ingredients.
Prep a Sushi Without Seafood in 30 minutes or less!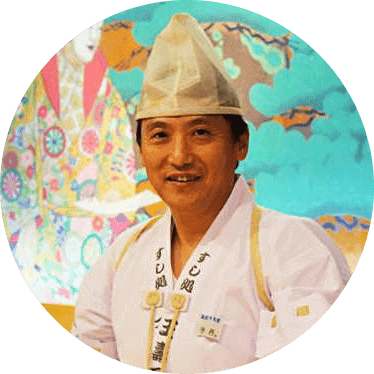 Hiroshi Nakamura, a Tokyo-born sushi chef turned US-based writer and critic, is the voice behind ichisushi.com, blending traditional sushi wisdom with modern insights.