Sushi Tacos may be a bit unfamiliar to all of us. It is no wonder that sushi tacos have been around for quite some time. But unlike sushi burritos, sushi tacos are pretty unpopular.
But if you like to explore and experiment with sushi taco recipes, we are here for you. This recipe write-up collects the list of 20 Best Sushi Taco Recipes. And we are thrilled for you to try them. So, let's get straight into this and keep reading!
A Closer Look at Sushi Tacos
Sushi tacos were believed to be first explored and discovered in the United States, specifically in Southern California Night Market and Las Vegas.
Nowadays, sushi tacos have two types. Their difference lies in the taco shell. Sushi Tacos can be a regular fried taco hard shell or the usual nori or seaweed shell.
But anyway, we all can agree that sushi tacos are yummy and delicious. All the ingredients you love about sushi are there but in taco form. You can have fresh fish like tuna and salmon with cucumber, avocado, and sushi rice inside a taco shell.
Do you have a soft spot for sushi and tacos and would love to experiment? Then, what are you waiting for? Grab your chance if you haven't tried making and eating sushi tacos. Here are the 20 Best Sushi Taco Recipes that you should not miss.
Here's one of the favorite sushi dishes that you'll ever encounter. It's none other than sushi tacos filled with fried seaweed shells inside. Light and crisp, this sushi taco recipe will melt into your mouth.
The essential ingredients for this sushi taco recipe are nori seaweed taco shells, salmon cubes, Japanese mayonnaise, and steamed white rice.
Do you want something extraordinary for your snack breaks? Then, we highly recommend that you try this one. Once you taste these sushi tacos, you'll look forward to having them almost every day.
2. Crunchy Sushi Tacos
Sushi Tacos are a combination of Latin and Japanese dishes. In giving this recipe an extra crunch, you'll have to do a lot of wonders in the taco shell.
To make a taco shell, deep fry the nori seaweed sheet filled with tempura batter. And do not think about getting lost in making crunchy sushi tacos.
This video tutorial by Simply Sushi enumerated 13 simple tips that you could easily follow. Just click the video button and start making crunchy sushi tacos.
Come to think of it. Sushi tacos work best when combined with salmon and tuna. In this fun and easy sushi taco recipe, you'll have to try a new dish you would love.
Sushi Tacos with Salmon and Tuna are delightful bites made with caviar, avocado, and wakame seaweed salad. The sushi taco is topped with spicy Sriracha aioli to make it extra hot. Give this sushi taco recipe a try. Promise! It might be your next food obsession.
4. Avocado Sushi Tacos by The Viet Vegan
If you're the person who enjoys avocado in every meal, then this sushi taco recipe is perfect for you. At first, you might think this dish is a little bit simple and bland.
But wait. This sushi taco recipe is made for vegans who prefer nutritious choices in their overall diet. The bonus part is this sushi taco recipe doesn't need a lot of ingredients.
You can make it with avocado, sushi rice, and spicy mayo. But you can always add spices you enjoy if you want to strengthen the flavor. And for extra veggies, go for cucumber!
Next on our top list of best sushi taco recipes is one you cannot get over. It's nothing but Shrimp Tempura Sushi Tacos. Gather some tempura shrimp, vinegared rice, avocado, and corn tortillas.
Head to google and check out this sushi taco recipe from Cook Well With Others. And here's the last but exciting and drizzling part. Before you indulge, put some sweet soy glaze and sriracha mayo. Other toppings include pickled ginger, green onions, wasabi, and sesame seeds.
6. Sushi Taco Tuna Ceviche Recipe
Sushi Taco Tuna Ceviche Recipe is a simple but delicious recipe. If you plan on having this for picnics or a quick snack bite for the whole family, you only need to prepare a few things.
The main ingredients include sushi-grade tuna, sriracha sauce, flour tortillas, lime juice, and soy sauce. And of course, there are some cooking tools that you might need, such as a deep fryer and metal ring.
With this step-by-step YouTube video by How to Make sushi, you'll never wonder what's next.
Have you ever heard of steak marinade sushi inside a taco? Although it may sound odd, it's impressive to have steak sushi as a filling for your crunchy taco.
In this video recipe by Pro Home Cooks, the chef tries to explore sushi taco recipes. The ingredients used are quick pickles, sushi rice, and steak marinade. If you're interested, go to YouTube, and try making this Pickle & Marinade Steak Sushi Taco.
Here's another sushi taco recipe made by no other than a master sushi chef, Chef Hiroyuki Terada. For this premium sushi tacos, crow meats, masago, scallion bean sprouts, lettuce, cilantro, and vinegared rice are needed.
To spice up its flavor, you may include spicy mayo and sriracha. The great news is that you are one step away from having the crunchiest taco. Watch this detailed video, and you'll have something extraordinary for the next meal.
You can perfectly transform your favorite Philadelphia sushi rolls into yummy and mouth-watering tacos. Imagine your taco shells filled with sushi rice, smoked salmon, avocado, cream cheese, and lemon wasabi sauce.
And if you like to taste ocean flavor, add some shredded nori toppings to your sushi tacos. Check out this recipe for the cooking guidelines. You can prepare it by following seven basic steps with 30 minutes of preparation time.
10. Soy Cured Beef Sushi Taco
Here's another exciting video tutorial by Hot Lemons that will help you make the best sushi tacos in the world. For this sushi taco recipe, the primary ingredient is beef sirloin.
In making the taco shells, you need to gather some rice paper, egg whites, and nori seaweed sheets. Prepare some brown sugar, light soy, brown sugar, minced garlic, and dried crushed chili for the cure.
Once you try making this, you'll realize that sushi taco recipes are not that tricky and complicated. With these basic steps, you can present a new but exquisite dish to the family table.
Would you like your favorite sushi roll wrapped up into little tacos? Wasabi Shrimp Sushi Tacos combines anything that you love for a snack. And don't forget the sweet chili sauce and sriracha mayo for a level-up flavor.
There's a sushi roll filled with wasabi battered shrimp, citrus avocado, and cucumber inside a delicious taco. You'll find these sushi tacos hard to resist the next time you have them. You'll surely be in sushi taco heaven with easy and quick batter plus fry.
Get ready and bring your fresh catch tuna into the kitchen. And, of course, transform it into sushi tacos! You'll learn how to make tuna sushi with this quick six-minute video by Fisherman's Belly Channel.
And what's more remarkable, you've got to discover how to create a crispy taco shell inside the comforts of your home. Are you up for something incredible that would not take too much of your time? Why not try making Tuna Sushi Crispy Tacos?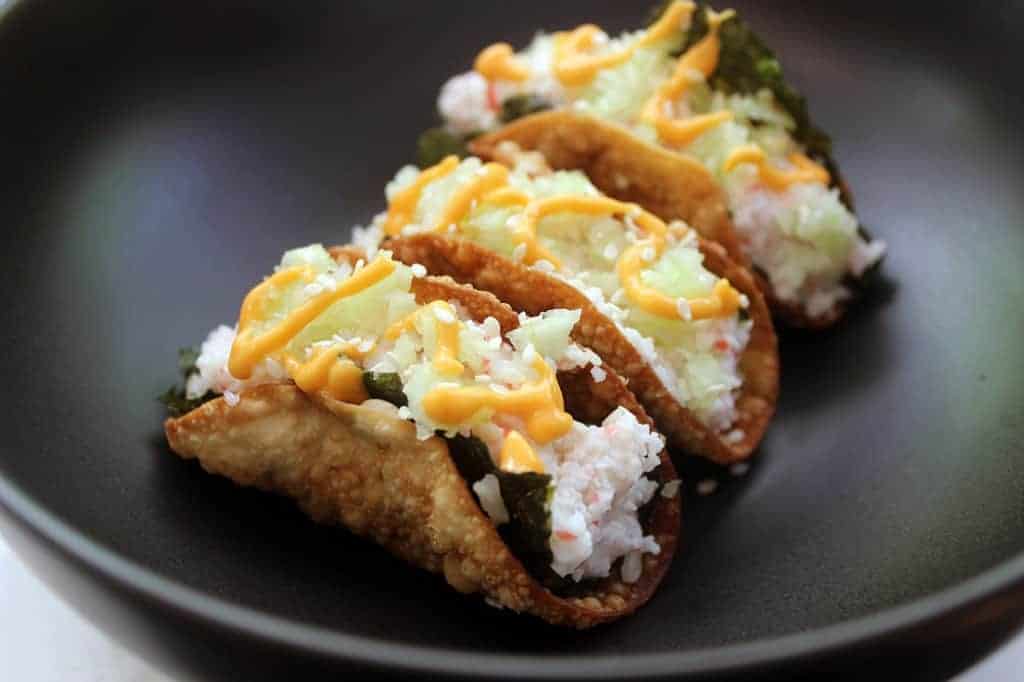 Of course, we all can relate that California rolls are the ultimate go-to for sushi. So, here's another recipe that would let you enjoy your favorite sushi roll flavor inside a taco.
You need to gather some seaweed sheets, brown rice, crab, mayo, cucumber, and sesame seeds for the ingredients. For the filling and final taste, include some spicy mayonnaise as well.
Give this sushi taco recipe a try! With these step-by-step instructions, nothing would go wrong with your next favorite snack.
14. Tacos Sushi Salmon
So, let's head on to another culinary delight that you will find easy to make and prepare. It's none other than Tacos Sushi Salmon. In this YouTube Video, the chef takes us to another round of sushi taco recipes.
You can always find the ingredients down your local neighborhood's grocery store, such as tortillas, tuna, and avocado. And, to make it extra affordable, you can always use your leftover rice in the kitchen.
Are you ready to celebrate taco Tuesdays with your friends or loved ones? If you are fond of tacos, give this sushi taco recipe a chance! Brush the nori seaweed wraps with light tempura batter.
After that, fry them into a perfect, crunchy taco. You wouldn't believe how amazing this sushi taco recipe could turn out. The preparation and cooking time would take thirty-five minutes. And it's quick more than usual.
So, the next time you are in your kitchen, check out this sushi taco recipe by Zar's Kitchen.
A fusion food by Yum It is up on our list of best sushi taco recipes. Suppose you're a food lover who enjoys combining different cultures in a dish. In that case, you'll surely enjoy and love this sushi taco recipe.
So, for your next casual dinner getaway, you can try making this sushi taco recipe filled with a different blast of flavors. As you know, you can always experiment when it comes to your favorite sushi and tacos. Bring it on!
Here's another famous sushi taco recipe that is known worldwide. Nobu's Sashimi Taco is a delightful recipe featuring red salsa, tortilla, chopped tuna, cilantro, and onions.
To make the sauce, put all the salsa ingredients into the blender. You might add some tomato sauce to taste. Then put the chopped tuna with onions and cilantro inside the crispy fried tortilla.
With this quick and simple recipe by Food Fashionista, you'll get a taste of worldwide Nobu Restaurants at your home.
18. Nori Taco
Nori Taco is perfect for breakfast meals to start your day. You first need a nori seaweed sheet cut into a round shape. And add some flour to make it crispy.
This Nori Taco is unique and impressive because of its inside filling. You can use any ingredients found on your fridge. In this engaging video tutorial, Simple Happiness Cooking Diary uses leftover rice, spam, and egg.
Don't forget to make the nori crispy. This fancy sushi recipe will add an umami flavor and fantastic texture.
Final Thoughts
Sushi Tacos are something you should try. If you're an avid fan of sushi rolls, there's no one to stop you. The next time you are in your kitchen, do yourself a favor and try making these 20 Best Sushi Taco Recipes. We guarantee that you'll find yourself in sushi taco heaven in no time.
18 Best Sushi Taco Recipes
Directions
Select your favorite recipe.
Organize all the required ingredients.
Prep a Sushi Taco Recipe in 30 minutes or less!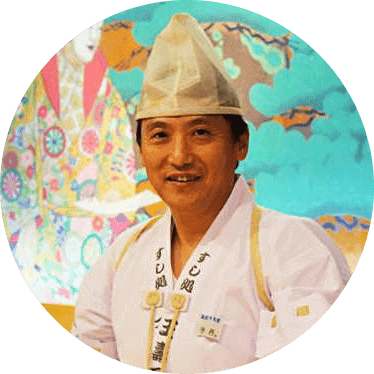 Hiroshi Nakamura, a Tokyo-born sushi chef turned US-based writer and critic, is the voice behind ichisushi.com, blending traditional sushi wisdom with modern insights.