Seattle is famous for its abundant supply of fresh seafood due to its location in Puget Sound. A bountiful supply of fish makes it a perfect spot for sushi.
We've rounded up 18 of the best sushi restaurants in Seattle, WA, to satisfy your craving for this Japanese delicacy.
Shiro's Sushi
$$$$ | (206) 443-9844 | WEBSITE
View this post on Instagram
Chef Shiro Kashiba may have retired his apron several years ago, but this Belltown restaurant remains a favorite sushi destination.
You can order a decadent takeout dish called "Spring Platter" that boasts of the freshest spring fish from Toyuso Market of Tokyo. You can also enjoy this exquisite creation when you dine in omakase-style.
Its sushi masters will give you a pleasant surprise as they prepare your meals for you. You may need to wait longer and pay a pretty steep price, but it will be worth it.
Momiji
$$$ | (206) 457-4068 | WEBSITE
Escape from the fast-paced life of Seattle's Capitol Hill neighborhood in this lovely sushi restaurant.
This hand-crafted Japanese dining spot has a charming courtyard reminiscent of gardens in Kyoto, Japan, making it an excellent date place for a relaxing dinner with family and friends.
Its menu comprises affordable sushi sets, late-night treats, and happy hour drinks. It features fish sourced locally and from international waters.
You can order a wide array of sushi, including Spanish Toro (bluefin tuna belly) or Turkish Kurodai  (black snapper/sea bream). Japanese horse mackerel is a good choice, too.
Japonessa Sushi Cocina
$$ | (206) 971-7979 | WEBSITE
View this post on Instagram
What happens when you combine the Japanese art of sushi-making and South America's herbs and spices? You'll get a restaurant that serves traditional sushi rolls and nigiri bursting with Latin American flavors.
Surprise your tastebuds with sushi embellished with cilantro, mango, and jalapeno. It's located in the heart of downtown Seattle, opposite the Seattle Art Museum, so it's a great destination when you're touring the city.
The fresh, clean interiors offer a calming spot to enjoy sushi, sashimi, and other Japanese dishes. Its heated patio dining allows you to enjoy Seattle's chilly weather.
Sushi Kashiba
$$$$ | (260) 441-8844 | WEBSITE
View this post on Instagram
Located in the vicinity of the famous Pike Place Market, Sushi Kashiba offers an authentic cultural experience that stems from exceptional sushi artistry.
Chef Kashiba, the restaurant's award-winning owner, introduced the first sushi bar to Seattle. Hailed as the "Sushi Sensei of Seattle," this three-time James Beard award nominee has 50 years of experience preparing the venerated Edomae sushi.
This traditional, centuries-old Tokyo-style method involves curing meat before serving. It gives the fish excellent hidden, umami flavors resulting in one of the best omakase experiences of your life.
Dining at the chef's counter is a unique culinary adventure you wouldn't want to miss.
Umi Sake House
$$ | (206) 374-8717 | WEBSITE
View this post on Instagram
This popular Belltown late-night destination offers an impressive array of sushi, rolls, and nigiri paired with sake or Japanese whisky.
You'll encounter salmon nigiri samplers, creative artisanal rolls highlighted with spicy yellowtail, jalapeno citrus truffle oil, and seared snow crab.
Aside from the traditional Japanese classics, you can also enjoy a slew of Western-style rolls such as the Dragonfly- an imaginative creation made with yellowtail, shrimp tempura, ghost pepper aioli, and grilled shishito peppers.
Inspired by a Japanese bamboo garden, the restaurant's back dining room and lounge are a perfect date night spot.
Shiki
$$ | (206) 281-1352 | WEBSITE
View this post on Instagram
The family-owned restaurant, Shiki, has been serving the Seattle and Queen Anne community since 2001.
Master Chef Ken and Etsuko Yamamoto offer their guests a peek into the savory tastes of Japan through an exquisite sushi dining experience.
Its loyal followers revel in the traditional toro or fatty tuna nigiri or the more modern crunchy shrimp roll. The restaurant's warm sake is a perfect companion to the fresh, high-quality fish and the top-notch service.
You'll surely get mouthwatering sushi worth every penny if you're served the tuna's chutoro ( back and stomach part) or akami (middle part).
Kisaku Sushi
$$ | (206) 545-9050 | WEBSITE
This straightforward sushi spot is a great restaurant to have sushi without breaking the bank. You can enjoy high-quality fish and nigiri combinations for less than $30.
If you love the flavors of rich and silky-smooth uni, this is an excellent place to get them. The chef's choice or omakase dining experience will blow your mind with its freshness and exceptional flavors.
You can even get the chance to converse with the head chef and gain insights into the Japanese culture and their sushi artistry. The signature Kisaku roll with crab and scallops is also a must-try!
Nishino
$$$ | (206) 322-5800 | WEBSITE
View this post on Instagram
This lovely restaurant, located alongside the Arboretum, has served the Seattle community since 1995.
It offers a vast array of sushi, rolls, and combination platters using the freshest ingredients sourced from local and international waters.
Delectable omakase meals and other cooked dishes are also available if you're looking for a culinary adventure. You're in for a relaxing lunch or dinner in their artistically-decorated dining room or outdoor patio.
It would be great to pair your meal with hand-picked Pacific Northwest wines or traditional Japanese sake. The service is warm and friendly, perfect for a nice dinner with family and friends.
Mashiko
$$$ | (206) 935-4339 | WEBSITE
View this post on Instagram
Mashiko's founder started the restaurant in 1994, intending to bring people together through great food. The restaurant created innovative Japanese meals that still honored the tradition and respected the ingredients' natural flavors.
Together with intending to leave minimal carbon footprints, this philosophy inspired the owners to offer only sustainable seafood despite the cost.
The exciting fish and seafood selection reflects the owner's commitment to responsible farming practices, sustainable fishing methods, and traceability.
Its carefully selected sake pairings perfectly complement every meal. If you're feeling adventurous, opt for the omakase experience.
Fuji Sushi
$$ | (206) 624-1201 | WEBSITE
View this post on Instagram
Fuji Sushi belongs to a strip of popular sushi spots on South Main St. and 6th Avenue. Its consistently good quality and approachable facade make this restaurant a top pick among diners.
You can treat yourself to its Bento boxes, including sushi and other Japanese culinary delights. Its authentic private tatami room is also an excellent venue for intimate gatherings and business meetings.
Sushi entree includes a chef selecting seven nigiri pieces and a tuna roll served with miso soup. It also offers a dazzling array of sushi and rolls made from the freshest catch of the day.
Wasabi Sushi and Izakaya
$$ | (206) 441-6044 | WEBSITE
Located in the heart of Belltown, Wasabi Sushi and Izakaya offer diners traditional sushi rolls and classic dishes done with a modern twist. The tasteful interiors and relaxing music enhance the great Japanese food.
You can also order perfectly warmed sake paired with sushi filled with precise cuts of fresh fish. The exceptional cocktail options and the complementary edamame makes happy hour a delightful experience.
You'll get a memorable time with family and friends because of the friendly, informed, and professional staff. All dishes exude Japanese authenticity offered in a modern, contemporary setting.
Sushi Kappo Tamura
$$$ | (206) 547-0937 | WEBSITE
The calm stretch of Eastlake Avenue and Lake Union serves as a perfect backdrop for this sushi spot. Its austere interiors and polished-wood bar and tables provide a relaxing ambiance where you can enjoy your meals.
The restaurant prepares authentic Japanese cuisine using local and seasonal ingredients from the Pacific Northwest. The open kitchen showcases the artistic sushi preparations and lively conversations with the chefs.
Your sushi and rolls are paired with superior sake, classic cocktails, or ice-cold Japanese beer. Its top-notch service with well-informed and personable staff exudes warmth and joy.
Moontree Sushi And Tapas
$$ | (206) 432-9273 | WEBSITE
Moontree Sushi and Tapas is just a stone's throw away from the new Climate Pledge Arena and the iconic Space Needle, making it a delightful stopover when you're touring the city.
The casual atmosphere is perfect for sushi dates or catching up with family and friends. Loyal customers swear by the black pepper marinated seam bream and the salmon nigiri.
Aside from the classic sushi offerings, it also has signature rolls such as baked crab handroll, fire dragon roll, and creamy baked lobster roll. You can include flavorful noodles, soup, and grilled meat in your order for a truly delightful meal.
Taneda
$$$ | (206) 457-8921 | WEBSITE
View this post on Instagram
Reservations for this sushi spot are almost always fully-booked, and it says a lot about how well-loved this place is.
It's no wonder because it serves sushi with incredible, complex flavors that exhibit the best of what Seattle and Tokyo have to offer.
The execution and ingredient selection create a perfect balance of traditional and contemporary techniques, making each bite phenomenal.
Chef Taneda will serve you flavorful and artistic sushi creations while keeping you at ease with his friendly banter. The restaurant is also known for its omakase experience of 25 courses for about $180.
Urban Sushi Kitchen
$$ | (206) 448-6953 | WEBSITE
View this post on Instagram
Urban Sushi is the perfect spot if you're looking for a quick sushi fix for lunch. Aside from a wide array of sushi and artisanal house rolls, it also serves rice bowls, noodle soups, and other Japanese mains.
This joint boasts of doing healthy, organic ingredients that you can feel in every bite. The cozy and chic vibe of the restaurant is perfect for casual get-togethers or fun sushi dates.
It also offers sushi party platters for your family or office gatherings. For sure, your sushi and roll potluck will be a showstopper.
Maneki
$$ | (503) 662-2814 | WEBSITE
View this post on Instagram
The Seattle icon, Maneki,  is the country's oldest sushi restaurant. It has been delighting diners for more than a hundred years and has survived countless challenges, including world wars.
Loyal customers rave about the sushi rolls, the Jojo roll, charasi bowl, and the black cod collar miso. The food and the owner's warm hospitality will bring you to a traditional homecooked family dinner in Japan.
The restaurant is a popular spot among locals so make sure you make a reservation ahead of time. You can also order takeout to enjoy your Japanese classics at home.
Wa'z Seattle
$$$$ | (206) 441-7119 | WEBSITE
View this post on Instagram
Wa'z specializes in "kaiseki," a multi-course dining experience that showcases seasonal produce prepared in various cooking methods.
Aside from this extraordinary cuisine, it also offers exquisite temaki sushi, including spicy tuna, Negi-toro, grilled eel, and creamy scallops.
You can stay at the sushi bar to witness the superb skills of the chefs as they prepare dishes that honor the Japanese culture. You'll get front-row seats to Chef Hiro's artistry and craftsmanship while getting insights into each dish's history.
Every order is beautifully presented and serves as a delectable interlude to a superb sushi meal.
Urara Japanese Cuisine
$$ | (206) 451-5914 | WEBSITE
Located in the iconic Pike Place Market, Urara Japanese Cuisine serves authentic cuisine, including sushi, sashimi, and chirasi.
You can have a delectable lunch or dinner with its highly -recommended Ginza Deluxe Sushi Combo – a lovely mix of toro, uni, bluefin, salmon, and other mouthwatering fish.
You can also treat yourself to carefully concocted chef's rolls and delectable maki sushi.
Summary
The Seattle sushi scene is a way of honoring the Japanese tradition while celebrating the ocean's bounties. Locals and tourists can experience a perfect combination of the freshest ingredients and culinary artistry.
If you're looking for a date place or a new lunch hangout, check out the 18 best sushi restaurants in Seattle, WA.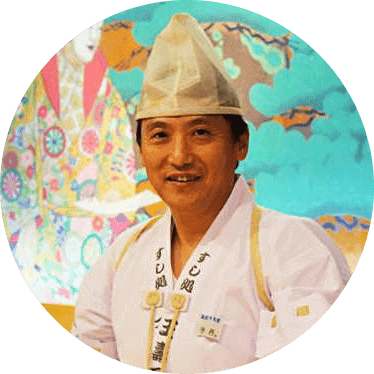 Hiroshi Nakamura, a Tokyo-born sushi chef turned US-based writer and critic, is the voice behind ichisushi.com, blending traditional sushi wisdom with modern insights.