Besides its diverse population, San Francisco is known for its great cuisines. Sushi is one of the dishes you can taste while in the city. You should drop by at the 18 best sushi restaurants in San Francisco, CA, if you love sushi. They offer the best sushi in town.
Kaisen Don
$$ | (415) 859-9081 | WEBSITE
View this post on Instagram
Kaisen Don is a sushi restaurant that offers a variety of seafood. They served slide fish over rice, spicy salmon sashimi, and sesame salmon. Appetizers such as sesame ice cream and sesame cheesecakes are also available. As of now, they don't offer dine-in. However, you can take out or pick up your order.
You should call their landline number if you want your food delivered to your home. As a reminder, they only deliver during business hours. Aside from that, you can get a promo code and special offers.
Saru Sushi Bar
$$$ | (415) 400-4510 | WEBSITE
View this post on Instagram
Sushi topped with the freshest fish and filled with the finest grain rice is available at Saru Sushi Bar. The place is also famous for its three kinds of soy sauce. The choices are low sodium soy sauce, nikiri soy sauce, and sashimi soy sauce. Rolls included in the menu are tekka, negihama, and veggie.
The restaurant is a popular place to have lunch and dinner. Because of the romantic vibe, families find the restaurant the ideal place to bond. Unfortunately, they don't offer delivery. However, outdoor seating and take-out are available.
Fenikkusu – Tapas and Omakase
$$ | (415) 923-8600 | WEBSITE
Fenikkusu-Tapas and Omakase restaurant is one of the famous restaurants in the city. Varieties of seafood tapas such as aburi saba, tuna avo, and geso kara-age are offered. In addition, oxtail pot, quail yaki, and karashi renkon are included in their meat and veggie tapas.
Besides its delicious sushi, it is also known for its exemplary service and ambiance. It is perfect for a couple or a small group. Because of limited seating, they encourage their guests to make reservations. The restaurant accepts curbside pickup, drive-through, delivery, and take-out.
Ebisu Restaurant
$$ | (415) 566-1770 | WEBSITE
The Ebisu Restaurant has been in San Francisco for more than 35 years. Their menu consists of various dishes that you will surely love. They have appetizers, bento boxes, donburi, and sushi entrees. Nigiri, sashimi, and classic rolls are also available.
Aside from high-quality dishes, the restaurant also has friendly and attentive service crew. It also has a cozy ambiance that invites tourists and small groups. Unfortunately, they add 5% to the price for take-out orders. It is because they use eco-sustainable packaging.
Shizen Vegan Sushi Bar and Izakaya
$$ | (415) 678-5767 | WEBSITE
View this post on Instagram
Shizen Vegan Sushi Bar and Izakaya perfected the method of tending vegetables. These veggies are suitable for sushi making. As a result, they create healthy and delicious meals without animal protein.
Shojin and sushi techniques are combined with local and seasonal ingredients. They use tapioca, mountain yam, konjac, and bean curd.
If you want to taste their plant-based sushi, you must first make a reservation seven days before the date. They also offer parties for four people only. Small groups visit the place not only because of its healthy sushi but also of its cozy ambiance.
Sushi Shio
$$ | (415) 529-1030 | WEBSITE
View this post on Instagram
Sushi Shio is a fine Japanese restaurant that values flavor, especially salt. They deliver Omakase style for Japanese and Korean dishes. Their menu includes sushi shio drinks like sake, Japanese beer, and non-alcoholic beverages. They also have appetizers, premium fish, donburi, and classic rolls.
The restaurant also has a bar onsite where you can enjoy your drinks. It also has a cozy and relaxing atmosphere ideal for small groups. They accept dining in, outdoor seating, take-out, and delivery. If you plan to drop by, you can make reservations.
Omakase
$$$$ | (415) 865-0633 | WEBSITE
View this post on Instagram
Chef Jackson Yu was determined to bring the best Japanese cuisines. As a result, Omakase gained a Michelin star. In making the famous dish, they employ traditional methods.
Smoking, occasional charcoal grill, aging, konbu jime, and sujime are these methods. They also offer drinks that suit the dish, such as champagnes, sake, and ginjo.
Although they don't require a formal dress code, dressing up is suitable for the restaurant's design. It also has a classy and upscale atmosphere. They also offer no-contact delivery and take-out if you don't have time to dine in.
Ju-Ni
$$$$ | (415) 655-9924 | WEBSITE
Ju-Ni, which means twelve, pertains to the 12 seats at the restaurant. It is where guests can attain the best omakase experience. A chef is assigned to guide every four guests through every course. As of now, the price of their omakase is $195 for every person. They also offer beverages that will suit every dish they serve.
The restaurant's dining service has a sensitive nature. Because of this, they require their visitors to make reservations. In addition, they only accept dine-in and take-out. Unfortunately, they are not open for delivery.
Robin
$$$ | (415) 448-7372 | WEBSITE
View this post on Instagram
Robin is the best place to go if you want the best yet affordable omakase experience. They only use pristine ingredients to serve delicious dishes. Plus, Chef Adam Tortosa puts some twists on every dish that the diners will surely love.
The restaurant provides an unforgettable food experience. Aside from that, it has a stylish decor and ceramics made by local craftsmen. Unfortunately, they cannot accommodate groups with more than four people. They also require reservations before dining in.
Hakashi Japanese Sushi Bar & Grill
$$$ | (415) 872-9589 | WEBSITE
View this post on Instagram
Chef Julio brings the best omakase experience to Hakashi Japanese Sushi Bar & Grill. Fresh fish and ingredients are used to create sophisticated and mouth-watering Japanese dishes.
For only $160, you can enjoy the omakase course menu. It consists of 14-piece nigiri and Japanese seasonal fish. You will also savor their signature fish soup and Wagyu beef.
Aside from their delicious sushi, they also have excellent and commendable service. Their staff are friendly and courteous. Because of its casual and cozy atmosphere, many families visit the place. In addition, the restaurant is open for curbside pickup, delivery, and take-out.
Wako Japanese Restaurant
$$$$ | (415) 682-4875 | WEBSITE
If you want to try the best Japanese dishes, visit the Wako Japanese restaurant. For $90, you will have a bite of the ten pieces of sushi chosen meticulously by the chef. They also serve sushi in pieces such as sashimi, rolls, and hand rolls. Beverages are also available.
Since the maximum seating is only for 25 persons, making reservations is encouraged. Unfortunately, they don't offer delivery and take-out. The restaurant is located at the center of the Richmond district. It is along with some famous restaurants.
Oma San Francisco Station
$$$ | (415) 345-1890 | WEBSITE
A variety of Japanese dishes are available at the Oma San Francisco Station. They have three kinds of menus: mizuho, sakura, and tsubame.
You will also enjoy watching how their skillful chef prepares the food right before you. The dining experience lasts for about one hour and 30 minutes.
The restaurant's set-up is similar to an izakaya or a Japanese tavern. Because of the cozy and relaxing atmosphere, many tourists enjoy visiting the place.
As of now, they don't accept delivery. If you want to taste their delicious dishes, book a reservation.
Akiko's Restaurant & Sushi Bar
$$$ | (415) 989-8218 | WEBSITE
View this post on Instagram
The Akiko's Restaurant & Sushi Bar has been operating for more than 30 years. It has been serving delicious sushi in the heart of San Francisco.
Their nama menu changes from time to time to ensure the freshness of the ingredients. Dishes available are nigiri and sashimi like kanpachi, kinki, and hanasaki gani.
The restaurant is very welcoming with its rosewood floors and rustic earth tones. Aside from the relaxing vibe, their staff are courteous and hospitable. The owner is also committed to providing the best food experience.
The Shota
$$$ | (628) 224-2074 | WEBSITE
The Shota integrates modern techniques into their traditional Edomae-style omakase sushi. The fish and seasonal ingredients come from Tsukiji Fish Market.
It is located in Tokyo, Japan. Chefs cure, age, and marinate so that the guests can taste the authentic flavor of the dishes. Aside from sushi, the restaurant also serves Kaiseki-inspired dishes.
Before going to the restaurant, make sure you have booked a reservation. If you run late, you better inform them ahead of time. The same also applies if you will bring a child with you.
Kusakabe
$$$$ | (415) 757-0155 | WEBSITE
View this post on Instagram
Kusakabe is a popular sushi restaurant in San Francisco that you should not miss. Because of its kaiseki-style dishes, the restaurant obtained a Michelin star.
Some of the foods included in their omakase menu are nigiri-zushi and hassun. The omakase dining experience costs $185 per person.
Because of the Zen-like space, guests are welcomed with a relaxing atmosphere. However, the management also requires their customers to make some reservations.
Aside from that, a vaccination card and government ID are necessary. Before going to the restaurant, make sure that you wear a mask.
Sushi Time
$$ | (415) 552-2280 | WEBSITE
View this post on Instagram
Sushi Time is the best place to experience Tokyo, even in San Francisco. Authentic sushi and other Japanese dishes are served.
Their menu includes starter and sashimi, soup, sushi nigiri, and sushi maki. They also have options for vegetarians like avocado rolls and garden rolls.
Upon arrival, you will feel like you are in Tokyo because of the cozy and comfortable ambiance. Plus, you will be greeted by their hospitable and courteous staff.
It is a popular place to have lunch and dinner. The restaurant welcomes customers who want to dine in. It also accepts take-outs and delivery.
Warakubune Sushi
$$ | (415) 252-8383 | WEBSITE
Patrons love to eat at Warakubune because of their great-tasting sushi. Every sushi is seasoned well and added with fresh ingredients.
Aside from that, they are served in tiny boats, making them more appealing to the eyes. They also have other great choices on their menu. The scallops and unagi are a must-try!
You will also welcome by their friendly staff upon entering the establishment. They offer take-out. However, reservations, outdoor seating, and delivery are not available. Nevertheless, it is one of the best places to have dinner.
Sanraku
$$ | (415) 771-0803 | WEBSITE
One of the places where you can find authentic sushi is in Sanraku. Their chefs are trained in Japan to ensure that they only serve the best Japanese dishes to their guests.
The restaurant is also available for catering. Some platters included in their catering are maki platter and nigiri sushi platter.
If you want to visit the place, you make a reservation to secure your seat. They can also deliver your order, or you can take it out. To ensure safety, they require their guests to wear masks. Also, their staff disinfect the surfaces between visits.
Summary
San Francisco is an excellent place because of its tourist spots and cuisines. You don't have to go to Japan to taste authentic and delicious sushi.
It is right in San Francisco. Don't forget to visit the 18 best sushi restaurants in San Francisco, CA, if you are in town.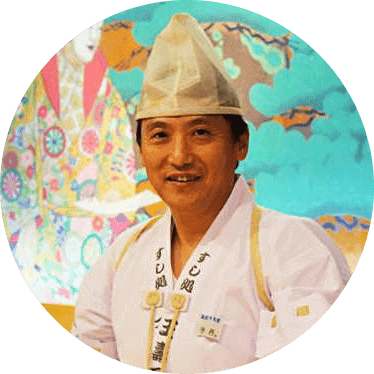 Hiroshi Nakamura, a Tokyo-born sushi chef turned US-based writer and critic, is the voice behind ichisushi.com, blending traditional sushi wisdom with modern insights.