There are two reasons people usually go to San Antonio. It's either the Alamo or Sea World. Those who have seen the Alamo are surprised at how small it really is. At only 1,800 square feet, it's the size of a modest house.
Not what someone expects from the site of a great battle, though you wonder how they managed to fit 200 troops inside.
Sea World has faced controversy that is causing them to phase out their killer whale shows and concentrate more on roller coasters and a message of nature conservation.
After looking at Davy Crockett's rifle, maybe you'll want some sushi. No, don't go to Sea World for it! This is the sushi meant for people, not Flipper. Let's look at the best sushi places in San Antonio.
Sushishima
$$ | (210) 492-2338 | WEBSITE
This restaurant is so successful it has two locations in San Antonio. You can find one in the Stone Oak district and the other in Castle Hills. They use fresh and natural ingredients for authentic Japanese cuisine.
They also pride themselves on an elegant yet comfortable ambiance for their diners. They have a variety of Japanese dishes on the menu including well-plated maki and a variety of nigiri.
Wild Goji
$$ | (210) 277-0638 | WEBSITE
This place is more Asian Fusion and street food than authentic Japanese cuisine, but sushi is on the menu. You may want to try an Angry Dragon Roll with a beer or cocktail.
All customers will receive complementary goji berries with their water before the meal. Everyone loves a free appetizer! This is a fun and laid back place, but some effort is still put into attractively plating the maki.
Piranha Izakawa
$$ | (210) 822-1088 | WEBSITE
This is a place that gives you the option of booth, bar stool or something more traditional like a cushioned seat at a low table in the sunken floor area. As for the food, sorry, they do not actually sell piranha!
Their "piranha roll" is tuna and spicy salmon. In fact, many of the dishes here are a little on the spicy side. If you like your sushi with a bit of a kick to it, this is the place to be.
Sushi Haya
$$ | (210) 370-9332 | WEBSITE
If you want sushi and lots of it, this all-you-can-eat buffet is the place to go for both volume and variety. It's a new place that's been open only a couple of months as of this writing, so there are some bugs to work out.
Not literal ones! It's mostly service issues, but the food is good. It includes hibachi offerings with both sushi and sashimi. The limit to their hospitality is two hours, so you may have to keep an eye on the clock.
Izumi
$$ | (210) 538-5121 | WEBSITE
This place is also all-you-can-eat and does hibachi dishes as well as sushi. You will also find teriyaki on the menu. As for the sushi menu, you will find a great many tuna and salmon rolls on the lunch menu with the American favorite Cali rolls.
For something more exotic, come back at dinner time for clam, octopus, squid, red snapper, shrimp and mackerel. The dishes shaped like little wooden boats are cute.
Toro'ko Sushi
$$ | (210) 267-1080 | WEBSITE
Here's the place to go if you would like a nice blend of modern and traditional Japanese cuisine. The sushi is made with fresh fish of the highest quality. An adventurous foodie will find an array of unique tastes prepared by chefs with a minimum of twenty years of experience.
The nigiri comes in a variety of choices of fish and shellfish. However, it's the maki that really steals the show with original recipes. Do you like jalapeños?
Sushi Zushi
$$ | (210) 691-3332 | WEBSITE
View this post on Instagram
Even the name of the place is fun to say! This popular restaurant has three locations throughout San Antonio, Texas.
They have a variety of signature maki including something they call the Godzilla, which is filled with crawfish and serrano chilies with a little cream cheese to cool that down. If you're having trouble deciding just what kind of sushi you're in the mood for, a sampler plate is available.
Kona Grill
$$ | (210) 877-5355 | WEBSITE
View this post on Instagram
This place is a chain with locations throughout the United States, but if you're up for a sushi bar with an upscale lounge feel, this is the place to go. The menu has a variety of foods, including maki in both specialty and traditional.
The sushi/sashimi menu is mostly tuna, salmon and shrimp with some eel. They also do catering, weekend brunch and if you really like the place, ask about Konavore rewards, a loyalty program for frequent diners.
Asian Star Super Buffet
$$ | (210) 561-7688 | WEBSITE
You can tell from the name that this is where you want to go for a wide selection of various pan-Asian dishes. They've got a lot of things on the menu to pick and choose from, but let's focus on their sushi.
The chefs at this restaurant select only the freshest seasonal fish every morning to prepare over twenty different varieties of sushi. It's buffet-style serving, so get a little of this and that as you feel like. Enjoy it all in a relaxed atmosphere.
Godai Sushi Bar and Japanese Restaurant
$$ | (210) 348-6781 | WEBSITE
Chef Goro has been in business at this location for seventeen years and has quite the array of sushi delicacies on his menu. If you can't decide what you want, just order Goro's combo and have a little of everything in one go.
The available maki is a blend of the type with the bizarre. You'll find the typical Cali rolls, tekkamaki, sakemaki, rainbow rolls, etc. But try a Texas Tech Roll a Pokémon Roll or (if you feel brave) The Widowmaker.
Wasabi Sushi Bistro
$$ | (210) 877-2300 | WEBSITE
This restaurant takes its name from an infamous Japanese condiment made from a type of horseradish. The menu warns the diner with an image of red pepper if a dish is heavy on the spice. Lucky that Texans like spicy!
In any case, you are promised satisfaction and quality. The sushi menu is varied and the maki is a collection of old and new. People who like fried sushi will enjoy the tempura rolls, which include a little something named after the Alamo.
Sapporo Sushi and Asian Fusion
$$ | (210) 314-4423 | WEBSITE
For the past twenty years, this has been the favorite Asian restaurant of many a Longhorn, being so close to the campus of the University of Texas. The cuisine is a blend of Japanese and Korean with many good sushi dishes on the menu.
The list of maki they have available goes on for two and a half pages, so there's bound to be something you'll like. For a dollar extra, they'll deep-fry it for you. The menu is kind enough to alert you to spiciness levels and whether the fish is raw.
Yellowfish Sushi
$$ | (210) 614-3474 | WEBSITE
View this post on Instagram
Mall sushi isn't usually held to a high standard. If you find yourself shopping at The Rim and feel a sushi craving, however, this place just might surprise you. The presentation is certainly fancier than expected.
It is probably the only restaurant in existence to offer Jap-Mex, a blend of Japanese and Mexican cuisine. Can it be done? If you want just run-of-the-mill maki, they have that. As well as a few unique surprises.
Koikawa Sushi
$$ | (210) 805-8111 | WEBSITE
View this post on Instagram
Asian fusion and buffets are fine, but here's the place to go if you want something more authentically Japanese; It is a family-owned establishment with a friendly atmosphere.
Quail egg is on the menu as well as a variety of fish and shellfish. They are all available as nigiri, maki or sashimi on request. The platter comes with miso soup. A few of the house rolls are available fried.
Sukeban Sushi and Champagne Bar
$$ | (210) 562-3231 | WEBSITE
Here's a bit of an upscale place a little more than a mile from the Alamo. Along with the usual sushi varieties, you'll also find caviar fit for posher tastes such as ikura, masago and three different colors of tobiko.
The specialty maki are, indeed, special. Something called the Boss Girl includes an odd combination of tuna, strawberries, goat cheese, escolar, cucumber and avocado. You can accompany your dish with something off the wine list or just a Coke.
Kin Thai and Sushi
$$ | (210) 314-7827 | WEBSITE
View this post on Instagram
As you've no doubt deduced from the name, this place serves Thai food as well as sushi and other Japanese cuisines. This vast variety of food selections is made with passion and precision in order to create distinctive flavors that are other embodiment of umami.
Some of the maki are made to suit Texas tastes, but there are a few more traditional selections. The Nigiri Dinner will be a bit of a surprise every time, with six random nigiri chosen by the chef.
Nama Ramen
$$ | (210) 641-2888 | WEBSITE
Here is a place that has been described as offbeat and lively. Elegant and artistic, but not overly fancy. Come for the sushi, stay for the abstract artwork. The menu for the maki lets you know what goes on the inside of the rolls and on the outside.
Their signature Nama Roll is stuffed with tempura shrimp, cream cheese and avocado that appears done in uramaki style topped with tampico paste, eel sauce and furikake.
Sushi Seven
$$ | (210) 496-7777 | WEBSITE
View this post on Instagram
This place prides itself on fresh, high-quality food, a dynamic stance, skilled, artistic chefs and impeccable service. The plating makes it clear you are not just being served fish, rice and seaweed. You are being served a work of art!
Their "Awesome Rolls" are mostly uramaki style and a few riceless. The fillings of some of these maki are unorthodox, such as the plantains in the Monkey Roll. Definitely for the adventurous foodie.
Posh Sushi
$$ | (210) 474-0959 | WEBSITE
Despite the name, this is actually a rather casual establishment. They do, however, make their maki in the traditional style, with seaweed on the outside. They must've heeded complaints that there was no cream cheese as was expected from American-made maki.
The Nissi Roll has the desired cream cheese with crab and salmon spiced up with Serrano pepper and cilantro. Philly and Vegas rolls are also on the menu with expected cream cheese.
Yummi Japanese Restaurant
$$ | (210) 236-8003 | WEBSITE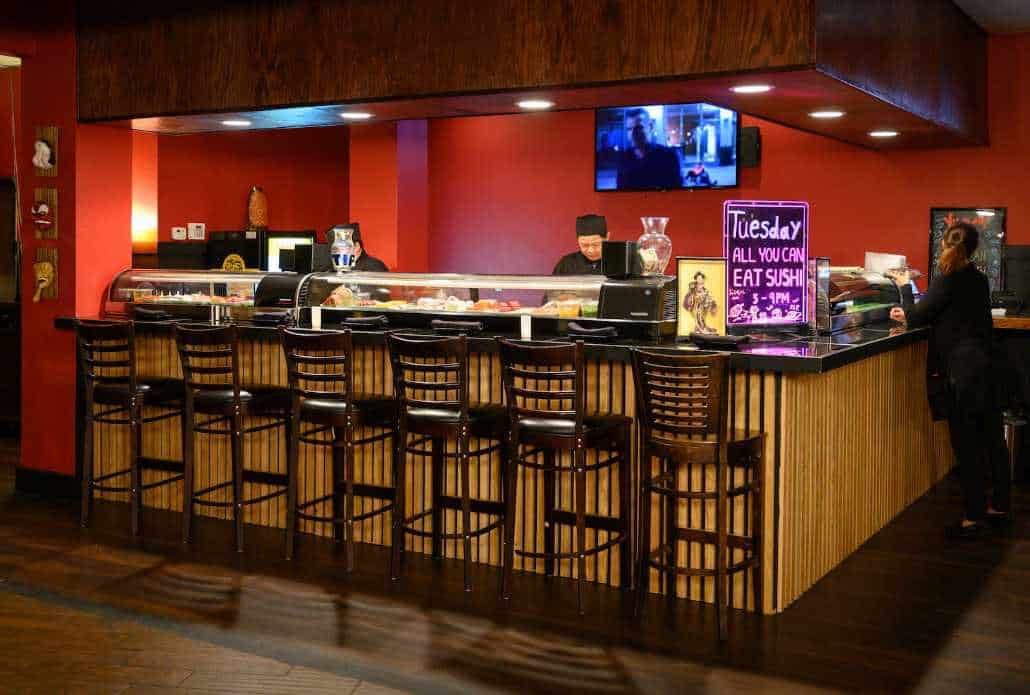 This family-owned restaurant has been in business for over ten years and has been voted the best sushi in San Antonio. Yummi has all sorts of rolls sure to suit any taste. There are spicy rolls, traditional rolls, vegetarian rolls, deep-fried rolls and a few interesting house specials.
The house specials are plated in an artistic and at times whimsical way. The dragon roll, for example, is arranged to look much like a whiskered Eastern dragon.
Conclusion
Just one more thing to remember when dining anywhere in Texas. The locals are likely to refer to any carbonated beverage as Coke. On a menu, Coke is likely to be Coca-Cola, but you may want to ask just to be sure. You will find a lot of "Alamo rolls" on sushi menus throughout San Antonio.
They will not all be the same thing. It's just an example of marketing. They know why you really came to their city. (Even if it was just to ride the Steel Eel and pet a dolphin, you'll tell your history teacher it was all about the Alamo.)
Though most dining establishments in San Antonio cater to tourists, residents may enjoy frequenting many of these places that all have their unique way of doing things. It may not be exactly what one may find in Tokyo, but it will be singularly satisfying. Them's good eatin' and Itadakimasu!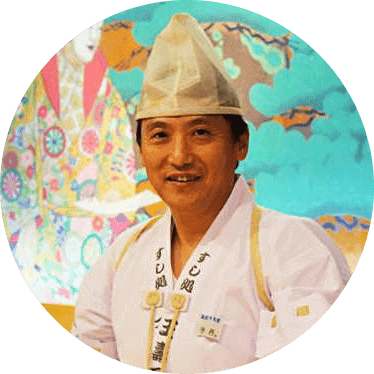 Hiroshi Nakamura, a Tokyo-born sushi chef turned US-based writer and critic, is the voice behind ichisushi.com, blending traditional sushi wisdom with modern insights.