Whether you live in El Paso or are just visiting, you may want to try the famous Japanese sushi. This article about the best sushi restaurants in El Paso, Texas, covered you.
To establish this list, we chose restaurants exclusively within El Paso city. These restaurants serve sushi as their specialty or a dish that dominates the menu. So you can always be assured that you get varieties of great sushi in town.
Don't worry about location accessibility, as the list includes street Addresses that are reachable by google maps. Again, you could call for reservations or order from the comfort of your home or office. Luckily for you, we have indicated the Prices review as well. If you are still unsatisfied with the information we have provided, you can head to the individual restaurant's website.
Price: $$$$
Address:

145 E Sunset Rd A-100,

El Paso, TX 79922

Phone:

(915) 760-8888
View this post on Instagram
Aki Sushi is a Japanese cuisine restaurant that operates from Wednesday to Sunday. At Aki, there is a focus on sourcing the highest quality fish in the whole of the US every week. The restaurant has one the most renowned chefs in El Paso who makes traditional Japanese food such as chopstix.
When you dine at El Paso, you will be lost for choice. The variety of sushi includes sushi specialty rolls, sushi fried rolls, Aki sushi diners, chef's choice sashimi, and signature hand rolls. Visit Aki Sushi and have the best time munching away insanely fresh and delicious sushi.
Price: $$$
Address:

5435 N Mesa Street, S

uite A,

El Paso, TX 79912

Phone: (915) 777 – 2923
Sushi Garden is a legendary Sushi restaurant in El Paso, Texas that has specialized in mouth-watering Sushi for almost a decade. Here, you will experience a blend of South Korean and West Coast Asian cultures seasoned with an El Paso twist through tantalizing sushi.
At Sushi Garden, you will enjoy all kinds of Sushi delicacies ranging from Nigiri to Sashimi and even Specialty rolls. You can book reservations from Monday to Thursday. Moreover, you don't have to go to the restaurant's physical location as you can order your Sushi via UberEats, GrubHub, and Door Dash.
Price: $$

Address: 12302 Montana Ave, El Paso, TX 79938
8838 Viscount Blvd, El Paso, TX 79925
7460 Cimarron Market, Suite 100, El Paso, TX 79911
Phone: (915) 313 5339 –Montana Ave
(915) 304 0386 – Viscount Blvd
(915) 600 5818 – Cimarron Market
At Sunny's Sushi, they don't just serve you, but they also make you smile. If you visit and dine in Sunny's sushi delicacies, you will have a remarkably memorable experience. Their menu is packed from appetizers (served hot and cold) to Nigiri sushi to sushi rolls that are both spiced and non-spiced.
If you have a child, worry not, Sunny's got you covered, as they have a distinct child-friendly menu that chefs can customize for you. Whenever you visit the beautiful desert city of El Paso, Check into Sunny sushi today and make beautiful memories of El Paso.
Price: $$
Address:

6127 N. Mesa Ste. B,

El Paso, TX 79912
Phone:

(915) 584-1128
Koze Teppan is a celebrated Japanese restaurant in the heart of El Paso city. It was launched in 2018 and got its name Koze from the Japanese word 'Oze,' meaning eating together. At Koze, you will dine and experience an extensive assortment of hand-crafted rolls and cuts of sushi.
What will fascinate you about Koze Teppan is the open-kitchen style where their master chefs make your order right before your eyes! If you visit Koze today, there is a part of you that will forever cherish the memories of family and togetherness.
Price: $$
Address: 1160 Airway Blvd,

El Paso, 79925

Phone: (915) 303 8042
Tokyo House Grill is a Sushi specialty restaurant serving various sushi flavors ranging from Nigiri to Moki rolls. You can have a variety of sushi and seafood. What makes Tokyo House &Grill exceptional is that they offer table service, and their servers are very attentive, kind, and friendly.
You will never feel included when you dine at Tokyo House & Grill. Moreover, there is a wheelchair service for the old and physically challenged.
Price: $
Address:

8300 Gateway Boulevard East,

El Paso, TX 79907

Phone:

(915) 595-6980
If you are looking for one of the best and biggest places with good sushi and buffet services, Teppanyaki Grill & Buffet should be your first stop. It is a beautiful Chinese buffet restaurant that serves lots of lip-smacking sushi.
Here, you get to eat whatever you choose to your satisfaction. Their sushi is worth the hype! In fact, there are other remarkable foods on the buffet list, including Mexican food and other Chinese dishes. Do not leave El Paso without dining at Teppanyaki Food & Grill.
Price: $$
Address: 9861 Dyer St. #24,

El Paso, TX 79924

Phone: (915) 755-5180
View this post on Instagram
With their motto "Eat without Guilt," you can be sure to dine on delicious sushi at Hamachi Sushi restaurant. Their master chefs make special sushi and roll with very fresh ingredients at relatively affordable Prices.
You can also make a kitchen order served with miso soup, rice, and home salad. But eating at the Hamachi restaurant is not the only option, as you can eat in the comfort of your home. Just order your favorite sushi via Favor, Ubereats, GrubHub, or Doordash. Hamachi Sushi restaurant is a must-try for anyone visiting El Paso.
Price: $$
Address:

1201 Airway Blvd.,

El Paso, TX 79925

Phone:

(915) 775-1282
The Shogun Steak House story is remarkable and worth mentioning to give you a taste of how far this renowned Sushi restaurant has come. It was established in the early 90s by an immigrant Asian family that joined hands to help build America by growing Shogun Steak House.
The restaurant has endured decades of serving the El Paso people an Asian diet, including appealing sushi combinations. You can never go wrong with sushi at Shogun as they have received certifications in preparing one of the most outstanding sushi in El Paso.
Price: $
Address: 8855 Viscount Blvd. STE C,

El Paso, TX 79925

Phone: (915) 304 0044
View this post on Instagram
If you are looking for a fine restaurant to dine in and have fun, Shushi-ing is the place. It is a conveyor-belt restaurant where plates go around the tables, and you pick the food you want at a time.
That sounds like so much fun. So these plates come in green, Orange, Blue, Purple, and Grey. Don't worry if you can't tell which plate has what, as waitpersons are very friendly and will help you when it's your turn. Though busy, Shushi-ing will leave you with a remarkable experience worth your cents!
Price:

$$

Address: 10501 Gateway Blvd W,

El Paso, TX 79925

Phone: 915-592-8808
Whether you are visiting El Paso for business or a holiday, you should check in at Hayashi Hibachi. It is a spectacular Japanese sushi and steak house that serves fresh and delicious sushi suitable for family meet-ups and friends.
What is even better is that you could call the restaurant for reservations. You should see how their experienced chefs display prowess during the famous Hibachi shows. Hayashi should be your first stop if you want a sushi place that will leave you with a remarkable, long-lasting experience.
Summary
With this list, you can never go wrong with Sushi in the beautiful desert city of El Paso. All you have to do is to search through the list and make a choice. You now have all the reasons to relish this celebrated Japanese cuisine, even if you're a first-timer.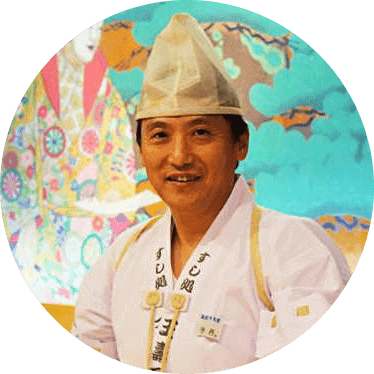 Hiroshi Nakamura, a Tokyo-born sushi chef turned US-based writer and critic, is the voice behind ichisushi.com, blending traditional sushi wisdom with modern insights.