Oakland is Alameda County, California's largest city. One of the most popular things you may think of in this large city is Merritt Lake, located in the city's heart. But Oakland, CA, is more than that. Because the place is gigantic, there are many best sushi places in Oakland, CA, which you can find on every corner!
Mujiri
$$ | (510) 879-6597 | WEBSITE
There's no better place to enjoy sushi than Mujiri! Mujiri has various menu items of their signature sushi selections, and everyone is raving about them.
Mujiri has nigiri combos with different flavors of nigiri and chef-choice maki. The fish sushi menu is subject to change, depending on the available fresh ingredients in the market. Like the other best sushi places in Oakland, CA, we also recommend reserving a table or checking the pick-up time of your order beforehand.
Yoshi's
$$$ | (510) 238-9200 | WEBSITE
Next on our list of the best sushi places in Oakland, CA, is Yoshi's. This restaurant is located in Embarcadero West and is available to serve you from Monday to Sunday. They also have a lounge or bar open daily, with a Happy Hour from Monday to Friday.
Yoshi's Restaurant features a traditional Japanese fusion cuisine, with a full bar with an impressive cocktail selection.
Yoshi's Restaurant proudly serves sushi made with premium ingredients, like the Japanese Sushi Rolls, Snow Monkey, Spicy Geisha, and Jack London. They also have Oakland A's and Fire Dragon. If you're a vegetarian, Yoshi's Veggie and Avocado Maki are for you.
Judoku Sushi
$$ | (510) 645-1912 | WEBSITE
Judoku Sushi houses the city's best sushi dishes. This restaurant has a menu that spans many Japanese meals, entrees, bento boxes, rolls, and of course, sushi. You can also have sake, beer, wine, and soft drinks in this sushi place.
To complete your meal, Judoku Sushi also has many dessert options. If you have a sweet tooth, you can try Judoku Sushi's Yuzu Cheesecake, Green Tea Cheesecake, and Creme Brulee. And, if you're a little more adventurous, ordering their Tempura Ice Cream is a perfect idea!
What's great about this place is that Judoku Sushi has two locations in Oakland, CA. You can have your favorite sushi snack in Piedmont and Rockridge!
Shimizu Cuisine
$$ | (510) 653-7622 | WEBSITE
When finding the best sushi places in Oakland, CA, you have to consider the quality of the food, convenience, price, range of menu items, and course, the excellence of service. With Shimizu Cuisine, all these factors are ticked off your list!
This sushi place has a wide array of menu items. From basic rolls, bento boxes, nigiri, spicy rolls, and noodles to gluten-free and vegan options, you're good to go. Shimizu Cuisine has a sushi bar with various rolls to satisfy your cravings. These include the Hamachi Sashimi, Veggie Spring Roll, and Maguro Sashimi.
If you're looking for affordable and tasty sushi meals, you should add Shimizu Cuisine to the top of your list.
Coach Sushi
$$ | (510) 834-7866 | WEBSITE
Everybody wants a sushi place with a fantastic atmosphere and service. Coach Sushi is another excellent option to dine with friends and family for a sushi lunch or dinner. This place claims to have the best food, with plenty of sushi flavors you can choose from.
Coach Sushi's rolls are made with love. And we all know what happens when meals are made with love – you can enjoy them so much that you would always crave more! This sushi spot has a wide range of flavors, and diners love their tasty menu specials, like the Crispy Ebi Roll, Veye Gyoza, and Curry Katsu.
Kakui Sushi
$$ | (510) 338-1188 | WEBSITE
Kakui Sushi is among the best sushi places in Oakland, CA, with indoor and outdoor dining. This food spot is also open for pick-up and delivery orders. They serve dinner every night and lunch from Tuesday to Sunday.
Kakui Sushi has exciting sushi options sushi lovers will surely enjoy. They have Inari, Tamago, Kani, Hotategai, and Siro-Maguro Nigiri. For the rolls, Kakui Sushi has Lion King, Spicy Tuna Roll, Warriors Roll, and Oakland A's Roll. There are a lot more choices you can try, so it's best to visit the restaurant to see for yourself!
Samurai Sushi Boat
$$$ | (510) 594-0661 | WEBSITE
You and your friends who love sushi will enjoy this next restaurant. Here's Samurai Sushi Boat, a family-operated sushi place in Oakland, CA's Grand Lake. This food spot has been serving delectable sushi since 2005.
Samurai Sushi Boat, from its name, features customized sushi boats specially made for larger groups. You can have these sets for a sushi party, a gathering, or a simple snack with your friends.
Samurai Sushi Boat's canal-style sushi rolls in boats are also excellent for birthdays, so if you want to make your special day extra memorable, head out to Samurai Sushi Boat!
Uzen
$$$ | (510) 654-7753 | WEBSITE
Uzen Restaurant is a sushi place with your favorite Japanese classic dishes. This restaurant is open from Monday to Saturday at a limited capacity. They cater to dine-in and take-out orders—all of which you can get at a reasonable price!
Uzen Japanese Cusine has sushi specials, like the Spicy Toro Roll, Anago, Uni, Bluefin Toro, and Ocean Trout sushi. They also have appetizers you can enjoy to level up your sushi dining experience.
Included in their menu items are Nasu dengaku, Kushi oysters, Sake Kama, and Grilled Chilean Seabass. As you see, Uzen's extensive list of sushi options is a plus—you can choose from a long list of delicious sushi rolls!
Ginza | Japanese Sushi Restaurant
$$ | (510) 451-2224 | WEBSITE
Ginza never fails to give its guests the best sushi dining experience. This place is a fine-dining sushi spot with authentic Japanese and French cuisines.
Think of when Japanese gastronomy and French culinary marry—that's what Ginza is ready to bring to your table! The flavors and flares of the two cuisines match perfectly, and you have to taste them to see what we're talking about.
Ginza has Hibachi dining with eight grills to serve its diners. Their chefs are 100% skilled and experienced in the field, ready to offer you the best sushi you can have!
Ginza also accepts catering reservations for weddings and corporate events, so if you want to have a unique party, make sure to include Ginza Sushi in your top choices!
Koryo Sushi
$$ | (510) 594-0661 | WEBSITE
Up next is Koryo Sushi, a sushi place along Telegraph Avenue. This sushi place is a Japanese restaurant and sake bar rolled into one. Koryo Sushi is open from Sunday to Thursday, from 5 PM to 1:30 AM. On Fridays and Saturdays, this sushi place can serve you until 2:30 AM.
Koryo Sushi has an extensive selection of Japanese staples, and sushi is one of the menu items you should never miss. They have sushi bar appetizers and sashimi appetizers for all sushi lovers. There are also unique flavors to try, like the Anikimo (Monkfish liver) and Tuna Tataki (Seared Tuna).
Sakura Bistro Tapas & Sake Bar
$$ | (510) 891-1781 | WEBSITE
Sakura Bistro Tapas & Sake Bar is another fantastic restaurant to go to when looking for sushi. This sushi place is one of Google's top-rated Asian fusion places in Oakland, CA. They have indoor and patio dining available daily, from 11 AM to 9:30 PM.
Sakura Bistro Tapas & Sake Bar is a sushi place that features innovative and inventive Japanese cuisine. They have sushi, tapas, and a sake bar that showcases an excellent selection of alcoholic beverages. If you went here for sushi, Sakura Bistro won't disappoint.
Delage
$$$ | (510) 823-2050 | WEBSITE
View this post on Instagram
Delage's cooking style features a "chef's choice" that specializes in California-inspired Japanese cuisine. They have an executive chef, Mikko Ando, who makes sure that every meal on their multi-course menu is delicious, tasty, and flavorful.
This sushi spot's menu changes according to the seasonal ingredients. So, you're sure to get unique menu items each time you dine in! Note that Delage can only accommodate limited walk-in guests, so be sure to reserve a seat by reaching out to their staff.
Sushi Villa
$$ | (510) 823-2338 | WEBSITE
Are you looking for an affordable and straightforward sushi place? Check out Sushi Villa along 17th street, one of the best sushi places in Oakland, CA. This restaurant caters to dine-in and take-out customers. Sushi Villa is recognized for its outstanding service, friendly staff, and delicious sushi rolls.
Sushi Villa ensures a modern twist to the traditional sushi staples. They have Signature Rolls, Nigiri Sushi, Hand Rolls, and Sashimi. If you're a vegetarian, there's also something for you. They have different types of Vegetarian Maki.
RnR Sushi & Bowls
$$ | (510) 250-9534 | WEBSITE
Next on our list is RnR Sushi & Bowls. This sushi place focuses on making delicious sushi and unique Japanese bowls. RnR Sushi & Bowls is open daily, except for Tuesdays. This place claims to serve the best sushi in town, so why not try it out?
RnR Sushi & Bowls has sushi specials and combos. They feature lunch specials, like the Combo A, a mix of California rolls and Chef-picked Nigiri. RnR Sushi & Bowls also has Sushi Donburi in different flavors. RnR Sushi & Bowls have many types of udon, too!
Final Thoughts
There's no better place to enjoy sushi than the best sushi places in Oakland, CA! With the many options you have, you'll never run out of a food spot to have your next sushi dining experience. The bright side of the bay indeed has many options to satisfy our sushi cravings.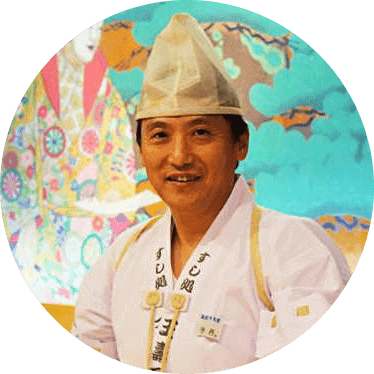 Hiroshi Nakamura, a Tokyo-born sushi chef turned US-based writer and critic, is the voice behind ichisushi.com, blending traditional sushi wisdom with modern insights.