Dive into an amazing Omakase dining experience at one of these nine best sushi places in Oahu, HI.
Prepare your tastebuds, as the places listed here are serious about serving their customer authentic and innovative sushi. Make sure you never miss out and pay all these terrific restaurants a visit!
Furusato Sushi
$$ | (808) 922-4991 | WEBSITE
Furusato is a family-friendly sushi restaurant that offers a kid's menu, making it an ideal place for the whole family.
Here, you can savor both traditional and contemporary sushi in a 33-seating indoor area. And, Furusato offers its customers a variety of options, from premium sushi to special lunch sets with udon and tofu soups.
Dining at Furusato will give you a true beach vibe because of its glass windows that give the place natural lighting and where you can see a bit of the beach. It greatly adds to the experience and lets you further enjoy your dining experience.
Hawaii Sushi
$ | (808) 734-6370 | WEBSITE
View this post on Instagram
Hawaii Sushi is a local and tourist favorite because of its quick takeout options. You can find a wide variety of sushi on display, and these products are freshly packed daily. Moreover, you shouldn't overlook the restaurant's Ahi poke, as this is made with freshly caught ahi and locally sourced ingredients.
Although Hawaii Sushi is known for its quick takeout, there are several tables, and chairs inside and outside that are available for dining. And you can trust Hawaii Sushi to be among the best places to get affordable yet quality sushi.
Sushi Sho
$$$ | (808) 729-9717 | WEBSITE
Located inside the Ritz-Carlton residences in Honolulu, Sushi Sho offers its guests a premium Omakase experience inside a sophisticated Japanese dining room. All of its sushi is wonderfully crafted by Chef Keiji Nakazawa, who is a renowned chef in Japan.
You can choose from 40 different types of freshly caught fish to pair with various seasoned rice at Sushi Sho.
The restaurant offers a unique experience of choosing your own pairing, and you can also ask the chef himself what's the best pair for him. Regardless of what sushi you choose, finish it off with their in-house sake to end your meal with a blast.
Hihimanu Sushi
$$$ | (808) 744-8491 | WEBSITE
View this post on Instagram
Hihimanu is a renowned sushi restaurant in Hawaii that has been featured in the "Top 25 Omakase Dining Experience in the U.S." in 2022 by Yelp. Here, you can enjoy fantastic Omakase dining that highlights sushi and sashimi made from fish flown directly from Japan, along with fresh local ingredients in Hawaii.
Hihimanu's chef, Ray Howard, has over 20 years of experience working in different sushi restaurants and brings his expertise to the Hawaiian sushi scene. With his solid experience, he has crafted his own signature, and you can taste his creations if you visit Hihimanu Sushi.
Sushi Sasabune
$$$ | (808) 947-3800 | WEBSITE
Sushi Sasabune will give you a taste of Hawaii blended with the authenticity of Japan through its fine Omakase dining. Because of the nature of Omakase, there will be no menu and soy sauce on the table. A course of fully dressed and well-seasoned sushi will be directly served to you.
Sushi Sasabune aims to give every customer a unique experience and make sure they enjoy their time in the restaurant. All food served to you is guaranteed to be delicious and made from fresh ingredients from local farms.
Yanagi Sushi
$$$ | (808) 597-1525 | WEBSITE
View this post on Instagram
Yanagi boasts to be the best sushi restaurant in Hawaii and they are surely not bluffing. Yanagi has been in the industry since 1978 and has served multiple countries around the world.
The brand brought authentic Japanese cuisine with them all across the United States and gained numerous recognition for its quality food and service.
Yanagi Sushi Hawaii is a must-visit for anyone who loves sushi and other Japanese food items as this restaurant never disappoints. Moreover, aside from traditional sushi, you can also find a variety of fusions from several cuisines at Yanagi.
Yohei Sushi Restaurant
$$$ | (808) 841-3773 | WEBSITE
Yohei is a traditional Japanese restaurant owned by Chef Kazuto Obara that specializes in making authentic sushi. What's great about Yohei is that Chef Kazuto perfected Edomae, a traditional sushi style, making every visitor's experience one-of-a-kind.
What you should also look forward to visiting Yohei is the hands-on Omakase experience consisting of the best and personally handpicked menu by Chef Kazuto. And you can also try Yohei's terrific bento boxes or its premium sushi sets to further amplify your dining experience.
Maru Sushi Hawaii
$$$ | (808) 951-4445 | WEBSITE
Maru Sushi is another fine Omakase sushi restaurant in Hawaii that showcases amazing Japanese cuisine. Here, you can watch the food being prepared right in front of you by Chef Takeshi Kawasaki.
Maru Sushi boasts a fantastic bar area where customers can freely interact with one another and create a friendly environment while indulging in delicious crafts. Moreover, if socializing is not right up your alley, Maru Sushi has a private room you can book if you prefer private dining.
Doraku Sushi Waikiki
$$ | (808) 922-3323 | WEBSITE
Doraku Sushi is another prominent restaurant in Hawaii that boasts fantastic sushi, carefully crafted cocktails, and delicious authentic Japanese dishes. It has been serving the locals since 2008, and after ten years, Doraku had a major expansion with a new space that is 3,500 square feet in size.
Furthermore, aside from the exquisite dining experience, you can book Doraku to host your private event. They have private rooms catering to small and large gatherings, a private menu, and a catering service.
Summary
Oahu is a magnificent island that houses several beaches with abundant marine wildlife. It brags about some of the best places to eat sushi, where its key ingredient, fish, is freshly caught from its waters. So, come and grab a bite at one of the best sushi places in Oahu, HI!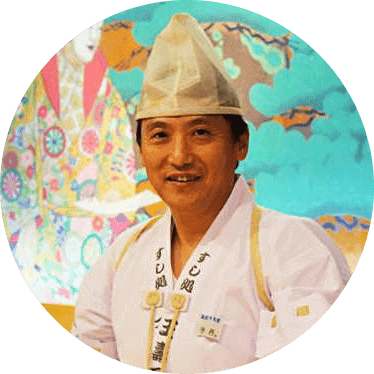 Hiroshi Nakamura, a Tokyo-born sushi chef turned US-based writer and critic, is the voice behind ichisushi.com, blending traditional sushi wisdom with modern insights.