There's always something about sushi. Whenever I am thinking of comfort food, it's one of the first things that pop in my head. I'm pretty sure I am not the only one feeling this way. So in the spirit of goodwill, here are the 13 best sushi places in Lexington, KY!
Zen Sushi & Sake
$$ | (859) 219-2166 | WEBSITE
View this post on Instagram
For nearly 25 years, Zen Sushi & Sake has been serving high-quality Japanese cuisine in Lexington. Those new to this place would be surprised to know the restaurant's location is near the mall area.
Zen Sushi & Sake is all about showcasing the spirit of Japanese food through the various items on its menu. They also guarantee that they use only the freshest ingredients. They have fish coming from Japan. They are flown from the Toyosu Market three times a week – Tuesday, Thursday, and Friday.
Pair their exquisite sushi offerings with some of their sake and whiskey!
KYIRA Sushi
$$ | (859) 554-5756 | WEBSITE
View this post on Instagram
At Kyira Sushi, they have created modern versions of beloved classic Japanese dishes. And you can enjoy all these magnificent foods either at the restaurant or at home.
They have an extensive sushi menu that you can check out. Whatever type of sushi you are craving, Kyira Sushi has them! They even have vegetable sushi options! If you want something different, they also have different kinds of deep-fried sushi!
If you want sushi at any of your events, Kyira Sushi offers catering services. They can even customize the event's menu!
Happy Sushi
$$ | (859) 231-7788 | WEBSITE
Fill your sushi-loving heart with happiness when you dine at Happy Sushi! This restaurant offers a wide variety of sushi selections. If you want sushi for lunch, check out their Lunch Sushi Entree. There are six lunch combos to choose from. Each combo comes with either salad or Miso soup.
If you want to order something else, you are welcome to do so! You can order your sushi of choice from their Sushi Bar. They also have a special sushi-inspired appetizer menu. Have you ever tried Sushi pizza? Well, if you haven't, order that one from Happy Sushi!
Omakase Sushi & Sake Bar
$$$ | (859) 269-9291 | WEBSITE
View this post on Instagram
If you want a memorable dining experience, don't forget to book a table at Omakase Sushi & Sake Bar. They have traditional and contemporary takes on Japanese dishes.
Once seated, you will be given a hot towel you can use to clean your hand. And then they will serve edamame. Don't worry. It's complimentary.
When you are ready to order, you will have plenty of items to choose from. They have a scrumptious Omakase set that you can get. If that's not your thing, you can start with some appetizers and make your way around their main sushi menu. Finish your meal with some delicious desserts.
Ginger Wasabi Sushi + Grill
$$ | (859) 225-2264 | WEBSITE
Delicious sushi does not have to be expensive. That's something that Ginger Wasabi Sushi + Grill is all about. It's affordable, accessible, and delicious. Getting to the restaurant is pretty easy. It isn't too far from a university and a hospital!
They have classic and specialty rolls that you can order. You can add a Poke Bowl or a Teriyaki entree to your sushi order. If you want a little bit of everything, they have a Bento Box option. You can get Classic Sushi rolls with this combo order.
Buddha Lounge
$$ | (859) 523-4723 | WEBSITE
View this post on Instagram
It's all about sophistication and sushi at the Buddha Lounge! Located in downtown Lexington, Buddha Lounge has an amazing spread of sushi and sashimi that you can order!
You can drop by this place for lunch. However, they have more sushi options during their dinner service. While waiting for your favorite rolls, you can also check out their 30-foot bar and find something to drink.
If you are looking for a modern space to host your event, consider the Buddha Lounge too. It's a chic spot that your guests will adore!
School Sushi
$$ | (859) 368-0660 | WEBSITE
View this post on Instagram
School Sushi offers the best of both worlds. This dining joint offers traditional Japanese food but with an international spin. They have been doing this since May 2017.
The sushi options at this restaurant are mind-blowing. There are Basic rolls and Fried rolls. It wouldn't be difficult for you to choose what sushi and sashimi to order. They are categorized according to the kind of seafood you want.
The staff at School Sushi will welcome you and your family and friends warmly. Whether you have a small gathering or a big celebration, they will give the best possible service.
Miyako Sushi And Steakhouse
$$ | (859) 268-0708 | WEBSITE
View this post on Instagram
If you want a premier dining experience, add Miyako Sushi and Steakhouse to the list. Since 2001, this Japanese restaurant has been serving sushi made by its master chefs.
You get a front-row seat while they put your sushi together. This place also has a Hibachi grill. Before you can try the food, the Hibachi chefs will entertain you. However, you can always opt for regular dining if you don't want any fanfare.
Make a reservation for lunch or dinner at Miyako by checking out their website or giving them a call ASAP.
Sumo Hibachi and Sushi
$$ | (859) 554-6002 | WEBSITE
Sumo Hibachi and Sushi offers something that other Japanese restaurants in Lexington don't. Do you want to know what it is? Well, you can eat all the sushi you want at this place! And to top it off, the meal won't cost you an arm and a leg! It's very reasonable!
Whenever people think of AYCA dining, they might think it's like a chaotic spread of various dishes. It's not the case at this restaurant. Everything is in order, devoid of the usual buffet frenzy! You can even see the chefs prepare the sushi!
Blue Sushi Sake Grill
$$ | (859) 554-4452 | WEBSITE
View this post on Instagram
Blue Sushi Sake Grill might just be one of the trendiest places to get sushi in Lexington! It's the perfect spot for people looking to enjoy Happy Hour and sushi! Their Happy Hour lasts all day on Sundays! And if outdoor dining is your thing, they have it as well!
The restaurant is located near some shops. So after your shopping spree, you can indulge in good sushi and drinks here. There are so many to choose from, even vegetarian and vegan options!
Tekka Japanese Grill & Sushi
$$ | (859) 543-0010 | WEBSITE
The staff working at Tekka are proud of the food and service they present to their customers. Since 2016, they have served a spectacular array of sushi made from the freshest ingredients available. They have trained sushi chefs in their team who have mastered the art of sushi-making. So you know you are getting something good!
There are over 30 special sushi rolls that you can get from Tekka. These are great additions to whatever grilled dishes you might order.
SAM Sushi & Ramen
$$ | (859) 263-4637 | WEBSITE
Your happiness and satisfaction matter whenever you dine at SAM Sushi & Ramen. They have different types of sushi rolls on the menu. For their Lunch Specials, they also have Sushi Combo sets available. You can pair your sushi with either Miso soup, Salad, Ramen, or Udon. You can also ask if they have Weekly Specials.
If you are planning a sushi feast, they have a Sushi Platter that you can get! Each platter has several kinds of rolls. You can order it through their website or phone if you are interested to try it.
Supreme Hibachi & Sushi Buffet
$$ | (859) 254-8888 | WEBSITE
There's something about going to buffets and seeing a smorgasbord of food right in front of you. Well, that's what you can get and more from Supreme Hibachi & Sushi Buffet! The food, including the sushi, offered at this restaurant is great!
When the serving dishes are running out of food, they are quickly refilled by staff. And what's even more interesting is that it's a fairly-priced buffet! The prices vary, depending on the time and day you drop by.
You can order something else if you feel like the buffer is too much. They have a couple of sushi rolls on the ala carte menu too.
Sushi Choices In Lexington
Contrary to what some naysayers might say, it is possible to get good sushi in the Bluegrass State. The 13 best sushi places in Lexington, Kentucky prove that. While the sushi options in this part of the country might not be as broad as others, I still found myself enjoying what these sushi spots had to offer!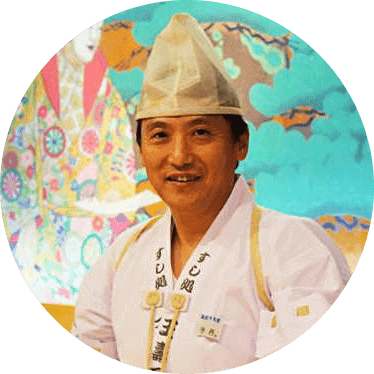 Hiroshi Nakamura, a Tokyo-born sushi chef turned US-based writer and critic, is the voice behind ichisushi.com, blending traditional sushi wisdom with modern insights.