Houston, the largest and most diverse city in Texas, presents a few luscious traditional sushi and sashimi restaurants. Indulge Japanese cuisine with the highest quality of fish and wagyu beef and witness the traditional Japanese hand-rolling action performed by moniker chefs.
As Japanese cuisine is open to culinary artistry and modern fusion, some sushi places in Houston incorporate Texas spicy flavors and seasonal vegetables, making them memorable to one's taste buds. Get ready for a trip to the best sushi places in Houston, Texas.
Hando
$$ | (713) 393-7425 | WEBSITE
View this post on Instagram
The sushi roll set at Hando is worth a try. It comes with a 5-piece roll: spicy tuna, yellowtail, blue crab, shrimp katsu, and fried oyster. But, if you want to witness the hand-rolling action, you better be early to have a seat at the counter, it is only limited to 22 seatings, and they do not accept seat reservations!
A dine-in experience at Hando is an entertaining experience, especially when you can witness how the sushi is prepared at the bar. It makes you feel like you are at a sushi bar in Tokyo. But, if you want an intimate dinner at home, you can have a take-out. They serve it in a colorful bento box.
Hidden Omakase
$$ | (713) 496-2633 | WEBSITE
Although Hidden Omakase is out-of-the-way for some, it is still worth visiting. You have to experience the hand-rolling action and harnessing of the culinary chops of Chef Niki Vongthong.
We recommend the Kinoki Nigiri, Foie Gras, with Sake Crudo. But, aside from having this lavish menu, it is best to experience the act of traditional Japanese presentations in preparing the menu. However, their sushi bar is limited only to 14 seats. Make sure to grab the golden opportunity!
Izakaya WA
$$ | (832)-548-1889 | WEBSITE
View this post on Instagram
Izakaya WA is one of the best casual and accessible sushi restaurants in Houston. You will be in awe of their culinary presentation and authentic execution of their sushi, tapas, and skewers. Yes, you got it right; Izakaya WA is also the best place for fried and grilled skewers.
We recommend trying their Mugi Fiji and their signature rolls and hand rolls: Skydiver, Memorial, and Wa Fu Futomaki. Their menu selection is friendly for vegetarians.
Izakaya WA loves to present a taste of Japan by serving a commonly served dish in Japan— a half-and-half dish. Half rice and half noodle soup combination, this dish is only available at their Memorial location.
KA Sushi
$$ | (832) 879-2118 | WEBSITE
View this post on Instagram
KA Sushi is one of the sushi house staples in Houston that draws a regular crowd with their quality tuna specials. You can have sushi any time of the day, but happy hour is the best time to witness the chefs showcasing their innovative and creative flair in their sushi and sashimis.
We recommend trying their wagyu belly, miso soup with shiitake, and a combination of their sushi and sashimi. If you want discounted cocktails, sake, or Rockefeller oysters, visit them during their happy hour!
Kata Robata Sushi + Grill
$$ | (713) 526-8858 | WEBSITE
View this post on Instagram
Expert precision, high quality, and seasonal that's what Kata Robata offers in their menu. The restaurants receive fresh fish from Japan which has intrigued celebrities and locals with their service.
Not to mention, their food is prepared by the renowned chef Manabu Horiuchi. The acclaimed chef is James-Beard nominated and certified to handle blowfish preparation. You are certainly having the best experience when it comes to eating raw fish at Kata Robata.
You can reserve a seat at the sushi counter to experience the live-action of the omakase tasting menu. The selection is thoroughly curated and hand-picked by the chef. Past selections include chutoro sashimi, live spot prawn sashimi, and soft shell crab tempura.
But, if you want a regular meal, we recommend trying their variety of nigiri, miso crusted bone marrow, and wagyu toast. Also, Kata Robata offers daily food specials! Do not miss out on the opportunity.
Kokoro Sushi and Yakitori
$$ | (409)-420-2560 | WEBSITE
View this post on Instagram
Kokoro offers high-quality sushi and sashimi in a laid-back environment. You can stop by or have a first-served seating to experience the swoon-worthy culinary artistry of chef Daniel Lee and Patrick Pham.
We are confused about which one we will recommend from their fascinating menu. All of their sashimi and nigiri ingredients are sourced directly from Japan, making them sweet and fresh. For a spicy kick, you can complement your bites pick with edamame, skewers, or shishito.
Kuu Restaurant
$$$ | (713)-461-168 | WEBSITE
Are you looking for a sushi place to bring your date? The vibe of Kuu Restaurant has one of the best styles for date nights and special occasions.
Kuu Restaurant is helmed by a Nobu-trained chef, Adison Lee, who showcases artfully-plates fresh nigiri and sashimi selections. We recommend trying the Kuu roll, wagyu gyoza, and their nigiri and sashimi collection, especially the foie gras and hammaccio. The choices of Japanese classics are endless.
Miyako
$$ | (713)-781-6300 | WEBSITE
Another staple sushi house in Houston. Although some locals claim it is not the same as before, Miyako prepares excellent specialty rolls and sake selection. You will feel cozy in their laid-back environment.
You can have a dine-in experience, order take-out, or request home delivery, so you do not have to go out and experience fresh and sweet Miyako dishes.
Nippon Japanese Restaurant
$$ | (713)-523-3939 | WEBSITE
View this post on Instagram
Nippon Japanese Restaurant is the oldest sushi place in Houston, Texas. Naomitsu Yoshida opened the restaurant in 1986 and has been in the cool neighborhood of Montrose since then.
The restaurant is a hidden gem and continues to be a Houston crowd favorite. It is not only because of their ravishing menu but also with their patio dining and breathtaking views of the Montrose Boulevard.
We recommend trying Sukiyaki hotpot, one of the best hotpots and is hard to find around Houston. You do not have to worry if you are vegan, vegetarian, or gluten-free. Nippon offers meals that are fit for your needs.
Nobu Houston
$$$$ | (832)-987-2599 | WEBSITE
View this post on Instagram
The famous sushi restaurant worldwide is in Houston. It is helmed by chef Nobu Matsuhisa. Even though Nobu is notably expensive, people love to spend special occasions or dinner dates at their chic and modern restaurants. If you drop in during the Tanoshi Hour, you will enjoy discounted rolls, bites, and cocktails.
We recommend trying the jalapeno rolls, yellowtail, and their best quality wagyu beef. You can choose four cooking styles for Wagyu beef: Tataki, Ishiyaki, Yakimono, or flambe. Do not forget to pair your ordered meal with a cocktail; it is always the best pair with raw eats.
Reserve a seat at the bar to experience the traditional rolling action and enjoy the chef's selection tasting menu. Although Nobu is notably pricey, its menu is splurge-worthy.
Oishii Japanese Restaurant
$$ | (713)-621-8628 | WEBSITE
The restaurant exterior may not be that inviting, but do not be fooled. Oiishi is one of Houston locals' favorite for its wide sushi and sashimi selection, and even with its ravishing menu, they provide a high-quality meal for the lowest price.
We recommend their sashimi selection, and they are fresh and buttery. You can check their special menu on the chalkboard when dining in. If you want twice the fun, visit Oiishi during their happy hour, it features BOGO (buy one, get one) for their appetizers and traditional sushi rolls.
Teppay Japanese Restaurant
$$ | (713)-789-4506 | WEBSITE
Teppay is known for its extensive menu of nigiri and sashimi selection, and there's no question why it is the crowd's favorite. These selections are impressively made from domestic and global fish flown daily from Japan. You can experience the best of both worlds in Teppay Japanese Restaurant.
We recommend trying their hamachi kama, wasabi shumai, and cold cha soba noodles. These meals may sound exquisite, but they only come with reasonable prices.
Soma Sushi
$$ | (713)-861-2726 | WEBSITE
View this post on Instagram
Soma Sushi is one of the sushi staples in Houston. They serve authentic Japanese dishes blended with casual, modern and traditional Japanese cuisine. As you go for their sushi selection, save room for their ramen.
We recommend trying the soma signature rolls: God Made Man, Crazy Irishman, and King of Kings. Meanwhile, do not forget to try their ramen bowls and usual appetizers like edamame and pork belly buns.
Final Thoughts
Every sushi place in Houston serves fresh and quality sushi and sashimi rolls. You can truly enjoy sushi and sashimi when you witness the live action of traditional rolling. Reserve a seat and go for an experience.
What's your favorite sushi place in Houston? Let us know.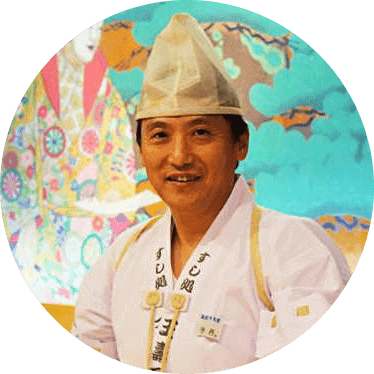 Hiroshi Nakamura, a Tokyo-born sushi chef turned US-based writer and critic, is the voice behind ichisushi.com, blending traditional sushi wisdom with modern insights.