Fort Worth, Texas, has a dining scene as rich as its cultural heritage. It offers a diverse array of restaurants, including some excellent sushi joints. If you have a hankering for this Japanese treat, check out the 10 best sushi places in Fort Worth, TX. Each place has something great to offer for the food lover in you.
Price: $$
Address: 5443 S Hulen St, Fort Worth, TX 76132
Phone: 817-370-9700
This restaurant is one of the crowd favorites in Fort Worth. The chef's attention to detail shows how much he values his craft. You can taste the freshness and dedication in each sushi that you order. The pricing may seem high for the place, but the food quality makes up for it.
Some loyal patrons hope that the interiors get a bit of sprucing up. A few additional booths to line the walls will go a long way. Other than that, you can enjoy an order of traditional rolls, including California, Salmon Skin Roll, and Philadelphia rolls.
Price: $$
Address: 3131 W 7th St, Fort Worth, TX 76107
Phone: 817-332-2538
Sushi and cold sake are a match made in dining heaven. This sushi place serves these two Japanese favorites in a classy and modern setting. Just like other Blue Sushi branches, this Fort Worth gem adheres to sustainable sourcing methods. It buys its seafood from farmers who follow responsible fishing practices.
You can feel this dedication in the food's quality too. The Maki offerings, such as the Cabo Rool and the Negi Yellowtail, are all showstoppers. Vegan diners can also have their share of delicious sushi. The also restaurant prepares delicious non-seafood options. Gluten-free choices are also available.
Price: $$
Address: 2600 W 7th St Suite 171, Fort Worth, TX 76107
Phone: 817-877-3331
This Fort Worth hangout marries posh interiors and modern versions of sushi. It offers an extensive collection of Martinis and Japanese beers that go perfectly well with their dishes. Fans rave about the Scallop Dynamite Scallop roll- a creation made with baked scallops, avocado, and cream cheese.
Menu options may be a tad pricey, but you'll surely get your money's worth. Food quality and taste are consistent. This sushi place's servers are attentive and friendly, so you're ensured of efficient service. However, it can get busy during the weekends, so be ready to wait for some time.
Price: $$
Address: 4833 S Hulen St #131, Fort Worth, TX 76132
Phone: 817-405-4833
One of the heralds of a good sushi restaurant is having a well-trained chef – and this restaurant has it. The chef is a genius when it comes to creating traditional and modern sushi. Not only is the sushi fresh and tasty, but it's also served beautifully.
The restaurant is spacious with ample parking, so it's perfect when you're going as a group. The bar whips up a variety of cocktails that pair well with the sushi and nigiri. You'll be delighted with its competent staff that never fails to give their warmest smiles.
Price: $$
Address: 4938 Overton Ridge Blvd, Fort Worth, TX 76132
Phone: 817-294-7200
Sushi Tao may not be your usual upscale and chic restaurant. But, oh boy, do they serve the best sushi in town. It's the go-to spot for locals and tourists craving the fresh taste of the sea. It seems like a best-kept secret since the doors have no sign.
You really have to look for it. Once you find the place, you'll experience an amazing time. You can't go wrong when you order their bestsellers – Rainbow, Tuna, and Shrimp tempura rolls. The restaurant owes its success to its chef, who brings his 20 year-experience to every sushi masterpiece.
Price: $$
Address: 2901 Fair Dr Ste 100, Fort Worth, TX 76131
Phone: 817-306-0003
Are you a happy hour fan? If yes, head on to MK's Sushi for a roaring good time. Pair your unique drinks with any of its mouthwatering sushi. Once you enter the restaurant, you'll feel a welcoming Asian vibe. It's easy to forget you're in Texas. The servers complete the pleasant atmosphere.
They're always ready to make your experience a stellar one. You'll get seated immediately, and your order will arrive in 15 minutes. Talk about great service. Remember to order the Peppered Tuna Sushi and Chef Special Rolls. They're so delicious that you'll want another serving.
Price: $$
Address: 2704 S Hulen St, Fort Worth, TX 76109
Phone: 817-924-1144
Heads up, sushi newbies! Have you always wanted to eat this sushi but don't know where to go? Edohana Sushi is the place for you. The rice and seafood creations will convert you into a fan. You will have a comfortable and enjoyable time since the staff anticipates your needs. They're so gracious and efficient, making every stay a delightful one.
Make sure to order the California, Shrimp Tempura, and the Philadelphia roll. Be prepared for seconds, though. One order is not enough since they're all so delicious. Vegans can also experience amazing food. They have nonmeat options that are as great as the other dishes on the menu.
Price: $$
Address: 6100 Camp Bowie Blvd #12, Fort Worth, TX 76116
Phone: 817-989-8886
In October 2012, this charming sushi place opened its doors to the Fort Worth community. Since then, it's been whipping up delightful sushi creations that everyone can enjoy. The restaurant, named after the owner's grandchild, serves traditional sushi and premium sake.
The owner has many years of Japanese cuisine training under his belt. You can feel his extraordinary culinary skills in every bite. The restaurant's must-haves include the Hawaii Signature Roll, Lily Classic Roll, and the King Salmon Nigiri. But if you ask its loyal customers, they'll tell you everything on the menu is to die for.
Price: $$
Address: 4750 Bryant Irvin Rd Unit 842, Fort Worth, TX 76132
Phone: 817-370-0685
This sushi spot's chef has over 15 years of experience in the sushi industry. Armed with Japanese food expertise and culinary wisdom, he put up Hooked on Sushi. You can taste his consistent dedication to quality in every dish served.
Each sushi creation is an artwork, and every bite is a symphony of flavors. If you've been to Japan, you know you're getting the real thing. The sushi is as authentic as it can get. Lunchtime will never be the same again when you order the specials. You'll get a bang for your buck since the rolls come with a salad and soup.
Price: $$
Address: 2740 Western Center Blvd #516, Fort Worth, TX 76131
Phone: 682-312-5577
Fusion cuisine has been the buzzword for many years. However, only a few restaurants were able to pull it off – Wabi Sabi Sushi is one of them. The ingenuity behind the food creations is incredible. The chefs were able to mix modern techniques with traditional ingredients.
The result is fresh and delicious sushi that'll make you come back for more. Some unique concoctions are fried sushi, the Super Volcano roll, and the Las Vegas roll. People who are avoiding carbs will be delighted to know it offers riceless rolls. None of the rolls are drowning in sauce, so you can really taste the flavors of the ocean.
Wrapping Up
You don't have to travel for hours to get great sushi. The 10 best sushi places in Fort Worth, TX are all worth visiting. You'll get to taste authentic flavors and amazing craftsmanship from highly-trained chefs.
Each spot has something amazing to offer -from cocktail pairings to unique menu offerings. We also chose those with impeccable service. Attentive and polite staff completes your unforgettable dining experience.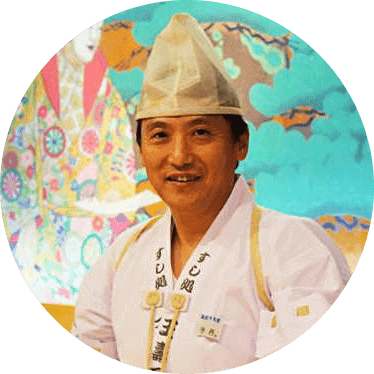 Hiroshi Nakamura, a Tokyo-born sushi chef turned US-based writer and critic, is the voice behind ichisushi.com, blending traditional sushi wisdom with modern insights.