Baltimore is touted as the country's "Charm City". It's a fitting name for a place rich in art, culture, and delectable cuisine. There's no shortage of museums, restaurants, and markets to keep everyone happy and satisfied. You can always feel a warm, welcoming vibe, almost like home.
This iconic harbor town is home to many seafood places. So, if you're a sushi fan, it's the place you want to visit. The charming area is a favorite hangout of people looking for the freshest Sushi rolls, Nigiri, or Sashimi.
We've gathered the 10 Best Sushi places in Baltimore, MD, to delight all lovers of this Japanese treat. We also asked locals and visitors to give us the lowdown on their favorite sushi joints. Please check out their specialties, unique features, and all the details that make them special.
RA Sushi Bar Restaurant
$$ | 410-522-3200 | Website
View this post on Instagram
This sushi place is in the heart of Harbor East, a stone's throw away from Fell's point. It exudes a chill and casual vibe. This sushi spot has one of the best happy hour specials. It includes which include creative sushi roll concoctions and cocktails.
A favorite specialty roll is the Lobster Filet Mignon Roll, a delectable roll made of seared fillet mignon, lobster tempura, and fresh vegetables.
The cocktails are innovative and pair well with any sushi or nigiri. Loyal patrons rave about the attentive and friendly service. It's a great place to hang out after work or conduct intimate meetings.
Yama Sushi Bar
$$ | 410-235-6888 | Website
The excellent online reviews of this restaurant do not disappoint. Hailed by locals as the "best sushi in Baltimore", it boasts fresh sushi rolls and other Japanese treats. It's a quiet place that offers non-intrusive service.
The efficient staff will allow you to consider your order while providing speedy service. The beautifully-presented bite-sized rolls will capture your sight and palate. One of the great deals is the sushi appetizer.
It includes six pieces of sushi picked and specially prepared by the chef. The tasteful Japanese decor and music add to the overall cozy atmosphere of the place.
Minato Sushi Bar
$$ | 410-332- 0332 | Website
View this post on Instagram
This sushi restaurant has been voted the Number One Sushi Bar in Baltimore six times. It's proof of their delicious offerings of Japanese style-cuisine with a modern twist. It offers creative sushi masterpieces and inventive cocktails best enjoyed in an elegant atmosphere.
One of the reasons for the recognition is its use of the highest-grade fish for every order. So, if you're in the historic Mount Vernon area, drop by Minato for sushi, maki, vegetarian, and specialty rolls.
Shoyou Sushi
$$ | 410-685-2989 | Website
View this post on Instagram
This sushi joint may be smaller than others, but its sushi rolls are big in flavor. It's one of the favorite hangouts in Baltimore. Its sushi master, Chef Bruce, handpicks the fish for the restaurant.
He ensures customers get only the best seafood prepared with the highest standards. He matched this dedication with a fun and vibrant selection and sushi options, such as the Hot Night Baby Roll.
It's spicy tuna and avocado placed on a bed of crunchy tempura rolls. The eel sauce and masago complete the creative concoction. It also serves Baked Sushi, an innovative twist to the classic dish.
Mizu Sushi
$$ | 410-522-0888 | Website
Mizu Sushi is a charming "mom-and-pop" place serving authentic Japanese treats. They're known for having consistently good food at affordable prices.
The lunch specials at $13.95 are a steal. It includes three rolls of your choice and miso soup. It also serves sushi rolls, such as California. Avocado and Tuna. The options are endless, so that you can try a new dish for every visit.
They also provide fast and efficient delivery service. You can enjoy your sushi without leaving your home's comfort. The owners take pride in their safety practices, so there's nothing to worry about.
Chiu's Sushi
$$ | 410-752-9666 | Website
If you're looking for a peaceful place with comfortable seating, Chui's Sushi is the best choice. It serves delectable sushi, including Foie Grass Rol, Abby Roll, and Coconut Shrimp Roll. Frequent diners always come back for unique combos.
These mix-and-match deals allow customers to enjoy different types of sushi on one plate. The charming and polite staff always offer attentive service, making your lunch breaks worthwhile.
The Bento meals are worth trying if you're looking to satisfy a big appetite. Any order exudes freshness and full flavors. It's best to end the meal with Mochi or Tempura ice cream for a delightful day.
Azumi
$$$$ | 443-220-0477 | Website
Azumi means "safe harbor" in Japanese – a fitting tribute to the warmth and comfort that this Baltimore sushi spot brings. You can find it in the exclusive and classy Harbor East area.
It's a place that exudes luxury, style, and substance. It commits to the Japanese art of honoring ingredients when preparing sushi. The restaurant's seafood comes from Tokyo's Tsujiki market, so freshness and quality are always guaranteed.
The accompanying cocktails, such as sake and Japanese whiskey, make each meal delightful and unforgettable. They're perfect for the Dynamite or Chirasi maki. Another crowd favorite is the Premium California roll, made with flash-freeze crab and tobiko.
Naked Grill Sushi & Yakitori
$$ | 410-534-8888 | Website
View this post on Instagram
Three local Baltimore chefs recently took over this restaurant. With 60 years of combined experience, they aim to steer this place to sushi supremacy.
Due to their dedication to quality and excellent ingredient sourcing, they remained Baltimore's favorite. The restaurant's location overlooking the harbor makes for a delightful meal.
The highly-recommended Black Dragon Roll is made from shrimp tempura, avocado, black caviar, and eel. It's a luxurious creation meant for your discerning taste buds. The wide array of cocktails pairs perfectly with other menu sushi entrees and specialty rolls.
Sushi Hana
$$ | 410-377-4228 | Website
This sushi place combines quality ingredients and attention to detail in every order. Guests can enjoy a bright, comfortable atmosphere where you can expect generous portions and affordable prices on their menu.
It has a vast array of sushi entrees, sushi rolls, maki, and nigiri options. You'll always have new dishes to try for every visit.
The shitake miso soup is an excellent accompaniment to every meal. Pair it with a pitcher of sake for an authentic Japanese meal experience. The service is fast and efficient, making each visit a pleasant one.
Chiyo Sushi
$$ | 410-466- 1000 | Website
This quaint sushi stop is a pioneer in the Mount Washington area. It has been offering fresh and innovative sushi creations to locals and tourists all these years.
It has a cozy and quiet upper level, perfect for intimate meals or meetings. Its menu may be overwhelming, but the attentive staff will help you decide which food to order.
One of the innovative items on the menu is pizza sushi. It's a crispy tortilla topped with fresh tuna, seaweed salad, spicy mayo, and eel sauce. It's a must-try if you're feeling adventurous in your culinary journey.
Summary
The "Charm City" is a treasure trove of restaurants to satisfy your culinary wanderlust. The 10 Best Sushi Places in Baltimore are perfect options if you're craving Japanese food.
All these sushi spots offer the freshest options and innovative preparations. So, could you include them in your must-dine list whether you are a resident or a tourist?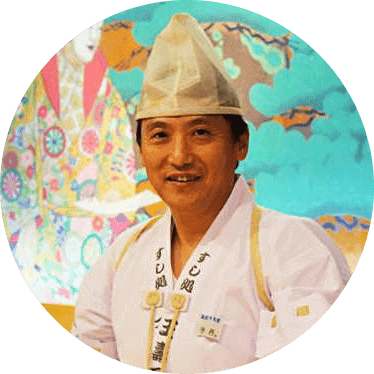 Hiroshi Nakamura, a Tokyo-born sushi chef turned US-based writer and critic, is the voice behind ichisushi.com, blending traditional sushi wisdom with modern insights.