Manhattan Beach isn't only cool, but it is also known for its abundant seafood. As such, the sushi restaurants there never fail to dazzle both visitors and locals with their fresh, mouthwatering dishes.
If you love Asian cuisine and you're in Manhattan, whether as a local or tourist, here are some sushi restaurants you should check out.
Sushi Inaba
$$$ | (310) 545-3345 | WEBSITE
Sushi Inaba is a small restaurant located in Manhattan Beach. They only have six seats at the bar, which allows you to build a personal relationship with the chef. The food is usually presented in a box, and you are treated as much as you want. It's a place to go as often as possible to give yourself a nice treat.
Their orders are accepted via TOCK. They are only open from Wednesdays to Saturdays for lunch and dinner, so do well to make a reservation before then. Sushi Inaba is very intent on serving fresh and quality food.
As such, they advise guests to place their order at least a day before they plan on getting it. You could try out their futomaki or their "Negitoro" Bara Chirashi to start your meal there.
Fansea Sushi
$ | (424) 398-0083 | WEBSITE
View this post on Instagram
Established in 2020, Fan Sea Sushi is a new restaurant that provides modern-day sushi. Asides from the traditional means of making sushi, they adopt new, innovative methods using fresh ingredients to make delicious American sushi.
The restaurant is also a peaceful location to eat as it is located across the beach. It is usually hushed on Sunday evenings. If you want somewhere cheap and quiet, Fansea Sushi is where to be.
You can order a meal online and pick it up from the restaurant, or you can order through some of their partners like UberEats and the likes if you feel a little outsy and wish to eat there.
Fusion Sushi
$$ | (310) 802-1160 | WEBSITE
After a long day at work, you are so tired that all you want to do is eat, relax and go home. Fusion sushi is the best place for that. Their food is swiftly prepared: it is made right before you.
While waiting, you can discuss with the chef and learn more about Asian culture. The restaurant also offers various delicacies and options for people with dietary problems.
The environment, though small, is quite relaxing and accommodating. With the help of excellent service from workers, they serve high-quality food in a fun and casual atmosphere. Their meals are made from the freshest seafood and, through a no-contact delivery, can be ordered and eaten in the comfort of your home.
O-sho Restaurant
$$ | (310) 372-6156 | WEBSITE
When the Japanese make sushi, it's perfect. And this is the same for O-sho, a Japanese-owned restaurant operating for more than 30 years on Manhattan beach. They serve their tasty meals in a cozy environment that reminds you of family.
Rated one of the best restaurants, their favorites include tuna, sashimi, omakase, and teriyaki, among other seafood. Though you can get a table without a reservation, you should get there early if you want a seat, as many people patronize them.
Although a new owner took over in 2017, they still keep their standard and satisfy their customers. When you eat at the restaurant, you can be sure the meals are made from the freshest ingredients as the new owner, Hiro, goes to the fish market himself to pick the freshest and most excellent fish.
O-sho restaurant is convenient for kids and a great place to hang out with friends.
Pisces
$ | (310) 545-3980 | WEBSITE
Pisces is such a great name for a beautiful fish restaurant. Though a small Japanese restaurant, its seafood dishes are impeccable. They deal with take-outs; it is not a place to sit and eat as they only have four chairs at the counter.
The wait is 45 minutes to get the ordered food, but it is worth the taste. You'll especially enjoy their chirashi bowl. They serve their guests first-come as they do not accept reservations.
The restaurant is open from Wednesday to Sunday. Although the indoor seating can't contain many people, there are seats outside where you can enjoy the beautiful scenery as the tasty goodness of their foods melt in your mouth.
Dash Dashi Sushi and sake bar
$$ | (310) 939-10 | WEBSITE
Dash Dashi is a small new restaurant. The sushi, though not spectacular, is good enough. It is close to the beach, providing a good view of the beautiful environment. You can easily branch in after a lovely time at the beach.
The servers are friendly and funny; their customer service is excellent. You can order a take-out meal on their website or dine in to enjoy the view and the food. They serve only lunch and dinner and are open from Monday to Sunday. You could give their offerings a try or, better still, choose to be blown away by their special rolls.
The Rice Teriyaki Sushi Roll
$ | (310) 643-0059 | WEBSITE
Formerly known as Samurai sam, the Rice Teriyaki Sushi Roll's service is excellent, and the food is very cheap. The sushi dishes are worth trying. The wait after ordering is 15 to 20 minutes.
If you are adventurous enough, check out their tasty bento box with the teriyaki rolls, the miso soup, and the bowls. You will find the restaurant very close to Manhattan beach, making it a perfect setting for those who love to take good photos.
The Rice Teriyaki Sushi Roll is open from Monday to Sunday, meaning you can stop there any day to have a nice serving of sushi. You can place an order for pick up or delivery by setting a call through to the restaurant.
Ugly roll sushi
$ | (310) 837-8500 | WEBSITE
Even though the name sounds weird, the food is fantastic. Ugly roll sushi is not a modern restaurant that offers a luxurious environment, but the food is 5-star. It is in a tiny space with no fancy decor, but you can fill your belly for just a penny.
They serve all types of sushi, including rolls and sashimi. They also have a variety of drinks, from soft drinks to alcoholics. The food is too delicious for the price, and their customer service is also good. Wait till you meet the friendly hostess, Nallely. As the name implies, sushi is not the only meal the restaurant serves; it also offers ramen.
Yanagi sushi
$$ | (310) 955-2000 | WEBSITE
Opened in 2008, Brian Shim owns Yanagi sushi, operating for more than ten years. They make traditional sushi rolls in a spotless and attractive environment. The take-out time is about 45 minutes to one hour, so it's better to order early.
Their food is one of the best in the area. It is primarily a take-out restaurant because of the waiting time, but you can dine in. The restaurant makes it its duty to provide the locals and its guests with healthy and high-quality meals, not settling for anything less.
They add no MSG to their meals and are compliant with their culture of making nutritional foods and using gluten-free ingredients. They offer take-out and delivery but try ordering from their website for a more convenient method. They also offer both indoor and outdoor catering services.
The Izaka-ya by Katsu-Ya Manhattan Beach
$ | (310) 796-1888 | WEBSITE
View this post on Instagram
The restaurant is located near the pier on manhattan beach. They have many people lining up to order, so you might want to place your order and come back 15 minutes later when it's your turn.
Their menu has many options, from salmon rolls to spicy tuna, miso soup, etc. Their sashimi is usually for lunch. You will have to be patient with their workers, though. It's a crowded place, so it takes some time if you want to enjoy their meal.
The Izaka-ya is only open on Sundays, Mondays, Fridays, and Wednesdays, and it only serves dinner and lunch. The restaurants offer catering services and sell gift cards, a perfect gift to a loved one who loves sushi.
Sugarfish by Sushi Nozawa
$$ | (424) 675-7644 | WEBSITE
View this post on Instagram
Sugar fish in Manhattan is a branch of the 1978 establishment of chef Nozawa in Los Angeles. They only make traditional sushi purely. Following the simple Japanese style of making sushi, their dishes remind you of Japan and how original sushi tastes without paparazzi.
As such, they bring Japan to America with their sushi. They have been operating for over 40 years, and their sushi is always top-notch. If you want to eat at Sugarfish bar, you'd have to make it there in time as they do not accept reservations.
They have a mobile app where you can order your meal and wait for it to be delivered home. You could also order for either pick-up or delivery by using postmates. The restaurant also sells gift cards, which you can give friends to have a nice meal.
Fishing with Dynamite
$$$ | (310) 893-6299 | WEBSITE
View this post on Instagram
The menu is quite limited. Unlike the other restaurants with varieties, there is less to choose from, but you'll enjoy their heavenly dishes. It is advisable not to come hungry as their food is served in limited portions.
You can ask for more if you want, but it will cost you more money. They also make delicious Koshi Hikari rice. Their price is relatively high but worth the service.
If you want to give yourself a special treat of a sushi meal or a date night, this 32-seat restaurant with high-quality decor and a picturesque view is the place to be.
Rice Healthy Japanese Dining
$$ | (310) 798-7722 | WEBSITE
View this post on Instagram
They mainly deal with vegan foods, so this restaurant might not be the best place for you if you love meat, but their dishes are enjoyable. All the food served in the restaurant is gluten-free, low in calories, and vegan friendly.
They are also stuck on using the finest and healthiest ingredients to make meals with no artificial additives. You should try their tasty salmon collar and crispy rice tofu, and also, a sip of their delectable sake to complement the sushi would leave you asking for more.
It's a unique restaurant. Compared to other restaurants, they offer diet options. There is outdoor seating with a great view; you can stay there while waiting for your order. You can order a take-out too. They have a website where you can order online.
Joey Manhattan Beach
$$ | (310) 546-1163 | WEBSITE
View this post on Instagram
Joey in Manhattan Beach is the third of its kind in South Carolina. A large space area decorated with abstract art by Amber Goldhammer, the restaurant is the right place to hang out and relax with friends.
It is also excellent for business meetings, dates, corporate events, etc. Though very busy, you'll enjoy your time there because of the space and fun. There is a lot of parking space with a lovely presentation. They have indoor and outdoor seatings, which are well-tended.
However, you might have to make a reservation before securing a space. The food is tasty and excellent, coupled with the great vibes in the atmosphere. Don't hesitate to check out Joey if you love a buzzing environment.
Summary
While enjoying your holiday on Manhattan beach, don't forget to check out the sushi restaurants listed above for a signature experience, especially if you love seafood or try out new dishes.
You could make reservations online to secure a space at crowded restaurants. Remember that opening hours are affected by holidays, e.g., memorial days. Always check their websites to know when they're available.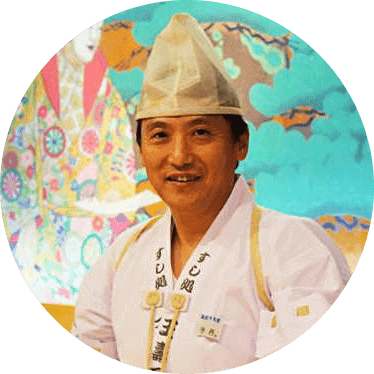 Hiroshi Nakamura, a Tokyo-born sushi chef turned US-based writer and critic, is the voice behind ichisushi.com, blending traditional sushi wisdom with modern insights.