Sushi rolls are something that we love. While it may be small, sushi is jump-packed and filled with punchy toppings all over vinegared rice. Whether you wrap it up with ramen noodles or have them, sushi rolls will fill your stomach in no time.
If you're a resident of Davis, CA, or just new to the place, sushi places are something that would come to your mind. We can all relate that our life without sushi rolls would not be complete. So, while sushi places are such a rare find in Davis, CA, we've pulled some strings to find them. So here are the 8 Best Sushi Places in Davis, CA.
Huku Japanese Bistro
$$ | (530) 750-0858 | WEBSITE
And now, we have Huku Japanese Bistro for the next sushi bar. If you're a die-hard sushi lover, this sushi place is perfect for you. Established in 2016, Huku Japanese Bistro takes pride in using the freshest and highest-grade ingredients to create the best Japanese sushi rolls.
Heading on their menu, you'll see a lot of traditional Japanese dishes. But of course, every Japanese culinary delight would never be complete without sushi rolls. So, for their sushi specialties, there are endless picks for you.
If it's your first time, go for something classic such as Spicy Scallop, Tempura Roll, Salmon Skin Roll, and Kappa Maki.
Further, Huku Japanese Bistro caters to and accommodates private events. They are open for bridal and baby showers, charities, or business luncheons. You can also celebrate life's milestones here, such as birthdays and anniversaries.
So, if you like to go for something Japanese and have sushi rolls for your upcoming celebration, this restaurant would be delighted to welcome you. Just call their events coordinator, and they would be glad to help.
Zen Toro Japanese Bistro & Sushi Bar
$$ | (530) 753-0154 | WEBSITE
Reopened in 2020, Zen Toro Japanese Bistro & Sushi Bar is one of the newest but best sushi places in Davis, CA. This sushi place is glad to accept dine-ins, take-out, and delivery orders.
Zen Toro offers their guests a taste they will never forget for a lifetime when it comes to basic sushi rolls. Tekka Maki (tuna), Sake Maki (salmon), and California Roll are all available for $8.
Do you like something extraordinary for your sushi? Check out their Raw Rolls like Crunch Dragon Roll, Cucumber Pacific Roll, Rainbow Roll, and Ocean Roll. For a great experience, we suggest pairing these sushi rolls with noodles.
Wrap up your sushi dining experience with Miso Ramen, Spicy Cold Noodles, Chicken, or Vegetable Udon. Open from 11:30 AM to 8:00 PM Monday to Saturday, this sushi restaurant takes its guests seriously and welcomes them with a warm vibe.
Hikari Sushi & Omakase
$$ | (530) 564-4356 | WEBSITE
View this post on Instagram
Next on our list is a sushi bar you have never seen. If we describe it, there's one word that would capture it. Hikari Sushi & Omakase is extraordinary. First, let's take a look at the humble beginnings of this sushi place.
The owners and chefs of Hikari Sushi & Omakase wanted to create sushi from sustainable seafood. Regarding ingredients, they use 20% of new sources from Japan. Intending to put a smile on every sushi bite, Hikari Sushi is now one of the ultimate go-to sushi bars in Davis, CA.
So, if you're up for the best and premium sushi experience, you're on the right track. Visit this restaurant! We are sure that you'll not be disappointed.
Jusco Sushi Restaurant
$$ | (530) 750-2869 | WEBSITE
Raise your hand if you want sushi served with art, creativity, and passion. Jusco Sushi Restaurant is one of the places where you can find sushi rolls crafted and filled with love. Please take a look at their menu. Promise, you'll realize that there's nothing that would not make you like and enjoy this sushi bar.
Let's start with their classic sushi rolls. The famous Spicy Tuna Roll and Philadelphia Roll are so affordable. You can have them for only $8.50. And if you're into the vegetarian game, there's nothing that would stop you. Check out their Veggie Tempura, Caterpillar Roll, and Crunchy Veggie Roll. And the price of these rolls is $8.99.
And yes, you can surely agree with us when pairing your favorite sushi rolls with cold drinks. So, the next time you eat sushi rolls in Jusco, wrap them with Japanese Creamy Soda. Sounds refreshing, right?
Nami Sushi
$$ | (916) 999-1113 | WEBSITE
And finally, for the last stop of sushi places in Davis, CA, we have Nami Sushi here. You should add Nami Sushi to your "must-try" list of restaurants for your sushi cravings and satisfaction.
The sushi bar has everything you need. Are you up for something simple but classic? Or do you want to level up your sushi game by trying sushi bar specials or combo rolls? Worry not because Nami Sushi is here for you.
Nami Sushi is perfectly made for people who enjoy a variety of sushi rolls in one sitting. For $57.99, you can go for their Special Roll Combos, which allows you to have five assorted sushi rolls.
Are you curious about their house specialties? If it's your first time, go for their Deep-Fried Crunchy Cheese, Red Dragon, Firebird, and Spicy Tuna. Of course, the menu would never be complete without nigiri sushi. Whatever you love or prefer, you can find it here! So, come and visit Nami Sushi.
Mikuni Sushi
$$ | (530) 756-2111 | WEBSITE
View this post on Instagram
Here's a sushi restaurant in Davis, CA, that offers a relaxed plus urban vibe with a friendly, warm ambiance, Mikuni Sushi. Located in downtown Davis Commons, you can find this hot, newest sushi bar within walking distance near UC Davis Campus. Sounds fantastic, right?
On a closer look at their menu, you'll see that there are a lot of choices they offer for their guests. There's a special section for lunch, kids, happy hour, and to-go foods. And even if you're on a diet, you are welcome to visit Mikuni Sushi and go for their gluten-free menu.
But whether you're a visiting tourist in Davis, CA, or living down the neighborhood, Mikuni Sushi is glad to welcome you. We suggest you try their sushi and sashimi combinations for their specialty sushi rolls.
But if you want something quick and handy for your snack break, there are a lot of sushi snacks, from $5.5 to 10.5-dollar bites.
On top of that, Mikuni Sushi promises its guests an enhanced sushi dining experience with their offered amenities like large-screen HD Television. And yes, you get a glimpse of various artworks surrounding the restaurant.
Davis Sushi Buffet
$ | (530) 297-1999 | WEBSITE
Davis Sushi Buffet is one of the crowd-favorite sushi bars in Davis, CA. For $12.95, you can have unlimited sushi options. Their best-selling dishes are California Rainbow Roll, White Night Roll, Jalapeno Roll, and Monster Roll.
But if you prefer the non-raw option for your meal, Davis Sushi Buffet provides their guests' options. You can have their Crunch Roll (Fried Roll) or Lion King Roll (Baked Roll) instead.
For those guests who enjoy the healthier side, there's also an available vegetarian roll in this sushi bar. Vegans' ultimate go-to is Garden Roll, Cheesy Roll, and Triangle Roll.
And, of course, you don't need to go outside the comfort of your home just to come across the best and premium sushi.
So, the fantastic news is David Sushi Buffet also accepts take-outs and online orders with delivery services. Give them a call, and you'll have a supreme sushi roll party at home. Call their number and have sushi rolls delivered to your doorstep.
I Love Sushi
$ | (530) 758-4560 | WEBSITE
Found in Anderson Plaza, I Love Sushi is one of the rare but ultimate sushi destinations in Davis, CA. From Monday to Friday, this sushi bar is open from 11:00 AM to 2:30 PM/ 4:30 PM to 9:00 PM. And for weekends, their doors are open from 11:00 AM to 3:00 PM/ 4:30 PM to 9:00 PM.
As you may know, one of the fantastic things we love about I Love Sushi is its menu. You'll be surprised because there's a lot of sushi to try. It feels like this sushi bar has a complete package of sushi rolls. Their guests don't have to spend much to have a premium sushi dining experience to make it even more extraordinary.
Their veggie rolls and nigiri start at $4.95. You can have their maki roll at $6.95, sashimi at $8.95, and temaki at $6.50. Sounds affordable, right? So, if you happen to swing by at Davis, CA, never miss out on trying sushi rolls at I Love Sushi.
Can't Get Enough of Sushi Rolls?
Sushi restaurants in Davis, CA, are rare gems. And that only means that you must try them. Are you like us, who can't get enough sushi rolls? We understand if you would do everything for the name of sushi. So, if you love sushi as much as we do, you will enjoy this list of 8 Best Sushi Restaurants in Davis, CA. Celebrate, and indulge!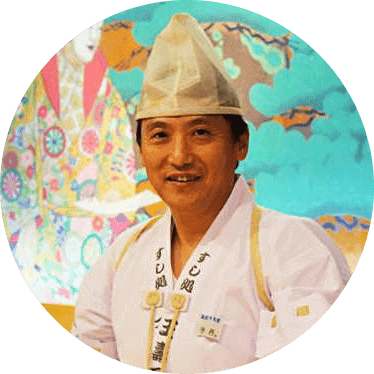 Hiroshi Nakamura, a Tokyo-born sushi chef turned US-based writer and critic, is the voice behind ichisushi.com, blending traditional sushi wisdom with modern insights.