Fusion food is an exciting way to enjoy two cuisines in one sitting. One great example of this culinary genius is the sushi burrito. It's the traditional sushi filling wrapped as a Mexican burrito. Preparing it at home can be easy if you follow the 22 Sushi Burrito Recipes in this article.
The History of the Sushi Burrito
The restaurant Sushiritto started the sushi burrito craze back in 2011. Peter Yen, a chef at this San Francisco spot, wanted to create a special lunch meal other than the usual sandwich.
While sushi is a healthy and filling option, there aren't many places to get them. You buy from the supermarket or order at a sushi restaurant. The former is fast yet has poor quality while the latter is slow and expensive.
He thought of revolutionizing the sushi by placing it in a handy roll. It's easy to prepare and eat. He made it more modern by infusing some Latin flavors. This brilliant combination spawned a business idea that's still successful now. At present, several restaurants are preparing this delicacy. It has generated several varieties for different palates.
What is a Sushi Burrito?
A sushi burrito combines rice, raw fish, vegetables, and sauce wrapped in a nori wrapper. Just like a sushi roll, chefs place the fish the fillings in the center then they add the rice. The filling is tightly wrapped with a nori sheet. The result is a burrito-shaped roll that you can eat with your hands.
This fusion food has become popular over the years. You can find it in lunch spots, fast-casual dining areas, and quick-service restaurants. If you feel like preparing it at home, try the following recipes.
This gluten-free sushi burrito is made with avocado, brown rice, and ahi tuna. It's a healthy and delicious meal that's best for a quick lunch. You can taste the freshness of the fish and the crunchy veggies in every bite.
This meal can be appropriate for vegans, too. Just swap the fish for tofu and add kimchi for a delightful kick. If you're not a fan of tuna, smoked salmon is another excellent option.
2. Super Sushi Burrito
This recipe calls for sashimi-grade salmon. You can buy it from a reliable fish vendor or an Asian deli. Make sure you're salmon is firm and not slimy. Other ingredients include sushi rice and tobiko or flying fish roe.
The burrito has added nutrients and texture due to the addition of cucumber, red bell pepper, carrots, and lettuce. The video clearly shows how to wrap the burrito nicely and tight.
This dish is excellent for people who don't like raw fish. It's made from grilled chicken breast flavored with cajun seasoning. The recipe also teaches how to make guacamole for that delicious Mexican flavor.
You can also use veggies such as carrots and bell peppers for added crunch and vitamins. The writer recommends using Persian cucumbers since its crispier and has fewer seeds. She also used organic roasted nori that you can buy online.
4. Spicy Sushi Burrito
If you're vegan and a fan of spicy food, then this recipe is for you! The tutorial starts with some information on Japan's famous sites, so it's entertaining and informative. The chef will teach you how to make the perfect rice.
Having the right texture and consistency is the foundation of great sushi. The sushi burrito is filled with fresh vegetables, including lettuce, spring onions, English cucumber, broccoli sprouts, and avocado.
5. Vegan Sushi Burrito
You can still enjoy the goodness of sushi burritos even without meat. This video teaches how to make a vegan version using veggies and tofu.
Aside from using a nori wrapper, the video also shows how to make Korean Barbecue and Thai Curry Burritos using a tortilla wrapper. All versions contain nutrients and fiber, making it an excellent lunch or dinner meal.
6. Quick and Easy Sushi Burrito
When fresh tuna is not always available, you can use canned tuna. This tutorial video shows how to make a sushi burrito using common pantry ingredients. It also gives a helpful tip about using cucumbers.
It's best not to use the middle part with seeds. It contains too much water that can make your burrito mushy. You should also squeeze out excess water from the tuna for a firmer roll.
This sushi burrito is a great option for packed lunches or quick dinners. This version is a vegetarian one. However, you can place other fillings such as ahi poke as well.
The writer suggests making the rice in advance for easy preparation. The vegan protein used in this recipe is teriyaki tempeh or tofu, while veggies are red beet and cabbage kraut.
8. Burrus or Sushi Burrito
The two chefs in this video are entertaining to watch. It's great that they gave tips on preparing sushi rice using a pot. They also recommend using the freshest salmon bought from a reliable vendor.
Unlike other tutorials, the chef used a peeler to make slivers of carrots and cucumbers. They're easier than slicing them. Even kitchen newbies can make them without a sweat.
You'll enjoy the best of both cuisines in this Japanese meets Mexican recipe. It uses tuna, rice, cucumbers, and carrots. The added wasabi, lime juice, and pickled ginger give it a pleasant spice that balances the flavors.
The recipe starts with instructions on how to cook the rice. One notable tip is to ensure you've washed away most of the starch. It's essential to follow this for a firmer roll.
10. NYC Sushi Burrito Recipe
A New York City restaurant shares how they prepare a sushi burrito in this video. It uses tuna and salmon for protein. The vegetables for this recipe include cucumbers, and carrots cut into thin strips.
Meanwhile, the chef added some seaweed salad for spice and extra flavor. The burrito is packed with many ingredients, so it will undoubtedly be very filling. The addition of black sesame seeds is a nice finishing touch.
It would help if you prepared a bamboo sushi rolling mat for this recipe. You can easily purchase it online or at Asian stores. This tool ensures the filling stays snugly inside the burrito.
Following the recipe correctly, you'll taste savory, sweet, fresh, and creamy notes. The addition of potato chips is a crunchy and salty surprise that the young and young at heart can enjoy.
12. DIY Sushi Burrito
Charming content creator Emma shares how to make DIY sushi at home. You can use a clean washcloth wrapped in Saran wrap if you don't have a bamboo mat. This handy tip makes it easier for first-timers to create this recipe.
She also uses an instant sushi rice seasoning mix for convenience. Meanwhile, she added guacamole to give it a Mexican flair. She added guacamole. Other ingredients are smoked lox and julienned vegetables.
This easy-to-follow recipe includes gorgeous photos and a shopping list. Having a list allows you to prepare the ingredients before your prep day. This dish uses a sashimi-grade tuna.
It ensures that you only use the freshest fish available in the market. Remember that raw fish harbors harmful bacteria, so make sure you buy from a reputable source. The addition of tobiko makes this recipe similar to traditional sushi.
14. King Salmon Sushi Burrito
This video tutorial is so fascinating to watch. The chef himself catches and prepares the fish he uses for his recipes. Such a great concept! You'll learn how to fillet a king salmon at home.
It's a skill that you can use for other dishes as well. The chef recommends freezing the salmon for seven days to kill all parasites and bacteria. The rest of the video shows how you can make a yummy dish.
This dish uses Surimi or imitation crab. It's perfect for people not too fond of eating raw fish. Interestingly, Surimi is made from a white fish called Alaskan Pollock.
It's low in fat yet high in protein and Omega 3 Fatty acids. What's excellent with this ingredient is that it's easy to manage than raw fish. You don't have to think about special preparations and storage.
16. Huge Sushi Burrito
Tuna steaks are more commonly available in supermarkets than sashimi-grade tuna. For this recipe, the chef shows how to pan grill the tuna to bring out its flavor.
This dish is perfect if you are not fond of raw fish. The chef used two nori wrappers to make this dish surprisingly huge. It's so big that you can either share it or keep half of it to eat later.
A food photographer and blogger from Australia shares her take on the sushi burrito. Instead of raw fish, she uses chicken katsu. Kids who are not fond of raw fish can enjoy this Mexican and Japanese fusion.
For this recipe, you must prepare two nori sheets to accommodate all the delicious fillings. The writer also offers a wide array of filling options that you can try.
18. Shrimp and Chicken Sushi Burrito
This recipe is another take on the sushi burrito. It uses chicken and shrimp instead of the usual raw fish. It also teaches you how to make sriracha mayo and avocado spread.
These elements provide a unique flavor profile to the dish. Meanwhile, the shrimp is battered and fried to add a crunchy texture to the burrito. The chicken, carrots, and cabbage balance everything.
Canned tuna is heaven-sent for many busy people since it's cheap and easy to use. This recipe makes use of this everyday pantry staple. You won't have to worry about preparing and storing it to keep it safe.
It's a satisfying dish that combines the tastiness of sushi and the heft of a burrito. The avocado, cucumber, and carrots add crunch and more nutrients. It's a fast and handy meal that's balanced in every way.
20. Crunchy Sushi Burrito
This sushi burrito recipe stands out for its crunchy texture because it's fried. The chef uses salmon and tuna for protein, spicy mayo, and unagi sauce for flavor. He adds seaweed salad, cucumber, and avocado for more balance and added nutrition. The tutorial is easy to follow and showcases excellent knife skills.
A sushi burrito may not be authentic Japanese food, but it still has all the delicious flavors. This east meets west dish is quickly becoming famous for its balance and taste.
This recipe is easy to prepare at home using ingredients you can buy from the supermarket. Since you'll be using smoked salmon, you won't have to worry about freshness or storage. The cream cheese makes it extra delicious.
22. Salmon Sushi Burrito
This video is best for you if you're not a fan of long tutorials. You'll learn how to make a salmon sushi burrito even if it's only 34 seconds long. The instructions are concise, while the visuals are clear.
The recipe uses fresh salmon cubes seasoned with sriracha, soy sauce, and sesame oil. To balance the flavors, you need to add avocado slices. The furikake seasoning is a great finishing touch.
Summary
A sushi burrito is one of the culinary world's successful food fusions. It's a perfect balance of protein and vegetables, making it a healthy and delectable meal. Several restaurants already have their versions, but you can also try to make one at home. This article's 22 sushi burrito recipes can help you make this delightful dish.
23 Best Sushi Burrito Recipes
Directions
Select your favorite recipe.
Organize all the required ingredients.
Prep a Sushi Burrito Recipe in 30 minutes or less!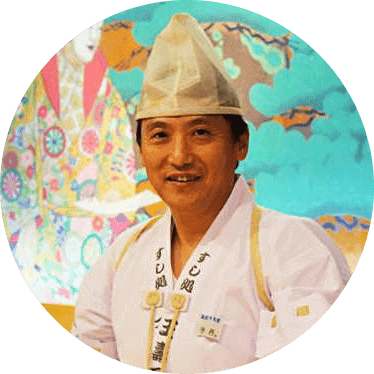 Hiroshi Nakamura, a Tokyo-born sushi chef turned US-based writer and critic, is the voice behind ichisushi.com, blending traditional sushi wisdom with modern insights.