Brooklyn, NY, has been home to many incredible things: The Brooklyn Bridge, The Kings County Distillery, and The L Train to name a few. Now, we can add good sushi in Brooklyn to that list.
If you're planning a trip from out of town or looking for a good sushi spot in the area, look no further! Here are the best sushi places in Brooklyn, NYC:
Sushi Katsuei
$$$ | (718) 788-5338 | WEBSITE
View this post on Instagram
Sushi Katsuei Brooklyn is a Japanese restaurant in Brooklyn, New York. The restaurant is located on 7th Avenue, just a few blocks away from the Grand Army Plaza. It's an accessible, welcoming, and convenient place to enjoy sushi.
The restaurant offers sushi and other Japanese dishes, an extensive sake list, and other beverages. All of these you can get at an affordable price!
Sushi Katsuei Brooklyn opened its doors to guests in 2014, and since then, it has been bringing excitement to the rest of Brooklyn through its Omakase Edomae-style sushi and sashimi.
Sushi Katsuei Brooklyn is open daily, except Tuesdays, from 4 to 9:30 PM. Go out there and allow Sushi Katsuei to take you on a fantastic sushi and sake journey!
Taiki
$$ | (929) 356-4826 | WEBSITE
Taiki Sushi is a Japanese restaurant located in Brooklyn, NY. The restaurant is small and cozy, and they offer a wide variety of sushi and other Japanese dishes. The service is amiable and fast, making it an ideal place for takeout or delivery.
This restaurant has a wide variety of delicious dishes at reasonable prices. The service is excellent, and the atmosphere is lively and fun. The ambiance makes it perfect for a meet-up with friends and family.
Taiki's head chef, Taiki Minamitani, is backed with 18 years of experience as a sushi chef. With that background and experience in the industry, you know you won't go wrong dining at Taiki.
Oita NYC
$$ | (718) 971-9879 | WEBSITE
View this post on Instagram
Oita NYC is one of the best sushi places in Brooklyn, NYC. They have some incredible specials, and their prices are very reasonable. The restaurant has a modern ambiance, perfect for your Instagram feed. The service is fast and friendly, which is helpful when you're pressed for time!
The modern Japanese restaurant offers a variety of delicious dishes, including Organic Edamame, Salmon Tartar, and New York Crunch. They also have an extensive menu that features a customized Temaki set if you want to mix and match menu items.
Oita is a great place to go with friends, especially if you're looking for something more than just sushi.
Koto Sushi
$$ | (718) 230-3881 | WEBSITE
Koto Sushi is a Japanese restaurant located in Brooklyn, New York City. The restaurant has served customers authentic Japanese food and exceptional service for years.
This restaurant has some of the freshest sushi around! The chefs use only the finest ingredients, including imported fish from Japan. Koto Sushi is known for its contemporary interpretation of traditional Japanese dishes.
It offers sushi rolls, sashimi, and nigiri. Besides that, Teriyaki entrees, noodles, dinner boxes, and hand rolls are available, too. If you're looking for fresh sushi at reasonable prices, Koto Sushi is worth trying!
Uotora
$$$ | (718) 513-0724 | WEBSITE
View this post on Instagram
For those who want an intimate setting with their meal, Uotora Sushi is the place to go! The atmosphere is relaxed and inviting, perfect for date night or a nice dinner with friends.
Uotora Sushi is another great option for those who want delicious sushi worth every penny. Uotora is primarily known for its Omakase sushi, where chefs choose the sushi to serve you. Thus, you can leave everything up to the experts, and they'll curate everything for you!
Uotora's chefs, Chef Atsuomi and Hiroyuki, are backed with more than 20 years of experience in Japanese sushi restaurants, so you're sure you are in the right hands.
Sushi Lin
$$ | (347) 627-6027 | WEBSITE
View this post on Instagram
Sushi Lin, by the Chef duo Lins, is another popular sushi place in Brooklyn. The restaurant specializes in traditional Japanese dishes sourced from Tsukiji Market in Japan.
This restaurant serves delicious Japanese sushi from Tuesdays to Sundays. They have an extensive menu and do everything from traditional Japanese dishes to Omakase sushi and sashimi!
Sushi Lin is a reputable sushi place, so they've earned their chops for seafood preparation and presentation. If you're looking for a laid-back spot that serves good food without breaking the bank, this is the perfect place.
Wasan Brooklyn
$$ | (718) 864-3549 | WEBSITE
View this post on Instagram
Wasan Brooklyn is an authentic Japanese restaurant in the city. This sushi place offers traditional Japanese cuisine and has a bar with an extensive drink menu.
The press has recognized the restaurant as one of Brooklyn's best places to eat. Some of these recognitions are from The New York Times, The Wall Street Journal, and Michelin Guide.
Wasan Brooklyn has an extensive menu and offers lunch specials and dinner options. Starting from salads, soups, Izakaya appetizers, and family meals to sushi, Wasan has it all.
If you're looking for something more upscale, Wasan is probably your best bet in Brooklyn — especially if you're planning a sushi party or just want to treat yourself after working.
KI Sushi
$$$ | (718) 935-0575 | WEBSITE
Do you want to dine in a fine dining restaurant in Brooklyn? Here's KI Sushi, one of the best sushi places in Brooklyn. This sushi spot serves high-quality, fresh food seven days a week!
KI Sushi is open for dine-in and take-out orders. With various dining options, this sushi spot is a standout. KI Sushi has Seared Tuna Roll, Sea Eal Avocado, Spider Tempura, and more delicious sushi up on their menu. So, if you want to try some of Brooklyn's freshest Japanese creations, head out to KI Sushi!
Momo Sushi Shack
$$ | (718) 418-6666 | WEBSITE
View this post on Instagram
Raise your hand if you're looking for a fun and fast sushi place! Momo Sushi Shack is a fun Japanese sushi spot in Brooklyn. This sushi shack has Japanese dishes you can order in small portions, so you can try every kind of sushi the restaurant has.
Momo Sushi Shack looks like a small hut, but this sushi place is a unique spot to get delicious sushi. This sushi restaurant features "bombs," Momo's classic nigiri sushi. Momo Sushi Shack is the top choice if you're up for a simple and fun sushi place.
Yashin Sushi
$$$$ | (718) 788-6789 | WEBSITE
What's better than sushi? Fresh, high-quality sushi! If you want to taste and experience a modern interpretation of traditional sushi, then Yashin Sushi is the place to be. This sushi place is one of the best in Brooklyn, catering to delicious dining, takeout, and delivery orders.
Yashin Sushi has a welcoming staff, and its service is highly commendable. This restaurant is recognized as an excellent sushi place with its unmatched sushi cuisine. Guests love the fast service and warm staff in this fantastic Japanese restaurant.
KanaHashi
$$ | (718) 906-9871 | WEBSITE
Located in the heart of the city, KanaHashi is a top pick for the best sushi places in Brooklyn. This restaurant offers an extensive list of Japanese meals, beverages, and party platters.
Guests can also enjoy KanaHashi's Weekly Special, featuring dishes like the Kizami Tuna Crispy Rice, Squash Lobster Bisque, and Fried Oysters.
These meals are best paired with sparkling water, so make sure you order a bottle or two when you dine here. KanaHashi's party platters are perfect if you have a big event coming up: your birthday, business lunch, or a simple home gathering.
Sushi Gallery
$$ | (718) 222-0308 | WEBSITE
Do you want to eat sushi for an affordable price? Head out to Clark Street's Sushi Gallery. Sushi Gallery serves extremely fresh and reasonably priced sushi. Sushi Gallery may look small for you, but this place has a wide array of sushi options on its menu!
This sushi place specializes in quality sushi, soups, and other appetizers that will leave your mouth watering. Besides that, you can also enjoy Sushi Gallery's Chicken Teriyaki, Bulgogi, and Hwe Dup Bap.
Akaru Sushi
$$ | (718) 928-7688 | WEBSITE
Are you hungry for sushi? Check out Akari Sushi. This sushi place has all your favorite sushi meals. From Shrimp Tempura Roll, California Roll, to Spicy Tuna Roll, Akaru has it all!
Besides these sushi rolls, another popular menu item from Akaru Sushi is the delicious Miso soup you can get for only $3!
The prices at Akaru Sushi are reasonable, and you can get what you pay for. Like what guests say, they're pleasantly surprised by what this sushi place offers. Diners recommend Akaru Sushi's lunch specials and excellent service.
Fushimi Japanese Sushi Bar & Lounge
$$$ | (718) 963-2555 | WEBSITE
View this post on Instagram
Are you torn between two cuisines? Here's good news for you: Fushimi Japanese Sushi Bar & Lounge is a fusion of Japanese and French cuisine!
This restaurant is the perfect combination of traditional Japanese and inventive French gastronomy. With experienced and talented chefs in the restaurant, you'll have the best dining moment.
Fushimi gives a pleasant, trendy ambiance with modern decor. Matched with its sophisticated interior design are impeccable menu items you will love. So, why not head out to Driggs Avenue's Fushimi Sushi Bar now?
Hibino
$$ | (718) 389-9712 | WEBSITE
You can experience dining in Japan even when you're in Brooklyn, New York! Hibino specializes in bringing fresh sushi, Kyoto-style tapas, and homemade tofu every day. This restaurant offers the perfect mix of traditional and modern Japanese cuisine, with every meal to satisfy your craving.
Interestingly, Hibino has Daily Specials where you can get your favorite combinations off their menu. Here, you get a different deal every day. How amazing is that! Hibino is open to serve guests from Monday to Saturday, offering lunch and dinner meals.
Samurai Mama
$$ | (718) 599-6161 | WEBSITE
View this post on Instagram
An eye for detail, intricate preparation, and a balance of flavors: that's what Samurai Mama proudly uplifts. This sushi place in Brooklyn brings traditional Japanese culinary techniques to New York.
Samurai Mama features udon carefully processed and prepared in two days. Samurai Mama's udon is the perfect balance of flavors and authentic ingredients.
Besides udon, Samura Mama also takes pride in its Sushi cuisine. This sushi place has a Sushi Taco Set, Samurai Mama's signature item with five sushi flavors. These include AB Crunchy, Scallop and Ikura, Yellowtail and Scallion, Salmon Avocado, and Guacamole Tuna.
Summary
You cannot miss the sushis of New York! Sushi has always been a passion and a must-have dish on any foodie's food board.
Here's the thing: you'll never go wrong with the options above—the fish is fresh, the chefs are passionate, and the vibe is chill. So get out there and see what you can find! The best sushi places in Brooklyn we've listed are some of the city's secrets, but they are deliciously worth the travel!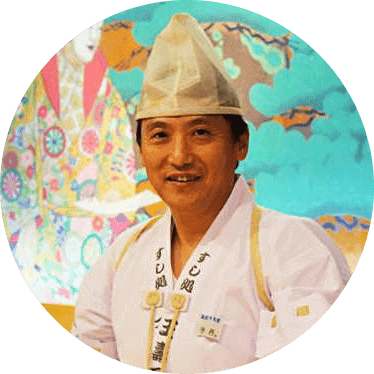 Hiroshi Nakamura, a Tokyo-born sushi chef turned US-based writer and critic, is the voice behind ichisushi.com, blending traditional sushi wisdom with modern insights.