Tangy, savory with a spicy kick, spicy tuna is a must when having sushi. If you don't know how to make one, here are 22 spicy tuna sushi recipes. You can make your sushi favorite in the comfort of your home.
What is a Spicy Tuna Sushi?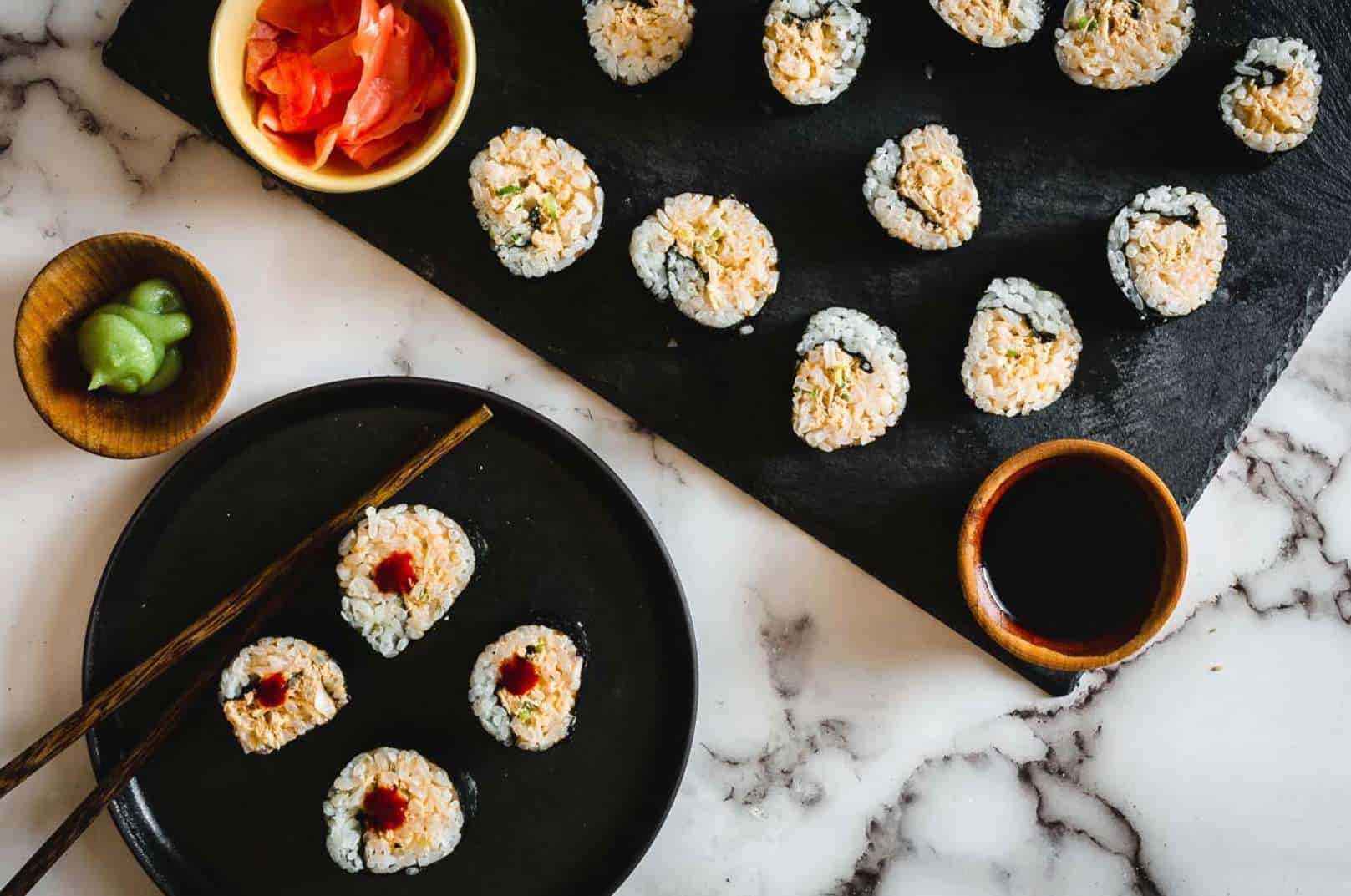 Spicy tuna sushi is one of the most popular types of sushi roll. Away from the traditional nigiri, spicy tuna is packed with filings and sauce.
There are two primary ingredients in spicy tuna sushi: tuna and spicy sauce. The tuna can be either freshly cooked or canned. On the other hand, the spicy sauce can be a mix of sriracha, mayonnaise, and other spices.
Although common spicy tuna has no other ingredients, various recipes call for some vegetables and even fruits. If it sounds good, let's get into the spicy tuna recipes you can try.
This spicy tuna sushi roll from Tasty is quick and easy to make, certified perfect recipe for beginners. With a five-ingredient spicy tuna filling, you can make this sushi for a last-minute meal. You can prepare sushi with a blend of seafood flavors and a spicy kick in under ten minutes.
2. Rethink Rice | Spicy Tuna on Crispy Rice with Chef Ralph Scamardella | Sponsored
This spicy tuna recipe is an excellent way to level up your traditional sushi rice. You know you are in for a delicious meal with the mix of crunchy sushi rice and savory raw tuna topping. The sushi also has a few drops of lemon juice for that sour citrus twist.
Easy and quick, this spicy tuna sushi recipe is best for novices in the kitchen. This recipe not only gives you the ingredients but also offers a detailed guide for you to follow. This sushi roll is for you if you are a newbie and don't know where to start.
4. Spicy Ahi Tuna Sushi Rolls
This sushi roll is an excellent choice if you are into a traditional spicy tuna taste. The sushi roll contains raw ahi tuna, spicy sauce, and tempura flakes. The pure flavor from the sea blends the crunchiness and spicy kick of the ingredients. It's perfect for some sake or hot tea to balance out the tanginess of the roll.
If you are looking for a sushi recipe with low carbs, you should try this spicy tuna sushi bowl. The sushi bowl contains a slew of vegetables and raw tuna with spicy sauce. It's an excellent choice if you have dietary restrictions to look after. With the quick prep, you can make this healthy meal in no time.
6. Spicy Tuna Sushi Maki
The spiciness of the tuna filling and the creaminess of avocadoes blends into one delicious maki roll. With the added texture and nuttiness of the roasted sesame seeds, this recipe is a perfect appetizer or a weeknight meal. You can make the sushi roll in under ten minutes with relatively easy steps.
Not everyone has a slab of some tuna steak lying around. With this recipe, you can have the deliciousness of spicy tuna on a budget. The twist comes from the cucumber cutlets and some ikura. This spicy tuna recipe is for you if you love the taste of the traditional nigiri or maki sushi.
8. Spicy Tuna Hand Roll Sushi
Trying out temaki or hand rolls can elevate your sushi experience if you are tired of the nigiri and maki rolls.
This spicy tuna recipe is excellent if you don't know how to use chopsticks. The cone-shaped sushi contains a delicious blend of leafy sprouts and tangy spicy tuna. The crunch of the nori wrap ties out the whole sushi as a whole.
Crisp, creamy, and tangy, this sushi roll recipe perfectly combines different flavors and textures. This sushi recipe is for you if you love your sushi rice on the crunchy side. With the blend of creamy avocado topping and raw spicy tuna, this sushi is an excellent appetizer for friends and family.
10. Spicy Tuna Rolls
This spicy tuna recipe is fiery hot inside and out. The filling contains raw tuna with sriracha and sesame oil for a pure, undisturbed spiciness. Well, the hotness of the sushi roll does not end with the stuffing. The spicy mayo topping brings a creaminess and added oomph to the dish.
Rice is not for everyone, so finding a sushi recipe without one of the primary ingredients can be challenging. Fortunately, this paleo recipe will provide an excellent cauliflower substitute for your sushi.
If you are on a carb-deficit diet, you can enjoy your spicy tuna sushi guilt-free. It's a healthier substitute without sacrificing the delicious taste of sushi.
12. Spicy Tuna Sushi Stack Recipe
If a sushi or hand roll is not what you want, making a sushi stack might be your option. With sushi stacks, you can enjoy your spicy tuna sushi in a new and exciting way.
Rather than rolling the ingredients, they're placed on top of each other using a compact container. This recipe is a perfect hearty meal with a blend of rice, vegetables, and spicy tuna.
This spicy tuna sushi recipe is perfect for the beginner in the kitchen. Sometimes what you need is the classic spicy tuna roll.
It has traditional ingredients but an excellent blend of different flavors. With easy prep and detailed instructions, you can make your sushi in no time.
14. Spicy Tuna Sushi Burrito
This Japanese American fusion provides a new way to enjoy your spicy sushi. With this burrito sushi, you can taste your spicy tuna without making a mess. The sushi burrito roll oozes spicy tuna, rice, and vegetables. It's the perfect combo for a nice, hearty meal with quick prep and excellent taste.
It's tempting to take a bite from a delicious sushi roll even though you are on a keto diet. Well, you can enjoy your spicy tuna sushi without guilt.
This keto-friendly sushi roll is an excellent substitute for traditional sushi. With cauliflower rice, you can eliminate most of the carbs from the dish, making it protein-packed with every bite.
16. 3-Styles Spicy Tuna Roll Recipe
If you have difficulty choosing your sushi roll type, this recipe is here to give you three options. Spice up your rolls by doing gunman, hosomaki, and uramaki rolls; you can elevate your sushi to a new level. With the spicy tuna stuffing and appetizing rolls, this recipe is excellent as an appetizer.
Compact and easy to make, you can enjoy your spicy tuna sushi onigiri style. The sushi contains masago and radish for a crunchy complement to the spicy tuna.
With the ingredients in a mix of sushi rice and nori wrap, this sushi is best for going outside. It's an excellent on-the-go snack or a weeknight dinner.
18. Cheesy Spicy Tuna Sushi Bake
Not everyone has the appetite for raw ahi tuna; sometimes, cooking up your sushi can be a good change of pace. With this cheesy sushi bake recipe, you can make your delicious dish in a few easy steps. The cheese will add some creaminess and tangy flavor to your sushi.
If you are on a budget, this poor man's spicy tuna roll is perfect for you. Mixed with an incredible sriracha mayo blend, you can make this tuna sushi even when you don't have any experience. It's also a kid-friendly, safe and tasty activity for children.
20. Spicy Tuna Lava Sushi Roll with Greek Yogurt
Greek yogurt makes for an incredible creamy twist within his sushi roll recipe. The sushi rolls embodied its name for the amount of overflowing ingredients it has. With the added mix of sour and creamy, you can ensure that the spicy kick from the sriracha will shine through.
The nutty and intense flavor of the ginger-soy sauce and the freshness of the tuna makes for a fantastic sushi roll. The sauce is a perfect complement if you want to lower the flavors of the raw tuna to be balanced out. It's an excellent meal, especially with some sake and wasabi on the side.
22. Crazy Spicy Tuna Roll
The name speaks for itself as this crazy spicy tuna roll is a guaranteed banger with rich flavors with every bite.
Although there is already a slice of tuna inside, this recipe also calls for spicy tuna as the topping. With the delicate flavor of yellowfin tuna and the kick from the sriracha mayo, you can ensure that your sushi roll is booming with flavors.
In Summary
The tangy, fresh, and spicy kick of tuna sushi is genuinely one of a kind. You can choose the perfect one with these 22 spicy tuna sushi recipes. Whether you are experienced or a newbie in the kitchen, there is a recipe for you.
22 Best Spicy Tuna Sushi Recipes
Directions
Select your favorite recipe.
Organize all the required ingredients.
Prep a Spicy Tuna Sushi Recipe in 30 minutes or less!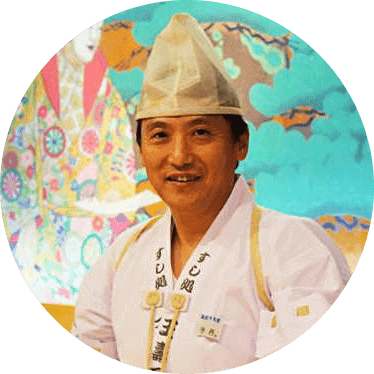 Hiroshi Nakamura, a Tokyo-born sushi chef turned US-based writer and critic, is the voice behind ichisushi.com, blending traditional sushi wisdom with modern insights.