There are days when you feel like eating something mild and, at the same time, spicy. For example, if you like Japanese food, you might fancy this list of sushi recipes.
If this is the case, perhaps you might want to try these 26 spicy salmon sushi recipes for you and your family.
If you love tobiko, you will love this recipe as it features two types of vibrant roe decorating the sides of the sushi. This recipe showcases the combination of salmon, scallion, roasted sesame seeds, ponzu sauce, and many more ingredients that add to the overall flavor of the roll.
The sesame seeds add to the crunch and mix well with the salmon and scallion, making it a flavor party in your mouth.
2. Spicy Salmon Roll
This recipe offers a straightforward and understandable way of making sushi. If this is your first time making one, this recipe also specifies the steps and guides you in making your sushi rice.
Aside from getting to make a tasty roll of sushi, this recipe also maximizes the aesthetic elements of each ingredient. Finally, this recipe offers descriptive and detailed instructions, making it easier for beginners to follow.
If you are looking for a more uncomplicated spicy salmon sushi recipe, you can try this one. This recipe does not require any special equipment to make sushi, and you can easily follow the simple instructions.
Combining all the fantastic flavors of sriracha spiked salmon salad, cucumber, avocado, sushi rice, and nori creates one good meal for you to enjoy. This recipe is easy to make, but each slice isis also packed with nutrients.
4. Spicy Salmon Roll
This recipe makes some excellent canape-style sushi by combining fresh and carefully sliced tuna and salmon, a good block of sushi rice, avocado, spicy tartar fillings, and many more unique flavors.
The recipe is detailed and fun to do despite the delicate processes involved. But, of course, a good sushi recipe is not only all about flavors, presentation matters. Fortunately, this recipe delivers both excellence in taste and appearance.
Making your sushi is easier and more fun than ordering in restaurants. This recipe uses fresh slices of salmon, their version of spicy sauce, avocado, cucumber, and other necessary flavorings.
The creaminess of the avocado slices amps the crunchiness of the cucumber slices and elevates the salmon slices, which overall makes every piece a portion from heaven. The spiciness is just right, perfectly complementing the flavors involved.
6. Spicy Salmon Sushi Roll
This easy recipe will guide you through the whole process of making your sushi rice, steaming your salmon, and putting the fantastic flavors together into one bite.
If this is your first time making sushi rolls, you will learn so much from this recipe as it offers a detailed guide and video for you to follow. This recipe is also perfect for those who like their salmon cooked.
There are several reasons why making your sushi at home is better. Aside from ensuring the ingredients are fresh, you can also set your ratio to how many of certain elements you want in your roll.
You can also make your adjustments. This recipe is a perfect roll to try making at home. It involves essential ingredients and two different sauces, one for the fillings and the other for spicy mayo drizzled on top and around each slice.
8. Spicy Salmon Sushi
This recipe guides you into making excellent spicy salmon sushi from one of the finest sushi parlors in the world. If you want to try something new and elevate your skills in making sushi, you can try and explore this recipe and learn something new.
Making something that's restaurant-like does not mean it's utterly complex. The process can be challenging, but there's always a first for every experience, right?
This recipe might be one of the easiest spicy salmon sushi recipes. The ingredients are straightforward to find in the supermarket and your local stores.
You will also have no trouble with the process, as this involves basic sushi-making techniques. So, if you are looking for something easy and something that's a quick fix to your hunger, this might be the recipe you are looking for.
10. Spicy Salmon California Roll
If you love California Maki, you will love this recipe. This recipe spices up the typical California Maki you have grown to love. With the spicy twist and fresh and juicy salmon, this roll is quite comforting.
The non-powering distribution of flavors in this sushi roll is something anybody who loves sushi would love to try. Find two of your favorite types of sushi in one with this recipe.
This recipe provides both written and video instructions to enjoy and choose whatever you prefer better. In this recipe, you will not only learn about making spicy salmon sushi but also how to make sushi rice.
The main ingredients you will need to prepare are salmon, tobiko, avocado, cucumber, sushi rice, and spicy mayonnaise. Other minor components are also maximized to improve flavor, making every bite better and better.
12. Handmade Spicy Salmon Handroll
This recipe takes the intricate process of making sushi and guides you into making one! Appreciating the process is essential in enjoying the food you prepared. This recipe helps you throughout the process.
For this recipe, you would need to prepare diced salmon with a mixture of lemon, mayo, honey, cucumber, nori, and other minor flavorings. The tangy addition of lemon and love makes the salmon taste even better and contributes more to the overall flavor of the sushi.
If you prefer inside-out sushi, this recipe is the one for you. This recipe uses raw salmon and has instructions on using cured salmon. So, if you choose to have cured salmon in your sushi, you can try this recipe.
It's always good to try new things, especially when it comes to the ingredients of your favorite dish. The ingredients used in this recipe are also easily found.
14. Spicy Salmon Roll
This recipe combines the goodness and distinct flavors of fresh salmon, mayo, sriracha, sushi rice, nori, sesame seeds, avocado, and cucumber stick.
The crunch of the cucumber stick is an excellent combination of soft nori rice, salmon, and avocado. Adding up the extra spice from the spicy mayo and sriracha elevates the whole dish into something even more delectable, and every bite gives that flair you may be looking for.
One thing about sushi is that you can always add a bit of a personal touch to your sushi roll. For example, you can add more cucumbers and put some carrot strips, avocado, and others.
This recipe allows for your adjustments. The fresh salmon wrapped with nori hits the spot, especially when paired with soft sushi rice. This recipe also provides healthier alternatives like greek yogurt for people who carefully watch their weight and calorie intake.
16. Crispy Rice Spicy Salmon Roll
Sometimes, all you need is a good crunch in every bite, and this recipe helps you achieve a crispy outside and soft inside edge. The texture shift is quite a fantastic journey for your taste buds.
If you like the crunch and spicy flavor brought by jalapenos, this recipe also incorporates this flavorful fruit that contributes to the beautifully combined texture of the roll. Opposites do attract as the crunch and softness work well in this sushi roll.
If you are looking for a speedy fix for perhaps your lunch or a snack, this is a perfect recipe to try out. This roll deviates from the typical shape and consistency of the standard sushi rolls. Instead of having a compact cylindrical roll, this recipe quickly takes all the filling and places them in a nori sheet, making a cone-shaped roll.
With this cone-shaped roll, the stuffing won't drop through the bottom part of the roll. If you want a new style of making and eating spicy salmon sushi rolls, this recipe is for you.
18. Crispy Rice Spicy Salmon
There are times when you might crave a change in texture for sushi rice. If so, this recipe allows for the difference you have wanted to experience.
By adding crispiness to the rice, your taste buds can share a brand new combination of rice with different textures crispy exterior while the interior is soft. This roll is sure to be a feast for the taste buds, stomach, and eyes.
This may be one of the easiest recipes to follow because you only need to prepare six ingredients. You would need to prepare sushi rice, salmon fish, nori sheets, sesame seeds, mayonnaise, and chili flakes to make this roll.
Apart from having the easiest ingredients to find, the process is easy to follow and discussed well. The unique twist of chili flakes to have that spicy flair is excellent, especially for those who like to bite on spicy ingredients.
20. Crazy Salmon Roll
From the recipe name itself, crazy salmon roll screams outrageously tasty bites. This recipe combines salmon, scallion, roe, kimchi sauce, sriracha, avocado, and other ingredients that bode well with your taste.
If you are looking for visually attractive sushi and delicious to serve to your guests, you can always serve this crazy salmon roll and get their attention. The excellent addition of fish roe adds up to the fun textures in this recipe. The popping goodness of these eggs elevates each bite.
Are you looking for a tasty appetizer? This recipe can be the one you are looking for. One of this roll's most remarkable and unique characteristics is the sushi rice deliciously pan-fried to a perfect crunch.
This crunchy base is now topped with spicy salmon and a soft pile of mashed avocado, complementing the crunch. The duality of the two textures creates a mini party inside your mouth that's also easy to make.
22. Spicy Salmon Sushi Roll with Spicy Mayo Sauce
When you like to cook and cook a lot, you are bound to learn many new things. These new things help improve your cooking skills and provide good insights into flavor mixing, texture curation, and many more.
This recipe introduces you to tips and tricks in cooking sushi rolls, guiding you through the whole recipe. Of course, there are more tips, tricks, and styles as you go on your cooking journey, so it's always a fun time in the kitchen.
This recipe offers the goodness of two kinds of fish, namely tuna and salmon. You can even combine them in one roll or separate rolls, so you have two sets of beautifully sliced norimaki.
Of course, you might need quite a handful of ingredients, some of your choice. Nevertheless, these ingredients are easily found in Japan Centre if you happen to be located near one.
24. Spicy Smoked Salmon Rainbow Roll (Walmart Challenge)
This recipe makes use of the ingredients available at your nearest Walmart store. Nevertheless, you can still try this recipe using ingredients from your local stores or other locations near you.
Rainbow sushi is popular because of its vibrant and delicious colors. This recipe provides a complete guide for choosing, purchasing, and making the sushi roll.
If you follow a keto diet or are just someone who wants to watch their calorie intake, you can always try this recipe. As for the salmon, you can always substitute it with other canned fish as long as you scan the calorie count to fit your range.
So now, you can enjoy your favorite spicy salmon sushi roll without worrying too much about the calorie count of every bite. There's always an alternative way to enjoy food more healthily and according to your standard.
26. Spicy Salmon with Crispy Rice
There's always joy in combining food with different textures. This way, the flavors are diverse and the consistency as well.
For example, spicy Salmon with crispy rice might be what you need to complete your day. It's always good to let your palate explore the complexities of texture, elevating and breaking away from the usual.
Summary
If you like spicy sushi and salmon and incorporate them into your sushi, these 26 spicy salmon sushi recipes will help you explore. Although taking different paths, one thing is for sure, you will end up with the result you have been expecting, and it will be worth it. Exploring food is one of the joys in life.
26 Best Spicy Salmon Sushi Recipes
Ingredients
2. Spicy Salmon Roll

4. Spicy Tuna Salmon Roll

6. Spicy Salmon Sushi Roll

8. Spicy Salmon Sushi

10. Spicy Salmon California Roll

12. Handmade Spicy Salmon Handroll

14. Spicy Salmon Roll

16. Crispy Rice Spicy Salmon Roll

18. Crispy Rice Spicy Salmon

20. Crazy Salmon Roll

22. Spicy Salmon Sushi Roll with Spicy Mayo Sauce

24. Spicy Smoked Salmon Rainbow Roll (Walmart Challenge)

26. Spicy Salmon with Crispy Rice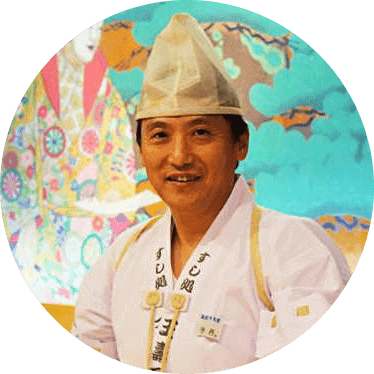 Hiroshi Nakamura, a Tokyo-born sushi chef turned US-based writer and critic, is the voice behind ichisushi.com, blending traditional sushi wisdom with modern insights.